Flixxo is a new crypto currency, and an app for smartphones, tablets and desktops. It's similar to YouTube, except its decentralized and runs on BitTorrent, allowing them to save millions of dollars in bandwidth and storage fees. Flixxo wants to get YouTube community to jump ship to their platform. When asked how on earth can anyone compete with YouTube,  CEO Adrian Garelik explains, "the only way to beat them is distributing, in Flixxo every user turns into a distributor, so after watching a video they can decide to keep the video on their computer, and lend their bandwidth/storage space to Flixxo. And for doing that they get rewarded in Flixxo."
He goes on: "The author of the content gets to decide how many tokens he's going to distribute to the viewers/storers of the content."  As more and more people come to Flixxo, the network grows larger and more stable.

Flixxo's platform uses a 4 player economy designed to incentivize all players. The token plays a key role as its the only token allowed in the system. Let me break down how this works:
User/viewer: Can earn Flixx by watching advertisements (similar to Basic Attention Token) and also by lending their bandwidth/storage to the platform. Users pay creators Flixx to view their content.
Creators: Earn Flixx from viewers, and directly from advertisers. Creators can choose how much of their Flixx they want to give to users who store and distribute their content.
Advertisers: Must buy flixx from either the exchanges or directly from the creators. They can work out whatever private deal they want, as well as use Flixxo's algorithms to target the minds they choose.
Team Flixxo: These guys take 10% of the advertiser money. They use Flixxo stores to incentivize new creators/viewers to the platform. They also are responsible for making sure no illegal content is put out.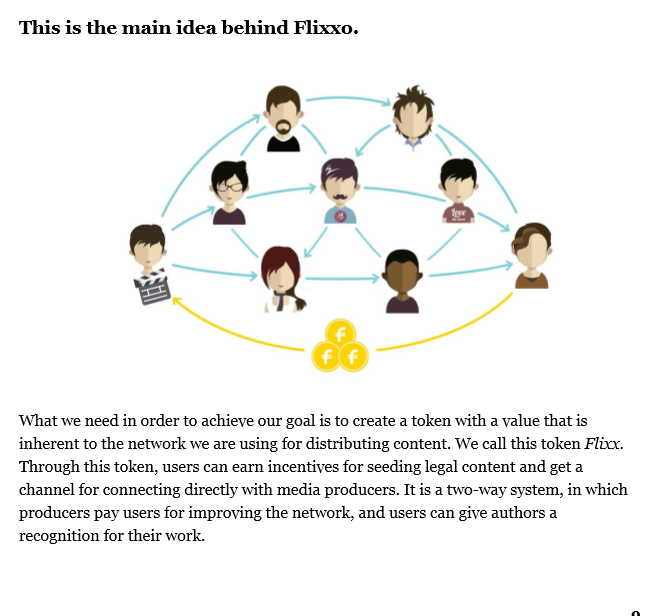 The Token
There will be 900 million total supply. The price: 1 eth = 4000 Flixx + bonus. This means it costs about .07 per token. On the surface this looks like a disaster, .07 per token is way too high… However, this situation is different.  Only 200 million of the 900 will be sold to the public, so we take the price of .07 and multiply it by 200 million, that gives us a total market cap of just 14 million.  14 million is tiny! This means the token price can multiply over 3x before flixxo even enters the top 100 on coinmarketcap.
Distribution of token
Out of 900 million total tokens, 200m will go for the public token sale, 100m for the Flixxo team, 100m for advisors/bounties/etc, and 500m for their 10 year incentive program.
Take notice of the 500 million tokens being held for their 10 year incentive program. I did work and got into their telegram group to ask them about this.  My concern was if they were going to use those 500m tokens to become the middle man between advertisers and content creators. They assured me that the 500m was for mass marketing/incentivizing new users and creators to Flixxo. I asked specifically if Flixxo will ever sell tokens to advertisers? They said "no".  This is beautiful because it means advertisers will have to buy tokens from content creators or exchanges, naturally driving the price of the token up.
The Team
This is one of the strongest teams I have come across in my research. Here's 4 members that stood out:
Adrian Garelik CEO was the cofounder of RSK Labs (rootstock) . ROOTSTOCK!
Federico Abad UI guy: created PopCorn Time (PopCorn Time is a bittorrent streaming platform with over 60 million users!) its a beautiful platform he created, and Flixxo is the same style.
Pablo Carbajo: worked for IBM and Toshiba.
Michael Terpin: Legendary PR guy, and founder of Transform Group, serves as an advisor to the project.
Verdict
YouTube has had it far too easy, for way too long. They sell their user data to advertisers, while barely paying content creators for bringing viewers to their platform. They stick themselves in between advertisers and creators, stealing all the moneys. They also censor and punish certain creators based on their political views (yikes!). It's for these reasons I truly believe YouTube will be Blockbuster Video'd in the future. Will it be Flixxo that takes them down? I don't know, I do know they have the ability to steal a good sized chunk of YouTube's customers if they can find a way to motivate people to leave. Money is the greatest motivator. Right now a viewer on YouTube gets paid nothing, and shows their love for the author with "likes" . On flixxo they get paid tokens, and show their love to the author with tokens, who in turn repays the viewers/distributers with tokens. The token is the backbone. It's a beautiful concept. Also, they recently partnered with AdEx (#90 on coinmarketcap, and the leading blockchain advertising token (along with BAT, whos main concept is used by Flixxo)
Risks
There has to be some kind of legal red tape the team is going to have to remove. Yeah it's decentralized, and once the network is up and running it can't be takin down. But what if "the man" came and took down their offices, and fined them into oblivion ? That would certainly be the end of Flixxo.  This is highly unlikely, just saying.
Competition is everywhere. I see a site like Twitch as being their closest competitor. The 20 and under crowd has set up their base over there. Streamers receive tips for broadcasting themselves playing video games and talking.  It will be really hard to get them to leave. Humans are creatures of habit and hive mindedness.  Another close competitor is LBRY. when asked how does Flixxo compare to library credits. CEO Adrain said, "One main thing is LBRY requires viewers to first purchase LBRY credits. Flixxo lets viewers on their app for free, and pays them FLX to watch advertisements. Another thing is their marketing. Flixxo seems to have world class pr and marketing, while LBRY does not"
Growth Potential
This is no flash in the pan ICO. The team of studs are clearly in it for the long term. The token allocation was very well thought out, and their strategies are designed for over 10 years down the road
Directly from whitepaper:
"With​ ​1​ ​billion​ ​users,​ ​YouTube​ ​is​ ​the​ ​most​ ​popular​ ​platform​ ​in​ ​which​ ​the​ ​advertisement model​ ​works.​ ​Taking​ ​the​ ​biggest​ ​piece​ ​of​ ​the​ ​market​ ​share,​ ​their​ ​revenues​ ​on​ ​ads​ ​are about $6B a year. Duplicating this model, with 1 million users, Flixxo ́s net earnings on a​ ​most​ ​effective​ ​model​ ​(both​ ​for​ ​advertisers​ ​and​ ​producers)​ ​would​ ​be​ ​around​ ​$10M​ ​a year.​ ​By​ ​reaching​ ​100​ ​million​ ​users​ ​(like​ ​Netflix​ ​or​ ​Popcorn​ ​Time),​ ​the​ ​net​ ​ad​ ​revenues for​ ​Flixxo​ ​would​ ​be​ ​$1B​ ​a​ ​year.
Disposition
If you are a video streaming content creator then this is the ICO for you. Buy up as many tokens as you can, because in the future advertisers will pay you directly, over 7x more than YouTube, for your tokens
Short term outlook is hazy- The community so far is decent, but lacking hype. This project may start out slow in terms of token price.
Long term outlook is very bullish. This team has already achieved greatness in the past with Rootstock and Popcorn Time. They know what it takes to succeed. They already have an alpha version of their platform out for testing. Their marketing strategy is tremendous. It may however, take a couple years before they go mainstream. Patience will pay with this one. overall score 7.5 of 10 
Investment Details
Symbol: Flixx
Presale: ended
Opening sale: October 24 (20%bonus nov 1-7, 15% nov 8-15, 10% nov 16-24)
End Date: November 24
Total number tokens: 900 million
Payments: ETH
Platform: er20 token, but they have their own platform, built on bittorrent, using the Bancor Protocol
Featured image courtesy of Shutterstock.
Important: Never invest (trade with) money you can't afford to comfortably lose. Always do your own research and due diligence before placing a trade. Read our Terms & Conditions here. Trade recommendations and analysis are written by our analysts which might have different opinions. Read my 6 Golden Steps to Financial Freedom here. Best regards, Jonas Borchgrevink.
Rate this post:
Important for improving the service. Please add a comment in the comment field below explaining what you rated and why you gave it that rate. Failed Trade Recommendations should not be rated as that is considered a failure either way.
Follow @HackedCom
Feedback or Requests?
ICO Analysis: DAV (Decentralized Autonomous Vehicles)
DAV is an open source software platform allowing consumers to buy/sell autonomous, decentralized transportation services. DAV integrates into any autonomous vehicle (car, drone, ship), enabling those vehicles to discover, communicate and transact with one another using the DAV token. DAV will be a protocol that connects vehicles and consumers creating a decentralized transportation market. The platform provides the connection for autonomous vehicles to be able to operate in any environment, consuming services around it as needed. At the same time, it enables P2P transfer of physical goods using smart contracts without needing an intermediary, thus reducing costs to all parties involved.
DAV was created as a framework of open-source software, open-source hardware and a free decentralized marketplace where anyone can buy and sell autonomous transportation services using the DAV token. Buyers and sellers will use specialized smart contracts to achieve trustless cooperation for transportation services which benefits everyone by not having to rely on a central server. Since the DAV token is required for transactions, the smart contracts guarantee financial resolution between all parties involved.
Developers are encouraged to take part in the DAV network by contributing within their domain of expertise. The platform's network technology is an open-source software stack with a developed UI for simple interaction, enabling a truly autonomous, fast-scaling transportation system.
The first app built for the DAV ecosystem is Missions, which connects consumers looking to have packages shipped via autonomous drones. Consumers request drone services, drones then bid for those services, and trustless cooperation is engaged using the blockchain. Copter Express is the first drone partner to begin integration with DAV.
Token
DAV is an ERC20 utility token that will be used to incentivize the community-built autonomous vehicle infrastructure and facilitate the autonomous vehicle platform. The DAV platform enables the transfer of tokens across all network groups and the growth of the network will benefit both consumer and provider groups. Consumers will purchase on-demand transportation of people and/or goods with DAV tokens, as well as other services that will be provided by DAV.
The following is a list of providers that will be paid in DAV tokens:
Vehicle providers that make their vehicles available for on-demand transport and delivery.
Infrastructure/support providers that will offer charging, parts replacement and docking.
Service providers that will provide maintenance and repairs for vehicles, as well as locating/retrieving lost or damaged DAVs.
Manufacturers that assemble open-source DAVs.
Insurance providers that offer insurance policies on demand for people, DAVs and parcels.
Arbitrators that will use smart contracts to settle disputes on issues involving damaged goods and/or proof of delivery.
Software/hardware developers producing the open-source platform, as well as building customized services for use on the DAV network.
The public sale for DAV tokens is scheduled for April 30, 2018 – May 14, 2018. The price is set at 1 ETH = 10,000 DAV. The total market cap is $38 million USD.
The token distribution is as follows:
Token Sale – 40%
Bounties & Partnerships – 25%
Long-Term Budget – 20%
Team & Advisers (Vested) – 15%
Team
A large team consisting of 16 members, including Noam Copel (CEO and Founder), created the world's first smartphone encryption system in 2003. It was then distributed to over 50 countries. John Frazer (CCO and Co-Founder) External Relations Lead for the Ethereum Foundation and Joe Lopardo (CMO and Co-Founder) worked with companies such as Google, Oracle, Salesforce, and SAP to develop their brand and implement marketing strategies.
Ten all-star advisers coming from prestigious companies such as UPS, Google, IBM, Equinix, NASA, GM, SAP and Ethereum are also part of the team. They include Jerome Ferguson (Director of Autonomous Systems at UPS), George D. Zamka (former NASA astronaut and FAA executive) and Dr. Alan Messer (CTO of Global Connected Consumer Experience at General Motors and former VP at Samsung Electronics).
The complete list of team members and advisers can be found on the website.
The DAV Alliance was created for members in the autonomous vehicle field to work together creating standards and innovations. Members include SkySense, H3Dynamics, Advanced Aircraft Company, Husarion, Scorpiox Technologies and COEX Copter Express.
Strategic partners include Bancor, AmaZix, AUVSI and BlockchainIL.
The DAV team is also in advanced discussions with companies in the fields of robotics, drones and automotive.
Verdict
The DAV network will connect self-driving vehicles (trucks, cars, rovers, drones) to everyone on that network, enabling discovery, communication and token transactions. Consumers can purchase services (taxi, package pick up/delivery) with DAV tokens. Vehicles owners and charging stations on the network will receive DAV tokens for the services they provide. An entire network of autonomous vehicles will be available for consumers to deliver items or transport people anywhere through the use of the DAV token. There is no doubt that autonomous vehicles will be part of our future and DAV is positioning itself to become a major player in the industry.
Risks
The $38 million ICO market cap can be seen as slightly on the high side. Fair or not, many investors look for an ICO to fall within the $10 million to $35 million range when viewing token metrics due to perceived profit and growth potential. -1.25
Mass adoption and implementation will take time, which can lead to impatience for many of the new and inexperienced investors flooding into the crypto market. -1
Solutions are currently underway for scalability issues on the Ethereum platform, but not yet complete. This could result in DAV needing to look at other platforms for use if not resolved in time. -1.5
Growth Potential
An ICO with a Minimum Viable Product (MVP) is obviously a much surer bet than investing in an ICO without one. DAV has a fully functioning testnet and identity generation already in use. Also, the Missions app is available for use and can be viewed at missions.io. +2.75
In comparison to many ICOs currently in development, DAV has a large team experienced in leadership, development and marketing. Having advisers to help an ICO become successful is currently the norm and DAV is awash with all-star advisers that come with experience, influence, and expertise in their respected fields. +4
Companies that seek out and obtain partners within their industry can instantly receive a leg up on the competition. DAV has not only established selective partnerships but has created an alliance with members of the autonomous vehicle industry. +3
Being first to market while having success is a huge advantage over the potential competition. While competitors may learn from their successes and failures, DAV will have the advantage of already having established valuable relationships within the industry and having created brand recognition. +1.5
Disposition
DAV will enable consumers, service and maintenance providers, third-party developers and investors to be a part of a new economy by monetizing the transportation system of tomorrow. The question isn't if this technology will be implemented in transportation/delivery services, but how soon will mass adoption occur? The DAV team, advisers, alliance and partners are ahead of the curve and looking to cash in when it does. DAV receives a rating of 7.50 out of 10.
Investment Details
Token Type: Utility
Symbol: DAV
Platform: Ethereum
Price: 1 ETH = 10,000 DAV
Hard Cap: $38 million USD
Pre-sale: currently live with a minimum investment of 1000 ETH
Public Sale: April 30, 2018 – May 14, 2018
Payments Accepted: ETH
risdictions Barred from Participation: USA, South Korea, Japan, China
For more information regarding DAV:
Website: dav.network
Whitepaper: dav.network/whitepaper.pdf
Telegram: t.me/DAVNetwork (27,000+ members)
Twitter: twitter.com/DavNetwork
Reddit: reddit.com/r/DAVNetwork/
Facebook: reddit.com/r/DAVNetwork/
LinkedIn: linkedin.com/company/dav
YouTube: youtube.com/c/DAVNetwork
GitHub: github.com/DAVFoundation
Medium: medium.com/davnetwork
Important: Never invest (trade with) money you can't afford to comfortably lose. Always do your own research and due diligence before placing a trade. Read our Terms & Conditions here. Trade recommendations and analysis are written by our analysts which might have different opinions. Read my 6 Golden Steps to Financial Freedom here. Best regards, Jonas Borchgrevink.
Rate this post:
Important for improving the service. Please add a comment in the comment field below explaining what you rated and why you gave it that rate. Failed Trade Recommendations should not be rated as that is considered a failure either way.
Follow @HackedCom
Feedback or Requests?
As the internet becomes an everyday aspect of our modern lives, some things become easier with it, such as telecommunications, microtransactions and instant global payments, and other become a struggle, such as accessing multiple emails simultaneously, digital profiles and password management, to mention a few. Today we're looking into Safein, a new start-up that attempts to take the lead in the new era of multiple digital accounting.
The past decade has made clear that the internet is latching on to all aspects of our lives, with hundreds of millions of users joining the global network as individuals or as corporate entities creating their own websites and networks within other networks.
There are several attempts from industry titans like Google to create a centralized database with all your information, access points and links to the web already established by your actions. But that is only on a small scale affecting only websites that are under the wing of Google or sites that are affiliated with the centralized database's platform.
At the same time, distributed ledger technologies like blockchain-based monetary platforms keep disrupting the field of microtransactions, as well as wealth management and distribution. Digital wallets are necessary in order to perform such fast and accurate transaction over the internet, and again it won't take long until we reach a point where managing multiple wallets and accounts will be absolutely impossible to handle.
A start-up project launched in late 2017, Safein addresses multiple e-commerce and cryptocurrency transaction problems of the technologically advanced era by showcasing a single-click sign-in verification and global payments functionality.
For users, that would mean they won't have to register over and over again to new websites or/and other digital services. The KYC procedure for ICO investors will be a piece of cake due to the trusted, convenient and fast payments in fiat and crypto. Safein establishes with both physical and digital monetary platforms; at the same time, the company promises enhanced cybersecurity to serve and protect data privacy of each respective user.
For merchants, Safein provides free instant KYC models, lower cryptocurrency and fiat transaction costs, lower compliance costs, lower risks and buyer protection.
According to the whitepaper, Safein wants to create a database of digital identities that will be used on a global scale for payments, authorizations and transfers of goods and monetary value. For example, when you visit your local grocery store to buy some fresh tomatoes, nobody will ask for your ID, but they will accept your payment in exchange for the product of your choice as long as they serve it.
Safein wants to create this kind of relationship between online vendors and consumers and guarantee that one is qualified to buy a specific item without him being forced to showcase his government-issued ID and other personal information as Safein already has all of it and can approve the sign-in/purchase instantly.
Token
When it comes to token distribution, Safein has a slightly unique approach compared to traditional ICOs.
The total token supply is set to 1,000,000,000 SFN. 36,75% of which are reserved for the company itself with a three-year bond. Ten percent is reserved for the advisory board with a two-year bond. Ten percent will be distributed to the Safein Registration Pool and 5% for the Safein Referral Program. One percent will be distributed to token holders as "airdrops" – for those who hold SFN in the official SFN wallet and not on an exchange. Five percent goes to the Safein Login Pool and 32.25% to the Pre-ICO and ICO participants (2.25% for Pre-ICO and 30% for ICO participants, respectively).
The token will benefit both internet users/consumers and vendors/websites in various ways.
A commission fee of 1% will apply after a certain threshold when vendors accept payments, while there will be literally no fee up to that point.
According to their white paper:  "If a merchant buys $1,000 worth of SFN tokens during the ICO and the token price doesn't change, that will save him $1,140 of Safein commission per year (1% commission on total transaction volume) and more than $2,000 yearly compared to other payment service providers charging commission and fees more than twice as large as Safein."
Basically, if a new ICO starts a KYC procedure it will be better both for them and their clients to use SFN as the payment method instead of the traditional ETH-based ICOs.
A brief chat with a Safein representative led me to the following information regarding the token sale (this information was missing from their white paper):
Pre-ICO period:
First 1,000 ETH: 1 ETH = 12,000 SFN tokens
1,001 – 2,000 ETH: 1 ETH = 10,500 SFN tokens
ICO period:
First 4,000 ETH: 1 ETH = 9,000 SFN tokens
4,001 – 12,000 ETH: 1 ETH = 8,500 SFN tokens
12,001 – 22,000 ETH: 1 ETH = 8,000 SFN tokens
22,001 – 30,000 ETH: 1 ETH = 7,500 SFN tokens
30,001 – 38,000 ETH: 1 ETH = 7,000 SFN tokens
Team
The Safein team looks young and fresh, but that is not uncommon in this disruptive scene.
Co-founders Vladas Jurkevičius, Audrius Slažinskas and Lukas Deksnys have worked together before at Atlantis Games and they carry Masters degrees from Cambridge, Utrecht University, Glasgow University and their native Vilnius University, specializing in Law, Economics, Mathematics and Mechanical Engineering.
Mushegh Tovmasyan, Safein's Fintech Specialist, is also the man behind Equiti Group, a global scale FX and CFD brand and broker provider. Joseph Steinberg, head of Cybersecurity for the project, is a NY College MA owner in Computer Science and adviser for various cybersecurity firms.
While there are no "rock-stars" on the board, the Safein team looks solid with a long pre-history in multiple working business models that are still on the play.
Verdict
The project itself is very promising if we take in advance that technological evolution and the mass adoption of the internet will eventually be the reason to transfer all our transactions, log-in information, passwords and other authorization methods on the line.
On the other hand, that would mean that one single entity could control or at least have access to most if not all of your personal information.
Given the current political discourse, people will debate whether that is a good or bad thing, which could make investors skittish over the long-term prospects of such a project.
What we can say for sure is that technological advancement has made clear that the internet is not only unavoidable but it is now one of our best options for advancing society forward. Therefore, projects like Safein may see bright days in the near future concerning the ethical aspects underlying the technology itself.
Risks
From an investor's perspective, the following facts are important to consider when weighing Safein:
The company itself is fresh and although they have a decent team with some history, we couldn't spot a single major name that could be considered a "key" asset on the team. -3
The focus of the company is super precise and they will have to barter with if not surpass industrial barriers like Google (i.e., Google Chrome Password System). -3
1,000,000,000 SFN tokens are quite a lot for a short/mid-term investor. It might take several years if not more before an investor sees the fruit of their investment. -2
Growth Opportunity
If Safein manages to integrate its mechanics in a variety of upcoming ICOs in 2018 and 2019 it might attract more investors and could even take over Ethereum's job when it comes to investing in new technologies. +3,5
Avoiding KYC procedures and protecting your information while at the same time getting the product or services you want without sharing personal information is tempting – at least for most internet users. +3
The price of ETH recently dropped significantly and since the token model is bound to the 1 ETH per x SFN units, it could create a significant boost to your investments. +4
There is plenty of time to join both the pre-ICO, ICO and public sale with discounts ranging from 80% to 15% throughout the sales period. Even if you sell immediately when it hits the markets, that would do an easy x3 to x5 return. +2,5
Disposition
As previously mentioned, it will be a hard task to compete with well-established companies like Google when it comes to multi-password services, although the automated KYC procedure could untie investors' hands when it comes to ICOs.
Many key players from the blockchain scene, including NEO, Stellar and Waves to mention a few, tried to compete with Ethereum on the ICO, but have so far failed. It will take a lot of hard work and innovative approach for Safein to succeed where others couldn't.
A score of 5 out of 10 is reserved for Safein, based on present facts.
Investment Details
Type: Utility token
Symbol: SFN
Platform: Ethereum
Pre-Sale: Apr. 3, 2018
Public Sale: Apr. 25, 2018
Hard Cap: 40,000 ETH
Payments Accepted: ETH (KYC Required)
Jurisdictions Barred from Participating: United States
Disclaimer: The writer has no position in Safein at the time of writing.
Featured image courtesy of Shutterstock. 
Important: Never invest (trade with) money you can't afford to comfortably lose. Always do your own research and due diligence before placing a trade. Read our Terms & Conditions here. Trade recommendations and analysis are written by our analysts which might have different opinions. Read my 6 Golden Steps to Financial Freedom here. Best regards, Jonas Borchgrevink.
Rate this post:
Important for improving the service. Please add a comment in the comment field below explaining what you rated and why you gave it that rate. Failed Trade Recommendations should not be rated as that is considered a failure either way.
Follow @HackedCom
Feedback or Requests?
Once considered a niche market, video on demand services have now become mainstream. As these services continue toward mass adoption, Cryptoflix intends to become a player in the industry by tokenizing video streaming while adding it to the blockchain.
Cryptoflix is a blockchain streaming platform designed for anyone, anywhere to view paid and free content. The paid content will include televisions shows and movies. Educational content will be free to individuals and available to schools, companies, governments and institutions via a subscription service. Users will be able to purchase the paid content with common cryptocurrencies and the Cryptoflix FLIX token – which will provide a discount to incentivize use. Cryptoflix will first target undeveloped, highly populated countries to gain traction and set out to expand from there.
Following the completion of the platform, Cryptoflix intends to create a film marketplace. Holders of the FLIX token will have the opportunity to invest in film projects listed on this market using FLIX tokens. This will provide funding for the production of film projects while giving FLIX token holders the opportunity to earn returns. The launch of the film market is scheduled for Q1 2019.
Token
FLIX is an ERC223 token that will be used to purchase paid content on the Cryptoflix platform at a discount and to invest in film projects through the Cryptoflix Film Marketplace. The token sale is scheduled to begin April 15, 2018, and conclude May 15, 2018. The price is listed as 1 FLIX = 0.0004 ETH. The hard cap is set at 22,800 ETH, which translates to $11.4 million USD at the time of writing. More than half (57%) of the tokens are available during the ICO crowdsale and 18% is reserved for the team and advisers with a one-year vesting period.
Team
While it's not uncommon for many of the current ICOs to have team members working full-time jobs in other companies and/or running other businesses, it's certainly not the best case scenario for success. The Cryptoflix team is no exception, with their LinkedIn profiles showing outside obligations. It's worth mentioning that only a couple of team members have Cryptoflix listed. However, they do have excellent experience in the fields necessary to achieve success, including film production and distribution, blockchain and marketing. Christian Falkenberg Husum is the founder and CEO of Cryptoflix, as well as current Managing Director for OptiNordic, Portobello Film Sales ApS and Phoenix Film Investments ApS. Stefan Steen Larsen is the COO of Cryptoflix and Head of Distribution and Marketing for Chili Entertainment ApS.
Verdict
Two billion people are estimated to not have access to bank accounts or credit cards, which is what current streaming and video on demand services require. Cryptoflix will give those people the option to use FLIX tokens or other cryptocurrencies in digital wallets to access video on demand content. Cryptoflix will start by launching its Cryptoflix streaming platform, which will include both free and paid content with ambitions to add additional services such as a film marketplace, a production company, an ebook distribution platform, as well as set up a charitable trust. Everything mentioned will be connected to the streaming platform. At the current price of Ethereum, the market cap for this project is rather low and could possibly give a nice return on investment if successfully implemented.
Risks
Team members have outside interests, which don't allow for total commitment to the Cryptoflix project or its success. -0.5
The launch of Cryptoflix Alpha is scheduled for the third quarter of 2018, which is after the ICO. Savvy investors would prefer this to occur before the crowdsale. Although they have a proof of concept website, there isn't any Github information. -1.75
If industry giants such as Netflix and Amazon Prime decide to join the cryptocurrency blockchain industry, they will be extremely tough to compete against. -1.5
Growth Potential
Developing nations with high populations create an opportunity for exponential growth, provided that a platform like Cryptoflix is able to successfully integrate and gain popularity. +3
While the team may not have what some analysts consider "all-stars," the members have all the prerequisites to achieve their ambitions. +3.5
The free content offered should broaden the project's consumer base and enable conversion of some free content viewers to paid content viewers. +2.5
Disposition
There is little doubt that streaming and video on demand services will continue to be implemented around the globe and Cryptoflix is positioned to profit substantially if successful at adding this tokenized service to the blockchain. The author would argue that focusing on underdeveloped nations in South America, Africa and Asia is one of Cryptoflix's best decisions to-date, as this will broaden their chances of success. Getting to these markets first could give Cryptoflix a fighting chance if major players in this industry decide to begin using blockchain technologies. However, it's unclear how those without bank accounts or credit cards will acquire tokens to use on the platform. Accounting for all factors, Cryptoflix receives a rating of 5.25 out of 10.
Investment Details
Type: Utility token
Symbol: FLIX
Platform: Ethereum
Price: 1 FLIX = 0.0004 ETH
Hard cap: currently $12,540,000
Crowdsale: April 15, 2018 – May 15, 2018
Available for sale: 57,000,000 FLIX
Payments Accepted: ETH
For more information regarding Cryptoflix:
Website: cryptoflix.io
Telegram: t.me/joinchat/HAI8CFMG4X23G1whB-rnYQ
Twitter: twitter.com/Crypto_Flix
Facebook: facebook.com/cryptoflix.io/
Important: Never invest (trade with) money you can't afford to comfortably lose. Always do your own research and due diligence before placing a trade. Read our Terms & Conditions here. Trade recommendations and analysis are written by our analysts which might have different opinions. Read my 6 Golden Steps to Financial Freedom here. Best regards, Jonas Borchgrevink.
Rate this post:
Important for improving the service. Please add a comment in the comment field below explaining what you rated and why you gave it that rate. Failed Trade Recommendations should not be rated as that is considered a failure either way.
Follow @HackedCom
Feedback or Requests?
Hacked.com is Neutral and Unbiased
Hacked.com and its team members have pledged to reject any form of advertisement or sponsorships from 3rd parties. We will always be neutral and we strive towards a fully unbiased view on all topics. Whenever an author has a conflicting interest, that should be clearly stated in the post itself with a disclaimer. If you suspect that one of our team members are biased, please notify me immediately at jonas.borchgrevink(at)hacked.com.