We help our clients through Zoom. You can download Zoom here.
If you have a hacked account, please join the Zoom meeting with one or multiple devices that used to be logged in to your hacked account, for example, your phone and your computer.
In most cases, we will ask you to share your screen on Zoom. If you are connecting with a computer, we will ask you to grant us remote access/remote control as this speeds up the support process. To do this, follow these instructions (computers only):
1. Click on Share Screen on Zoom.

2. Click on "Remote Control" in the top bar after you've shared your screen.

3. Find your support agent from Hacked.com and click on their name.

Remember to grant us full access to Screen Recording and Accessibility for Zoom if using a MacBook! On a Macbook, this can be done by going to System Preferences, Security & Privacy, Privacy, and then choosing Accessibility, opening the padlock, and then choosing Zoom. Do the same with Screen Recording.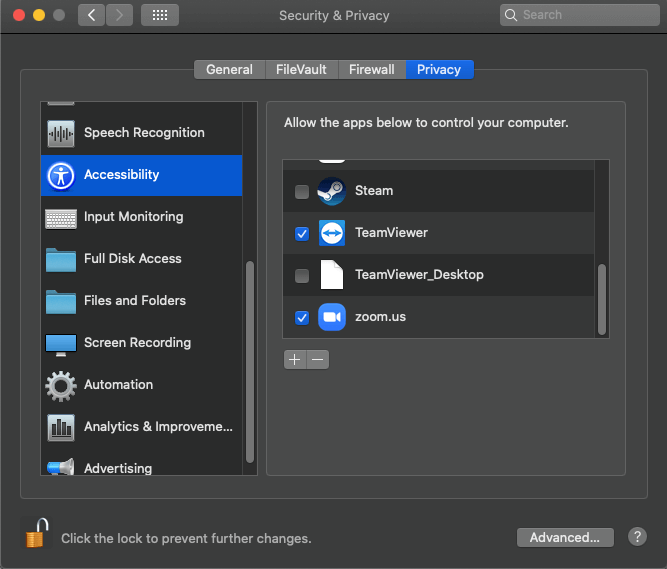 To be able to help you, you must have your phone or computer with you. If you do not want a remote control session with us, we can help you with a "Screen Share"-session only using your phone or computer on Zoom. However, this might take more time.
If you are requested to share old passwords for any online account, please ensure that you have changed the password on other online accounts using the same password.
Sensitive information shared with our staff is confidential and will not be stored.
Please remember to turn off Screen Sharing if you need to:
Enter your credit or debit card details to, e.g., pay for ads on Facebook.
Create a brand new password that you want to keep using
Our staff can help you with that.
The more details you can share with us, the better we will understand your situation and find a good solution.
If you have any questions or concerns regarding our practice, please discuss them with your contact at Hacked.com or contact Hacked's founder, Jonas Borchgrevink: [email protected]