From the perspective of ICOs, Worldcore stands apart for the fact that it is already known as a successful payment solution. Established in 2014, the Czech-based company offers an online transfer service that specializes in bank wires, prepaid withdrawal cards, instant credit card payments and free money transfers.
The company only recently announced plans to create a peer-to-peer lending platform hosted over the blockchain. While some may say Worldcore is being opportunistic, it boasts a client base of more than 25,000 people across the globe. In 2017, it has already cleared $100 million in transaction volume.
As a regulated payment solution with an EU license to operate in the Czech Republic, Worldcore has had great success in its first few years. It has an established track record, a decent business model and aspirations of global expansion. It also picked the right time to enter crypto.
But that doesn't mean Worldcore doesn't have limitations. As we'll discuss in the following sections, the company's lofty valuation is more than just a pat on the back for the good work it has done in recent years.
If that isn't enough, we invite anyone to visit the company's site (or is it, this one?) and try to make sense exactly what it is that Worldcore offers. The author isn't proud to admit he had to visit several third-party websites just to figure out that the company is an online transfer service. You might be thinking, bad copywriters? Maybe. But what if we told you Worldcore is also planning to launch a 24/7 TV service? From the scant details we were able to obtain from the whitepaper, WorldcoreTV will be launched if and when the company raises $25 million. On that note, the whitepaper is a 73-page poster that doesn't offer much to the tech-savvy investor.
Worldcore Token
Worldcore launched its WRC token Oct. 14 on the Ethereum blockchain. One WRC is valued at $0.10 USD, with a total market cap of $100 million USD. A total of 1 billion tokens will be circulated during the ICO. Investors can participate in the raise using fiat currencies like the euro and U.S. dollar, as well as cryptocurrencies.
Worldcore's motivation for the crowdraise is to leverage the blockchain in pursuit of bigger business. The company isn't just dabbing its foot in the ledger technology, but actually converting its business operation to enable greater blockchain capability.
In its whitepaper, the company emphasizes the following target audience for its services:
Freelancers
Big companies
Fundraisers
Online shops and retailers
Online marketplaces
Common people
All kinds of small business
With a list like that, it's clear Worldcore is thinking very big. The company's global reach is demonstrated by the fact that it has translated its website into more than ten languages.
Anyone who wants to send money overseas, facilitate business-to-business transactions and utilize unique security enhancements like voice recognition is Worldcore's target market.
The company has an aggressive roadmap that begins by obtaining membership of the major credit cards, SWIFT and SEPA networks by Q1 2018. With $10 million in funding, it plans to open "5 fully-packed offices in 5 more EU countries" by Q1 2019. If it reaches $25 million in funding, it will launch its WorldcoreTV service, "the world's first 24/7 hybrid of TV channel and digital media focused on Fintech & BlockChain industries with online and international 24/7 broadcasting through Satellite and IPTV."
At $50 million raised, the company plans to transform into a Swiss bank. It believes it can do this by mid-2019.
WRC tokens are essentially a stake in the newly developed blockchain-focused company. In other words, think of your WRC tokens as stocks. There doesn't seem to be any direct use of the tokens within the company's network, except to reap profits from Worldcore's business growth. Worldcore is offering 30% profit to its investors.
If "slow money" isn't your style, you can trade the WRC token on the digital currency exchange. This option will be available to token holders immediately. The company says it will provide a full list of exchanges where WRC is accepted at the end of the ICO.
The Team
In terms of personnel, there's quite a bit of clout behind the Worldcore executive. Founder and CEO Alex Nasonov was listed in the Financial Times annual ranking of New Europe 100 changemakers in Central and Eastern Europe. The company also has a solid list of general partners that includes Bitpay.
Against this backdrop, the author has little doubt that Worldcore is home to a solid team. However, very little information is provided about them, their credentials or the advisers they've selected.
Based on the whitepaper, Worldcore is home to at least three developers, 20-plus support and development staff and a core team of managers. The company also consults with advisers, but does not name them.
The team operates in accordance with EU law, so there's little to be concerned about from the perspective of legitimacy, regulation and business ethics.
Verdict
Worldcore is a highly ambitious company with a proven track record in its niche market. But as an outsider, understanding the company's service offerings and assigning it a valuation has proven difficult. We feel that the strategy behind the capital raise veers away from the company's core service offering. As an outsider, the roadmap for growth seems a little far fetched (as a reminder, Worldcore says it can become a full-fledged Swiss bank in less than two years).
Risks 
At $100 million USD, Worldcore is significantly overvalued. Although the company doesn't state its revenues, the price tag is too high for what it currently offers. Of course, this hard cap is based on potential, but the author isn't too excited about WorldcoreTV. -5
The roadmap for growth makes very little sense. Capital raise via ICO makes even less sense from the information we gathered from the whitepaper and the website. -3
Although the development team has been involved in blockchain since 2016, there's no mention of blockchain or cryptocurrency expertise or experience. The team has done a good job offering an online payment service, but what exactly does this mean from the perspective of blockchain? By the looks of it, Worldcore is taking a deep dive into this technology. Can we really be sure it's going about it the right way? -3
Competition looms large for any blockchain-based payment service. This will work against Worldcore, which, again, has very little experience. -3
Potential Growth
Worldcore is scaling up its core services quickly, and the company expects to clear $150 million in transaction volume this year. +4
The company's CEO has established a good track record that has not gone unrecognized. +1
Disposition
Based on the above, we assign the Worldcore ICO a rating of 1 out of 10. The holes in the business plan are simply too glaring to even consider funding a project of this nature. We certainly don't take anything away from the company's growth, but the project idea does not compute.
Hacked.com members have a high propensity for spotting shoddy whitepapers. The Worldcore write-up is one of the weakest seen. Once again, we invite our members to give it a read and share if they have any unique or differing perspectives.
Investment Details
For more information about the Worldcore token raise, visit the main website.
Project Type: Crowdsale
Opening Date: Oct. 14, 2017
End Date; Nov. 14, 2017
Platform: Ethereum (ETH)
Total Supply: 1 billion tokens
Token Price: $0.10 USD (all unsold tokens will be burned upon the ICO's closure)
Featured image courtesy of Shutterstock. 
ICO Analysis: Sharpe Capital
Sharpe Capital is primarily an investment company whose core product is creating multiple approaches to understanding the market dynamics of both equities and blockchain assets. The multiple approaches to understanding market dynamics include sentiment analysis, quantitative trading, machine learning, AI and linguistic analysis.
Analysts at existing hedge funds/investment funds rely on quantitative and fundamental trading models where the value of an asset is tied to its micro and macroeconomic performance. Analysts hope that the trading value of the asset will converge on its "intrinsic value" over time and earn them returns on undervalued assets. Intrinsic value is the value that the analysts calculate based on various economic indicators. Readers familiar with investment analysis will understand these concepts with ease.
However, generating returns based on the calculated search of intrinsic values of undervalued assets is not so easy. Investor sentiment plays a huge role in asset valuation resulting in asset prices consistently diverging from their intrinsic values. For example, Tesla has higher market capitalization than Ford, but does it deserve that high a valuation? In my opinion, no! But investor sentiment is very positive towards Tesla, resulting in its higher market cap.
So, how do you gauge investor sentiment? This is where Sharpe Capital comes in.
From the perspective of a user who visits Sharpe Capital for the first time, the platform pays Ether for his views on a particular asset. The user is given recent updates about the assets and his opinion is asked. A user's opinion carries weight based on his previous responses (a reputation system) and the amount of SHP token holding. The payouts on correct opinion will be given accordingly. Opinions of hundreds of thousands of users are evaluated to gauge the overall sentiment about the asset.
Sharpe Capital's investment analysis methodology is not just sentiment analysis, but also takes into consideration a host of factors like fundamental analysis (macro, micro indicators), linguistic analysis (sentiments, emotions, contextual framing from blogs, twitter feeds, etc.), and machine learning (continuous learning from past experiences).
Sharpe Capital will feed this information into its proprietary investment fund, whose returns will be distributed among all token holders.
The data generated from sentiment analysis and the linguistic analysis will be sold to buyers like investment funds and researchers.
Sharpe Capital is also creating internal auditing tools and enterprise-grade blockchain solutions for hedge funds and corporate clients for transparency and accountability.
Token
The SHP token will serve several functions on Sharpe Capital's platform. The SHP tokens will give access to the users to earn rewards in ether by voting on bullish versus bearish sentiment of an asset on the Sharpe Capital sentiment platform.
Hedge funds and institutional investors will be able to access information within Sharpe Capital's Quantitative Trading Model through SHP fees. SHP tokens will help holders participate in governance for Sharpe Capital.
Looking ahead, as regulatory clarity emerges, Sharpe Capital will issue SCDs (Sharpe Crypto Derivatives), a cryptocurrency token that will be tied to the firm's proprietary investment fund. Holders of SCDs will be entitled to receive dividends from the proprietary fund.
SCDs will have bi-annual Ethereum payouts and will be distributed 1:1 with SHP at a later date.
The ICO began on 13th November and will last until 5th February 2018. The minimum contribution will be $100. The SHP token is valued at 2000 SHPs for 1 ETH. For each 2,000 SHP issued, an additional 2,000 SHP will be held in reserve for future fundraising and an additional 1,000 will be distributed to Sharpe Capital founders and community members for coming platform development for a total distribution of 5,000 SHP for 1 ETH. There is a hard cap of $20 mn for the raise.
40% of the funds raised will be used for the investment fund, while 20% for development and operations.
The bonus structure begins only after $1,500 contributions. You can check out the details here.
Team
According to the company, "The Sharpe Capital team is comprised of a diverse group of experts across the fields of quantitative modeling, financial engineering, linguistic analysis, international law & regulatory requirements."
There are five members of the core team. Chief Investment Officer James Butler has a Ph.D. in complex system modeling and is responsible for overseeing the development of the Sharpe Capital Investment Platform. This platform was conceived by Butler in collaboration with CEO Lewis M. Barber.
The development of novel approaches to linguistic analysis is supported by leading linguist and anthropologist Mieke Vandenbroucke Ph.D., a Fulbright Scholar and Visiting Researcher at the University of California, Berkeley who is also one of the advisers. There are five other advisers, prominent among them being Dimitri Chupryna, who is the co-founder of TaaS. TaaS will be used for extensive testing of the investment platform.
The team appears solid, with advisers from varied background. One aspect which I personally find somewhat negative is that most of the members, especially the ones developing the investment platform, belong to an academic background rather than one rooted in investment banking. I think this factor is quite relevant for this industry.
Verdict
Let me begin with how well the Whitepaper is written. The team has thought through the project well, with a detailed explanation of the Sharpe Investment Platform. Discussing the technicalities is beyond the scope of this review, but interested readers can go through the document for more information.
That being said, it is quite difficult to judge the quality of an Investment Platform or methodology without historical returns or a product version. The alpha will launch on 12th December with focus on the sentiment analysis part.
Cindicator can be considered the closest competitor, who have been working on the project since November 2014. They have an alpha version and are developing the product from insights coming in from a very active community. Sharpe Capital has some advantages in terms of product quality like the inclusion of linguistic analysis, governance; but then what is stopping a well-funded platform like Cindicator from including these in its product.
Of course, there is space for multiple competing companies, but a segment like sentiment analysis will hold value for only if the platform has thousands of users voting on the platform.
Risks
Sentiment analysis will not hold much value if Sharpe Capital is not able to attract enough users. Also, would hedge funds or investment funds find value in sentiments of retail speculators? -2
Along with Cindicator, many other companies are working on the same domain. -2
The investment analysis methodology although thoroughly developed is purely academic at this moment. -1
There are concerns whether the AI based portfolio manager can generate returns, especially in the crypto space where there is so much flux. -1
Growth Potential
The product is better than the competitors at this moment. +4
Rewards for prediction without the loss of stake is a massive incentive for users to participate on the platform. +3
The alpha version will be launching soon on 12th December. The alpha version launch will be a big credibility boost for the project. +2
Once the regulatory approvals for SCD tokens are obtained, Sharpe Capital can expand to other dividend based funds. +0.5
There will be demand for the enterprise-grade blockchain solutions for hedge funds and corporate clients once regulations demanding more transparency start getting hold. +1
Disposition
We arrive at a score of +4.5 out of 10 for Sharpe Capital. The score can improve +2 points depending on the reception of the alpha version once it launches on the 12th of December.
Investment Details
The ICO began on 13th November. Non-accredited US residents, Chinese and Singapore residents are restricted from the sale. You can participate in the ICO here.
Disclaimer: Writer does not hold an investment position in Sharpe Capital. 
Featured image courtesy of Shutterstock.
Online gaming and entertainment is a multi-trillion-dollar industry that is expected to grow manifold as developers push the boundaries with virtual reality, massively multiplayer online (MMO) and real-time strategy. Data crunched by Statista show that the global media and entertainment industry was valued at $1.72 trillion U.S. in 2015 – a figure that is expected to climb to $2.14 trillion by 2020.
Naturally, any ICO that enters this space is expected to generate lots of attention. Chimaera (CHI) is certainly no different.
The Chimaera blockchain aims to provide a platform for developers to build futuristic games that leverage the latest advances in gaming technology. It does so by democratizing game development and allowing developers to issue their own cryptocurrency that can be traded for the CHI token.
From the perspective of gamers, Chimaera promises decentralized game worlds with 100% uptime and fair play rules.
One of the main issues Chimaera aims to solve is that of scaling – namely, bringing to life massive game worlds with their comprehensive inventory of virtual assets. The company says it is overcoming these issues with "Trustless Off-chain Scaling for games (Game Channels) and Ephemeral Timestamps." This essentially means games can be created on the blockchain without the need for a third party.
Token
Chimaera is a massive undertaking, and one that seeks to create novel infrastructure for the gaming community. To realize the vision, the company has issued a two-phase token sale (pre and public). Funds raised through the token sale will be allocated to the following:
Development, operational costs and legal: 33%
Marketing: 33%
Game developer on-boarding: 33%
The CHI utility token fuels the entire ecosystem and serves as the reserve currency of the Chimaera platform, including:
Account creation
Account transactions
Purchasing game
Renting game
CHI-powered crowdraises
Coin transactions
Chimaera will also enable a Token Exchange Period, which will allow users to exchange bitcoin for CHI tokens. Tokens can be redeemed once the genesis block is mined.
Team
The project is backed by one of the most experienced teams in the blockchain gaming industry. This includes CEO Andrew Colosimo, who has over 20 years of experience in IT and computer gaming . He is the founder of the Huntercoin experiment, which achieved the world's first decentralized MMO game. When it comes to track records in the gaming industry, very few compare with Colosimo.
His team includes a stable of theoretical mathematicians, game developers, software engineers and business leaders. Andrew Gore is also on the team (he's the guy who co-founded Soccer Manager, which has over 20 million downloads). 
Overall, Chimaera's core team consists of 13 people. It also retains the services of an advisory board made up of four experts in the field of blockchain technology.
Verdict
Chimaera certainly makes a compelling case for blockchain-based gaming. The promise of a fully decentralized, autonomous gaming platform backed by one of the brightest teams in the industry give the project a unique advantage in a nascent market with very few comparables.
Risks
Like any project of this stature, implementation and market buy-in is always an issue worth considering. The Chimaera whitepaper does a great job of setting the scene for a decentralized autonomous universe, but building a system that attracts both developers and gamers may prove tricky. In this vein, it's worth asking if Chimaera is looking to adopt a similar model as Steam, a digital distribution platform for multiplayer gaming. To be fair, the whitepaper does include a detailed discussion about ecosystem, growth and revenue. Still, the author sees this one as a higher risk venture when compared to other ICOs in infrastructure or gaming. -2
Although the whitepaper identifies a detailed roadmap, there is no specific end date specified for the token sale. Additionally, there is no mention of how much was raised during the pre-sale or how much has accrued since the official launch. This isn't necessarily a "con," but it may echo some of the concerns mentioned in the first bullet point about buy-in. -2
Growth Opportunity
When it comes to growth opportunity, very few projects promise near infinite scalability. Chimaera makes it abundantly clear that this is the objective. It also details a precise way for reaching it (i.e., through Game Channels). +2
When it comes to project experience, Chimaera's staff takes the cake. The brains behind this project successfully delivered the Huntercoin experiment, which reached a market cap of $6.3 million earlier this year. Chimaera's CEO is not only the creator of Huntercoin, but a member of the Namecoin team. +4
Although adoption risks are plenty (as with any project of this nature), Chimaera provides gamers themselves with a unique value add. In addition to immersive game worlds, the platform offers a complete gaming universe. This is a strong value proposition for a project that requires buy-in on both sides of the aisle (gamers and developers). +2
One of the most unique aspects of Chimaera is the ability for developers to crowdfund their own projects with ICOs. This makes the Chimaera ecosystem truly multi-faceted with the promise of future growth. +2
Disposition
Chimaera is a highly ambitious project that actually promises something new for the gaming industry. If the project's potential becomes actualized, we may be looking at a major draw for all segments of the gaming community. That being said, implementation could prove daunting given all the market participants that would need to be involved to make Chimaera a success. Against this backdrop, we give the crowdraise a score of 6 out of 10.
Investment Details
Type: Crowdsale
Symbol: CHI
Opening Sale: Oct. 23, 2017
Duration: TBD
Platform: Custom
Tokens Available: 1,100,000,000 CHI (plus unsold presale tokens)
Payments Accepted: BTC
Disclaimer: No position in Chimaera or other ICOs at the time of writing.
Featured Image courtesy of Shutterstock. 
Despite being the game-changing tech that it is, recent research shows less than .01% of the world owns cryptocurrency. This number is way lower in countries with mostly bankless populations. Pundi explains, There are 2 reasons crypto has yet to enter the mainstream:
Too complicated: Researching different exchanges, private keys, passwords, learning what it all means… people don't have the time or patience to deal with this.
Not relevant. Right now, basically the only thing you can buy with crypto, is more crypto. People need to be able to spend their crypto on real life things such as coffee, and a sandwich.
Pundi X is a Proof of Sale (POS) device that connects to the blockchain using Xplugins. Starting in Indonesia, these devices will be distributed to retail stores, convenient stores, and cafes. The device allows people to use their Pundi card to buy or sell cryptocurrency, as well as the goods/services that store offers. Buy anything in the store, then buy or sell bitcoin/other cryptos almost instantly!
Here's a demo of how the device works.
If all works to plan, PundiX will incentivize store owners by giving them a free POS device and allowing them to keep most of the fees. Customers will journey into a store that has PundiX. They will pay for crypto, and in return, get a fancy card with no private keys to worry about.  The card is then used at any location that uses Pundi. Any purchase of goods/services with your Pundi card allows rebates.
Black Card ( Ranked 1 – 50); 5% discount for 10 years;
Diamond Card ( Ranked 51 – 150); 5% discount for 5 years;
Platinum card ( Ranked 151 – 300); 5% discount for 3 years;
Gold card ( Ranked > 300; Contributed > 10 ETH); 5% discount for 1 year.
The Token
PXS  is a utility token within the Pundi ecosystem. Its used by developers and sellers to pay gas fees in order to sell their crypto and other goods, in convenience stores, cafes, and shops. Any company or customer that wants to access the ecosystem will have to pay a transaction fee in PXS. These PXS fees are then burned by the smart contract, lowering the total supply.
PXS is a proof of stake (POS) token for the first 3 years of its existence. Each month holders will be awarded PXS airdrops.
Year 1 = 40% extra tokens, year 2 = 20% extra, and year 3 = 10% extra.
The presale is already over. The token price was 650PXS/eth. They raised around $4 million.
The ICO starts Nov 20th, and will start at 575 PXS/eth.
Pundi X is trying to raise over $80 million during the ICO. That is A LOT of money. The reason it's so much is they are using the money to build the POS devices which they are giving out for free to retail stores, as an incentive, in and around Indonesia. Depending on the amount they raise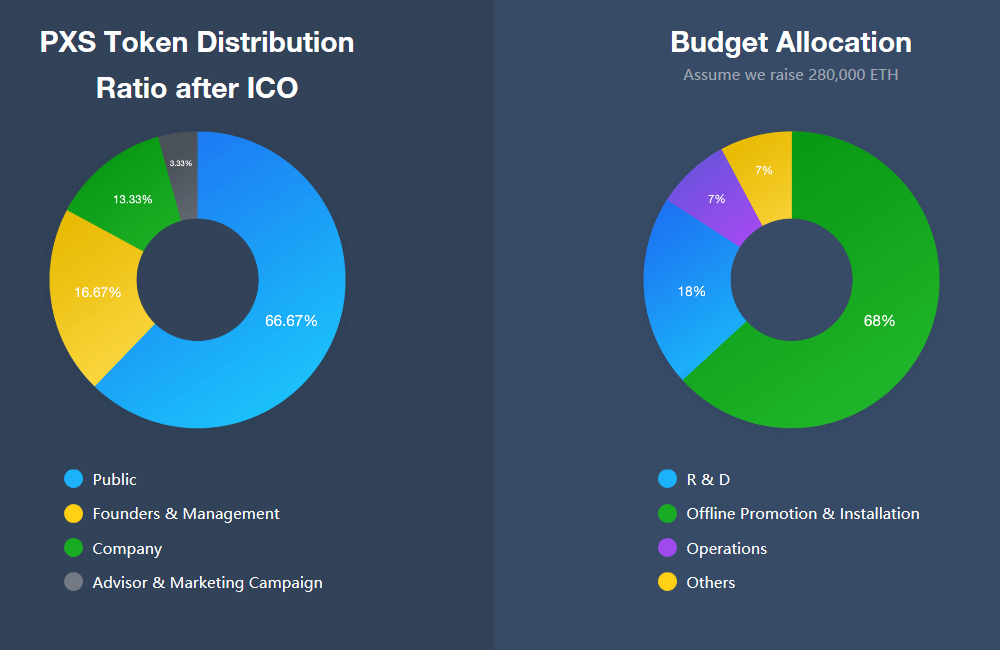 Important to note: "If this ICO does not generate 35,000,000 PXS tokens in sales, the company reserves the right to use the remaining tokens for a second ICO. The token price for any second ICO would be greater than in this round, and the current token holders would also be rewarded. The management reserves the right to terminate this ICO and, if this decision is taken, all ETH invested will be returned to the original investors. "
The Team
The Pundi X team is already 30 people deep, 15 of them (operations) are in Jakarta, Indonesia and the other 15 (R&D) located in Shen Zhen, China. They also already have a very large list of backers/advisors.
It looks like a very talented team, a few members that stood out during my research are:
Constantin Papadimitriou (Kiki) is their President Advisor Kiki has 17 years' experience as Founder and CEO of two of the biggest Fintech companies in Indonesia – Infinetworks and E2Pay.
Zac Cheah,  their CEO, is the former W3C Chair of HTML5 Interest Group. He speaks english and can be found doing several different coin ico interviews on Youtube.
Huang Pu is the COO, only 25, the wiz kid already has several successful exits under his build, including a 200 person company
PundiX has a massive community. Their social media is extremely active.
Verdict
There are plenty of projects already in the space, somewhat, as they are crypto debit cards. However, most of these projects are running into serious legal problems, as Visa/Mastercard are shying away from letting them run debit cards on their system. Pundix need not worry about this. They have a technology/system in place that will never block users out. One that allows you to buy or sell crypto right there at the store without complications.
In January, the team launched Pundi Pundi (their mother app) already one of the most popular QR payment apps in Indonesia with over 100k downloads, and 20k active users. This app allows people to pay their utility and other bills with little effort, and now with crypto.
Risks
Jurisdiction risks. Will this device be legally allowed in retail stores? Pundi responds to this question, "The Indonesian authority has stated that cryptocurrency can be bought and sold as virtual goods. However, it is not allowed to be treated as currency. We will abide by this rule. We are in the final phrase of agreement to use an e-money license with a partnering company. According to Indonesian law, an e-money license is one of the essential licenses in the Fintech business in Indonesia, it allows the user to deposit, pay, withdraw and transfer money online. We are also actively seeking counsel from Indonesia's Central Bank (BI) and Financial Service Authority (OJK). -1
The people don't adopt it. 70% of the people in Southern Asia only deal with cash, no banks even. It could be rather challenging getting businesses and people to sign on. -1
If they dont sell enough tokens in the ICO , it is going to be a problem as the amount they raise funds the amount of devices they are able to make and distribute. And most ICOs the last couple months have underperformed big league -3
Security risks- I'm not techy enough to know what they are, but it seems like they are going to have a lot of bugs to work through.
Growth Potential
PundiX wants to start out by putting a POS device within 5 minutes of every spot in Jakarta. They estimate this will allow millions of new users the option to buy crypto. After Indonesia, they plan to start expanding to South Korea (could be huge). +4
They are currently identifying several channel partners to promote the Pundi X Platform and Pundi X Card. 1.Existing POS Device Manufacturers – both hardware and tablet based (ex. Verifone, mSwipe, Kounta, InHouse, etc.) 2. POS Software Developers 3. Crypto Exchanges (ex. Kraken, Bitrex, etc.) +4. Crypto Cards (ex. TenX) 5. Crypto Banks +3
PundiX predicts:

"In three years, Pundi X will be present in 100k stores in cities globally, giving over 100 million users access to buy cryptocurrency at their nearest shops, cafes, or convenience stores. If the ICO exceeds expectation, we will deliver faster with extra milestones. Pundi X and the blockchain ecosystem needs your support"   If the upcoming ICO reaches 35,000,000 tokens, our target for an installed base of Pundi X POS devices is 100,000 over 3 years. Since these devices constitute a big part of our cost, the amount raised during the ICO will determine device roll out numbers. For example, if we double the amount raised, our network will reach 220,000 Pundi X POS devices in three years, and so forth."

In countries such as Indonesia, around 70% of the population is unbanked, making it impossible to track their credit ratings and give them bank loans. Pundi X plans to collaborate with local financial institutions to create an effective credit rating system. +2
Disposition
Word on the street is Pundi X is the "Indonesian Omisego". This is a bold statement that could turn out to be a tremendous marketing campaign.
There's so much to like about PundiX. It's a great idea, huge community, solid team, working product(demo), and incentives. What stinks is if you do not live in Indonesia, you cannot use it, and don't get a fancy card. What you do get for participating in the ICO is proof of stake for the first 3 years, and the hopes of your token value rising as the platform gets more and more popular.  6 out of 10
Investment Details
Symbol: PXS
Start Date: November 20, 2017
End Date: December 20, 2017
Platform: ETH
Conversion Ratio: 500 PXS/1 ETH +bonuses
Max ICO market cap: 280,000 ETH
Total Supply: 135 million
To sign up for the whitelist, click here.
Disclaimer: The writer owns bitcoin, Ethereum and other cryptocurrencies. He holds investment positions in the coins, but does not engage in short-term or day-trading.
Featured image courtesy of Shutterstock.