ICO Analysis: Pundi X
Despite being the game-changing tech that it is, recent research shows less than .01% of the world owns cryptocurrency. This number is way lower in countries with mostly bankless populations. Pundi explains, There are 2 reasons crypto has yet to enter the mainstream:
Too complicated: Researching different exchanges, private keys, passwords, learning what it all means… people don't have the time or patience to deal with this.
Not relevant. Right now, basically the only thing you can buy with crypto, is more crypto. People need to be able to spend their crypto on real life things such as coffee, and a sandwich.
Pundi X is a Proof of Sale (POS) device that connects to the blockchain using Xplugins. Starting in Indonesia, these devices will be distributed to retail stores, convenient stores, and cafes. The device allows people to use their Pundi card to buy or sell cryptocurrency, as well as the goods/services that store offers. Buy anything in the store, then buy or sell bitcoin/other cryptos almost instantly!
Here's a demo of how the device works.
If all works to plan, PundiX will incentivize store owners by giving them a free POS device and allowing them to keep most of the fees. Customers will journey into a store that has PundiX. They will pay for crypto, and in return, get a fancy card with no private keys to worry about.  The card is then used at any location that uses Pundi. Any purchase of goods/services with your Pundi card allows rebates.
Black Card ( Ranked 1 – 50); 5% discount for 10 years;
Diamond Card ( Ranked 51 – 150); 5% discount for 5 years;
Platinum card ( Ranked 151 – 300); 5% discount for 3 years;
Gold card ( Ranked > 300; Contributed > 10 ETH); 5% discount for 1 year.
The Token
PXS  is a utility token within the Pundi ecosystem. Its used by developers and sellers to pay gas fees in order to sell their crypto and other goods, in convenience stores, cafes, and shops. Any company or customer that wants to access the ecosystem will have to pay a transaction fee in PXS. These PXS fees are then burned by the smart contract, lowering the total supply.
PXS is a proof of stake (POS) token for the first 3 years of its existence. Each month holders will be awarded PXS airdrops.
Year 1 = 40% extra tokens, year 2 = 20% extra, and year 3 = 10% extra.
The presale is already over. The token price was 650PXS/eth. They raised around $4 million.
The ICO starts Nov 20th, and will start at 575 PXS/eth.
Pundi X is trying to raise over $80 million during the ICO. That is A LOT of money. The reason it's so much is they are using the money to build the POS devices which they are giving out for free to retail stores, as an incentive, in and around Indonesia. Depending on the amount they raise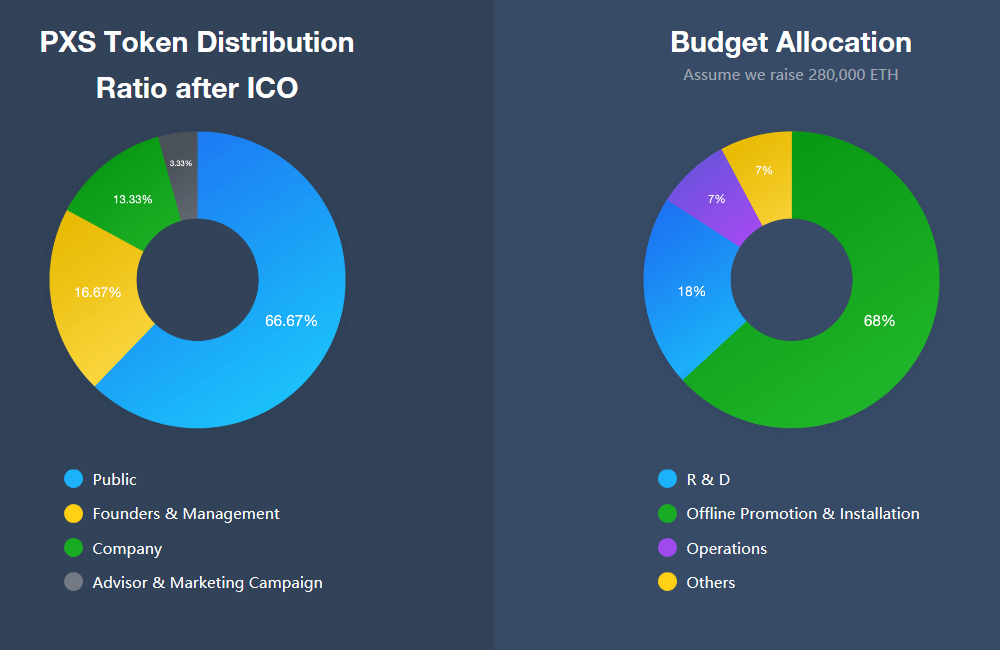 Important to note: "If this ICO does not generate 35,000,000 PXS tokens in sales, the company reserves the right to use the remaining tokens for a second ICO. The token price for any second ICO would be greater than in this round, and the current token holders would also be rewarded. The management reserves the right to terminate this ICO and, if this decision is taken, all ETH invested will be returned to the original investors. "
The Team
The Pundi X team is already 30 people deep, 15 of them (operations) are in Jakarta, Indonesia and the other 15 (R&D) located in Shen Zhen, China. They also already have a very large list of backers/advisors.
It looks like a very talented team, a few members that stood out during my research are:
Constantin Papadimitriou (Kiki) is their President Advisor Kiki has 17 years' experience as Founder and CEO of two of the biggest Fintech companies in Indonesia – Infinetworks and E2Pay.
Zac Cheah,  their CEO, is the former W3C Chair of HTML5 Interest Group. He speaks english and can be found doing several different coin ico interviews on Youtube.
Huang Pu is the COO, only 25, the wiz kid already has several successful exits under his build, including a 200 person company
PundiX has a massive community. Their social media is extremely active.
Verdict
There are plenty of projects already in the space, somewhat, as they are crypto debit cards. However, most of these projects are running into serious legal problems, as Visa/Mastercard are shying away from letting them run debit cards on their system. Pundix need not worry about this. They have a technology/system in place that will never block users out. One that allows you to buy or sell crypto right there at the store without complications.
In January, the team launched Pundi Pundi (their mother app) already one of the most popular QR payment apps in Indonesia with over 100k downloads, and 20k active users. This app allows people to pay their utility and other bills with little effort, and now with crypto.
Risks
Jurisdiction risks. Will this device be legally allowed in retail stores? Pundi responds to this question, "The Indonesian authority has stated that cryptocurrency can be bought and sold as virtual goods. However, it is not allowed to be treated as currency. We will abide by this rule. We are in the final phrase of agreement to use an e-money license with a partnering company. According to Indonesian law, an e-money license is one of the essential licenses in the Fintech business in Indonesia, it allows the user to deposit, pay, withdraw and transfer money online. We are also actively seeking counsel from Indonesia's Central Bank (BI) and Financial Service Authority (OJK). -1
The people don't adopt it. 70% of the people in Southern Asia only deal with cash, no banks even. It could be rather challenging getting businesses and people to sign on. -1
If they dont sell enough tokens in the ICO , it is going to be a problem as the amount they raise funds the amount of devices they are able to make and distribute. And most ICOs the last couple months have underperformed big league -3
Security risks- I'm not techy enough to know what they are, but it seems like they are going to have a lot of bugs to work through.
Growth Potential
PundiX wants to start out by putting a POS device within 5 minutes of every spot in Jakarta. They estimate this will allow millions of new users the option to buy crypto. After Indonesia, they plan to start expanding to South Korea (could be huge). +4
They are currently identifying several channel partners to promote the Pundi X Platform and Pundi X Card. 1.Existing POS Device Manufacturers – both hardware and tablet based (ex. Verifone, mSwipe, Kounta, InHouse, etc.) 2. POS Software Developers 3. Crypto Exchanges (ex. Kraken, Bitrex, etc.) +4. Crypto Cards (ex. TenX) 5. Crypto Banks +3
PundiX predicts:

"In three years, Pundi X will be present in 100k stores in cities globally, giving over 100 million users access to buy cryptocurrency at their nearest shops, cafes, or convenience stores. If the ICO exceeds expectation, we will deliver faster with extra milestones. Pundi X and the blockchain ecosystem needs your support"   If the upcoming ICO reaches 35,000,000 tokens, our target for an installed base of Pundi X POS devices is 100,000 over 3 years. Since these devices constitute a big part of our cost, the amount raised during the ICO will determine device roll out numbers. For example, if we double the amount raised, our network will reach 220,000 Pundi X POS devices in three years, and so forth."

In countries such as Indonesia, around 70% of the population is unbanked, making it impossible to track their credit ratings and give them bank loans. Pundi X plans to collaborate with local financial institutions to create an effective credit rating system. +2
Disposition
Word on the street is Pundi X is the "Indonesian Omisego". This is a bold statement that could turn out to be a tremendous marketing campaign.
There's so much to like about PundiX. It's a great idea, huge community, solid team, working product(demo), and incentives. What stinks is if you do not live in Indonesia, you cannot use it, and don't get a fancy card. What you do get for participating in the ICO is proof of stake for the first 3 years, and the hopes of your token value rising as the platform gets more and more popular.  6 out of 10
Investment Details
Symbol: PXS
Start Date: January 21, 2018
End Date: January 31, 2018
Platform: ETH
Conversion Ratio: 500 PXS/1 ETH +bonuses
Max ICO market cap: $35 million USD
Total Supply: 116,666,667
To sign up for the whitelist, click here.
Disclaimer: The writer owns bitcoin, Ethereum and other cryptocurrencies. He holds investment positions in the coins, but does not engage in short-term or day-trading.
Featured image courtesy of Shutterstock.