ICO Analysis: Experty
The business world is changing faster than ever before. One by one each major industry is getting Uberized by blockchain technology and peer-to-peer business ideas. Next on the list is the $200 billion a year consulting industry.
Traditionally, if I want to consult with an expert in their field I have to spend a lot of time, energy, and money to make that happen. For example, if I want advanced guitar lessons I would have to find an expert, set up an appointment and payment plan,  drive out to meet them, then pay an advanced fee in order to receive my 1 or 2 hour guitar lesson. The guitar expert would have to schedule the appointment and trust that I will show up. With Experty, I can choose any guitar player in the world, agree to their conditions and immediately start receiving lessons from the expert, paying by the minute, while we both sit on our own couches.
Experty is a voice and video application which allows experts in their field to monetize their time and knowledge on the Ethereum Blockchain. It is an application, where payments are automated through an operations contract (OC) allowing voice/video calls to be monetized without an upfront payment. Experts can advertise their services on any social media platform through a QR code or a direct call link. They set their rate per minute, and after the call is over, the OC settles the charges based on how long the call was.
Experty makes it very clear they are "not a marketplace" where users can search for a specialist. They are a decentralized app where experts can share their Experty contact link wherever they want, such as discussion boards, Linkedin profiles, YouTube , and Twitter. For example, if a Kardashian wants to get paid to give makeup tips, she can just post her Experty link (with her price per minute) under her Twitter profile. A user will load up their Experty wallet, click the link, and start getting makeup advice from Kim Kardashian for $20/minute (or whatever Kim's rate is.)
Experty has released a video of their demo. They say they will have an alpha app available to the public in a couple weeks.
The Token
There will be 100 million total EXY tokens with a $10 million cap on funds raised (33% for crowd sale, 33% for experty, 30% partners, 4% bounties) The token sale funds that go to Experty will be used for software development, feedback, community, preparation, and marketing.
The start date for the ICO has yet to be set, but the base price will be 1,000 EXY/ 1 ETH.
The presale is going on now at 1,400 EXY / 1 ETH. I believe they are trying to raise $1.5 million during the presale. You can sign up for the whitelist here:   https://pre-sale.experty.io/dashboard
The token raise also enables a process called staking.  Instead of paying for premium memberships, users who have a certain amount of EXY staked, where they will be allowed to use their premium features such as scheduling, paid group calls (webinars), and conversation recording.
The purpose of the token is where this project runs into some issues. According to the whitepaper, the EXY token will be the only form of payment from advice seekers to experts. This sounds great for early contributors because demand for EXY will go through the roof as the app gets more and more attention. The problem though is Experty wants to make using their application as simple as possible, and there's nothing simple about noobs going onto exchanges to buy crypto. Therefore Experty has decided to allow users to convert their credit cards, BTC, ETH, and other cryptos into EXY right on the Experty app. This way, the experts would still only be paid in EXY, which again sounds great. However, I had a lot more questions, so I went onto their telegram channel and had a delightful little Q&A with Experty co-founder Tom Dyl. Here are some of the highlights.
Hacked: So, this is very similar to adult webcam sites where the viewer pays the model with tokens while she does new and exciting things?
Tom Dyl: "Yes- with Experty it will be able to be done with crypto payments."
Hacked: Explain your staking feature; it doesn't pay out interest in coins?
Tom: "EXY is used for payments within our app. if you want to have access to 'premium' features you'll need to stake coins and you'll get it without real payment – just for staking. We're going to allow also ETH payments, however, it's not yet announced right now. The idea is that with ETH (or other cryptos) there'll be provision paid in EXY but I don't want to get into details with that yet since it's a fresh idea."
Hacked: You're going to allow experts to be paid in ETH instead of EXY?
Tom: Yes, however as I mentioned this is a really fresh idea. Originally EXY was supposed to be the only currency for payment. The idea is to make payment  with EXY without any provision and if someone wants to use ETH the price will be a bit higher since expert will need to pay fee in EXY (but barrier of entry for his clients is lower)"
Hacked: Does Experty keep a stash of EXY to transfer users credit cards/bitcoins/eth to EXY?
Tom: We're planning to have it in our application. It will be an external service however probably due to law restrictions we don't want to be considered as an exchange since it brings additional restrictions and we want to be 100% compliant."
Hacked: Seems like you are really flexible. How is the price of EXY going to moon if people can use other forms of payment?
Tom: "It's because of EXY will need to be used anyways, if payment happens with ETH, a provision in EXY will need to be paid by the expert. Its probably going to be based on your total monthly conversations value; however, the details are not yet there. " (In other words, EXY will be used by the expert when paying their commission to the experty app.)
Hacked: Do you take the dollars, ETH and bitcoin you collect from your customers and use it to buy back the EXY from an exchange? Do you ever burn EXY tokens, how does the price of EXY go up?
Tom: "No we don't plan buybacks or burning. However, this commission in EXY is actually a kind of buyback."
Hacked: I can understand the predicament here.
Tom: "Yes we really don't want to be a security asset. There's an issue with plenty of projects right now that are most likely going to get delisted on exchanges soon, and I expect them to have problems. Not to mention exchanges aren't going to list any new projects like that- they already require papers from lawyers." He goes on a bit later, "[the] basic idea is to have better conditions when you're using EXY, the details are unknown and that's why we didn't announce it yet."
The Team
Headquartered in Zug, Switzerland, the core of Experty has been working together since 2014. when CEO Kamil Przeorski and COO Tom Dyl founded React Poland, where they have been building web and mobile-based apps since 2014. You can check out some of their work here.  http://reactpoland.com/#/works
Their front-end developer, Grzegorz Kucmiers, was a software engineer at Cisco!
They have about 12 other front/back-end and mobile developers, all really young looking, on their core team. As per the website:
"In addition to the core team members listed above, the Experty team has in disposition our existing team of 10 developers. This ensures prompt product delivery of our roadmap while assuring quality product development for the Experty platform."
The team impressive list of advisors.
The Verdict
There's a never-ending amount of use cases for this application. Teachers, chefs, doctors, lawyers, programmers… all need a convenient way to monetize their knowledge, and nothing is more convenient than this. Experty being an app that you can share a link to on every social media site is huge. It means they don't have to worry about bringing traffic to their site before getting business; the business is everywhere that allows access to the experts' link.
The Experty team is large, solid, and has shown their abilities to get stuff done in the past. I can tell this is not a money grab, as they are truly trying to be the Uber of the consulting industry. They do face several challenges, the most important from my view being the token. To reiterate what was said during that Q&A, Experty wants to appeal to non-crypto users too, so they need a way to allow for payment other than EXY. They planned to just convert credit cards, BTC, and ETH on their site to EXY, but then found out from lawyers that may make them a security, which they really don't want. So now they are thinking about allowing ETH payments while finding other ways to bring value to the EXY tokens.
Risks
Scaling. Experty does a good job of acknowledging, and staying flexible when it comes to dealing with possible problems with scaling, -1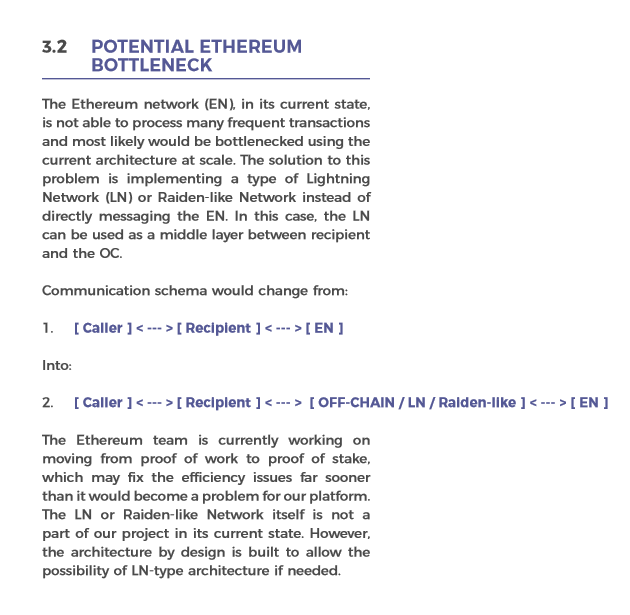 Security is a huge concern with apps like this. Cell phones especially are not designed to secure someone's crypto. Experty is taking very active measures to prevent problems by partnering with the popular new startup Quantstamp  https://www.cryptocoinsnews.com/quantstamp-solidifies-partnership-experty-smart-contract-consulting/  Quantstamp is a cyber security protocol designed to find vulnerabilities in ETH smart contracts. In exchange for Quantstamps auditing services, Experty will allow them to use the experty application to charge clients for consultations. +1
After using this app a few times, it's possible the experts will quickly raise their price per minute, which will in turn discourage advice seekers from paying them. The reason, at least from my perspective, is that experts have worked for years studying their craft to become masters. They are used to getting paid one large amount while dragging meetings out for way longer than they need be. They are probably going to have a hard time giving their thoughts away by the minute, for cheap. -1
The utility of the token is a good sized risk for those looking to make significant gains on their early investments. Going back to that Q&A with co-founder Tom, it really looks like the EXY token will play a fairly insignificant role. If demand for the token isn't manufactured by the customers' need to use the token to access the service, then what's going to drive up the value of the token? -2
Growth Potential
Starting out, Experty plans to focus its marketing on people in the crypto community. They are hoping the community's open-mindedness to new technology, constructive feedback, and their understanding of possible scaling hurdles will be perfect to help prepare the Experty app for mass adoption. They plan to use their marketing budget directly on the crypto community, followed by a wider audience. +2
"Global consulting industry revenues (including HR, IT, strategy, operations, management and business advisory services) will be about $488 billion in 2017," according to estimates from Plunkett Research. +2
According to the company's road map, the very first version of Experty will be a cross-platform calling app, allowing iOS, Android, Windows, and many others to communicate with each other. It will also have a free chat feature so seekers and experts can set up up their call details ahead of time. Also, the app will have a built-in Ethereum wallet for managing funds. This is an excellent start, and with the power of their gigantic team, I'm sure there won't be much difficulty achieving this goal. According to the road map, Experty will be fully functional by 2019  +3
Disposition
The idea is brilliant and simple, but the team faces so many challenges (security, legal, token metrics). That being said, it seems like they are keeping their options very flexible, and are always open to new ideas and feedback. I think this is a good strategy for a company, but a bad fundraising strategy, because investors don't know exactly what they are getting. 6 out of 10
Investment Details
Symbol: EXY
Presale start date:  ongoing sign up for whitelist here.+ 40% presale bonus
ICO date: TBD
Total Supply: 100 million
Max market cap: $10.5 million
Token price: 1000 EXY/ 1 eth
Platform: ETH
https://pre-sale.experty.io/dashboard
Disclaimer: Author has no investment stake in Experty. 
Featured image courtesy of Shutterstock.