Mining cryptocurrencies in today's booming environment is the ultimate accelerated lesson in capitalism, adapt or die. The small-scale GPU farmers can no longer compete with large-scale ASIC mining farms. Mostly coming from the east, these large-scale facilities are mining the majority of bitcoins. It's not easy though, as they still face local and national governmental regulations, restrictions, and electricity cost spikes. These farms are all set up, and can't just leave when the going gets rough. The new startup, Envion, can just close its doors and quickly relocate to the cheapest green energy supplier, anywhere in the world.
The group over at Envion has already ponied up more than $1 million of their own money to design and produce their first Mobile Mining Unit (MMU).
#envion #mobile #mining #ico 10 days until pre-sale! pic.twitter.com/EetanBENMT

— Envion AG (@envion_org) November 21, 2017
As you can see, it's pretty fancy. Mobile enough to move anywhere in the world, the MMU has plugins that can tap into any form of green energy; solar, wind, fossil, and hydro, reducing the carbon footprint while supplying their miners with the cheapest energies on the planet. It's built on a budget of between $100,000 – $150,000 (that's per unit, including the miners). Each unit will have a variety of miners, which are connected to their Unified Mining Cloud (UMC), a market monitoring program that determines the most profitable currencies to mine and reprograms the miners to that coin. The MMU has a giant antenna on top, which allows for non-stop internet access so each unit is always connected and accounted for.
Overheating is probably the biggest problem these units face. They claim to have spent several hours doing scientific research to find the perfect patent-pending solution. With this revolutionary design and two small fans, these units may never overheat or freeze. They have most definitely not tested this cooling device in all the different environments yet, as they only have the one unit built (and its inside of a factory staying warm).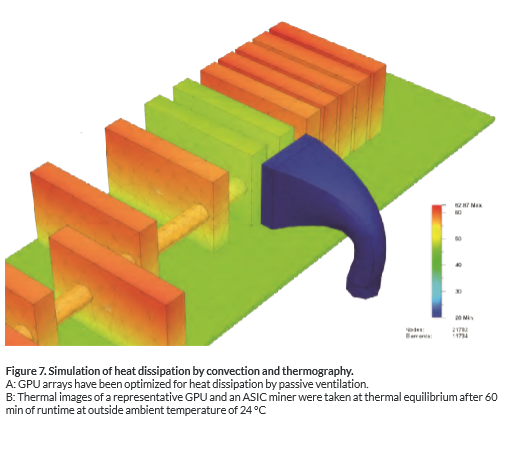 The Token
EVN is an ERC-20 token. Possessing the token entitles the holder to 75% of Envion profits paid out in ethereum dividends each week. It also allows users to have voting/vetoing rights for major decisions.
The presale starts Dec 1, ajd investors can sign up now for the whitelist:  https://www.envion.org/en/#invest (supposedly there are already 40,000 people signed up)
You can purchase with ETH, BTC, or credit card.
The base price is $1 (Dec 1 = $0.70,  Dec 3 = $0.80, Dec 7 =$0.90 and Dec 14-31 = $1).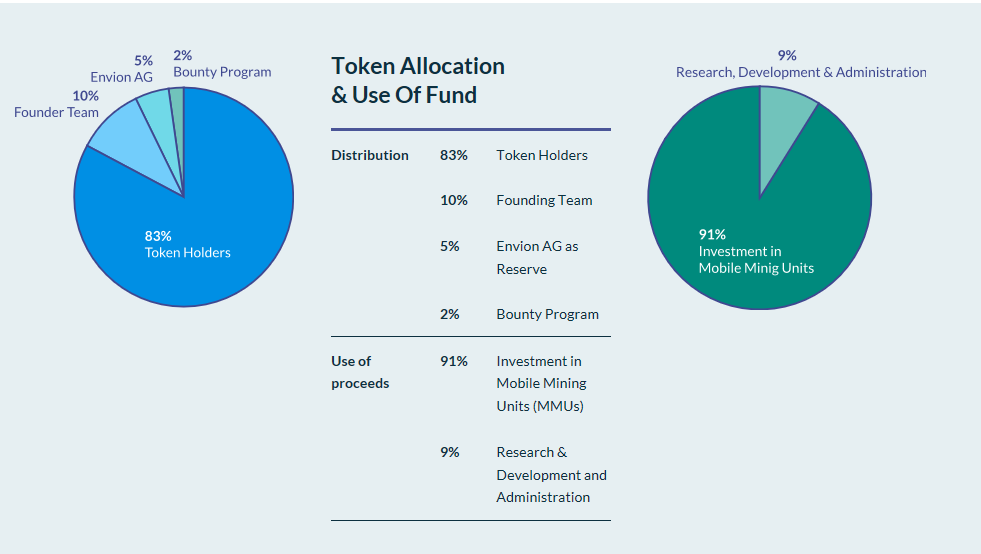 When you go to their token sale page they have a dividend estimate calculator, where you can type in the amount you want to invest and they will show you your future predicted dividends. Basically, Envion is promising 161% ROI.
They are trying to raise $150 million. As I said earlier, each unit costs $100-150,000. It really doesn't matter to the token holders how large the supply is because they get 75% of the profits in dividends each week either way.
The Team
Registered in Zug, Switzerland, but located in Germany, the Envion team seems to lack real talent in the mining industry.
Matthias Woestmann, CEO, has been an investor in renewable energies since the early 2000s. He financed one of the most successful solar module producers in all of Germany. One investigator in the ICO's bitcointalk pointed out he may not be as successful at financing things as he suggests because he couldn't get anybody to come in with him on Envion. The story goes that in 2015 Matthias had an epiphany and convinced the other founders of Envion to start this project. They then spent two years developing the first MMU.  However, if you dig into the six core members of their team, all of them joined within the last two months.
Jasper Hellmann (marketing): High-performance marketer, founded and marketed largest international music festival chain and $30 million eCommerce startup within 11 months.
Felix Krusenbaum (finance): An IT professional with over six years of experience as a strategy consultant at A.T. Kearney with a focus on digital, retail, and eCommerce; ten years of startup and programming experience.
Jonathan Koch (technology): In the whitepaper he's described as a "Software engineer with 10 years of experience as a team leader at Rocket Internet & wooga". However, when you investigate further, it turns out he only worked at rocket internet & Wooga for four years total. One of their bitcointalk spokesmen admitted to this embellishment.
Nikita Fuchs (blockchain): Software engineer and expert for ethereum smart contracts; design and development of decentralized blockchain applications; smart contracts for finance, industry, and NGOs; senior consultant to Astratum.com
I got called "disgusting" for commenting on the number of kids on their team. I honestly look at this team and see interns at their very first job.  A gigantic mining operation needs technology wizards and experienced miners.  This team photo, as well as the founders/management resumes, do not lead me to believe they can pull off this massive venture. Out of the six core member from the whitepaper, only two have programming experience, and I don't think any have mining experience.
Verdict
The streets are whispering. No, the bitcointalk and telegram streets are actually shouting at the top of their lungs about this being a $150 million heist in progress. After going through all their social media with a fine-toothed comb, I counted seven seemingly intelligent people fudding Envion with passion. I cannot validate their claim of hoax. I can however validate their skepticism.
After seeing too many red flags to handle, I took to telegram and asked their representatives a variety of questions. I learned the most from the questions they could not answer, such as:
CWhat's the name of the production company that is building the MMU's?"
"Who is going to supply Envion with thousands of ASIC miners, aren't they always sold out?"
I asked many other questions but persisted with these two for about 36 hours straight. Their reps just delayed answering, and still haven't except for saying, "you may not get an answer at all, because like I said, we do not comment on our supply line."
And they do not comment on why they do not comment. They've clearly been instructed not to reveal any actual information relating to the project. Another area of questioning they can't get into is mining stats. They have their one MMU supposedly running in a warehouse somewhere (they won't reveal where) and it's confirmed that it's not actually mining.
I never heard of a company asking for $150 million, and then not revealing any of their business model.
This is odd, and a good example of what I'm talking about. This video debuted on some random YouTuber's channel.  It's supposedly a random stranger discovering and touring Envions one and only MMU. This MMU is supposed to be operating in a factory somewhere in Germany. The writing on the MMU is English, and the Youtuber who put this video out is from Florida! When asked in telegram about this, the Envion representative quickly produced a detailed story about how the Floridian Youtuber simply stole the video from Envion's Facebook. When asked "why isn't this video on their Facebook page?" the rep said, "it just disappeared at the same time it popped up on the Florida guys channel."
Risks
According to the whitepaper, it doesn't look like a human will be monitoring/guarding each unit. This is insane to me because the other two mining businesses I observed are filled with computer geeks doing maintenance on the units 24/7. The Envion team doesn't seem to have any idea how hard this is going to be. -4
The Unified Mining Cloud (UMC) is responsible for handling and supervising all maintenance operations throughout the Envion network. There are no demo yet of the UMC in action; I believe this fancy networking system is only an idea so far. -2
They are basically promising 161% ROI. Dividends start in January. They don't show how the profits are calculated, they just say token holders will receive 75% of the profits each week. They have one MMU, and nobody knows how fast they can make more. If the first few months of dividends are underwhelming, it could cause a dump.  -2
I'm trying to wrap my head around their business plan.  The only way a large farm can keep scaling is by reinvesting most of their profits right back into their miners. Envion is using a completely different approach by paying 75% of the profits too token holders each week and investing the other 25% back into the MMUs. With all the hidden expenses, this won't be enough to sustain what they got, let alone grow. -5
Growth Potential
As they build these units they get to chose from the entire planet as to where to put them. They are never locked into one location, and can continuously find the cheapest spots and best partnerships. And apparently, some of these facilities are giving away free energy that they have an overabundance of. +4
They are really good at marketing. They have adds all over Facebook, and claim to have more than 40,000 people registered for their whitelist. It's a very attractive idea – genesis mining is huge. If Envion is successful, I can see them getting very big. +1
All over their website and social media is the promise of 161% ROI. I don't know where they got this number, and they won't tell me, but this promise alone will be huge in today's get rich quick market. Look no further than bitconnect. 0
ASIC miners are changing the game. It is very hard to get a constant supply of any type you want. Usually, unless you are connected, there are long waiting periods. Envion claims to have access to "efficient, available, low-cost hardware", but they refuse to reveal their source. If they do have a never-ending supply of miners, that will be a huge advantage. +1
Disposition
I keep being told that the ICO doesn't start until Dec. 1st, and to wait patiently for the answers to my questions. Malarkey! I'm going to release this report so Hacked readers know to beware of this ICO, and if the Envion folks magically start producing evidence of legitimacy, I will update this report. However, even without them withholding information, and the numerous believable allegations of dishonesty and black magic, this project is far too sketchy. 3 out of 10
Investment Details
The presale starts Dec 1. Whitelist and more details https://www.envion.org/en/ico/
Featured image courtesy of Shutterstock. 
Important: Never invest (trade with) money you can't afford to comfortably lose. Always do your own research and due diligence before placing a trade. Read our Terms & Conditions here. Trade recommendations and analysis are written by our analysts which might have different opinions. Read my 6 Golden Steps to Financial Freedom here. Best regards, Jonas Borchgrevink.
Rate this post:
Important for improving the service. Please add a comment in the comment field below explaining what you rated and why you gave it that rate. Failed Trade Recommendations should not be rated as that is considered a failure either way.
Follow @HackedCom
Feedback or Requests?
ICO Analysis: Peer Mountain
Many blockchain-based projects these days seem to focus on issues like data and identity, as these issues come to the forefront of public attention with widespread scandals like Equifax and Cambridge Analytica.
While these kinds of issues definitely affect consumers, companies are lost in the fray as well.
Regulatory bodies like governments have come down and demanded that corporations practice safe data storage and transmission practices that keep the consumer's interests in mind. One such example is GDPR.
Solutions like Civic have emerged to give users control over their identities online. Peer Mountain is a project that not only lets users identify themselves online in a secure manner but also allows companies to offer services to users using PMTN tokens while staying compliant with regulation.
This could be huge as not staying regulatory-compliant could lead to huge fines or worse for companies.
The myriad of compliance concerns, such as compliance costs, data protection, onboarding, reliable KYC, real-time risk assessment, and so on is not being addressed sufficiently by current market solutions.
Peer Mountain is aiming to be the one-stop solution for safe, online personal data usage (consumers) and compliant, online provision of services (enterprise).
Peer Mountain Example: Car Rental
To give a concrete example, imagine you're renting a car.
With Peer Mountain's services, you can submit car rental forms in a few taps and get digital car keys sent to your Peer Mountain account right away instead of having to stand in a line for hours just to fill out some paperwork and wait even more.
Here's how that works:
You verify your identity with the services of identity verifiers, such as insurance companies. Your identity verification (e.g. just the confirmation that you are who you say you are vs. your personal details) is then stored safely on Peer Mountain's decentralized network
The car rental company gets access to your identity verification (confirmation document) but NOT your detailed personal information
Since your identity has already been verified, the rental process is quicker
For the rental agency, they receive verification but not any personal data, which means they don't have to worry about data regulation concerns
Token
In the Peer Mountain token economy, PMTN is used for the following:
Offering services – when an end-user uses a Peer Mountain invitation or service offered by a company, the company pays a small PMTN fee
Using an identity verification – when an identity verification supplied by a verifier, such as a bank, is used, the verifier is paid in PMTN by e.g. a company that wants to verify the identity of their consumer
Everyone involved in the Peer Mountain ecosystem can take on the role of a consumer, service provider, or identity verifier. For example, service providers can provide identity verifications as another way to earn revenue.
Of the total PMTN supply (to be determined by Smartcap – red flag), 40% will be sold, 40% will be kept in the treasury, 10% will go to the team, 8% will be held in legal reserve, and 2% will go to the advisors.
Peer Mountain's token sale has 4 stages:
Presale 1 (priority first)
Presale 2 (priority first) (presale ended March 15th, 2018)
Tier 1 (public)
Tier 2 (public)
Of the proceeds, 40% will go to technological development, 25% to business development, 25% to marketing, and 10% to regulatory and legal costs.
The hard cap, too, is to be determined by Smartcap – red flag.
Team
CEO Jed Grant – Grant was named one of the top 200 European fintech leaders by LATTICE80 and has had a long career in tech, including IT at NATO as well as deep experience in compliance as CEO of KYC3.com, a leader in the compliance world that has been recognized for many relevant awards and honors, such as WealthTech Circle in London, Disrupt.Finance in Zurich, Fintech Fusion in Geneva, Lux Future Lab in Luxembourg, and Europe4Startups.
In terms of advisers, two in particular stand out.
Jeremy Epstein, CEO of Never Stop Marketing – took Sprinklr, a customer experience management platform for businesses, from $20m to $1.8b in four years as CMO
Professor Jorge Sanz – Global Chief Innovation Officer in Banking at IBM
Verdict
While the idea is great, Peer Mountain suffers from issues, such as a lack of strong team and advisors (relative to other projects), no working product, no disclosed significant partnerships, and a variable total token supply as well as token sale hard cap.
Risks
Team could be stronger relative to other projects' teams. (-0.2)
Same goes for advisers. (-0.2)
No working product. (-0.2)
No significant partnerships that have been disclosed. (-0.2)
Max PMTN supply and token sale hardcap are variable and not set in stone. (-0.5)
Maximum contribution amounts unspecified. Combined with heavy discounts for presale purchasers (30% – Presale 1, 20% – Presale 2), this could be worrisome for those looking to get in on the public sale. (-1)
Growth Potential
Potentially huge emerging industry (staying compliant with data regulations). (+4)
First mover advantage – Peer Mountain seems to be the only project addressing the issues of personal data protection and data regulatory compliance at the same time. If things go well, they could cement themselves as the market leader quickly. (+3)
Disposition
Peer Mountain is a promising project with a very strong promise. However, things like lack of a strong team and advisors, no working product, no significant, disclosed partnerships, variable supply and funding cap, and unspecified maximum contribution amounts make it somewhat of a risky investment. Further analysis is recommended for those interested. As a result, Peer Mountain receives a 4.7/10.
Investment Details
Type: ERC20 – Utility
Symbol: PMTN
Platform: Ethereum
Crodsale: TBA
Minimum Investment: 1 PMTN (Presale), Unspecified (Public Sale)
Price: 1 ETH = 2,917 PMTN
Hard Cap: Unspecified
Payments Accepted: ETH
Restricted from Participating: Unspecified
For More Information:
Featured image courtesy of Shutterstock. 
Important: Never invest (trade with) money you can't afford to comfortably lose. Always do your own research and due diligence before placing a trade. Read our Terms & Conditions here. Trade recommendations and analysis are written by our analysts which might have different opinions. Read my 6 Golden Steps to Financial Freedom here. Best regards, Jonas Borchgrevink.
Rate this post:
Important for improving the service. Please add a comment in the comment field below explaining what you rated and why you gave it that rate. Failed Trade Recommendations should not be rated as that is considered a failure either way.
Follow @HackedCom
Feedback or Requests?
ICO Analysis: SmartContainers
Based out of Switzerland, Smart Containers aims to combine Internet of Things (IoT) sensors and blockchain to rent out airfreight containers used for food and medicine transportation that also track temperatures on the blockchain throughout the shipping process.
Maintaining the right temperature for things like food and medicine is crucial to protect against degradation of product. The integrated IoT sensors will also allow the smart containers to know who's renting them, when the contract ends, and when to invoice a customer.
Smart Containers already is #4 in the business to business (b2b) global pharmaceutical transportation market with its product, SkyCell. The company has plans to introduce SkyCell in the consumer market as well, which is much bigger than the b2b market.
The company claims to have close to 100 patents, be 75% more reliable than the current market leader thanks to a less than 0.1% temperature deviation, and have the largest amount of blockchain-based IoT sensors in all of airfreight.
By building LOGI CHAIN, Smart Containers is building a mostly free, open platform for logistics companies and users, such as airlines, customs brokers, sea freight companies, and so on. LOGI CHAIN will provide additional services like payment and insurance through its partners, all paid for using LOGI. The smart containers will be completely autonomous, allowing for truly paperless logistics. Billing will be automated throughout the supply chain and through the use of cryptocurrency, transaction fees will be significantly lower.
Smart Containers has also entered the food transportation market recently through FoodGuardians, which is launching in Europe in 2018.
Token
SMARC tokens will be used for profit sharing in the proceeds of SkyCell and FoodGuardians. 20% of Smart Containers' future dividends as well as potential exit profits from its subdivisions like SkyCell will be paid out to SMARC holders proportionally in ETH according to the number of SMARC tokens in circulation.
LOGI is the utility token for LOGI CHAIN and will be used by parties in the ecosystem to pay for transactions.
There is a total of 150 million SMARC and 100 million LOGI.
Smart Containers is selling two tokens to raise a total of $40m.
120 million SMARC / 150 million SMARC will be offered in the ICO – pre-sale, private, and public phases ($36m). The remaining 30 million will be used to cover ICO costs and align interests of the management team.
Pre-sale was at the end of May and open to invited individuals and organizations. 49.3m tokens (41% of ICO amount and valued at $16m) were sold in the private, invitation-only pre-sale. Participants in the pre-sale bought SMARC at a 25% discount while those in the crowd sale can buy tokens at a 15%, 10%, and 5% discount (first third, second third, and final third of participants respectively). 12.8m tokens (10.66% of ICO amount valued at $5m) are available during the public token sale.
57.9m tokens, or nearly half the tokens for sale valued at $15m/$36m total, are offered in a private sale to institutional investors (red flag).
20 million  / 100 million LOGI will be sold in the token sale – pre-sale, private, and public ($4m). The rest of the tokens will be used for the LOGI CHAIN Foundation (50m tokens), Smart Containers Group foundation capital and ecosystem initialization (25m tokens), and bounty program and incentivizing of board members (5m tokens).
As with SMARC, LOGI pre-sale was held at the end of May and open to select individuals and organizations. Pre-sale saw 5.85m tokens (29.3% of tokens for sale or $1.25m) for sale to invited investors. Participants in the pre-sale bought LOGI at a 25% discount and those in the public sale can buy 3.9m tokens (19.5% of float) worth $1m at a 15%, 10%, and 5% discount (first third, second third, and final third of participants respectively).
10.25m tokens, more than half the float of LOGI or $1.75m/$4m , is for private, institutional investors (another red flag).
Proceeds from the sales of both tokens follow a 3-year allocation plan.
For the funds raised through the sale of SMARC, $15m will be used to scale Skycell, $13m for the launch and scaling of FoodGuardians, $3.6m for reserves and team compensation, $2.4m for marketing, and $2m for Smart Containers IT.
LOGI sale proceeds will be used as follows.
$1.55m initial IT development costs
$1.5m setting up and running the LOGI CHAIN Foundation
$0.75m marketing
$0.2m finances and fees
As of press time, $12.82m/$21m in SMARC tokens have been sold while $1m/$3.25m in LOGI tokens have been sold.
All investors have to pass AML and KYC verification.
Team
CEO and Co-Founder Richard Ettl – worked at Bobst Group, a Switzerland-based, global leader in providing equipment and services to label and packaging manufacturers, before founding Smart Containers with Nico Ros
CTO and Co-Founder Nico Ros – as managing partner at ZPF, a Swiss engineering company, he worked with famous architects Herzog & DeMeuron to construct the most expensive buildings in Switzerland before founding Smart Containers with Richard Ettl
On the adviser side, two names stand out.
Oliver Bussmann, former CIO of UBS and SAP as well as President of the Crypto Valley Association (association that promotes development of Zug, Switzerland as a blockchain and crypto hub – Crypto Valley Association partners include KPMG and ConsenSys)
Michael Guzik, ICO Lead for Lykke and former Head of Blockchain & Manager of Digital Strategy at PwC
Verdict
Though Smart Containers is a proven company, the need for an ICO is vague, especially for its utility token LOGI, and LOGI CHAIN is yet to be developed. These factors along with other risks (discussed below) make this an investment that requires proper due diligence.
Risks
SMARC is definitely a security token since it grants token holders the right to dividends from Smart Containers' profits. In its ICO FAQ, the company says that SMARC are not categorized as security tokens under Swiss law, but investors should be careful. -1
LOGI CHAIN yet to be built. -0.5
Very small amount of tokens available to public compared to private and pre-sale investors. -0.4
Information on lock-ups or vesting vague at best (see "What is the vesting schedule for Team and Advisors token?"), -0.4
No max contribution information. This along with heavy token distribution to pre-sale and private investors is worrying. -0.4
Smart Containers whitepaper light on details about LOGI token utility and focuses a lot on the company's accomplishments thus far, making it seem like a push for non-equity fundraising via the sale of SMARC tokens in an ICO. -0.2
Competitors like VeChain, Walton, WaBi, etc. working on blockchain integration into supply chain scenarios and in the case of VeChain, have much more significant presence and partnerships (e.g. being incubated by PwC) already established. -0.2
Growth Potential
Through SkyCell, the company is well-established, operational, and has revenues. In the Smart Containers whitepaper, the team claims customers like Roche, Takada, and Novartis. +3.5
Skycell is partnered with large carriers like Cargolux and Emirates, already giving it an in in the industry. +2
Even if the ICO is mostly for fundraising via SMARC tokens, if the tokens really give token holders the right to dividends, investing in them could prove profitable if the company does well, which is very possible considering its past and present performance as one of the leaders in the container industry. +3.5
Disposition
Although the need for LOGI utility token isn't clear, and the LOGI CHAIN blockchain solution has yet to be developed, investing in SMARC tokens could prove profitable for investors that want to benefit from the dividends of a leading container providing company.
Smart Containers receives a 5.9/10.
Investment Details
Type: Security, Utility
Symbol: SMARC, LOGI
Platform: Unspecified
Crowdsale: Now until June 30th, 6PM CEST
Minimum Investment: $500 USD
Price: 1 SMARC = $0.432, 1 LOGI = $0.285
Hard Cap: $40m ($36m SMARC, $4m LOGI)
Payments Accepted: BTC, ETH, fiat currencies via credit card including USD, EUR, and CHF
Restricted from Participating: USA and countries facing embargoes and sanctions from the US like Burma, Cuba, Côte d'Ivoire, Iran, North Korea, and Syria.
More Information:
Featured image courtesy of Shutterstock.
Important: Never invest (trade with) money you can't afford to comfortably lose. Always do your own research and due diligence before placing a trade. Read our Terms & Conditions here. Trade recommendations and analysis are written by our analysts which might have different opinions. Read my 6 Golden Steps to Financial Freedom here. Best regards, Jonas Borchgrevink.
Rate this post:
Important for improving the service. Please add a comment in the comment field below explaining what you rated and why you gave it that rate. Failed Trade Recommendations should not be rated as that is considered a failure either way.
Follow @HackedCom
Feedback or Requests?
ICO Analysis: Ocean Protocol
Data has come into the public spotlight recently with scandals like Cambridge Analytica making everyone more aware of the implications of data and just how valuable it can be, both for consumers and corporations.
However, it might surprise you to learn that most data in the world goes unused.
According to Ocean Protocol's whitepaper, only 1% of the world's data gets analyzed. Moreover, as society continues to go digital, more and more data is produced every year.
In 2010, the world produced 1 zettabyte (ZB) of data. That's 1,000,000,000,000 gigabytes (GB) of data. To put that into perspective, a standard iPhone X comes with 64 GB of data. 1,000,000,000,000 / 64 = 15.6 billion iPhone Xes worth of data.
That figure might seem like a lot until you consider the fact that in 2016, the world produced 16 ZB of data and will produce more than 160 ZB by 2025.
So if only 1% of the world's data is being used, that's a lot of data that sits dormant.
Some accused Cambridge Analytica of using data from Facebook to influence elections. If that's true, data can be used for truly significant purposes, good or bad.
The Emergence of Artificial Intelligence (AI)
While data in itself is a huge industry, AI is also an emerging industry that is set to impact every part of the economy in the coming years.
By 2025, revenue from AI will hit $60 billion.
However, AI needs data to be accurate. And given that most of the world's data is unutilized, that means AI is being held back from its potential. Its only companies with enormous caches of data like Facebook and Google that are really pushing ahead in the AI industry.
Why Data is Underutilized
Data is being underutilized because sharing data amongst parties currently suffers from a number of challenges:
1) Centralized hosting
2) Cost (transaction fees, commissions, etc).
3) Lack of flexible pricing mechanisms (E.g. for building apps, model training)
4) Lack of audit trial for compliance purposes
5) No control over data usage once data supplied by providers
6) Lack of frameworks for consent, trust, and regulation
7) No way to track data usage for royalty pricing models
Ocean Protocol: A Decentralized Data Exchange for AI
Ocean Protocol wants to enable the exchange and sharing of data that could be put to use for AI development and other purposes.
The market for data will be two-sided between Data Providers and Data Consumers.
Data Providers earn Ocean Tokens (OCN) by providing data while Data Consumers pay OCN to providers for valuable data.
Providers can set data pricing via Ocean Protocol to prevent problems like vendor lock-in, choose from various pricing models, control who buys their data, see who has worked with their data, set different usage models (one-time, limited time, continuous), and sell their data without revealing it.
On the other hand, consumers benefit from transparent pricing, clear usage guidelines, previews of data before purchasing, choice amongst different data providers, data quality and reputation reviews, and tracking of data that has been bought and used.
OCN can also be earned by curating data, becoming a data marketplace that interfaces with Ocean Protocol, and providing network services like validation, verification, and storing the network's blockchain.
Token
OCN's total supply is fixed at 1.41 billion OCN.
Network service providers like validators earn OCN, which has a block time in seconds.
The token's supply will be allocated as follows.
45% Network Keepers (block rewards for storing the blockchain and validating transactions) and Data Providers
25% Token Purchasers – goes towards funding Ocean Protocol's development, partnerships, nurturing key customers as well as providing liquidity. 10% of this amount will be held in reserve for a possible secondary token sale.
20% Founding Team – used for core protocol, development of network and software, business development, community support, marketing.
10% Ocean Protocol Foundation – used for building community and ecosystem using bounties, grants, partnerships, and rewards.
50% of block-rewarded tokens will be released in 10 years.
Founding team and Ocean Protocol Foundation tokens will be released in six equal portions over the course of five years, beginning in the end of 2017.
Twenty-five of the total OCN supply will be sold to investors in four phases:
1) Seed
2) Pre-Launch
3) Network Launch Distribution
4) Secondary Token Exchange (potential)
Fifteen percent will be distributed during Seed, Pre-Launch, and Network Launch Distribution phases.
There will be another 10% potentially distributed during a secondary exchange if additional liquidity is needed or additional funds are needed to build the Ocean Protocol community. Otherwise, these tokens will be burned, distributed proportionally to OCN holders, or sold by Ocean Protocol on exchanges on a publicly announced schedule.
All purchasers of OCN have to be whitelisted.
Team
The Ocean Protocol team brings a lot of experience to the table.
CEO Bruce Pon spent years at top companies like Accenture and Daimler AG as a consultant and project manager before founding his own consulting, data, and blockchain-based companies.
Overall, the team has deep experience in big data, blockchain, AI, and data exchange and has done things like calculate gravity assisted trajectories between Earth and Mars, built a dozen global banks, managed operating budgets over $30 million, and more.
Companies, institutions, and organizations that the team is or has worked with include MIT, Cisco, Oracle, Microsoft, IBM, Google, Ernst & Young, and more.
Pon and other core members founded BigchainDB in 2014. BigchainDB will develop Ocean Protocol and has already created things like ascribe.io, a way for creators to track intellectual property on the blockchain, WhereOnThe.Net, which tracks the spread of creative works, IDPB, the Interplanetary Database or a shared global database, ImageMatch, machine learning-based image recognition, and more. Clearly, it isn't their first rodeo when it comes to things like blockchain, data, and AI.
DEX Pte. Ltd. is also working on developing Ocean Protocol and was a lead partner for Data City : Data Nation, a partnership amongst Singaporean and British corporations and governments to work on data exchange by providing common regulatory and governance frameworks.
Singapore, which has shown its hostility towards crypto at times, is the lead government partner for Ocean Protocol. Singapore wants to become the hub for data sharing and is working with Ocean Protocol to achieve that goal.
Verdict
Though Ocean Protocol has a promising premise and team with lots of relevant experience, lack of a working product and significant partnerships makes investing less desirable.
Risks
No working product (-2)
Many other competitors like Enigma, Datum, Dentcoin, Streamr, and more, some of which have working products. (-1)
No other significant advisors or partnerships besides Singaporean government that could boost the spread of Ocean Protocol. (-1)
No hard cap announced for Network Launch Distribution round. (-1)
Growth Potential
Data sharing and AI are huge growth industries. (+3)
Team has lots of experience, especially in relevant fields, such as blockchain, data exchange, and AI. (+3)
While competitors may be focusing on specific use cases, such as "data marketplace for advertising data", Ocean Protocol is more of a platform, and platforms, e.g. Ethereum and NEO, have done well in the past. (+2)
Pre-Launch round had an equitable token distribution with a max contribution of 1250 euros – helps prevent dumping by whales. (+2)
Long vesting periods to prevent dumping. (+1)
Disposition
It might be better to pick up some OCN post-ICO or if and when the project is more proven in terms of a working product and partnerships. Moreover, Network Launch Distribution details have yet to be released, which could have an influence on investment potential as well.
Ocean Protocol receives a 5/10.
Investment Details
Type: Native Token
Symbol: OCN
Platform: Ocean Protocol
Crowdsale: Network Launch Distribution date unspecified
Minimum Investment: Unspecified (Network Launch Distribution)
Price: Unspecified (Network Launch Distribution)
Hard Cap: 25m euros (Seed and Pre-Launch), Unspecified (Network Launch Distribution)
Payments Accepted: ETH
Restricted from Participating: not specified but their Ocean Tokenomics article makes it seem like it would be open to even un-accredited US and Canadian investors (see "Lock-Up")
For more information:
Featured image courtesy of Shutterstock.
Important: Never invest (trade with) money you can't afford to comfortably lose. Always do your own research and due diligence before placing a trade. Read our Terms & Conditions here. Trade recommendations and analysis are written by our analysts which might have different opinions. Read my 6 Golden Steps to Financial Freedom here. Best regards, Jonas Borchgrevink.
Rate this post:
Important for improving the service. Please add a comment in the comment field below explaining what you rated and why you gave it that rate. Failed Trade Recommendations should not be rated as that is considered a failure either way.
Follow @HackedCom
Feedback or Requests?
Hacked.com is Neutral and Unbiased
Hacked.com and its team members have pledged to reject any form of advertisement or sponsorships from 3rd parties. We will always be neutral and we strive towards a fully unbiased view on all topics. Whenever an author has a conflicting interest, that should be clearly stated in the post itself with a disclaimer. If you suspect that one of our team members are biased, please notify me immediately at jonas.borchgrevink(at)hacked.com.