ICO Analysis: Deepbrain Chain
Deepbrain Chain will provide a low-cost, private, flexible, secure, and decentralized artificial intelligence computing platform for artificial intelligence products.
Coming out of China, based on NEO,  Deepbrain Chain is an incredibly difficult whitepaper to read. Many concepts are both lost in translation on paper, and in my simple brain.
I came across a Reddit post from a man named crypto_oxford, who does a great job summarizing.
"It is a data computation platform and a Data trading platform that uses distributed spare computing ressources, makes AI computational demands cheaper, protects against data leakage via hacking, secures the seperation of data ownership and usage rights, and secures intellectual property for the data and for the products."
They figure to reduce the cost of AI by 70% by making it minable on the blockchain. I cannot verify these claims, I am no expert in this field. Here's a good example possible investors face when trying to learn about this project.  It sounds great, but what does it really mean?
"The founding team believes that DeepBrain Chain is a project that has been verified by the market, has huge market scale and significant application value, lets the process and economic value associated, and is gradually issued with the core business sharing storage and the mechanism of computation capacity of mining. Each token corresponds to the computational value of the service provided during its issue, and is a truly valuable asset and digital currency that has already landed. Due to the difficulty of issuing, the value of the flow needed by every new token will increase. The earlier one holds, the more the expected value of the market will be."
The Token
NEO platform (nep 5 token)
A max hard cap of $15 million,
There's a total supply of 10 billion Deepbrain Chain (DBT) tokens. 50% of these will be mined over time.
1.5 billion tokens will be for sale
600 million sold during the Presale, which ended 10 days ago, and was almost impossible to get in.
Token sale stars Dec 15th. You must fill out a KYC form to be eligible. No USA or China allowed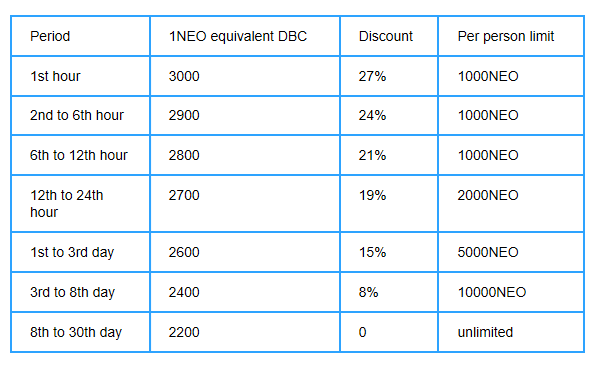 Only 1.5 billion of the total 10 billion tokens will be for sale.
600 million in the presale, and 900 million in the public sale
Use of funds. 55% R&D, 25% marketing, 10% daily operations, 8 % incentives, 2% patent fees
The Team
Based in China? The team is doing things. They recently won 1st and 2nd place prizes in Academic Sector  & Enterprise of SMP, at the Chinese Man-Machine Dialogue Field Authority Evaluation Contest. This contest had over 30 of Chinas best competing.
Their resume's check out pretty well. And just look at these faces… JACKPOT!
The Verdict
When it comes to the technical side of this project, I am out of my element. They have a hard cap of $15 million, $6 million of that already came from private investors, one of which being NEO, who funded them $1 million.This gives them serious street cred.
AI  data computation, neuro networks, machine learning, all these concepts are no doubt where our world is going. On Deepbrain Chains platform, one can compute and trade data. They have a working platform with more than 1,000 semantic skills.
Risk
This being a Chinese project, on NEO, makes it more susceptible to regulations than other projects. It doesn't seem likely, but is a risk nonetheless -1
The token metrics are funny. Only 15% for sale. They have a whitelist for the presale (which may be filled up by the time readers see this.) They didn't limit the amount people bought during the presale, and won't for the public sale either. This could lead to whales owning most of the supply. -2
They are having KYC implementation difficulties with their sale. It has been a huge issue in their telegram the last 24 hours. What looks like is happening, is there is no way to verify what customer is connected to what KYC. This could be an in for investors who currently aren't signed up for the KYC to buy these tokens. These issues could be a bad sign of things to come.-2
Growth Potential
The Deepbrain whitepaper states; there have been over 5k startups since 2012, collecting over $22 billion. This is without counting the money large existing companies put into ai, which makes the total amount of money over $100 billion. It is certain that this is just the beginning.+4
NEO partnership. NEO alone has an endless amount of growth potential. They have a large community that gets exdcited and involved with the projects NEO backs. This partnership is worth a lot. +3
The ICO has a strict KYC rule. This is going to create a tremendous amount of demand for this once it hits exchanges.+2
This is a $20 billion industry, that is only growing from here on out.+2
Disposition
The 10 billion supply with only 1.5 billion being sold is scary. However, the rest of the ICO seems to make up for this.  5.8 out of 10
Investment Details
Sale starts Dec 15th, however, you need to fill out the whitelist/KYC app in order to get in. This application is having technical issues which may allow anyone to buy in without previously being KYC whitelisted. It's worth a shot, but need to hurry!
Sign up here  https://www.deepbrainchain.org/pc/kycEnglish.html
Cover image courtesy of Shutterstock.com.
Important: Never invest (trade with) money you can't afford to comfortably lose. Always do your own research and due diligence before placing a trade. Read our Terms & Conditions here. Trade recommendations and analysis are written by our analysts which might have different opinions. Read my 6 Golden Steps to Financial Freedom here. Best regards, Jonas Borchgrevink.
Rate this post:
Important for improving the service. Please add a comment in the comment field below explaining what you rated and why you gave it that rate. Failed Trade Recommendations should not be rated as that is considered a failure either way.
Follow @HackedCom
Feedback or Requests?
A Skolkovo-powered Russian start-up set the pace with Augmented Reality apps by developing the so-called "Augmented Reality Time Machine".
In 2014, Pilgrim XXI made its debut to disrupt the Russian tourist industry for good. This augmented reality app is an open source ecosystem, where contributors can re-create historical events on three-dimensional landscapes in a digital fashion.
The company aims to create a global network of outdoor AR parks, offering tourists an amazing experience. combining their real trip with the concept of time travel.
While Pilgrim XXI is already one of the most exciting tech projects of our era, the company didn't stop here, as a combined effort supported by Microsoft, Intel, Google, Skolkovo Foundation and Booking.com brings us Arcona.
Arcona is Pilgrim XXI's second move and can be taken as an attempt to join the blockchain revolution, while at the same time trying to expand their network and digital presence.
The Skolkovo start-up created an open source ecosystem, where contributors can create, buy, rent or lease digital geo-locations, or Digital Land, Arcona's main asset, in order to incorporate AR in every sector of the physical world's business.
From a corporate point of view, Arcona creates a new layer of Augmented Reality as space. There is minimal space left on billboards and physical reality, in general, while there is an infinite amount of ads that could fit into the digital version of what we refer to as reality.
For a user, Arcona brings Augmented Reality closer to "normal" since currently, there is not one single universal tool for interacting with Augmented Reality. Arcona gives users the ability to add, edit and offer software and assets that can be traded and used by others within the ecosystem.
Creating an indoor AR can be easy nowadays, but setting an outdoor scene of several hectares can be challenging, as the developer must travel to the location, and consume time, money and effort. With Arcona, you can access any geo-location remotely as it visually combines virtual and physical space powered by developers and consumers.
Arcona wants to upscale the concept behind AR on a global scale. Currently, we have more than ten AR systems and each of them supports a single specific hand-held device such as an iPhone, or specific VR glasses etc. Arcona wants to create a cross-platform experience through their ecosystem where more people could access and use AR from anywhere, anytime.
Pilgrim XXI uses blockchain technology to ensure and identify users and land ownership, transfer and marketization.
An operational example of the platform would look like this:
An outdoor AR park is designed and built by Arcona and their community workers.
Contributors get paid in Arcona tokens according to their contribution level.
The park is open for public, and tourists can visit the AR park to experience a time travel paradox, watching historical events about the area, or conceptual events to come on the area.
Professional advertisers will expand their market into AR spaces to entertain AR visitors/users in every corner of the world. Users get paid for watching AR ads in Arcona tokens.
Token
Arcona's ecosystem and economy are relying on their native utility token. This ERC-20 token is necessary for the ecosystem to function properly and being able to establish smart contracts between developers, clients, brokers and consumers within the ecosystem.
The token is also the main currency which is used to purchase or sell Digital Land, and/or other software or digital assets within the Arcona ecosystem.
Arcona token holders will have the right to contribute to the formation of the ecosystem by developing software blocks and visual AR content, as well as by testing the system.
The total token supply is set at 135,000,000 Arcona. The hard cap for the ICO is set at $25 million dollars, while the starting price per Arcona is set at 0.0025 ETH.
60% of the total tokens will be released during the ICO sales. 31% is reserved for Arcona, of which 20% goes to the team, and 11% is reserved as the development fund. Additionally, advisors get the 7% and 2% will be distributed to bounty participants.
Team
Ilia Korguzalov, CEO & Founder, has nine years of experience in the laboratory of the Peter the Great Museum in Saint Petersburg, restoring arts and an additional 15 years experience in business development.
Diana Sorina, CEO/CMO & Founder, has over 12 years of experience in different forms of digital and physical marketing.
Dr. Igor Rozhdestvensky, CSO & Founder, has Ph.D. in theoretical and mathematical physics and IT, and  a 20-year track record in entrepreneurship.
Tatiana Chernih, Founder, has over a decade worth of experience in journalism and PR.
Daniel Girdea, Founder, has more than six years of experience in the construction and real estate.
In the team of advisers we can find Lyubov Simonova, an angel investor on various technological projects on the internet, George Popescu who has several high positions on numerous online platforms and marketplaces, James Haft, who is adviser or co-founder of global ICOs and token offerings, Kairat Kaliyev, founder of Cross Coin currently focusing on project development, Sergei Chmel, who established in almost 20 years several companies in different areas and Sergey Khitov, who will serve as mentor and blockchain expert.
The team looks solid overall, with people who have experience in creating Augmented Reality projects as well as marketing and business-focused solutions.
Verdict
This project of Augmented Reality is a futuristic concept that will enable us to experience different aspects of our everyday lives at any time, anywhere. It can group us with people, regardless of our distance, either from a business or an entertainment point of view.
It can also bring us closer to other people's ideas. It is easier to understand one another when you can visually witness what the other wants to show you, than hearing about it. When you can create anything you imagine in 3D for others to see, the whole concept of conception shifts meaning.
Arcona wants to do the first step of reaching that level. With this project, 3D editors and animators will be able to create a library of every animation requested by people in Arcona. The more the library grows, the more people can express themselves through Augmented Reality.
Augmented Reality has its positives and negatives, such as every aspect of life, and while the positives are many, there are a few negatives that should be mentioned. One of them is the excessive addition of commercial messages inside the cyber world, to the point that it becomes annoying or even unhealthy for the user.
Another part that users should be careful is the addiction to Augmented Reality. It won't be long before this technology is available in a variety of new devices, such as projectors on our sunglasses, for example. Users will be able to exist both in physical reality as well as inside a virtual lobby of digital content, and that can be either a gift or a curse.
Risks
From an investor's perspective, the following facts are important to consider when weighing Arcona:
AR is a step ahead of VR, and VR is yet to be commercial. While we all enjoyed PokemonGo for a couple months, AR systems are still years behind in development and pragmatic real-life use-cases. -2,5
It may sound spooky, but being paid for watching virtual ads is really something we're eventually going to face sooner or later. Creating tailored ads just for you to see in Augmented Reality can be almost unethical at the moment. -2
Many spatial locations have copyrighted content that you might not be able to pay for or even use in some cases. It might sound really interesting as a conceptual project, but in fact, it will be really difficult to convince governments to allow you to re-create 3D models of their societies and alter them on a digital level. Therefore we assume that in the beginning, there will be a preset amount of various locations to "play with". -3
Growth Opportunity
On the other hand, having a decentralized multi-platform supporting Augmented Reality is definitely an aspect of the near future. Arcona is not one of the first, but the pioneer company behind this concept. +4
This Skolkovo-powered start-up is backed by Microsoft and Intel among other industrial titans, while it is also funded by the major ICO angel "Wings". These companies wouldn't risk their name for something that has no vision. +3,5
AR can help us recreate historical events, and in a sense cheat time on a small scale. A whole new wave of tourism is here, where you can explore places literally built from scratch just to please your visual sensors. Not to mention how this new space could benefit the marketing and advertising sectors. +2,5
135,000,000 Arcona is a decent total cap for such a cheap token. 0.0025 ETH is currently equal to ~$1,60. Similar total supplies come from Binance and Nano, with their price per unit at $13,80 and $7,37 respectively. +3,5
Disposition
Although it can generate interesting growth when it enters the market, Arcona will need most of the initial capital raise in order to headstart with a few outdoor parks, meaning that the price will most likely sink as soon as it enters the commercial cryptocurrency market.
KYC (Know Your Customers) is mandatory for many, if not most, ICOs in order to secure the sales period by scammers and unwanted individuals. It is uncomfortable to know that a project so highly supported by various firms and governments is not using this simple security technique.
A score of 6 out of 10 is reserved for Arcona, based on present facts.
Investment Details
Type: Utility
Symbol: ARCONA
Platform: Ethereum
Pre-Sale: Apr. 15, 2018
Public Sale: May 16, 2018
Hard Cap: $25 million
Payments Accepted: ETH, BTC (No KYC)
Disclaimer: The writer has no position in Arcona at the time of writing.
Featured image courtesy of Shutterstock. 
Important: Never invest (trade with) money you can't afford to comfortably lose. Always do your own research and due diligence before placing a trade. Read our Terms & Conditions here. Trade recommendations and analysis are written by our analysts which might have different opinions. Read my 6 Golden Steps to Financial Freedom here. Best regards, Jonas Borchgrevink.
Rate this post:
Important for improving the service. Please add a comment in the comment field below explaining what you rated and why you gave it that rate. Failed Trade Recommendations should not be rated as that is considered a failure either way.
Follow @HackedCom
Feedback or Requests?
ICO Analysis: White Rabbit
The creation of the internet enabled the potential for consumers to have a media paradise, where they could consume only the content they wanted, when they wanted, how they wanted.
If that doesn't sound like the way things actually shook out, you might be on to something.
The problems stopping this vast potential from being realized have been around in some form since the 1990s but they are only getting worse as traditional movie/television studios and networks dig their heads in the sand (while at the same time Netflix, Amazon, HBO, and their ilk bend the entire industry to their will (creating massive problems themselves in the process.)
The issues with the current approach both decades ago and today can be together summed up in five short statements.
1. Media content is not convenient or cheap enough for consumers to consume it.
2. Consumers turn to pirating media content out of frustration with the status quo.
3. Businesses double down on these failed models which leads to continuously increased piracy rates.
4. Content creators make less and less money out of creating content.
5. The quality and range of available content head towards the gutter.
Rinse and repeat until the end of time.
But does it have to be this way?
White Rabbit thinks not.
White Rabbit is an ambitious proposal to solve all the issues of streaming media content once and for all using blockchain technology.
It attempts to do this first and foremost via a few unique methods.
1. A universal browser plugin that can recognize streaming media content regardless of where it is being streamed (including illicit p2p sites), and send rights holders a native cryptocurrency token (WRT) via smart contract in exchange for the legal ability of the consumer to stream the content wherever and whenever they desire.
2. The Rabbit Hole: A portal for high-quality versions of streamable content, extras, behind the scenes/deleted footage, fan and filmmaker interaction (via VR and other methods), and third-party content, personalized to the user.
3. White Rabbit approved partner streaming sites that will curate unique content and UI to form tailored streaming communities for consumers.
So how does all of this actually work in practice?
Once WRT is accepted by the CRH (content rights holder), it opens access for fans to the high-quality version of the film in the Rabbit Hole, plus all the extras, behind-the-scenes, deleted scenes, fan and filmmaker interactions and third-party innovation.
WRT can, of course, be used to access all of this additional content.
When a film or series is popular enough among fans, it will be difficult for CRHs to resist pulling all the collective tokens on offer (by entering into a smart contract with White Rabbit).
WRT basically enables users to gently nudge the CRH to join White Rabbit and give users access to their art and entertainment but on the fans' own terms.
According to the white paper, the film industry should not demand fans to change their habits, but instead, adapt themselves to those habits.
White Rabbit believes that the collective power of their token holders will force this long overdue adaptation.
WRT thereby gives users the power and responsibility to prove their willingness to pay and show the industry that it´s a matter of access and convenience.
In fairness to White Rabbit, they do have some data on their side.
In their whitepaper, they cite British and Australian research that interviewed 10,000 illegal streamers.
The research showed that 60% of those interviewed were willing to pay if they had convenient access to content. These same streamers have also been proven to spend significantly more on content than those that do not stream illegally.
What this means is that they are not really pirates, but fans without enough access to content.
This suggests that it is not that content producers "can't beat free" but rather that a majority of frustrated fans who don't see a viable alternative in the current streaming environment pirate begrudgingly.
So what are the true benefits to all parties within the White Rabbit ecosystem?
For Fans & Consumers:
Freedom to stream on any P2P site: Paying directly to rights holders regardless of where the consumer is watching content.
Freedom to pay: P2P is legalized by guaranteeing payment for streaming with the White Rabbit Token (WRT).
Freedom to access more content, more artists, and more fan experiences in the Rabbit Hole: This brings consumers closer to the art, artists, and entertainment they love.
Producer:
Revolutionary business model: No longer necessary for producers to wait months and years to receive revenue for their content. Instead, they receive payment minutes after the fans pay.
Data: Access to all the non-personal consumer streaming data related to your film or series.
Control: Price and territory can be adjusted while content relevant steaming sites focus on targeting audiences interested in specific content.
Streaming Industry:
White Rabbit revenue shares with streaming sites that agree to their Partner Streaming Sites code of conduct.
Illegal streaming sites are encouraged to legalize by a rewarding revenue model (which will, in theory, lead to new legitimate players entering the market.)
This incentivizes innovation in UI, search and recommendations, improving the streaming experience and the creation of clear streaming brands, to the benefit of both fans and content creators.
Creatives:
Interaction: Talk to their fans directly in the Rabbit Hole. Tell the fans about them, their film and their upcoming projects.
Monetization: Offer additional content to the fans' favorite film and series, Q&A´s, VR screenings and more.
Transparency: Receive what they're due as user payments are written in the immutable blockchain ledger.
In short, The Rabbit Hole tears down the many barriers that keep fans apart today, ensuring fans and filmmakers are able to interact and transact such that revenue and engagement are maximized on all sides.
Today, producers, filmmakers, and their investors are not able to do this effectively because they are not maximizing the true potential of digital streaming. They are not in contact with their fans.
White Rabbit and the Rabbit Hole closes that gap.
Streaming media content is expensive, users have less choice than before, revenue for rightsholders is neither transparent nor reasonable, and White Rabbit argues that by not accepting users' streaming habits, the industry itself encourages piracy.
Example of unique Rabbit Hole content experience:
1. A cult film with 20,000 fans in 50 different countries could hold a VR cinema screening in the Rabbit Hole with half a million fans from all over the world. Filmmakers and fans could interact live in the VR cinema, merchandise could be bought, and new fans could join.
What was once a niche film that was difficult to monetize due to geographical and regulatory barriers suddenly becomes a viable business model given open access.
White Rabbit by its very design does not seem to distinguish between the rising star and the established filmmakers.
The film itself, its resources within its own habitat, its ingenuity or cash, it´s fans and the campaign strategy of the film will make the difference between success and failure, not uneven control over distribution.
In White Rabbit's vision of the future, success is no longer about who you know, it´s about what and how you deliver. It´s about innovation in communication as much as technology.
White Rabbit plan to create the Airbnb experience for the content streaming industry.
This, in theory, allows UI designers, branding and film buffs to create streaming sites catered to every and any taste.
Ultimately, producers can release content to specifically target their audience by way of streaming sites that match their content.
To Recap:
Challenge 1
Too few filmmakers make money from digital distribution. There is less choice of content as closed server subscription services produce more of their own and buy less.
Challenge 2
Revenue lacks transparency, accountability and quick transferrence to content creators.
Challenge 3
Fans are forced to break the law to see their favorite film or series because they can´t pay for content.
Challenge 4
There is less choice of content as closed server subscription services produce more of their own and buy less.
Challenge 5
The digital distribution paradox – a lack of competition in global digital distribution slows UI innovation. Yet, more subscription services mean more logins and passwords for users.
The White Rabbit ecosystem brings together users, content rights holders and creators, partner streaming sites, third-party developers and White Rabbit themselves.
By offering users a personalized content library — the Rabbit Hole — and a browser plugin, White Rabbit can fix the content issues plaguing the media industry once and for all.
The White Rabbit plugin recognizes the content being streamed enabling users to offer White Rabbit Tokens (WRT) as a guarantee for payment to content rights holders.
Each time a user streams content a smart contract deducts the tokens from the user's account and transfers it to the rights holders.
If a smart contract does not exist, rights holders may enter into one and accept tokens or reject. If they reject, the tokens which are kept in an encrypted distribution pool are returned to the user, securing their anonymity.
The Rabbit Hole is user's personal content library where they can access all the content they have paid for and enjoy exclusive materials, extras, director's cuts, merchandise, and interviews.
In addition, the Rabbit Hole enables users to interact directly with the creators behind their favorite films, enjoy film screenings in VR together, and use other available third-party applications.
By separating distribution from payment, White Rabbit offers one payment system, but infinite viewing and fan experiences.
Token
The WRT token is the key that unlocks the entire White Rabbit platform.
When streaming their favorite films or series, smart contracts deduct a WRT payment from users and transfer this immediately to rights holders. Utilizing blockchain technology, rights holders are also ensured complete financial transparency.
The token distribution is as follows:
40% Token sale
31.5% White Rabbit Reserve
16% Team (First 1/3 vested to the team after 6 months, second 1/3 vested after 12 months, final 1/3 vested after 18 months)
6% Partners
5% Advisory Board (vested After 6 months)
1.5% Bounty Campaign
Tokens are allocated to:
1. CRH – the first time they accept tokens for content, a 10% bonus on aggregated tokens at time of smart contract commitment
2. Users – loyalty bonus, promotion bonus, allocating space for content, new incentives
Streaming sites – incentives and rewards for development and accomplishments
3. Third party applications in the Rabbit Hole rewards for development and accomplishments
4. Acquisition and Investment in content
Team
The White Rabbit team is absolutely phenomenal.
Not only is it a fairly large team, but each member brings highly specific and relevant experience to bear on the creation of the White Rabbit ecosystem.
Although I hesitate to throw the term "superstar" around, an argument can certainly be made that this team fits the bill.
Highlights of the team's collective achievements:
Worked as producers and sales agents on over 800 films.
Won best film awards in Cannes and Venice, sold films to over 70 countries including best selling foreign film 2015 in the U.K. and Australia.
Software entrepreneurs behind Milbros Chemical Information System, the industry standard for the safe transportation of chemicals at sea, a $2.3 trillion dollar market. Installed onboard hundreds of chemical tankers and operations offices worldwide.
Team members previously developed security systems for submarines, telecom, and mobile phone industry
Verdict
White Rabbit is an incredibly ambitious attempt to fix the content streaming industry. They appeared to have thought deeply about the correct way to fix the problems and also to have drawn inspiration from other brilliant but flawed attempts such as Popcorn time.
Risks
Despite designing an incredibly well thought out platform, I don't think the White Rabbit team has created strong enough incentives for consumers to actually download the plugin and begin to use White Rabbit.
Although users get an extra 5% token bonus for allowing their data to be monetized within the platform, that doesn't strike me as a good enough sales pitch to get the average person to download this plugin and start paying content creators. -2.5
As White Rabbit themselves know well, content is king. You can create the most innovative platform, with the best features, the sleekest UI, and the perfect solution for rights holders, but if a consumer can't watch their favorite show how and when they want to, the platform is worthless. Hulu is a perfect example of this.
The entire premise of White Rabbit is that a majority of people consuming pirated content are actually just frustrated fans who would be happy to pay for content legally if it was simply convenient and affordable for them to do so.
It was therefore incredibly puzzling that one of the terms they demanded of partnered streaming sites was to delete media content if rights holders didn't want to participate and White Rabbit asked them to. Especially at the beginning, this could undermine White Rabbit's entire purpose for existing and lead to users quitting the platform out of frustration.
Although ultimately this would still technically be the fault of the rights holder and entrenched industry players, I don't see White Rabbit becoming the dominant force unless they are willing to break through the logjam and potentially face litigation from content holders early on. -3.5
Growth Potential
Incredibly low fixed token supply that should only increase in value as White Rabbit's user base grows. +5.5
Incredibly reasonable solution to the current logjam that is streaming media.
Implemented intelligently, the incentives are aligned to allow consumers to pay for the content that they want, wherever and whenever they want to watch it.
This alone is a revolutionary breakthrough that blockchain technology enables that could radically change the entire industry. +6.5
Disposition
We arrive at a score of 6/10 for White Rabbit.
Although it appears to be a project with immense potential, a fantastic team, and favorable token economics, the sheer difficulty of the problems they are trying to solve adds a degree of risk to an otherwise stellar project.
But to quote the whitepaper, "When an entire generation breaks the law, it shouldn´t be a crime, it should be a business opportunity" -Alan R. Milligan, White Rabbit founder
Investment Details
Token Type: ERC20
Platform: Ethereum
Symbol: WRT
Token Price: 1 WRT = 0.13 USD
Token Supply: 190,000,000 Total Supply
Soft Cap: US$ 2,000,000
Hard Cap: US$ 10,000,000
Pre-Sale: May 7th, 2018-May 14th, 2018.
Public Sale: May 15th, 2018-June 10th, 2018
Jurisdictions Barred From Participating: USA, Canada
Website: https://whiterabbit.one
Whitepaper: https://whiterabbit.one/docs/White_Rabbit-White_Paper_v1.0.pdf
Featured image courtesy of Shutterstock.
Important: Never invest (trade with) money you can't afford to comfortably lose. Always do your own research and due diligence before placing a trade. Read our Terms & Conditions here. Trade recommendations and analysis are written by our analysts which might have different opinions. Read my 6 Golden Steps to Financial Freedom here. Best regards, Jonas Borchgrevink.
Rate this post:
Important for improving the service. Please add a comment in the comment field below explaining what you rated and why you gave it that rate. Failed Trade Recommendations should not be rated as that is considered a failure either way.
Follow @HackedCom
Feedback or Requests?
Despite the hype, there are not many fully functional decentralized applications yet. Developers are finding it extremely challenging to create the DAO framework needed to run all aspects of the DAPP. They don't yet have all the tools necessary to organize the specifics of governance into smart contracts.
A DAO, or Decentralized Autonomous Organization, is a network of peers that encode their protocols into the blockchain, and make collaborative decisions by voting through smart contracts.
The team at DAOstack is developing the tools and infrastructure needed to become the "sandbox" for all DAOs to operate from.
DAOstack will be a platform from which DAOs can build and create their own token on. The technology is very detailed and complicated. Josh Zemel (communication guy) did an excellent job of simplifying the stack here.
ARC: The base layer of the stack, is a library of smart contracts on the Ethereum blockchain, each of which represents functional elements that can be mixed, matched and modified to create the complete governance protocol for any given DAO
The ArcHives: a set of shared registries designed to enhance interoperability among the DAOs and Dapps. Any new tool, all offers and requests, and any new DAO will all have their own registry.
Arc.js: a JavaScript library that allows devs to easily build apps on top of Arc without being familiar with Solidity or the blockchain. With Arc.js, any organization or industry has the option of creating a custom interface suitable for its own use cases. DAOstack envisions ultimately hundreds or thousands of such Dapps deployed on Arc.js.
Dapps Layer: This is where organization members will interact with the DAO through the Dapps.
Alchemy: The first App on the stack. It will be a tool to help DAOs budget and allocate resources. With Alchemy, anyone will be able to create a DAO in a few clicks and create an ERC20 crypto-token if desired. There's also a prediction market function, that will help organizations prioritize important proposals. The future roadmap for Alchemy includes greater customizability, integration with other popular collaboration tools, mobile support, and bounty systems.
Holographic Consensus: A process where small groups can make decisions on behalf of the larger majority, in an incorrupt way. To avoid plutocracy in the DAOstack, the process will separate token ownership and voting power into two different currencies.
The token-a transferable token that is a form of monetary wealth, called GEN.
Voting power — it refers to as reputation. Reputation cannot be directly transferred from peer to peer, but rather is distributed by the passing of proposals, or by the adoption of protocols that result in reputation being transferred automatically. For example, there might be a protocol through which reputation is distributed for positively reviewed work.
Genesis DAO:  The first DAO created using the DAOstack. Its mission will be to advance the DAOstack project and ecosystem, and it will be investing in proposals, such as; a) The further build out of components of the DAO stack, including Arc and Arc.js. b) Support for/investments in collaborative applications (dApps) to be integrated into the DAO stack. c) Support for/investments in organizations built on the DAO stack.
Anyone can create proposals or stake GEN for or against the boosting of proposals. However, in order to be able to vote on proposals, some reputation within the Genesis DAO will be required.
"Eventually, the Genesis DAO will be responsible for allocating the majority of the funds expected to be generated by the GEN token sale. Funds will be transferred to the DAO gradually over time as it demonstrates increasing stability and security. The Genesis DAO will also eventually hold the ability to mint additional GEN tokens after the initial sale."
Token
GEN is the native token of the DAOstack platform. Its main use is to vote on or promote proposals within the ecosystem. It will be distributed to contributors of value through the DAOstack framework itself, incentivizing development, promotion and adoption.
Paying for votes would be a plutocracy; therefore, you can't buy voting power with GEN and you cant vote with it either. You can participate in a prediction market like system, where you stake for or against a proposal that influences whether or not it rises into the collective attention of the voters, the reputation holders. If you stake for proposals that the reputation holders pass, you get rewarded with more GEN. If you stake for a proposal that fails, you lose your GEN. And vice versa if you stake against proposals.
Other uses for GEN will come to fruition in the future as the stack evolves. GEN will be the primary currency for the build-out of the DAOstack ecosystem itself, with contributors to the platform rewarded in GEN, and investments into projects that are built on the stack tendered in GEN , according to the collective will of the Genesis DAO.
Below are the project vitals:
Total Supply: 100 million (60 million circulating 40 million mintable in the future)
Hard Cap: $30 million
Presale: 10% bonus May 1, 2018, at 4:00 am GMT
Public Sale: May 8, 2018, at 4:00 a.m. GMT https://daostack.io/
The distribution is as follows:
40% crowdsale
40% mintable in the future
10% team/advisers
10% future token sale
In terms of allocation, 33% ($10 million) will go to development, 68% goes to Genesis DAO, a decentralized fund in which anyone can create proposals, according to its governance protocol. Funds will be transferred to the Genesis DAO by the DAOstack non-profit gradually as it demonstrates stability and security. The Genesis DAO will serve to advance the DAOstack project and ecosystem and will be investing primarily in proposals related to:
the extension of the components of the DAO stack
collaborative applications (Dapps) and interfaces that will integrate with the DAO stack
support for/investments in organizations built on the DAO stack
Team
After studying each of the 15 available team members' LinkedIn accounts, they receive a better than average rank but nothing terrific. Here are a few highlights.
CEO Matan Field has a  PhD in physics and is leading expert in decentralized governance. He has given numerous interviews and two TED talks. You can listen to his most recent AMA here.
CTO Adam Levi has a  PhD in physics, as well as 22 years of programming experience. He was a teacher's assistant at Technion, Israel Institute of Technology from 2013-2017.
In terms of marketing and communications, Josh Zemel is the guy. He designed and executed major growth initiatives for Equifax, Blue Cross Blue Shield and Toyota. He was also a VP at IMM, a digital agency.
COO Yehonatan Goldman's profile is below:
Verdict
There is quite a bit of hype around this project. Their telegram is over 10,00 people deep, due to a "refer a friend" promotion they are running that pays GEM for referrals.
DAOs could be huge in the future as the use cases are endless. Dapps using DAOstack to run their own token sale on, as well as develop their voting protocols and infrastructure, is a beautiful idea.
Risks
This team is trying to build things that have never been built before. It seems like they may lack the talent to do this at the moment. There is no MVP currently available. -1
DAOstack is conducting a private sale, accepting advance token purchases in values of at least USD $100,000 in ETH equivalent. We are not sure how much bonus they get, as it is private. -1
The CEO, Matan Field, founded a project called backfeed, in 2015. Backfeed was almost the exact same project as DAOstack (only without the token), but it failed in early 2016. When asked about this, Mr. Field explained that he had taken too much on himself as at some point he was effectively the CEO, CTO, chief scientist and chief product. Besides, in his words, the project lacked focus overall. While this seems like a giant red flag, he's right. It is a massive project to take on, and he does have a strong looking team now that he didn't have back then. This is possibly a red flag. -1
Matan Field (CEO) and Oren Sokolowsky (lead dev) built an app back in 2014 called La-zooz. The app was a failure. The La-zooz website tried to do a token sale in January, 2017. This could be a huge red flag. -2
When I asked the Telegram mods about this, I was given a link to an April 5th lazooz tweet. Make of this what you will.
Growth Potential
The platform will include a friendly JavaScript developer environment, a modular smart contract framework and an intuitive user interface that even non-tech people can use. +1
The potential of DAOs are limitless. It could be that, within a few years, DAOs are everywhere. Thousands of DAOs could be on this platform. +4
The Genesis DAO will be responsible for allocating nearly 2/3 of the funds raised from the token sale. GEN holders will decide which projects on the DAOstack to support and which new DAPPS to fund to integrate with DAOstack. Also, in the future Genesis DAO will have the ability to mint the remaining 40% of the GEN tokens. +1
There are already three solid projects working on DAOstack. One can only imagine how many more there could be. Sapien is a social news network, Menlo is a platform for decentralized funding of blockchain projects, and Cultu.re is a worldwide P2P identity and contracts system to parallel those of nations and states. +2
It's hard to imagine GEN holders and reputation owning voters don't make proposals in the future for new DAOs that want to build on the stack to pay a fee or ship airdrops to Gen holders. +2.5
Disposition
Tons of potential with this one. 5.5/10 is our final score.
Investment Details
*There will be a minimum purchase requirement of 1 ETH for both the presale and the main token sale.
Image courtesy of shutterstock
Important: Never invest (trade with) money you can't afford to comfortably lose. Always do your own research and due diligence before placing a trade. Read our Terms & Conditions here. Trade recommendations and analysis are written by our analysts which might have different opinions. Read my 6 Golden Steps to Financial Freedom here. Best regards, Jonas Borchgrevink.
Rate this post:
Important for improving the service. Please add a comment in the comment field below explaining what you rated and why you gave it that rate. Failed Trade Recommendations should not be rated as that is considered a failure either way.
Follow @HackedCom
Feedback or Requests?
Hacked.com is Neutral and Unbiased
Hacked.com and its team members have pledged to reject any form of advertisement or sponsorships from 3rd parties. We will always be neutral and we strive towards a fully unbiased view on all topics. Whenever an author has a conflicting interest, that should be clearly stated in the post itself with a disclaimer. If you suspect that one of our team members are biased, please notify me immediately at jonas.borchgrevink(at)hacked.com.