ICO Analysis: Deepbrain Chain
Deepbrain Chain will provide a low-cost, private, flexible, secure, and decentralized artificial intelligence computing platform for artificial intelligence products.
Coming out of China, based on NEO,  Deepbrain Chain is an incredibly difficult whitepaper to read. Many concepts are both lost in translation on paper, and in my simple brain.
I came across a Reddit post from a man named crypto_oxford, who does a great job summarizing.
"It is a data computation platform and a Data trading platform that uses distributed spare computing ressources, makes AI computational demands cheaper, protects against data leakage via hacking, secures the seperation of data ownership and usage rights, and secures intellectual property for the data and for the products."
They figure to reduce the cost of AI by 70% by making it minable on the blockchain. I cannot verify these claims, I am no expert in this field. Here's a good example possible investors face when trying to learn about this project.  It sounds great, but what does it really mean?
"The founding team believes that DeepBrain Chain is a project that has been verified by the market, has huge market scale and significant application value, lets the process and economic value associated, and is gradually issued with the core business sharing storage and the mechanism of computation capacity of mining. Each token corresponds to the computational value of the service provided during its issue, and is a truly valuable asset and digital currency that has already landed. Due to the difficulty of issuing, the value of the flow needed by every new token will increase. The earlier one holds, the more the expected value of the market will be."
The Token
NEO platform (nep 5 token)
A max hard cap of $15 million,
There's a total supply of 10 billion Deepbrain Chain (DBT) tokens. 50% of these will be mined over time.
1.5 billion tokens will be for sale
600 million sold during the Presale, which ended 10 days ago, and was almost impossible to get in.
Token sale stars Dec 15th. You must fill out a KYC form to be eligible. No USA or China allowed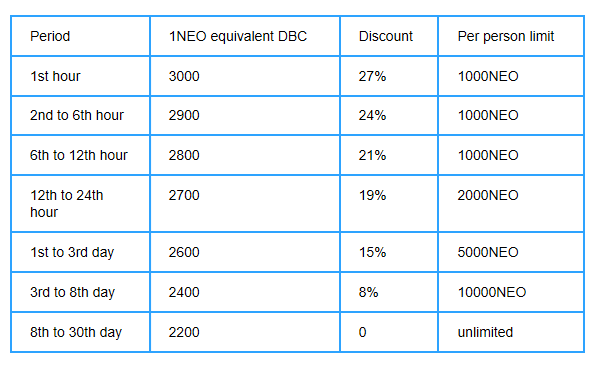 Only 1.5 billion of the total 10 billion tokens will be for sale.
600 million in the presale, and 900 million in the public sale
Use of funds. 55% R&D, 25% marketing, 10% daily operations, 8 % incentives, 2% patent fees
The Team
Based in China? The team is doing things. They recently won 1st and 2nd place prizes in Academic Sector  & Enterprise of SMP, at the Chinese Man-Machine Dialogue Field Authority Evaluation Contest. This contest had over 30 of Chinas best competing.
Their resume's check out pretty well. And just look at these faces… JACKPOT!
The Verdict
When it comes to the technical side of this project, I am out of my element. They have a hard cap of $15 million, $6 million of that already came from private investors, one of which being NEO, who funded them $1 million.This gives them serious street cred.
AI  data computation, neuro networks, machine learning, all these concepts are no doubt where our world is going. On Deepbrain Chains platform, one can compute and trade data. They have a working platform with more than 1,000 semantic skills.
Risk
This being a Chinese project, on NEO, makes it more susceptible to regulations than other projects. It doesn't seem likely, but is a risk nonetheless -1
The token metrics are funny. Only 15% for sale. They have a whitelist for the presale (which may be filled up by the time readers see this.) They didn't limit the amount people bought during the presale, and won't for the public sale either. This could lead to whales owning most of the supply. -2
They are having KYC implementation difficulties with their sale. It has been a huge issue on Telegram the last 24 hours. What looks like is happening, is there is no way to verify what customer is connected to what KYC. This could be an in for investors who currently aren't signed up for the KYC to buy these tokens. These issues could be a bad sign of things to come.-2
Growth Potential
The Deepbrain whitepaper states there have been over 5k startups since 2012, collecting over $22 billion. This is without counting the money large existing companies put into ai, which makes the total amount of money over $100 billion. It is certain that this is just the beginning.+4
NEO partnership. NEO alone has an endless amount of growth potential. They have a large community that gets exdcited and involved with the projects NEO backs. This partnership is worth a lot. +3
The ICO has a strict KYC rule. This is going to create a tremendous amount of demand for this once it hits exchanges.+2
This is a $20 billion industry, that is only growing from here on out.+2
Disposition
The 10 billion supply with only 1.5 billion being sold is scary. However, the rest of the ICO seems to make up for this.  5.8 out of 10
Investment Details
Sale starts Dec 15th, however, you need to fill out the whitelist/KYC app in order to get in. This application is having technical issues which may allow anyone to buy in without previously being KYC whitelisted. It's worth a shot, but need to hurry!
Sign up here  https://www.deepbrainchain.org/pc/kycEnglish.html
Cover image courtesy of Shutterstock.com.