ICO Analysis: CoinLion
CoinLion is building "the world's first cryptocurrency trading platform with built-in portfolio management, atomic swaps, publishing and promotional toolset, dual blockchain order book system, and token generation capabilities."
According to the whitepaper:
"CoinLion is a powerful trading platform that makes managing digital assets easy and efficient. The platform contains a unique portfolio management tool and public profile system that rewards users for sharing portfolios, strategies, and information relating to the management of digital assets."
The platform consists of three main components. The first is a cryptocurrency exchange, which they have a demo for. It looks unique and clean, but not too impressive so far. The second component is a portfolio management tool that allows for the creation and management of crypto portfolios. The third is a public profile system that rewards users for sharing their portfolios, strategies, and valuable information with other users.
The exchange looks like it will have all the features the top exchanges offer. The company prides itself on the security and legal compliance of its platform. The most crucial aspect of this project is going to be the public profile system. The platform and system are designed for top traders to sell their trading strategies and portfolio details. They will be able to set their own price, which will be paid in LION tokens. Here's their bitcointalk dev explaining further incentives they will offer to bring talent to the platform:
"We will offer the ability to earn community incentives in a variety of ways. Some of the ways will/may include growing a following on a portfolio and achieving certain milestones. For example reaching 200 followers on a portfolio. We will also provide incentives to top traders. We will bonus quarterly to traders with the top performance. CoinLion will incentivize top researchers for providing and contributing world class research to the library and analytics library. Community incentives revolve around contributions to the community. We will be revealing more incentives as we move forward and as new features are added to the platform! Referral incentives will also be considered. For example you may earn LION for referring users to the platform."
The Token
Symbol: LION
Type: ERC20
Total Supply: 500 million
Max cap: 250 million (50% of total supply). Unsold tokens will be frozen and locked up for years.
Presale Start: 3,500 LION / 1 ETH  25 million token cap
ICO Phase 1 : Dec 18- Jan 7 (3,000 LION/ 1 ETH)
ICO Phase 2: Feb 12- Feb 25 (2,500 LION/ 1 ETH)
The tokens will be distributed accordingly: 50% token sale, 15% reserved, 10% retained by CoinLion, 10% founding team, 10% ongoing development fund and 5% advisors.
All of the funds raised will be used for development and operations of the CoinLion platform: 65% developments, 15% security, 15% legal and 5% customer service.
LION token will be spent and earned in a variety of ways within the platform.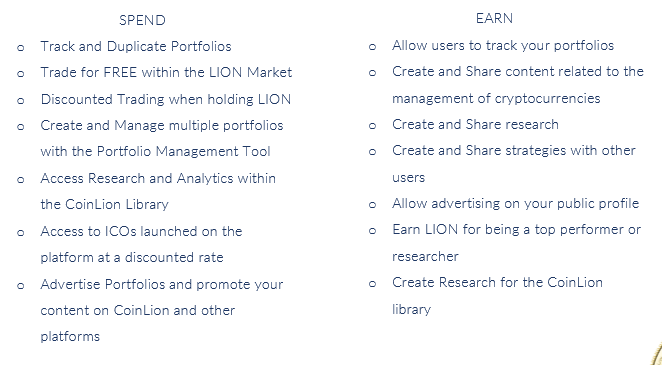 LION tokens allow for discounts of new ICOs brought on to the platform. In addiiton, CoinLion will maintain a market in LION, where users will be able to trade for free.
The Team
This team is one of the highlights of the whitepaper. They go into great detail on the tremendous experience each of their 16 core team members has accumulated over the years. It's pretty impressive. They are lead by three co-founders who have had success in the past. Learn all about them here.
In addition to the base team, CoinLion currently has seven devs and three partner tech companies working on the platform and design.
They have a strong group of seven advisers, including an ex-member of the House of Representatives, Hon. Max Sandlin, and primetime tv/radio host from CBS radio, Jeffrey Hayzlett.
Verdict
POTENTIAL! That's what this project screams at you while researching it. With both an exchange, and a portfolio management platform, this sale is like getting TWO ICOs for the price of one… well one and a half (factoring in the 3-month opportunity cost).
Is there room for CoinLion? No doubt. The need for good, secure exchanges won't be going out of fashion anytime soon. And the need for guidance in this space is huge. Amateur traders will love to pay for knowledge, while solid traders will love to get paid extra income for doing what they already do
Risks
There are so many complicated components to their technology stack platform: Raiden Network, Lightning Network, Go, Solidity, Javascript, Docker, EthereumJS, Web3.js, IPFS and Python.  This could prove difficult to put together.  -1
Having two phases of ICO is ridiculous. The second phase doesn't end until Feb 25th, which is almost three months from now. Nobody is going to want to lock up their money for that long while all these other projects are making huge gains -3
The presale price is a bit high for my liking. I think they put together this token structure before ETH's recent gains. 3,500 tokens per ETH is $0.13 per.  There is going to be 500 million total LION, and they are selling 250 million in the ICO. That's a pretty large starting cap of $30 million. This is not necessarily bad, as we want the project to have enough money to succeed. However, it's kind of hard to see demand being high enough when it hits exchanges. -1
It's possible the market gets oversaturated with exchanges, and they are never able to stand out. -1
Growth Potential
The team worked closely with world-class lawyers, making sure their token is for utility and not a security. This type of SEC compliance is what gets projects listed on high volume exchanges, and not trapped on Etherdelta.+2
The use cases for LION token are numerous. Once the platform is fully functional, and the user base starts growing exponentially, this token price is going to grow right with it. Binance Coin (BNB) is a good example of what a well built, well marketed, unique exchange can do. CoinLion has the potential to dwarf them. +2
"ICO underwriting"- They plan to have a strict vetting process to bring only the very best new ICOs to their platform. LION holders will have access to these ICOs at a discounted rate. They do not offer further details on the discount at this time. Only one other exchange is doing underwriting at the moment. +2
The whitepaper is impressive. You can tell they have put serious thought into everything. They have many goals, using many different technologies to piece it all together. They have got to get their marketing right. If they can get enough users moving their LION in and out of the portfolio management system, this could be a home run. +2
Disposition
This score would be higher, if not for the two rounds of ICO lasting well into February, and the $0.18 post ICO price tag (2500 LION/eth).  I'm still rather bullish. Perhaps a good strategy would be to put a small chunk in now at full pre-sale discount. This way you will have skin in the game. 6.3/10
ICO Details
Level 1 of the presale is running now. Investors can learn more by visiting the following link.
Cover image courtesy of Shutterstock