CoinLion is building "the world's first cryptocurrency trading platform with built-in portfolio management, atomic swaps, publishing and promotional toolset, dual blockchain order book system, and token generation capabilities."
According to the whitepaper:
"CoinLion is a powerful trading platform that makes managing digital assets easy and efficient. The platform contains a unique portfolio management tool and public profile system that rewards users for sharing portfolios, strategies, and information relating to the management of digital assets."
The platform consists of three main components. The first is a cryptocurrency exchange, which they have a demo for. It looks unique and clean, but not too impressive so far. The second component is a portfolio management tool that allows for the creation and management of crypto portfolios. The third is a public profile system that rewards users for sharing their portfolios, strategies, and valuable information with other users.
The exchange looks like it will have all the features the top exchanges offer. The company prides itself on the security and legal compliance of its platform. The most crucial aspect of this project is going to be the public profile system. The platform and system are designed for top traders to sell their trading strategies and portfolio details. They will be able to set their own price, which will be paid in LION tokens. Here's their bitcointalk dev explaining further incentives they will offer to bring talent to the platform:
"We will offer the ability to earn community incentives in a variety of ways. Some of the ways will/may include growing a following on a portfolio and achieving certain milestones. For example reaching 200 followers on a portfolio. We will also provide incentives to top traders. We will bonus quarterly to traders with the top performance. CoinLion will incentivize top researchers for providing and contributing world class research to the library and analytics library. Community incentives revolve around contributions to the community. We will be revealing more incentives as we move forward and as new features are added to the platform! Referral incentives will also be considered. For example you may earn LION for referring users to the platform."
The Token
Symbol: LION
Type: ERC20
Total Supply: 500 million
Max cap: 250 million (50% of total supply). Unsold tokens will be frozen and locked up for years.
Presale Start: 3,500 LION / 1 ETH  25 million token cap
ICO Phase 1 : Dec 18- Jan 7 (3,000 LION/ 1 ETH)
ICO Phase 2: Feb 12- Feb 25 (2,500 LION/ 1 ETH)
The tokens will be distributed accordingly: 50% token sale, 15% reserved, 10% retained by CoinLion, 10% founding team, 10% ongoing development fund and 5% advisors.
All of the funds raised will be used for development and operations of the CoinLion platform: 65% developments, 15% security, 15% legal and 5% customer service.
LION token will be spent and earned in a variety of ways within the platform.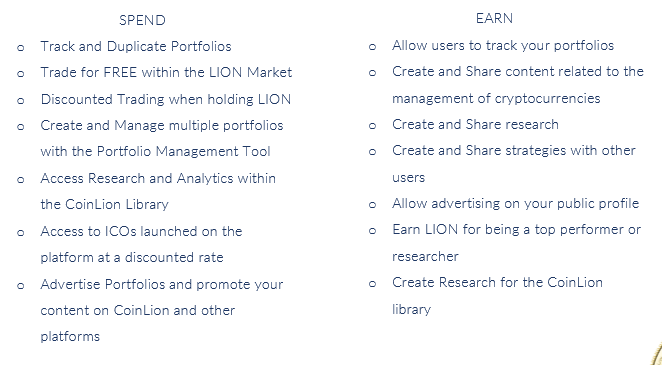 LION tokens allow for discounts of new ICOs brought on to the platform. In addiiton, CoinLion will maintain a market in LION, where users will be able to trade for free.
The Team
This team is one of the highlights of the whitepaper. They go into great detail on the tremendous experience each of their 16 core team members has accumulated over the years. It's pretty impressive. They are lead by three co-founders who have had success in the past. Learn all about them here.
In addition to the base team, CoinLion currently has seven devs and three partner tech companies working on the platform and design.
They have a strong group of seven advisers, including an ex-member of the House of Representatives, Hon. Max Sandlin, and primetime tv/radio host from CBS radio, Jeffrey Hayzlett.
Verdict
POTENTIAL! That's what this project screams at you while researching it. With both an exchange, and a portfolio management platform, this sale is like getting TWO ICOs for the price of one… well one and a half (factoring in the 3-month opportunity cost).
Is there room for CoinLion? No doubt. The need for good, secure exchanges won't be going out of fashion anytime soon. And the need for guidance in this space is huge. Amateur traders will love to pay for knowledge, while solid traders will love to get paid extra income for doing what they already do
Risks
There are so many complicated components to their technology stack platform: Raiden Network, Lightning Network, Go, Solidity, Javascript, Docker, EthereumJS, Web3.js, IPFS and Python.  This could prove difficult to put together.  -1
Having two phases of ICO is ridiculous. The second phase doesn't end until Feb 25th, which is almost three months from now. Nobody is going to want to lock up their money for that long while all these other projects are making huge gains -3
The presale price is a bit high for my liking. I think they put together this token structure before ETH's recent gains. 3,500 tokens per ETH is $0.13 per.  There is going to be 500 million total LION, and they are selling 250 million in the ICO. That's a pretty large starting cap of $30 million. This is not necessarily bad, as we want the project to have enough money to succeed. However, it's kind of hard to see demand being high enough when it hits exchanges. -1
It's possible the market gets oversaturated with exchanges, and they are never able to stand out. -1
Growth Potential
The team worked closely with world-class lawyers, making sure their token is for utility and not a security. This type of SEC compliance is what gets projects listed on high volume exchanges, and not trapped on Etherdelta.+2
The use cases for LION token are numerous. Once the platform is fully functional, and the user base starts growing exponentially, this token price is going to grow right with it. Binance Coin (BNB) is a good example of what a well built, well marketed, unique exchange can do. CoinLion has the potential to dwarf them. +2
"ICO underwriting"- They plan to have a strict vetting process to bring only the very best new ICOs to their platform. LION holders will have access to these ICOs at a discounted rate. They do not offer further details on the discount at this time. Only one other exchange is doing underwriting at the moment. +2
The whitepaper is impressive. You can tell they have put serious thought into everything. They have many goals, using many different technologies to piece it all together. They have got to get their marketing right. If they can get enough users moving their LION in and out of the portfolio management system, this could be a home run. +2
Disposition
This score would be higher, if not for the two rounds of ICO lasting well into February, and the $0.18 post ICO price tag (2500 LION/eth).  I'm still rather bullish. Perhaps a good strategy would be to put a small chunk in now at full pre-sale discount. This way you will have skin in the game. 6.3/10
ICO Details
Level 1 of the presale is running now. Investors can learn more by visiting the following link.
Cover image courtesy of Shutterstock
ICO Analysis: Gimmer Token
The impeccable rise of algorithmic trading has ushered in a new wave of do-it-yourself (DIY) algorithmic trading bots. With the success of these DIY bots in traditional financial markets, it was only a matter of time until they entered the cryptocurrency market.
For algorithmic trading, volatility creates opportunity sets. And with cryptocurrencies still trading in an inefficient market, volatility runs rampant. This level of volatility creates an ideal environment for even the most rudimentary algorithmic trading strategies. However, there is a lack of DIY automated trading bots that are available for use by amatuer cryptocurrency traders. With this in mind, Gimmer is looking to take advantage of this need.
According to the company's website, "Gimmer offers easy-to-use advanced algorithmic trading bots that require no programming skills, no previous trading experience and no in-depth knowledge of cryptocurrencies."  
Essentially, Gimmer is hoping to position itself as the leading DIY algorithmic trading bots for individual cryptocurrency traders. While the company may never be the "Quantopian" of the cryptocurrency space, Gimmer does provide a novel solution for amateur traders.  
Token
The Gimmer token (GMR) will be implemented using the Ethereum ERC20. While GMR tokens will be visible in participants' ERC20 wallet, the tokens will not be tradable until the close of the public sale on January 31, 2018. GMR tokens will issued starting from January 3, 2018. GMR holders generate value from the token as a form of payment for the rental cost of Gimmer's trading bots. For users, the rental cost scales proportionately to the level of sophistication desired – more sophistication equals higher return (at least in theory).
According to the whitepaper, 45% of the funds raised will go towards development and operations, 35% towards marketing and acquisition, 15% towards the founders and team, with the remainder of the pot (5%) going to legal and compliance.
Gimmer Tokens are valued at 1 Ether (ETH) per 1,000 GMR (plus applicable bonuses). The total amount of tokens to be sold is capped at 100,000,000 GMR. However, an additional 6,000,000 GMR will be created for advisors, reserves, and the team, with another 4,000,000 GMR created for bounties.
The company has not yet stated its intention to list the GMR tokens on any major crypto exchanges.
Team
Gimmer's core team consists of two senior developers, a global macro hedge fund manager, and a creative design veteran. As compared with the majority of ICOs, Gimmer's team is in-line with the relative standard – the quality of team meets basic expectations.  
The company's CEO, Philipe Comini, is a senior-level UX/UI designer who is also balancing two other jobs (according to LinkedIn) – typically, not a good sign. The company's CTO, Persio Flexa, is also a senior developer who recently launched 2 other start-ups – again, not a good sign. The company's COO, Paul Lindsell, is a creative design veteran with over 12 years experience that is seemingly committed to his role – not balancing multiple jobs. The company's CIO, Masaichi Hasegawa, is currently a global macro hedge fund manager and an executive of a shoe manufacturing company – the third C-suite executive of Gimmer to balance two other jobs.
The rest of Gimmer's team consists of a marketing director, a user experience director, two developers, a customer researcher, a commercial director, and a journalist.
Verdict
Gimmer presents a highly speculative buying opportunity for investors interested in short-term capital appreciation.
Creating profitable algorithmic trading strategies is incredibly difficult. Hedge funds typically employ a large staff of mathematicians, experienced machine learning engineers, data scientists, and the like – Wall Street refers to them as "quants." Quants typically hold a PhD in finance or quantitative mathematics and have years of hands-on experience with both statistical analysis and engineering (Python and C++). Does Gimmer employ any quants? No, not even by the slightest measure.
Overall, Gimmer's DIY algorithmic trading bots are likely just a novel tool-kit for amatuer cryptocurrency traders, nothing more, nothing less.
Risks
Gimmer provides no data on slippage modeling, meaning users have no idea of all the transaction costs that are associated with a higher frequency of trading (including: fees, commission, and slippage). These costs can be significant and add up quickly. -1
Gimmer's core team does not seem to be dedicated (balancing multiple jobs) or qualified in any sense. With Gimmer's team lacking any real trading platform experience, unforeseen issues with their algorithms may lead to sizable losses for users. -1.5
Gimmer provides no data on latency, meaning users do not know if the company's algorithms are deployed to proximity-based execution servers in attempt to achieve low-latency performance no matter where the user is located. For all trading strategies, latency must be measured and managed in order to maximize the probability of success. -1
Growth Opportunity
Provided that Gimmer's trading bots run successfully without any technical glitches, users could benefit from enhanced risk management protocols, thereby insuring their principal investment through more downside protection. +2
Copy trading techniques could benefit novice traders, as they can publicly see high level information such as start date, running period, currency pairs and percent gained. Based on the public information, users can copy seemingly successful trading strategies and rent the same bots. +3
Automated trading strategies will allow a larger pool of traders to invest in cryptocurrencies. Since the market is still subject to large, volatile price swings, more passive traders could use Gimmer's platform to execute automated trades (based on pre-set parameters) without having to monitor the market on a day-to-day basis. +2.5
Disposition
While algorithmic trading in the cryptocurrency space is a smart strategy, Gimmer lacks the sophistication of even the most basic trading platforms. The biggest concern beyond Gimmer's lack of sophistication, is the pedigree of the core team. With no quants on staff and a couple UI/UX designers creating the algorithms, technical issues are likely to occur. And with that in mind, faulty algorithms or platform glitches could easily lead to the loss of principal investment for users.
For amateur traders interested in novel tool to play around with, Gimmer is a great choice. For veteran traders with solid programming and statistical skills, move on to a better platform.
Against this backdrop, we believe that a score of 4.0 out of 10 is warranted.
Investment Details
Type: Crowdsale

Symbol: GMR

Pre-ICO Sale: November 24, 2017

Public Sale: January 3, 2018

Payments Accepted: ETH
Disclaimer: no position in Gimmer at the time of writing.
Featured image courtesy of Shutterstock.
Lendoit is a next-generation peer to peer decentralized lending platform based on Ethereum, which connects lenders and borrowers all over the world using the advantages of smart contracts.
The Lendoit platform provides professional scoring and verification, APIS for each country, a loan marketplace where lenders set rates on loan applications, a default market where failed loans can be traded, syndicated loans, and the ability to sell a loan to another lender if needed. Lendoit will be the only lending platform on the market that does not take collaterals. The company believes that, "in a world of crypto micro-loans, managing collaterals is not sensible." In their view, this is "like lending USD by using EUR as collateral."
Because there are no collaterals, the Lendoit platform combines four methods to mitigate the chances of lenders losing money: Smart Compensation Fund, Syndicated Loans, 3rd party scoring/verification from local companies, and a collectors market where debts can be sold.
The following is a simplified guide to Lendoit's loan process.
The borrower applies for a loan by filling out an application. This takes about three minutes.
The borrower uploads any relevant verification (i.e. government-issued photo ID) according to their particular country's regulations.
Lendoit sends the loan app and verified information to verified scoring providers to receive a score for the current loan.
Lendoit will publish each smart loan contract in the blockchain and marketplace.
Lenders Tender is a process of raising loans for funds requested by the borrower.
The borrower can now withdraw the funds using his or her wallet.
When the date to pay back the loan arrives, the borrower receives a notification.
The borrower now repays the funds with interest to the smart contract.
The lender withdraws his money in the same currency he loaned it.
The lender receives interest in the form of LOAN tokens, the amount based on an automatic conversion algorithm put in place by the Smart Conversion Contract.
The Smart Compensation Fund Contract helps lenders recover a small portion of their money, if the borrower fails to pay. The amount is not confirmed, but it seems like it will be around 20-30%.
If the borrower fails to pay the interest and the loan becomes defaulted, the smart loan contract is offered to a collectors tender. The collector who wins the tender buys the debt, which minimizes the loss of funds for the lenders.
Lendoit has an alpha version of its platform available here. It is not very impressive yet. The real technology (smart contracts) has yet to be created.
They plan to release the beta in Q1 of 2018, and the fully operational version Q3 of 2018.
The Token
Symbol: LOAN
Platform: Ethereum
Presale: Dec. 13 – December 27, 2017 (125 million for sale. 1 ETH = 13,000 LOAN). Must register for whitelist in order to contribute.
Token sale: Jan. 18 – Feb. 18, 2018 (475 million for sale. sale starts at 1 ETH = 12,000 LOAN)
Total Supply: 1 billion
Hard Cap: 50,000 Eth (currently $22 million USD)
The LOAN token plays several roles. Here are a few of the most important:
Lenders can use any ERC20 currency to loan, but must hold 10% of whatever amount they loan in LOAN tokens. For example, a lender wants to loan someone $1,000 ETH must hold $100 worth of LOAN in his account.
Borrower must use LOAN to publish the Smart Loan Contract.
All the fees charged on the platform are paid in LOANs.
All the interest payments will be paid to the lenders in LOANs. This will take place automatically via the Smart Conversion Contract.
The Team
The company is located in Israel but incorporated in Gibraltar. The company maintains a large global team that extends far beyond its in-house operation. However, after researching the four co-founders of the company, nothing particularly striking stands out. One would have expected a more impressive track record for those launching a platform of this magnitude.
Seven advisers are signed on to the project, including Richard Titus and Michael Terpin. They also have eight developers, which is fantastic, as it shows they really are trying.
The team picture (above) leaves a lot to be desired, as it is not very professional.
The Verdict
This project has great long-term potential. Its biggest challenge is going to be whether or not it can successfully build the various forms of smart contracts it proposes to launch. There are no known smart contracts in existence that can do what Lendoit promises its contracts will be able to do.
Risks
The concept of not needing collateral to receive loans could be a disaster. Why would lenders want to use this platform when the possibility of getting stiffed is so high? They can just use one of Lendoit's competitors to guarantee their returns. -2
The project faces legal hurdles galore. Sure, the plan is to be decentralized, which could reduce certain regulations, but the company is going to be verifying borrowers' identities in great detail. I could see governments clamping down on projects such as this one if enough lenders start getting ripped off. -2
The technology required to run this platform does not exist yet. The demo/alpha provided as an example of is extremely basic. It's a strong possibility the team fails, and this never gets off the ground.  -2
Growth Potential
The company has several partners, including Bloom, Hive, RSK, and Wings. I tried to dig deeper into these partnerships but didn't find anything substantial. These seem to be decent projects, and LOAN can use each to grow.+2
Some of these other new lending ICOs have done pretty well so far on the markets. SALT token, for example, is extremely hyped. One of the main differences between SALT and LOAN is that SALT requires borrowers to put up collateral, while LOAN does not. One would think this would bring more borrowers to the platform +2
If they do what they claim to be able to do – build these genius smart contracts – they can change the lending game permanently. In this way, the sky is the limit. +4
The team has put a great deal of emphasis on development, as evidenced by the number of developers they have on board. +2
Disposition
As previously stated, the most important aspect of this project is the technology. Can they build these contracts? According to the roadmap, we won't see the beta version for two or three months, and we won't be able to judge if the contracts are fully functional for at least six months. This has long-term potential, but a rocky short-term.  Against this backdrop, we assign a score of 4 out of 10.
Token Details
Learn more/sign up for whitelist here.
Featured image courtesy of Shutterstock
CanYa is offering a platform for the exchange of peer-to-peer services.
Users can load their CanYa wallets with the ERC20 CanYaCoin token, in addition to several support fiat currencies.
Users will be able to instantly pay for services on a global and local level. The platform supports peer-to-peer services and relies on users to self-curate and verify new types of services and providers.
Providers can earn CanYaCoins for their services, and can spend these coins within the app, or convert and send them to their Bitcoin or Ethereum wallet using CanYa's network of zero-fee exchanges. Once users are verified, they can withdraw immediately to a fiat bank account without having to pay fees or transaction limits.
The CanYa platform also claims to help the best providers rise to the top and get more exposure and work.
**It's important to note that the CanYa ICO cannot accept participation from US citizens unless you qualify as "accredited investors."
The Team
CanYa was founded in 2015 with the goal of created a true peer-to-peer platform with no intermediary, based on meritocracy, and a seamless interface connecting the digital world with the real one.
The whitepaper claims the project moved from concept in 2015 to development in 2016 and then a successful soft-launch in 2017 in a small Australian market.
There are currently 3,400 provider listings with roughly 7,600 user engaging on the platform, with monthly growth in double digits.
Based in Australia, the founding team includes Rowan Willson, Christopher McLoughlin, JP Thor, Jet Yap, and a handful of other promising team members and advisors. Their work thus far is promising, although I do naturally have my hesitations about tackling a project of this scope and creating significant traction out of Australia.
Tokens and Distribution
CanYa is aiming to raise 29,333 ETH by offering 34,000,000 CanYaCoins for public sale.
These funds are being used to integrate the cryptocurrency payment layer, provide liquidity for the hedged escrow contract, expand features and "undertake an aggressive global launch with marketing, translations and infrastructure."
There will be around 100,000,000 tokens in circulation, with a hard cap of 60,000,000 CanYaCoins for sale. A total of 26,000,000 CanYaCoins are going to be sold privately to "strategic investors who bring long-term value to the project". These private investors incur vesting schedules from three months to 12 months. A total of 34,000,000 CanYaCoins will be sold during the public sale that started in November.
The token offering will only accept ECH.
Risks
Onboarding new crypto-enabled merchants poses a substantial bottleneck.

Freelancers and workers-for-hire flock to where the money is, and if CanYa has any shortage of jobs available, they will stick to traditional methods. Onboarding new crypto-enabled merchants will require substantial marketing work and is hindered by the learning curve that comes with acquiring and spending cryptocurrencies. -2

Competitors in the digital service industry could pose a substantial threat to user acquisition

. While CanYa poses a huge benefit of much lower transaction fees, platforms such as UpWork and Fiverr have already dumped a ton of resources and money to grow, and it might be difficult to catch up without an extensive marketing plan. -3
Growth Potential
Peer-to-peer networks at scale have always been burdened with some sort of third-party making a commission off the transaction, and t

his is a very applicable use of smart contracts to replace those intermediaries.

The intermediary commissions (from the platforms to the payment services) add up to the tune of billions globally. +3

CanYa resonates with its ideal user base.

This project also happens to target the same userbase that is perhaps the most crypto-savvy segment of the world: Internet entrepreneurs. This seems like an easy target to launch an active user-base. +2

The value add the CanYa platform offers over other services such as UpWork is pretty attractive.

UpWork, for example, charges freelancers 20% of their total contract price up to $500 and then 10% up to $10,000. A freelancer seeing the option to work on a similar platform and essentially make 20% more money is an easy sell. +3

The platform is incredibly detailed and well-thought out in the whitepaper.

This is one of the few ICO products I can actually see myself using on a daily basis, provided the CanYa team is able to attract a significant amount of users on both ends. +2

The CanYa team shows a willingness to

stick with the project long-term

, and even champions the cause with a "

CanYa HODL club

" by rewarding holders of more than 5000 CAN tokens at the ICO with perks of being in the HODL club. +2
Disposition
As someone that has done freelance work and hired multiple freelancers for various projects, I can appreciate a project like CanYa. I also think it's cool how the CanYa platform also works for real-life services.
We arrive at a score of 7 out of 10 for the CanYa ICO.
Overall, the whitepaper and marketing materials for CanYa are very thorough and easy to go through, showing a much appreciated effort by the CanYa team to make their ICO easier to understand and palatable for average investors.
Investment Details
You can find more details about the CanYa ICO here.
**It's important to note that the CanYa ICO cannot accept participation from US citizens unless you qualify as "accredited investors."
You can find the ICO whitepaper here. The sale opened Nov. 26, 2017 and will run through Dec. 26. 
Featured image courtesy of Shutterstock.