Adel, on the surface at least, is a highly-polished, well-thought-out project. The token called Adelphoi is but one part of the project's goals. The project is to be spearheaded by a Board of Directors, as opposed to the usual "foundation" model. According to them:
Adel is a global cryptocurrency community that is self-regulated, self-sustained, and offers its own economic ecosystem with the Adelphoi token. Our community focuses on creating, developing, and implementing use cases involving blockchain technology that covers a wide range of digital and physical industries. Projects are chosen by the community and successful ventures are either re-invested in for further growth or issued as rewards to Adel's stakeholders.
So it's a decentralized Kickstarter? So what!
The above is a reasonable reaction. But let's consider that Kickstarter's worth is estimated by some to be as high as 1.5 billion. Kickstarter is a closed, centralized platform, which means its growth is limited by such things as staff requirements – you need someone to review the projects submitted and, worst of all, you need third-party payment rails. Kickstarter has never integrated Bitcoin.
This is to say, crowdfunding is an important part of the economy, and it has become more common than VC funding. There have been notable problems with it, such as devices never actually happening and firms going bankrupt before launching a product. But overall, it is a more approachable way for both investors and entrepreneurs. It's wide open, and on the incline.
Adel has several whitepapers available. Overall, the types of projects it wants to fund with its platform are blockchain-centric. This can mean projects that will interact with Adel itself, or it can mean projects for other blockchain-based currencies. Accordingly, it is capable of interacting with Ethereum, NXT, and a host of others.
The idea seems to be to have a vast community, an actual community, of people interested in investing in new blockchain projects. Those with good ideas will be able to go to the website and propose them. If they pick up traction and are funded, presumably they will have to convert their Adelphoi into Bitcoin, and then into USD, to actually build out their projects. How that will be done is a little vague, as Adel makes little to no mention of moving in and out of Adelphoi.
In any case, the method they are using to build a community is by gradually building up to it. They have a detailed roadmap/plan, which involves creating the website (which exists and is beautiful) and then hopefully growing a community of interested parties through three rounds of an ICO, the first of which starts today, May 1st. More on that near the end of this article.
Three prospective projects to invest in have already been listed on the website. One is a blockchain for medical records. A prospectus about the medical record blockchain says:
Another idea they are floating is the ability to turn one's smart phone into a two-way Bitcoin ATM. It's essentially taking the LocalBitcoins approach but making it more casual, and perhaps easier to use with potentially GPS location and the like. Security is always a risk with such transactions, so it may take a long time for such a project to gain traction. However, this article is not an assessment of individual plays being floated on the Adel platform.
A third project wants to bring blockchain technology to the important aspects of any business, such as keeping track of goods, funds, even personnel. All three projects will be available to invest in when Adel goes live, and presumably others will be added as the community grows. The fungible exchange rate of Adel will therefore be important, which plays into the relative safety of the project as a whole for investing. One example of how this could be bad would be if you made an investment at a time that Adelphois were exchanging for, say, 30,000 Satoshi each, but by the time your investment matured the coins were down in the single thousands. This would essentially mean that even when you won, you lost. It's a problem faced in other peer-to-peer lending sites like BTCJam, as well. Borrowers give themselves 90 days to repay and do, but the lenders see a significant drop in the value of Bitcoin during that time, for instance.
And with crowdfunding, there really are winners and losers. Traditional VC and angel investors typically go for a chunk of the whole pie, so when the rare unicorn firm flourishes, they continue to be enriched by their wise decision-making. Many times with crowdfunding, a piece of the pie is just not in the cards for the investor. Thus, you make your money back and hopefully some profit, but then if the firm takes off, despite never having been able to take off without you, you're left grounded, searching for another investment opportunity. On the positive side, most of these problems are not unique to Adel.
Who is Behind Adel
As a self-regulating and self-sustaining macroeconomic ecosystem, Adel will utilize the benefits of a decentralized technology and community. The decision making process will capitalize on the community's knowledge to collectively make the best decisions possible while maintaining strong integrity, ethics and business principles as overseen by the Adel Board.
Founder Michal Vavrek has worked in a number of financial capacities, including FOREX.com in multiple capacities, since he graduated from Indiana University with a degree in International Finance in 2007. His profile says he is "an active cryptocurrency entrepreneur seeking new opportunities that maximize blockchain technologies." It appears he came up with the idea of Adel in order to have more opportunities to invest in blockchain stuff. It's a new reality that people with no in-depth technical background are founding, funding, and building cryptocurrencies and crypto-related projects. This is the nature of dealing in technologies that are centered around the transfer of value: all kinds will come. One problem with this, of course, is that Mr. Vavrek may oversell the product at various stages or be unaware of problems with it that may exist at launch. In a moment, let's see who is in charge of development and weigh that against the large number of non-technical people also on staff.
Also serving on the board of Adel is co-founder Gabriel Dusil, a salesman by nature who recently built this cool computer:
Dusil has an engineering degree from McMaster University in Canada. From the looks of it, he has trademarked the words "Oak Case Mod" in regards to the above computer, and runs a company called Euro Tech Startups which helps European technology startups with recruiting and managerial issues like business plans.
Rounding out the three-man board is Jan Lamser, a banker and technology enthusiast who advocates for cryptocurrency in Eastern and Central Europe. If you are from that region, you may recognize him from giving a speech at the Zlata Koruna (Gold Crown) conference a couple years ago, as seen here:
That website has one post about Bitcoin that comes up from 2013, and unlike many traditional financial advice websites of that period, it's very positive:
In the long [run] Bitcoin makes sense. Individuals can now only watch currency wars and the weakening of local currencies due to the monetary policies of central banks. Through inflation, the devaluation of savings of the population on which the expense is ultimately funded by the state. About Bitcoin or other virtual currency in the event of their growing success in the future will bring fight. [Translation by Google.]
Heading up the integral backend development of Adel is NXT veteran Daniel Backman. Backman's Github profile offers several NXT-based innovations, including a C# implementation of the NXT application programming interface. This experience with NXT is vital to the creation of the Adel platform and should be comforting to potential Adelphoi investors.
Perhaps a red flag is the addition to the development team of "Robert," a "a full-stack software professional with a solid academic background" without a last name and therefore no previous work history to go on, who allegedly graduated from Carnegie Mellon at some unknown point. This weird little bit of information is problematic, but could simply be an oversight:
Editor's note: The Adel team reached out to us and let us know that their Chief Architect's full name is Robert Gasch. They apologized for the oversight.
Leading security is one Dr. Jiří Bartoš, who has spent a long time in the IT security world and is well-published as such. Here is one free example we were able to uncover, authored with two others regarding "Mandatory Access Control Policies Based on Vague Requirements." Security is of almighty importance in cryptocurrency, and it is good to see they've got a solid leader in that category, at least.
Much of the rest of the team is either lawyers, salesmen, or financial people. This is disheartening because what we want to see is a lot of developers, code monkeys, and people who have a very strong technical grasp on what they are doing. Otherwise, problems are more likely to arise. One hopes that if the project is at all successful, this situation will change. It takes all kinds, sure, but when you're launching an extremely complicated software platform, you want to ensure that the bulk of your talent is aimed in that direction.
Investment Details
The first round of the ICO is about to begin, on May 1st. A total of 33,333,333 Adelphoi tokens will be issued during the first round, and an additional 66,666,666 tokens will be issued during the following two rounds. Interestingly, the price in the second two rounds will be determined by the value of the first round. Other details are relatively unclear, such as how purchases are to be made. The author attempted to sign up for updates, but was informed that his three valid Gmail.com e-mail addresses are in fact invalid:
Nonetheless, there is good information in the terms and conditions. Minimum investment will be the equivalent of .03 BTC (~$40) and can be done with any cryptocurrency that Shapeshift or Changelly accept. The actual investment will take place through the NXT platform, with users being able to generate NXT addresses to fund once the ICO launches at noon UTC on May 1st. A special section of the website will then be apparent.
The Verdict
Adel and Adelphoi are getting a 5.9. For all the polish, fancy whitepapers, and the like, there are a number of significant drawbacks to Adel which lower its rating.
It is far from alone in this market of cryptocurrency crowdfunding. Those with interesting Blockchain ideas might be wiser to go with someone like BTCJam, and are likely to continue doing such for quite some time to come. At BTCJam they would not have to worry about the stability of the Adelphoi token, only the stability of Bitcoin, which is a significantly different worry.
This "Robert" issue outlined above needs attention. You're asking people to throw millions at you. It's hard to reconcile that this lack of a last name or any real information about the man was a mere oversight when so much attention to detail is displayed elsewhere. Crypto pioneers likely remember "Big Vern," of Cryptsy fame, who mostly went by that name. His actual name was Paul Vernon and he exited that exchange with a lot of people's money in hands – though he claimed it was all stolen months before. We must be cautious with these new opportunities, and issues like this are not to be taken lightly.
What they are doing can be replicated by a much leaner team. One simply would need to fork a platform like NXT or, really, any crypto platform, and build a "community" around it plus allow for the submission of ideas. In a way, because the asset itself is totally new, it's reminiscent of Chuck E. Cheese – you come in and buy your currency, but you most likely would have to play a long time to get your money's worth in prizes. Issuing an Ethereum or NXT asset directly, instead, might have been a more legitimate approach, because then investors would have an easier exit.
None of this is meant to say that Adel is necessarily a bad investment. The author feels as if he is a traditional banker looking down on Bitcoin in the early days. It would be wise to keep it in mind, but potentially unwise to invest at the outset. Allow them some time to develop the platform, and perhaps some real money could be made from some of the projects that are going to be getting their funding through it.
The business world is changing faster than ever before. One by one each major industry is getting Uberized by blockchain technology and peer-to-peer business ideas. Next on the list is the $200 billion a year consulting industry.
Traditionally, if I want to consult with an expert in their field I have to spend a lot of time, energy, and money to make that happen. For example, if I want advanced guitar lessons I would have to find an expert, set up an appointment and payment plan,  drive out to meet them, then pay an advanced fee in order to receive my 1 or 2 hour guitar lesson. The guitar expert would have to schedule the appointment and trust that I will show up. With Experty, I can choose any guitar player in the world, agree to their conditions and immediately start receiving lessons from the expert, paying by the minute, while we both sit on our own couches.
Experty is a voice and video application which allows experts in their field to monetize their time and knowledge on the Ethereum Blockchain. It is an application, where payments are automated through an operations contract (OC) allowing voice/video calls to be monetized without an upfront payment. Experts can advertise their services on any social media platform through a QR code or a direct call link. They set their rate per minute, and after the call is over, the OC settles the charges based on how long the call was.
Experty makes it very clear they are "not a marketplace" where users can search for a specialist. They are a decentralized app where experts can share their Experty contact link wherever they want, such as discussion boards, Linkedin profiles, YouTube , and Twitter. For example, if a Kardashian wants to get paid to give makeup tips, she can just post her Experty link (with her price per minute) under her Twitter profile. A user will load up their Experty wallet, click the link, and start getting makeup advice from Kim Kardashian for $20/minute (or whatever Kim's rate is.)
Experty has released a video of their demo. They say they will have an alpha app available to the public in a couple weeks.
The Token
There will be 100 million total EXY tokens with a $10 million cap on funds raised (33% for crowd sale, 33% for experty, 30% partners, 4% bounties) The token sale funds that go to Experty will be used for software development, feedback, community, preparation, and marketing.
The start date for the ICO has yet to be set, but the base price will be 1,000 EXY/ 1 ETH.
The presale is going on now at 1,400 EXY / 1 ETH. I believe they are trying to raise $1.5 million during the presale. You can sign up for the whitelist here:   https://pre-sale.experty.io/dashboard
The token raise also enables a process called staking.  Instead of paying for premium memberships, users who have a certain amount of EXY staked, where they will be allowed to use their premium features such as scheduling, paid group calls (webinars), and conversation recording.
The purpose of the token is where this project runs into some issues. According to the whitepaper, the EXY token will be the only form of payment from advice seekers to experts. This sounds great for early contributors because demand for EXY will go through the roof as the app gets more and more attention. The problem though is Experty wants to make using their application as simple as possible, and there's nothing simple about noobs going onto exchanges to buy crypto. Therefore Experty has decided to allow users to convert their credit cards, BTC, ETH, and other cryptos into EXY right on the Experty app. This way, the experts would still only be paid in EXY, which again sounds great. However, I had a lot more questions, so I went onto their telegram channel and had a delightful little Q&A with Experty co-founder Tom Dyl. Here are some of the highlights.
Hacked: So, this is very similar to adult webcam sites where the viewer pays the model with tokens while she does new and exciting things?
Tom Dyl: "Yes- with Experty it will be able to be done with crypto payments."
Hacked: Explain your staking feature; it doesn't pay out interest in coins?
Tom: "EXY is used for payments within our app. if you want to have access to 'premium' features you'll need to stake coins and you'll get it without real payment – just for staking. We're going to allow also ETH payments, however, it's not yet announced right now. The idea is that with ETH (or other cryptos) there'll be provision paid in EXY but I don't want to get into details with that yet since it's a fresh idea."
Hacked: You're going to allow experts to be paid in ETH instead of EXY?
Tom: Yes, however as I mentioned this is a really fresh idea. Originally EXY was supposed to be the only currency for payment. The idea is to make payment  with EXY without any provision and if someone wants to use ETH the price will be a bit higher since expert will need to pay fee in EXY (but barrier of entry for his clients is lower)"
Hacked: Does Experty keep a stash of EXY to transfer users credit cards/bitcoins/eth to EXY?
Tom: We're planning to have it in our application. It will be an external service however probably due to law restrictions we don't want to be considered as an exchange since it brings additional restrictions and we want to be 100% compliant."
Hacked: Seems like you are really flexible. How is the price of EXY going to moon if people can use other forms of payment?
Tom: "It's because of EXY will need to be used anyways, if payment happens with ETH, a provision in EXY will need to be paid by the expert. Its probably going to be based on your total monthly conversations value; however, the details are not yet there. " (In other words, EXY will be used by the expert when paying their commission to the experty app.)
Hacked: Do you take the dollars, ETH and bitcoin you collect from your customers and use it to buy back the EXY from an exchange? Do you ever burn EXY tokens, how does the price of EXY go up?
Tom: "No we don't plan buybacks or burning. However, this commission in EXY is actually a kind of buyback."
Hacked: I can understand the predicament here.
Tom: "Yes we really don't want to be a security asset. There's an issue with plenty of projects right now that are most likely going to get delisted on exchanges soon, and I expect them to have problems. Not to mention exchanges aren't going to list any new projects like that- they already require papers from lawyers." He goes on a bit later, "[the] basic idea is to have better conditions when you're using EXY, the details are unknown and that's why we didn't announce it yet."
The Team
Headquartered in Zug, Switzerland, the core of Experty has been working together since 2014. when CEO Kamil Przeorski and COO Tom Dyl founded React Poland, where they have been building web and mobile-based apps since 2014. You can check out some of their work here.  http://reactpoland.com/#/works
Their front-end developer, Grzegorz Kucmiers, was a software engineer at Cisco!
They have about 12 other front/back-end and mobile developers, all really young looking, on their core team. As per the website:
"In addition to the core team members listed above, the Experty team has in disposition our existing team of 10 developers. This ensures prompt product delivery of our roadmap while assuring quality product development for the Experty platform."
The team impressive list of advisors.
The Verdict
There's a never-ending amount of use cases for this application. Teachers, chefs, doctors, lawyers, programmers… all need a convenient way to monetize their knowledge, and nothing is more convenient than this. Experty being an app that you can share a link to on every social media site is huge. It means they don't have to worry about bringing traffic to their site before getting business; the business is everywhere that allows access to the experts' link.
The Experty team is large, solid, and has shown their abilities to get stuff done in the past. I can tell this is not a money grab, as they are truly trying to be the Uber of the consulting industry. They do face several challenges, the most important from my view being the token. To reiterate what was said during that Q&A, Experty wants to appeal to non-crypto users too, so they need a way to allow for payment other than EXY. They planned to just convert credit cards, BTC, and ETH on their site to EXY, but then found out from lawyers that may make them a security, which they really don't want. So now they are thinking about allowing ETH payments while finding other ways to bring value to the EXY tokens.
Risks
Scaling. Experty does a good job of acknowledging, and staying flexible when it comes to dealing with possible problems with scaling, -1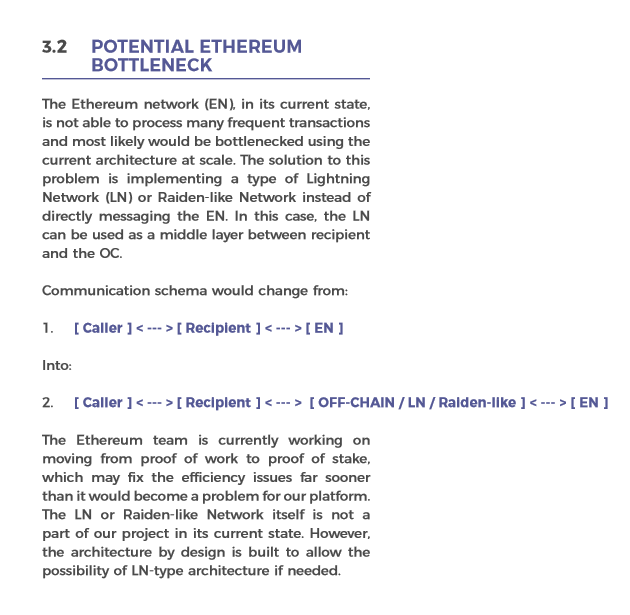 Security is a huge concern with apps like this. Cell phones especially are not designed to secure someone's crypto. Experty is taking very active measures to prevent problems by partnering with the popular new startup Quantstamp  https://www.cryptocoinsnews.com/quantstamp-solidifies-partnership-experty-smart-contract-consulting/  Quantstamp is a cyber security protocol designed to find vulnerabilities in ETH smart contracts. In exchange for Quantstamps auditing services, Experty will allow them to use the experty application to charge clients for consultations. +1
After using this app a few times, it's possible the experts will quickly raise their price per minute, which will in turn discourage advice seekers from paying them. The reason, at least from my perspective, is that experts have worked for years studying their craft to become masters. They are used to getting paid one large amount while dragging meetings out for way longer than they need be. They are probably going to have a hard time giving their thoughts away by the minute, for cheap. -1
The utility of the token is a good sized risk for those looking to make significant gains on their early investments. Going back to that Q&A with co-founder Tom, it really looks like the EXY token will play a fairly insignificant role. If demand for the token isn't manufactured by the customers' need to use the token to access the service, then what's going to drive up the value of the token? -2
Growth Potential
Starting out, Experty plans to focus its marketing on people in the crypto community. They are hoping the community's open-mindedness to new technology, constructive feedback, and their understanding of possible scaling hurdles will be perfect to help prepare the Experty app for mass adoption. They plan to use their marketing budget directly on the crypto community, followed by a wider audience. +2
"Global consulting industry revenues (including HR, IT, strategy, operations, management and business advisory services) will be about $488 billion in 2017," according to estimates from Plunkett Research. +2
According to the company's road map, the very first version of Experty will be a cross-platform calling app, allowing iOS, Android, Windows, and many others to communicate with each other. It will also have a free chat feature so seekers and experts can set up up their call details ahead of time. Also, the app will have a built-in Ethereum wallet for managing funds. This is an excellent start, and with the power of their gigantic team, I'm sure there won't be much difficulty achieving this goal. According to the road map, Experty will be fully functional by 2019  +3
Disposition
The idea is brilliant and simple, but the team faces so many challenges (security, legal, token metrics). That being said, it seems like they are keeping their options very flexible, and are always open to new ideas and feedback. I think this is a good strategy for a company, but a bad fundraising strategy, because investors don't know exactly what they are getting. 6 out of 10
Investment Details
Symbol: EXY
Presale start date:  ongoing sign up for whitelist here.+ 40% presale bonus
ICO date: TBD
Total Supply: 100 million
Max market cap: $10.5 million
Token price: 1000 EXY/ 1 eth
Platform: ETH
https://pre-sale.experty.io/dashboard
Disclaimer: Author has no investment stake in Experty. 
Featured image courtesy of Shutterstock. 
ICO Analysis: Sharpe Capital
Sharpe Capital is primarily an investment company whose core product is creating multiple approaches to understanding the market dynamics of both equities and blockchain assets. The multiple approaches to understanding market dynamics include sentiment analysis, quantitative trading, machine learning, AI and linguistic analysis.
Analysts at existing hedge funds/investment funds rely on quantitative and fundamental trading models where the value of an asset is tied to its micro and macroeconomic performance. Analysts hope that the trading value of the asset will converge on its "intrinsic value" over time and earn them returns on undervalued assets. Intrinsic value is the value that the analysts calculate based on various economic indicators. Readers familiar with investment analysis will understand these concepts with ease.
However, generating returns based on the calculated search of intrinsic values of undervalued assets is not so easy. Investor sentiment plays a huge role in asset valuation resulting in asset prices consistently diverging from their intrinsic values. For example, Tesla has higher market capitalization than Ford, but does it deserve that high a valuation? In my opinion, no! But investor sentiment is very positive towards Tesla, resulting in its higher market cap.
So, how do you gauge investor sentiment? This is where Sharpe Capital comes in.
From the perspective of a user who visits Sharpe Capital for the first time, the platform pays Ether for his views on a particular asset. The user is given recent updates about the assets and his opinion is asked. A user's opinion carries weight based on his previous responses (a reputation system) and the amount of SHP token holding. The payouts on correct opinion will be given accordingly. Opinions of hundreds of thousands of users are evaluated to gauge the overall sentiment about the asset.
Sharpe Capital's investment analysis methodology is not just sentiment analysis, but also takes into consideration a host of factors like fundamental analysis (macro, micro indicators), linguistic analysis (sentiments, emotions, contextual framing from blogs, twitter feeds, etc.), and machine learning (continuous learning from past experiences).
Sharpe Capital will feed this information into its proprietary investment fund, whose returns will be distributed among all token holders.
The data generated from sentiment analysis and the linguistic analysis will be sold to buyers like investment funds and researchers.
Sharpe Capital is also creating internal auditing tools and enterprise-grade blockchain solutions for hedge funds and corporate clients for transparency and accountability.
Token
The SHP token will serve several functions on Sharpe Capital's platform. The SHP tokens will give access to the users to earn rewards in ether by voting on bullish versus bearish sentiment of an asset on the Sharpe Capital sentiment platform.
Hedge funds and institutional investors will be able to access information within Sharpe Capital's Quantitative Trading Model through SHP fees. SHP tokens will help holders participate in governance for Sharpe Capital.
Looking ahead, as regulatory clarity emerges, Sharpe Capital will issue SCDs (Sharpe Crypto Derivatives), a cryptocurrency token that will be tied to the firm's proprietary investment fund. Holders of SCDs will be entitled to receive dividends from the proprietary fund.
SCDs will have bi-annual Ethereum payouts and will be distributed 1:1 with SHP at a later date.
The ICO began on 13th November and will last until 5th February 2018. The minimum contribution will be $100. The SHP token is valued at 2000 SHPs for 1 ETH. For each 2,000 SHP issued, an additional 2,000 SHP will be held in reserve for future fundraising and an additional 1,000 will be distributed to Sharpe Capital founders and community members for coming platform development for a total distribution of 5,000 SHP for 1 ETH. There is a hard cap of $20 mn for the raise.
40% of the funds raised will be used for the investment fund, while 20% for development and operations.
The bonus structure begins only after $1,500 contributions. You can check out the details here.
Team
According to the company, "The Sharpe Capital team is comprised of a diverse group of experts across the fields of quantitative modeling, financial engineering, linguistic analysis, international law & regulatory requirements."
There are five members of the core team. Chief Investment Officer James Butler has a Ph.D. in complex system modeling and is responsible for overseeing the development of the Sharpe Capital Investment Platform. This platform was conceived by Butler in collaboration with CEO Lewis M. Barber.
The development of novel approaches to linguistic analysis is supported by leading linguist and anthropologist Mieke Vandenbroucke Ph.D., a Fulbright Scholar and Visiting Researcher at the University of California, Berkeley who is also one of the advisers. There are five other advisers, prominent among them being Dimitri Chupryna, who is the co-founder of TaaS. TaaS will be used for extensive testing of the investment platform.
The team appears solid, with advisers from varied background. One aspect which I personally find somewhat negative is that most of the members, especially the ones developing the investment platform, belong to an academic background rather than one rooted in investment banking. I think this factor is quite relevant for this industry.
Verdict
Let me begin with how well the Whitepaper is written. The team has thought through the project well, with a detailed explanation of the Sharpe Investment Platform. Discussing the technicalities is beyond the scope of this review, but interested readers can go through the document for more information.
That being said, it is quite difficult to judge the quality of an Investment Platform or methodology without historical returns or a product version. The alpha will launch on 12th December with focus on the sentiment analysis part.
Cindicator can be considered the closest competitor, who have been working on the project since November 2014. They have an alpha version and are developing the product from insights coming in from a very active community. Sharpe Capital has some advantages in terms of product quality like the inclusion of linguistic analysis, governance; but then what is stopping a well-funded platform like Cindicator from including these in its product.
Of course, there is space for multiple competing companies, but a segment like sentiment analysis will hold value for only if the platform has thousands of users voting on the platform.
Risks
Sentiment analysis will not hold much value if Sharpe Capital is not able to attract enough users. Also, would hedge funds or investment funds find value in sentiments of retail speculators? -2
Along with Cindicator, many other companies are working on the same domain. -2
The investment analysis methodology although thoroughly developed is purely academic at this moment. -1
There are concerns whether the AI based portfolio manager can generate returns, especially in the crypto space where there is so much flux. -1
Growth Potential
The product is better than the competitors at this moment. +4
Rewards for prediction without the loss of stake is a massive incentive for users to participate on the platform. +3
The alpha version will be launching soon on 12th December. The alpha version launch will be a big credibility boost for the project. +2
Once the regulatory approvals for SCD tokens are obtained, Sharpe Capital can expand to other dividend based funds. +0.5
There will be demand for the enterprise-grade blockchain solutions for hedge funds and corporate clients once regulations demanding more transparency start getting hold. +1
Disposition
We arrive at a score of +4.5 out of 10 for Sharpe Capital. The score can improve +2 points depending on the reception of the alpha version once it launches on the 12th of December.
Investment Details
The ICO began on 13th November. Non-accredited US residents, Chinese and Singapore residents are restricted from the sale. You can participate in the ICO here.
Disclaimer: Writer does not hold an investment position in Sharpe Capital. 
Featured image courtesy of Shutterstock.
Online gaming and entertainment is a multi-trillion-dollar industry that is expected to grow manifold as developers push the boundaries with virtual reality, massively multiplayer online (MMO) and real-time strategy. Data crunched by Statista show that the global media and entertainment industry was valued at $1.72 trillion U.S. in 2015 – a figure that is expected to climb to $2.14 trillion by 2020.
Naturally, any ICO that enters this space is expected to generate lots of attention. Chimaera (CHI) is certainly no different.
The Chimaera blockchain aims to provide a platform for developers to build futuristic games that leverage the latest advances in gaming technology. It does so by democratizing game development and allowing developers to issue their own cryptocurrency that can be traded for the CHI token.
From the perspective of gamers, Chimaera promises decentralized game worlds with 100% uptime and fair play rules.
One of the main issues Chimaera aims to solve is that of scaling – namely, bringing to life massive game worlds with their comprehensive inventory of virtual assets. The company says it is overcoming these issues with "Trustless Off-chain Scaling for games (Game Channels) and Ephemeral Timestamps." This essentially means games can be created on the blockchain without the need for a third party.
Token
Chimaera is a massive undertaking, and one that seeks to create novel infrastructure for the gaming community. To realize the vision, the company has issued a two-phase token sale (pre and public). Funds raised through the token sale will be allocated to the following:
Development, operational costs and legal: 33%
Marketing: 33%
Game developer on-boarding: 33%
The CHI utility token fuels the entire ecosystem and serves as the reserve currency of the Chimaera platform, including:
Account creation
Account transactions
Purchasing game
Renting game
CHI-powered crowdraises
Coin transactions
Chimaera will also enable a Token Exchange Period, which will allow users to exchange bitcoin for CHI tokens. Tokens can be redeemed once the genesis block is mined.
Team
The project is backed by one of the most experienced teams in the blockchain gaming industry. This includes CEO Andrew Colosimo, who has over 20 years of experience in IT and computer gaming . He is the founder of the Huntercoin experiment, which achieved the world's first decentralized MMO game. When it comes to track records in the gaming industry, very few compare with Colosimo.
His team includes a stable of theoretical mathematicians, game developers, software engineers and business leaders. Andrew Gore is also on the team (he's the guy who co-founded Soccer Manager, which has over 20 million downloads). 
Overall, Chimaera's core team consists of 13 people. It also retains the services of an advisory board made up of four experts in the field of blockchain technology.
Verdict
Chimaera certainly makes a compelling case for blockchain-based gaming. The promise of a fully decentralized, autonomous gaming platform backed by one of the brightest teams in the industry give the project a unique advantage in a nascent market with very few comparables.
Risks
Like any project of this stature, implementation and market buy-in is always an issue worth considering. The Chimaera whitepaper does a great job of setting the scene for a decentralized autonomous universe, but building a system that attracts both developers and gamers may prove tricky. In this vein, it's worth asking if Chimaera is looking to adopt a similar model as Steam, a digital distribution platform for multiplayer gaming. To be fair, the whitepaper does include a detailed discussion about ecosystem, growth and revenue. Still, the author sees this one as a higher risk venture when compared to other ICOs in infrastructure or gaming. -2
Although the whitepaper identifies a detailed roadmap, there is no specific end date specified for the token sale. Additionally, there is no mention of how much was raised during the pre-sale or how much has accrued since the official launch. This isn't necessarily a "con," but it may echo some of the concerns mentioned in the first bullet point about buy-in. -2
Growth Opportunity
When it comes to growth opportunity, very few projects promise near infinite scalability. Chimaera makes it abundantly clear that this is the objective. It also details a precise way for reaching it (i.e., through Game Channels). +2
When it comes to project experience, Chimaera's staff takes the cake. The brains behind this project successfully delivered the Huntercoin experiment, which reached a market cap of $6.3 million earlier this year. Chimaera's CEO is not only the creator of Huntercoin, but a member of the Namecoin team. +4
Although adoption risks are plenty (as with any project of this nature), Chimaera provides gamers themselves with a unique value add. In addition to immersive game worlds, the platform offers a complete gaming universe. This is a strong value proposition for a project that requires buy-in on both sides of the aisle (gamers and developers). +2
One of the most unique aspects of Chimaera is the ability for developers to crowdfund their own projects with ICOs. This makes the Chimaera ecosystem truly multi-faceted with the promise of future growth. +2
Disposition
Chimaera is a highly ambitious project that actually promises something new for the gaming industry. If the project's potential becomes actualized, we may be looking at a major draw for all segments of the gaming community. That being said, implementation could prove daunting given all the market participants that would need to be involved to make Chimaera a success. Against this backdrop, we give the crowdraise a score of 6 out of 10.
Investment Details
Type: Crowdsale
Symbol: CHI
Opening Sale: Oct. 23, 2017
Duration: TBD
Platform: Custom
Tokens Available: 1,100,000,000 CHI (plus unsold presale tokens)
Payments Accepted: BTC
Disclaimer: No position in Chimaera or other ICOs at the time of writing.
Featured Image courtesy of Shutterstock.