ICO Analysis: Vezt
Vezt is a one of a kind music platform on the Ethereum Network that allows artists and song rights holders to sell percentages of their music to the public. The platform uses the blockchain to track and distribute royalties to the proper holder. Anybody in the world who wants to own a percentage of the rights to a song can purchase the contract and start collecting royalties like a real music producer!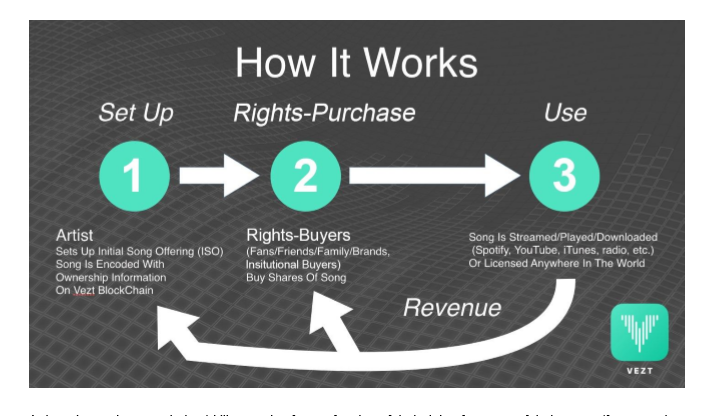 The artist decides what percentage of the rights to his music to sell, and how much to sell them for.   He  also decides the term of the contract (3,5,10 or in perpetuity).He then sets a date for the Initial Song Offering, and markets it to his fan/followers
The buyers of the song rights (including fans, music professionals, and brands) buy the rights during the ISO (initial song offering). The artist immediately recieves the funds.
All the specific details of each song are encoded on the Vezt blockchain. Royalties are collected from PROs (Performing Rights Organizations in 137 countries worldwide, as well as through STEM.is which aggregates digital royaltes from Spotify, iTunes, YouTube, Pandora, etc. Vezt registers the rights with PROs and digital platforms, and pays them through to artists and right-buyers
Vezt takes a 5% investor royalty fee to run their business
The Token
VZT is a utility token. You can buy and sell your VZT on the platform with USD, EUR, BTC, ETH but you must use VZT to use the app .
Despite this platform/app being specifically for the US market, USA residents cannot participate in the sale. The team at VZT says their legal team advised them to take caution and comply with us security laws
The team has not ran a clean token sale so far, which has generated some FUD. The original ico sale was scheduled in September,  but allegedly one of their team members got hacked, and compromised. They have fixed all their issues, but the team was forced to push the sale back.
Token Sale Structure
The sale is currently in tier 1 until it reaches 20million tokens sold, at which time it moves on to tier 2 then all the way up the latter to tier 6  the tiers start at $0.35 and end at 0.85 (.35-.45-.55-.65-.75-.85)   (it doesn't look like its going to sell out)
Platform: ERC20
Symbol: VZT
Total Supply: 125 million with a $15 million hard cap
ICO start date:  Started a few days ago(Nov 4th), but we haven't missed any bonus tiers yet.
End date: Dec 1st
Token allocation: 50% to Private/Public token even, 35% platform development,                                                                           10%partnerships/marketing/pr,    5% for Advisors/Consultants
*All unsold tokens will be burned!
* Very important note.  They sold VZT even cheaper than .35 to the private early investors. They also have been giving out huge bounties to help market the project.
*USA residents are prohibited from participating in ICO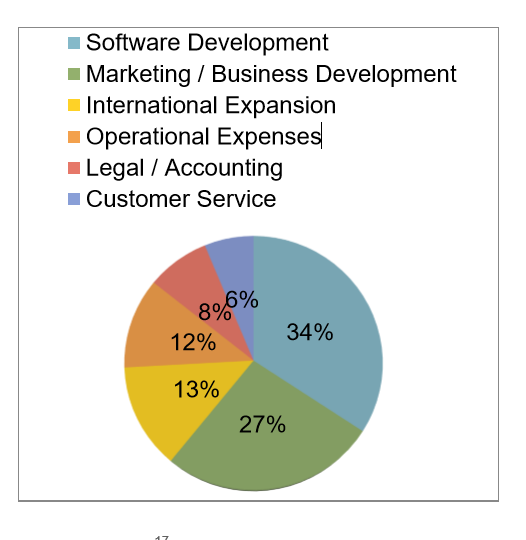 The Team
Headquartered on Ventura Blvd in Los Angeles, CA , Vezt has a team of 15 people already, including four legal advisors, because you need those for the extra brutal music industry
The 2 co-founders Robert Menendez and Steve Stewart have pretty impressive resumes with plenty of experience in the industry. They created crowdcasting startup, SURKUS ,which is valued at $30 million. I've listened to 2 interviews with the 2 of them, they seem highly capable.
There's currently 9 stud advisors on the Vezt team including
Steven Nerayoff -Co-Founder of Ethereum
Marc Geiger-Co-Founder of Lollapalooz/head of William Morris Music Division
Jeff Pulver– Co-Founder of Vonage
Jon Pleeter– Head of Music ICM Partners
The Vezt community is somewhat lively. 1300 people in telegram, 2500 pretty active retweeters on twitter, 13k on facebook. Their linked in page is very well kept, with several announcements and updates. It's a very good resource to learn everything about the project. https://www.linkedin.com/company/18164812/
The Verdict
There are numerous music projects already coming onto blockchain. Vezt is completely unique, and exciting. Who wouldnt want to own a piece of their favorite artists music? Or who wouldnt want to discover the next R-Kelly, and buy the rights to his songs for cheap before they become popular?
Vezt has more potential than 98% of all projects. They have a stellar team, a great idea, and are being advised by Steven Nerayoff (ethereum). That being said, the project is only potential at the moment.
Risks
I touched on this earlier, but feel its important. Vezt had a private presale where they sold a good amount of tokens for a large discount. Also, the regular ICO has 6 tiers ranging from .35-.85. This could be the very rare, ever dreaded, double dump, with the presale investors and the .35 buyers taking profits at the first sign of trouble. When asked about this in an interview, the Co-founders acknowledge the dumping could happen, but they arent worried about it. They feel that once they are live the token price will take care of itself.
No working product. I heard they have a prototype, but I couldn't find it, I also heard it might just be a demo. The team is saying they will launch their public beta in Q1 2018.
In response to the question; what if you hold the rights to a song that gets sued for some reason (copyrights, plagirisms)?  The teams response was "Our Terms of Service will specify a hold-harmless clause and a reimbursement clause for any discrepancies that occur down the line. Disputes are inevitable, but we do our best to keep things smooth on the platform. eBay, Amazon, and others deal with this every day, and we are building internal systems like theirs."
Everyone knows the music industry is roothless. Most of the A list artists already sold their soul, and music rights, to Tommy Mottola and them. According to Vezt, it has been a struggle to acquire A-list talent to the platform so far.
Growth Potential
To start out, the team will focus business specifically on the USA market, with a close eye on Asia. They figure, if they can capture the 2 largest markets, the rest of the world will follow.
If Vezt figures out how to get the best artists music on their platform, the fans and buyers will surely follow. Every time they announce the signing of a major artist it will pump the price of the tkn as well as bring thousands of new people to the platform!
If they are successful it will be because of marketing. They have to get people onto the platform. If they follow thru on their plan to release their app on android and apple phones as well as pc, then basically everyone will have access to the platform.
In the not so distant future, Vezt plans to scale into television shows, movies, and commercials!
Disposition
Long term outlook is positive, but not bullish. They have a lot of ingredients, but haven't even made the soup yet, let alone the entire dinner.  With the hacking FUD that took place a couple months ago, the poor tier structure, big bounty giveaways, and the circulating knowledge of giant private pre-sales, if you want to purchase this ICO the time is right now (at the $0.35 price).   7 out of 10
Investment Details
ICO is currently in level 1 of sale. Ends Dec 1st.  For more details https://vezt.co/
Featured image courtesy of Shutterstock.