ICO Analysis: Bankera
Pretty much every week now, a new startup comes out wanting to merge the traditional world of finance with blockchain. Usually, it's to decentralize that area of business. Bankera flips that; they want to centralize crypto by building it a bank.
Straight from the whitepaper:
"We are focused on building a bank for the blockchain era, which eventually will become a one-stop store for all financial services, in the same way, traditional bricks and mortar banks are now."
Bankera is an operational fork of SpectroCoin, the crypto exchange, e-wallet, payment processor, and debit card provider. They claim to have 440,000 clients and have issued 64,000 cards. The plan is for SpectroCoin to provide wallet and exchange services, while Bankera focuses on becoming an efficient payment and banking solution.
Based in Lithuania, Bankera aims to integrate into the EEU financial network to become the bridge from traditional banking to crypto. In order to do that they need three things: capital, licensing, and technology.
Capital: They no doubt are getting that. They need large amounts because banks need to have huge stores of money in order to ration out large enough loans in order to thrive.
Licensing: They do not have any licenses. Recent regulations reduced SpectroCoin's legality to only the European Economic Area (EEU). Now with Bankera, they are trying to build a full-fledged crypto bank, which seems almost impossible. They cannot share any info about potential jurisdictions, and they state in the whitepaper they will not have a banking license until 2019.
Technology: They say they have an MVP. I think the MVP is the mobile wallet that you have to sign up for to download. There is no way to secure a mobile wallet though. This isn't special in any way.
The Token
The Bankers token (BKR) allows holders to pay for services and products of at a discount, as well as entitles holders to 20% of net transaction fees paid by Bankera and SpectroCoin customers every week. Basically, the purpose of the token is to receive 20% dividends on a weekly basis.
The presale ended in September, and the raise broke the all-time record for most money acumulated pre-ICO with over $29 million accounted for. They sold over 2 billion tokens at $0.01 per unit.
The ICO sale starts Nov 27th https://bankera.com/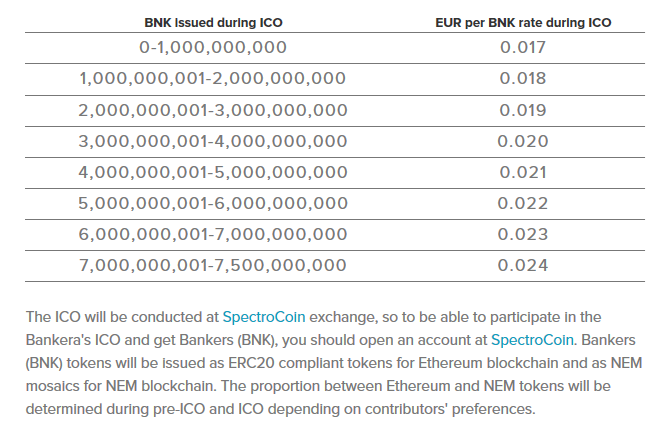 Allocation: 40% of the tokens will go to ICO participants, 25% to the team/managers, and 5% to advisors. The remaining 30% will be sold in a "secondary coin offering (SCO)" later in the future.
If you contribute more than 1,000 euro to the ICO, you will be eligible for an IBAN account, and a Bankera card. However, many jurisdictions are currently banned, including the United States.
The third ICO, or "secondary coin offering," is ridiculous. They give a reason as to why they need to raise so much money:
"Operating a bank is different from many other businesses because capital is not only required to fund growth and trade cycles but also for regulatory requirements. In the financial service sector, this regulation is in place to ensure banks have minimal risk of financial distress during economic downturns when there is pressure on the deposit base (more withdrawals than deposits). Therefore, most of the capital raised will be put towards satisfying the capital adequacy requirement ratios that are needed for obtaining banking licenses in new jurisdictions
For example, if the ICO was to raise 100M EUR, which on the surface looks like a substantial amount, because of capital adequacy requirements Bankera could only lend out 500M EUR, which is considerably lower than an average local bank would have in lending capacity. It would correspond to 2,000 loans for an average loan amount of 250,000 EUR."
The Team
The Bankera team is 50 deep, and are the same as the SpectroCoin team (est.2014). Their top three guys (Vytautas Karalevicius, Mantas Mockevičius , and Justas Dobiliauskas) have been together for years. It's not hard to find plenty of complaints on these three guys and SpectroCoin. With a project as hyped as this one, a little bad press is to be expected, but this is off the charts (serious allegations of swindling). I don't agree with a lot of this, but it's a must read if you are thinking about getting into this ICO
The best part of Bankera is the list of advisors. There are three strong players involved, including Lon Wong, Antanas Gupta and Eva Kaili.
It's almost certain that Lon Wong is the reason this presale was so huge. The crypto community absolutely loves NEM.  Here's whats funny about this, though. Lon is president of the NEM.io Foundation, not the actual project:
"The NEM.io Foundation is incorporated in Singapore as a company limited by guarantee. The sole purpose of the Foundation is to introduce, educate, and promote the use of the NEM blockchain technology platform on an international scale to all industries and institutions."
When asked for evidence of an actual partnership with NEM, Bankera could not produce.
Antanas Guoga aka "Tony G" is a big-time player. Deep research shows Tony may be the reason Bankera was able to sign Lon on as an advisor. He wine/dined him…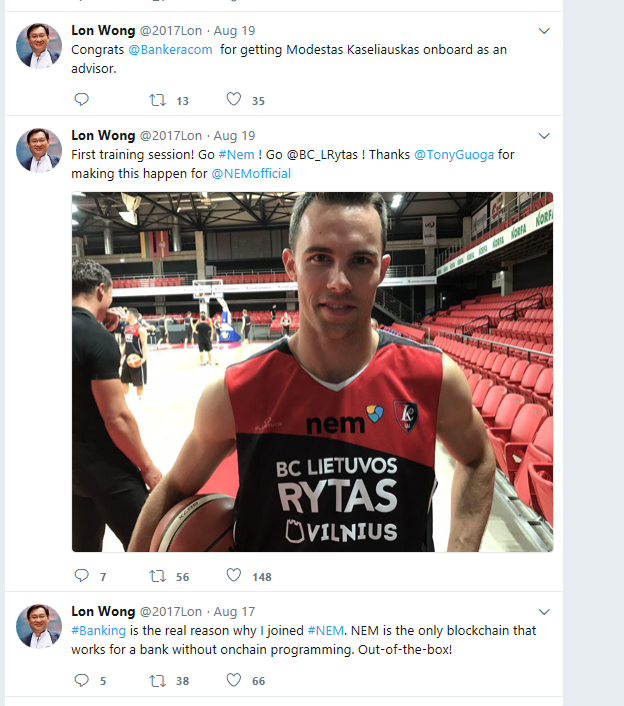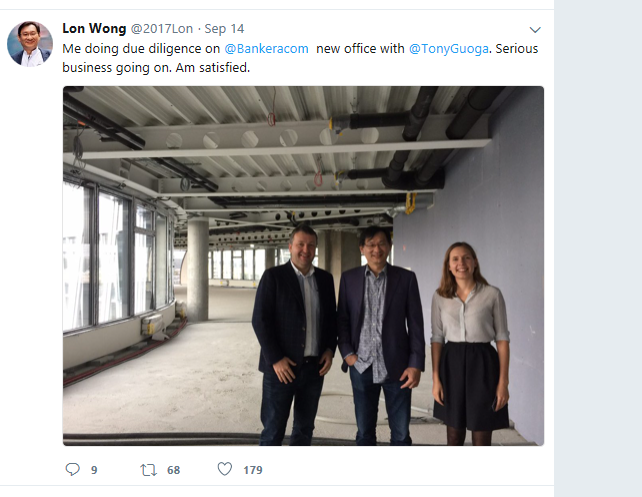 Verdict
Despite having no new product, and an extremely vague whitepaper, billions of tokens were already sold and Bankera broke the record for being the highest ever pre-ICO collecting $29 million. Now they want to raise hundreds of millions more. Depending on what they sell in the ICO, there will be over 7 billion BKR in circulation. At $0.02 cents per token right out the gate, it has zero room for early growth. And with so many tokens being sold for .01 months ago, it will almost surely dump.
Risks
Red flags everywhere.
Regulation: To be a real financial institution you need to acquire several different strict licenses. Bankera has yet to acquire any banking licenses for accepting deposits and offering investment products. They make it clear that they won't acquire these until 2019.
There are several horrible reviews on SpectroCoin, including many allegations of theft. Even if not true, just the allegations may be enough to cause dumps.
The competition is already stiff, and we are just getting started. Until 2019 (when they hopefully get a banking license), Bankera will basically be just a banking card that right now can only be used in the European Economic Area (EEU). There are several banking cards already on the market which are better than SpectroCard.
Growth Potential
Many use cases. Traditional banks are inflexible. According to the whitepaper, most of the technology required for successful operations for Bankera is already developed and will be ready for testing as a minimum viable product prior to the ICO. The core elements of Bankera's current technology include modules for SWIFT messaging, SEPA payments, payment cards integration, bank's ledger, Bitcoin, Ethereum, DASH, NEM modules, fraud analytics and more.
However, to maintain a competitive edge in a rapidly developing technological market, Bankera will constantly be improving existing infrastructure and developing cutting-edge solutions for the upcoming blockchain era.
(Again, from their whitepaper): After the ICO, Bankera will acquire banking licenses within the EU, becoming an issuing bank for payment cards. After that, they will obtain licenses in other key jurisdictions, such as the UK, Singapore, and Japan. Sometime in the future, Bankera plans to offer a variety of investment solutions for clients and businesses. Low-cost ETF funds will be offered, and later they will add trading, advisory, brokerage, custody, wealth management and other services. Most of these solutions will be "developed in-house based on using the most advanced artificial intelligence (AI) technologies."
Everyone loves dividends. Bankera has been, and will be, paying 20% to token holders on a weekly basis. However, right now this is peanuts, it will be less than 2% annual ROI
As you can see from this chart found in the whitepaper, Bankera often makes outrageous claims like they invented the question mark.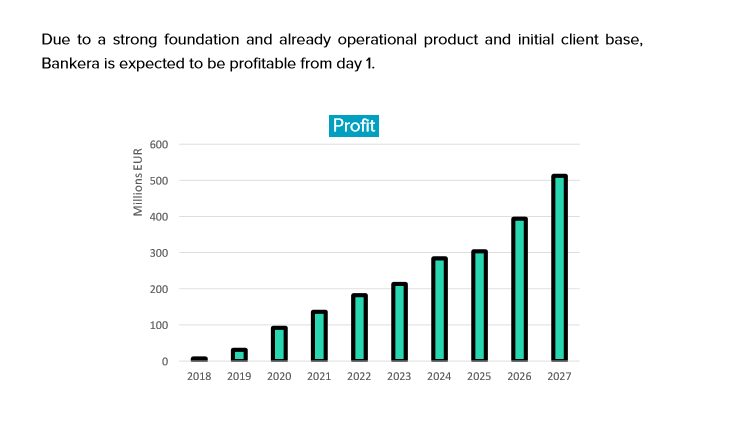 Verdict
This is not a quality investment. It could be in a couple years if they acquire all the licenses. If you are excited about its long-term potential, then wait for the dump to load up your bag. (3.5/10)
Details
for all the ICO specifics, and to sign up for whitelist https://bankera.com/
Featured image courtesy of Shutterstock.