Blockchain technology has ushered in the power of decentralization, which has the ability to disrupt most of the existing centralized business and industry structures. Next in line for disruption are the mobile app stores. Google Play Store and Apple Store are the most widely used mobile app stores across the globe. By introducing them as default applications on their powerful operating systems, Google and Apple have established a strong dominance over the industry. Only a monopoly makes it possible for Google to impose a 30% fee in such a straightforward service (almost a commodity) like distributing a file from a developer to a user.
The centralized app economy is also highly inefficient due to many intermediaries between the users and developers. For example,when app developers pay publishers for advertisements, it is very difficult for them to differentiate between actual user and fake user downloads. Another major inefficiency is that less than 5% of the smartphone users are making in-app purchases due to the higher costs!
AppCoin aims to solve these issues prevalent in the centralized app store economy by removing intermediaries and creating a blockchain based open protocol for App Stores.
Last week we had discussed Mobius which is a decentralized app store for dApps. However, Mobius app store is targeted only for decentralized applications. AppCoins on the other hand is working mainstream by creating a distributed protocol for the app economy targeted primarily for Android users.
AppCoins is a project developed by Aptoide, with the goal of creating a protocol applicable to all app stores, that will be the answer to most of the limitations the app economy currently faces.
The AppCoin protocol will improve 3 core processes of traditional app stores:
1. Application developers who wish to advertise their application on the app store, pay the store based on the number of downloads that the advertise generates. When a user downloads the advertised app, 85% of the advertising bid will be transferred to the user's wallet in the form of AppCoin tokens. These tokens can only be used for making in-app purchases. This will create a robust app based economy where a large number of users make in app purchases rather than the present 5%. This system is beneficial for both the users as well as app developers. AppCoins has created a novel concept called Proof of Attention where the developer can be sure that the user has installed his application and used it.
2. AppCoins is creating an easy payments solution for application developers which will integrate with their applications without centralized interference. AppCoins will be using payment channels similar to Raiden Network for scalability.
3. Most of the app stores(other than Google's and Apple's) do not have proper vetting systems in place, which results in many applications with malware or inappropriate material being introduced in the store. App stores like Google Play are sometimes biased and even reject credible apps. Using AppCoins, app approvals are made universal and more transparent through a developer reputation system. The reputation is tied to the financial transactions on the public ledger and is auditable.
The Token
AppCoin is an ERC-20 token that will be used as the primary medium of exchange in the AppCoin protocol. As mentioned above, 85% of the advertiser's pay will be distributed to the app user in the form of AppCoin tokens. As compared to the present 5% in-app purchase rate, in-app purchases will increase substantially under AppCoins protocol creating significant demand for the token.
The presale begins on 6th November and will continue until 15th. The pre-sale and public sale will distribute 40% of the 700 million AppCoin tokens. The remaining tokens will be
distributed among the App Store Foundation (15%), bootstrap strategies for the key players in the apps economy (20%), Aptoide (15%) and the key contributors to AppCoins idea (10%).
12% of the tokens will be distributed in the presale while 28% in the ICO. The token is valued at $0.10 with a hardcap of $28 million.
Please note that you need to install the Aptoid App Store 24 hours before the presale to be eligible to participate. There is a 30% discount for presale participants.
The Team
Let's discuss Aptoid whose team is developing AppCoins. Aptoid Android App Store was developed in 2009 as a flexible, open and free alternative to Google Play Store which now has around 200 million users worldwide with billions of downloads! The store is very popular in Brazil and Mexico where one out of every three people in the age group of 16 to 25 use it.
Being a part of Aptoid brings in a lot of credibility to the project. Aptoid has a team of over 90 people who are working on the AppCoins project.
In a blog post, the cofounders of Aptoid, Alvaro Pinto and Paulo Trezentos were quoted:
The blockchain technology will provide the neutral common ground for the financial transactions to happen in the economy, unbalancing the market share to the side of the app stores committed with standards and decentralisation of transactions.
The Aptoid co-founders seem to have always favoured decentralization, and blockchain has presented a great opportunity to implement their vision of decentralization in the mobile economy.
Verdict
Data driven centralized giants like Google are being increasingly targeted by blockchain based companies with decentralized solutions. Just recently the review of Flixxo was posted which is targeting YouTube. The Play Store is an important part of the Google ecosystem with ~7Bn in revenue coming in 2016, which translates to around 8% of the total revenues. There will be some resistance coming in from Google once AppCoins starts to gain prominence. However, AppCoins is working on the app distribution part and not directly with the OS, hence Google does not hold much leverage here. ICOs which have a ready market available always get rated better. The AppCoins protocol will have an immediate market in the form of 200 million Aptoid users. Considering the benefits that the protocol brings in this will generate significant demand for the tokens in the medium term even if the protocol is not adopted by other App Stores.
Risks
AppCoins is building algorithms to bring in as much trust as they can, but there will always be some perception of risk when it comes to 3rd party app stores. You can see hundreds of articles popping up on Google search advising not to get apps from 3rd party stores. Google holds a significant influence over the masses. -3
Aptoid is popular only in the age group of 16-25 making its userbase quite narrow. Other age groups do not generally use app stores other than Google Play. -2
There is always a risk whether app stores other than Aptoid will adopt the AppCoin protocol. -1
Growth Potential
In a product like the Play Store where Google is simply an intermediary, there is a very strong potential for disruption. Yes even for Google! The protocol is bringing in efficiencies on many fronts by targeting intermediaries. +5
AppCoins has a ready market of around 200 million Aptoid users. This is very positive for AppCoins. The young Aptoid userbase will eagerly try out the new system. +3
We have to give extra pointers for the credible team that is working on AppCoins. +2
Based on the circulating supply, the maketcap at listing stands at $28 million. There is a lot of potential for price appreciation of the tokens. +3
Disposition
We arrive at a score of +7 out of 10 for AppCoins. The only reason why I have reduced some pointers is the fact that they are directly competing with Google and it is not wise to underestimate the power of such an influential conglomerate. There is a good potential for growth in the medium term due to the lower marketcap, and the ready userbase.
Investment Details
The presale opens on 6th of November. Please check out further details regarding the eligibility here.
Blockchain and Cannabis are the two fasting growing industries one can think of. And it just so happens that they mesh perfectly with each other. Although laws are slowly changing in jurisdictions where cannabis has become legal, traditional banking for this industry remains sketchy, businesses are being forced to deal in cold hard cash. Therefore, tokenizing the entire industry from seed to sale seems like a no-brainer.
Majato plans to grow and distribute cannabis in countries where it is legal.  On top of that, they will have an interactive platform to unite the cannabis market participants.
"The use of blockchain as the core technology will make all stages of production, distribution and even consumption of cannabis products completely transparent and clear for all market participants."
They will first launch their project in the United States, specifically California. Their main goal is to have a full scale, seed to sale, production company. They will use their funds raised during the presale to fill out legal paperwork, acquire land, and start producing Cannabis.
The 2nd part of this project is the platform, which will bring together the cannabis industry in general and its standalone participants, including scientific and research labs, producers and suppliers of various cannabis products, equipment, seeds, and consumers. This transparent and secure ecosystem will allow streamlining of product sales, and simplified transactions.
One of the key goals of the project is to develop a "Gold Quality Standard" which will validate every product as being produced using the best strains, and high quality growing methods. They talk about the "Gold Quality Standard" in the whitepaper for way too long, revealing their own ignorance about the cannabis industry.
The Token
Their ultimate goal is to become the uniform payment instrument for all things cannabis worldwide
According to the  whitepaper, the purpose of the MJT token is the following;
Direct receipt by the MJT Owners of the Product in the form of Final Product or Raw Product in the relevant POS against settlement of the relevant number of the MJT Tokens
Ordering the Product for delivery via the Platform in those Jurisdictions where it is/would be allowed under the law
Discounts on third-party products purchased with MJT token in dispensaries
Use the MJT Token for internal Project purposes and separate matters relating to its implementation (for example, when submitting feedback regarding the quality of the distributed Product).
During the initial stages of sale (i.e. pre-sale and sale) of the MJT token a total number of 60,000,000 MJT Tokens (Project's hard cap) will be distributed, and the price will be 0,0011 ETH per token during pre-sale and 0,0033 ETH per token during the main sale stage.
Total supply: 60 million (?)
Presale: Dec 20. 10 million MJT token hardcap, 800,000 softcap .0011 ETH per token (currently $0.77) http://majato.io/
ICO sale: Apr 2018.  .0033 ETH per token
All unsold tokens will be burned. And all tokens used to buy cannabis products with from Majato, in the future, will also be burned.
The Team
This team of eight is a hodge-podge of Russian, American, and German lawyers. At least that's what it looks like, most of them come from a law background including their Founder and CEO, Mike Tretyak. Tretyak, a journeyman IP lawyer, who has no experience in large-scale cannabis farming. In fact, I went into their telegram and asked if any member on their team has experience with growing cannabis? My question got sidestepped, and when I pushed for an answer, I got called rude. I then asked if anyone on their team has worked together and had success in the past? The moderator told me I was out of line to ask such a personal question.
Although it is still just the presale, the lack of community around this team is extremely concerning. There is very little support on their Telegram and Twitter.
It doesn't seem like they have what it takes to pull off such a massive project as Majato.
The Verdict
As a lifelong cannaseur, who currently is in Colorado, I feel like I am especially qualified to analyze this ICO.
Although owning a piece of this fast growing cannabis industry is an attractive proposition, this particular project is way too far fetched. The legal hurdles they face in order to accomplish what they are trying to do, are probably insurmountable. That being said, they do have a team filled with lawyers, if they defy logic and get this project successful running, the gains for presale investors could be huge.
There is currently no way to legally ship Cannabis. This doesn't seem likely to change anytime soon. Therefore, the only MJT token holders that will be able to benefit by trading their tokens for cannabis, are the ones that live within traveling distance of Majato's imaginary future Cali stores. This leaves very few benefits for token holders
Risk
Pretty sure this project is considered illegal. Having a bunch of contributors to marijuana growing/selling, from different worldwide  jurisdictions, can't be legal… can it? -3
They have absolutely nothing so far, but a whitepaper. They want to produce and distribute cannabis to the entire world, starting with the jurisdictions which its legal. The problem is, it's illegal to ship cannabis ANYWHERE. They don't seem very concerned about this. -5
As far as I know, nobody on their team has experience with large-scale cannabis farming.  In their whitepaper, they break down what they estimate the production costs will be. It looks amateurish and fake. And it's obvious they have zero clue how this industry works. They have thousands of dollars set aside in their budget for "seeds", which is hilarious because they don't know about cloning. Nowadays plants grown on a large scale are clipped and cloned from a mother plant. Seeds are only used for all natural outdoor grows. -3
Growth Potential
A forecast done by Arcview shows the U.S. legal cannabis market will grow by 26% next year, and should hit $21 billion by 2021, $7 bill of that being California alone. This industry will only grow. Majatos roadmap says they will become a full-fledged, cannabis producing company by 2020. Here's a quick summary of their roadmap +3
Dec 17- Jan 18:  presale
Feb 18- Apr 18: Acquir land, obtain licenses/permits, form corporate structure for implementing project
Apr 18-June 18: stage 2 of the MJT token sale.
July 18- May 19: Production of batch 1 of product, establishing distribution channels, Platform R&D
Dec 18-Dec 19: Commencement of offering product to MJT owners
If they have a successful ICO, and follow through, they will first start production in California. As just stated, Cali is forecasted to have over $7 billion in cannabis sales in 2021. It's a shame this project isn't specifically for California. It seems way more doable if they kept their focus on just the one jurisdiction +2
Disposition
This ambitious project is too early, mostly illegal, and lead by a less than stellar team. One almost wants to call it the "H" word.  -4 out of 10
Investment details
Presale starts December 20th.
http://majato.io/wp-content/uploads/2017/12/Majato.White_.Paper_.V.2.5.ENG_.pdf
Featured image courtesy of Shutterstock
Rentberry is offering a decentralized home rental platform for long-term rentals, allowing for tenants and landlords to complete all rent-related tasks in a single location, while also eliminating the need for third-party middlemen and all.
The Rentberry ICO aims to transform the existing Rentberry platform, which has been around since 2015. The current long-term rental platform manages every step of the rental process, including everything from open houses to rent payments.
Rentberry increases transparency for renters employing an auctioning protocol, where tenants can customize their offers based on the competition and demand for a specific property. The protocol also provides landlords a tenant score that is calculated based on reviews, public information, and rental history.
Rentberry uses the blockchain to deploy their token (BERRY) to the existing Rentberry ecosystem. BERRY is to be used to pay rent and other third party services such as maintenance and housekeeping, as well as allowing roommates to split rent.
Token Distribution
Rentberry plans to use the raised funds to fuel their international expansion and development of new features including the tenant scoring system, advanced apartment search algorithms, and crowdsourced community expansion.
Token: BERRY
Price: 1 ETH = 2,500 BERRY
Platform: Ethereum
Accepting: ETH, BTC
Minimum investment: 0.1 ETH / 250 BERRY
Soft cap: 3,000,000 USD
Hard cap: 30,000,000 USD
Country: USA
Team:
Rentberry has been around since 2015, and is headquartered in San Francisco, CA.
The CEO, Alex Lubinsky has history as a financial analyst at Cisco, a consultant at Deloitte, and worked at several investment firms.
The CTO, Aleksey Perfilov, studied Computer Science at UC Berkeley, then received a degree in Management Science and Engineering at Stanford. He has experience as a software engineer at Phoenix Technologies, Hi5, Altera, and Amazon Music.
Risks:
The Rentberry team has quite a bit of work on their hands when it comes to onboarding new tenants. Their proprietary tenant scoring protocol is likely going to need a bunch of data to actually be effective. Being one of the main selling points for landlords, the tenant scoring system is heavily reliant on tenant adoption, which could pose to be a bottleneck to the process. They're aiming to process 500,000 rental applications with 1,000,000 rental properties in 2018, and then 3.5m rental applications with 6m rental properties in 2019.  -3

I'm a bit wary of their ICO bonus structure. I understand use of bonuses to push incentivization, but as new investors hear about the ICO moving forward seeing that they're getting less favorable terms, they'll be less likely to buy into the platform. The ICO bonus structure is as follows (-2):

Dec 5 – Dec 19 : 1 ETH = 2,500 BERRY + 33% Bonus

Dec 20 – Dec 26 : 1 ETH = 2,500 BERRY + 27% Bonus

Dec 27 – Jan 16 : 1 ETH = 2,500 BERRY + 20% Bonus

Jan 17 – Jan 30 : 1 ETH = 2,500 BERRY + 13% Bonus

Jan 31 – Feb 13: 1 ETH = 2,500 BERRY + 7% Bonus
Growth Potential:
If you've ever rented a place or owned a rental property, you're likely aware of the headache that comes with each new location or tenant. What I like about Rentberry is that it aims to make the process much smoother. +1

As someone who lives in New York City, the concept of rental transparency is hazy at best for me. The city is littered with people on leases who happen to be subleasing to other tenants for more money than the lease is worth. Cities like NYC such as San Francisco are all undergoing their own housing crises for whatever reasons, and a lack of transparency in the rental system isn't helping at all. If Rentberry can change that, it'll solve a huge issue. +2

BERRY makes it possible for expats and migrants living in other countries to facilitate the process of renting out their properties. +2

Rentberry has been around for a few years and has established itself as a relatively successful business. It has over 110,000 users and 180,000 properties. +3

The company has also raised over $4 million from a handful of VC funds and high-profile investors from 11 countries. +2

Rentberry also noted that it will use 15% of the token sale proceeds to buy short-term rental properties, and everyone who participates in the ICO is going to become a member of the "Rentberry Club." Buying physical real estate makes sense for this company and it's a proactive approach to grow their network of assets. It's also a pretty cool perk for ICO investors. +2
Disposition:
We arrive at a +7 for Rentberry.
I really like the application of the blockchain here to encourage international property owners to interact with their properties anywhere in the world. Rentberry's team may be capable of solving several issues in the long-term rental space, and if executed correctly, would make life much easier (and more cost and time effective) for hundreds of thousands of tenants and landlords.
Investment Details:
The Rentberry ICO launched on December 5, and will continue until March 1st, 2018.
Check out their website to learn more.
ICO Analysis: Deepbrain Chain
Deepbrain Chain will provide a low-cost, private, flexible, secure, and decentralized artificial intelligence computing platform for artificial intelligence products.
Coming out of China, based on NEO,  Deepbrain Chain is an incredibly difficult whitepaper to read. Many concepts are both lost in translation on paper, and in my simple brain.
I came across a Reddit post from a man named crypto_oxford, who does a great job summarizing.
"It is a data computation platform and a Data trading platform that uses distributed spare computing ressources, makes AI computational demands cheaper, protects against data leakage via hacking, secures the seperation of data ownership and usage rights, and secures intellectual property for the data and for the products."
They figure to reduce the cost of AI by 70% by making it minable on the blockchain. I cannot verify these claims, I am no expert in this field. Here's a good example possible investors face when trying to learn about this project.  It sounds great, but what does it really mean?
"The founding team believes that DeepBrain Chain is a project that has been verified by the market, has huge market scale and significant application value, lets the process and economic value associated, and is gradually issued with the core business sharing storage and the mechanism of computation capacity of mining. Each token corresponds to the computational value of the service provided during its issue, and is a truly valuable asset and digital currency that has already landed. Due to the difficulty of issuing, the value of the flow needed by every new token will increase. The earlier one holds, the more the expected value of the market will be."
The Token
NEO platform (nep 5 token)
A max hard cap of $15 million,
There's a total supply of 10 billion Deepbrain Chain (DBT) tokens. 50% of these will be mined over time.
1.5 billion tokens will be for sale
600 million sold during the Presale, which ended 10 days ago, and was almost impossible to get in.
Token sale stars Dec 15th. You must fill out a KYC form to be eligible. No USA or China allowed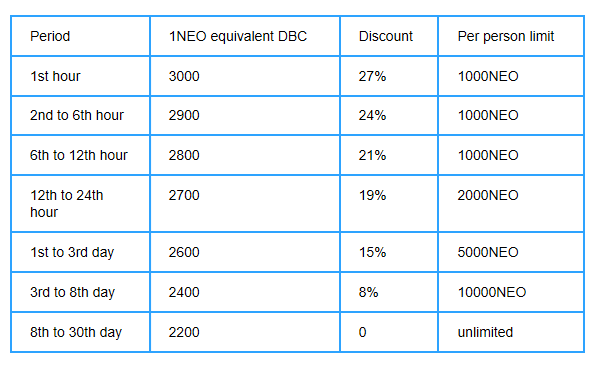 Only 1.5 billion of the total 10 billion tokens will be for sale.
600 million in the presale, and 900 million in the public sale
Use of funds. 55% R&D, 25% marketing, 10% daily operations, 8 % incentives, 2% patent fees
The Team
Based in China? The team is doing things. They recently won 1st and 2nd place prizes in Academic Sector  & Enterprise of SMP, at the Chinese Man-Machine Dialogue Field Authority Evaluation Contest. This contest had over 30 of Chinas best competing.
Their resume's check out pretty well. And just look at these faces… JACKPOT!
The Verdict
When it comes to the technical side of this project, I am out of my element. They have a hard cap of $15 million, $6 million of that already came from private investors, one of which being NEO, who funded them $1 million.This gives them serious street cred.
AI  data computation, neuro networks, machine learning, all these concepts are no doubt where our world is going. On Deepbrain Chains platform, one can compute and trade data. They have a working platform with more than 1,000 semantic skills.
Risk
This being a Chinese project, on NEO, makes it more susceptible to regulations than other projects. It doesn't seem likely, but is a risk nonetheless -1
The token metrics are funny. Only 15% for sale. They have a whitelist for the presale (which may be filled up by the time readers see this.) They didn't limit the amount people bought during the presale, and won't for the public sale either. This could lead to whales owning most of the supply. -2
They are having KYC implementation difficulties with their sale. It has been a huge issue in their telegram the last 24 hours. What looks like is happening, is there is no way to verify what customer is connected to what KYC. This could be an in for investors who currently aren't signed up for the KYC to buy these tokens. These issues could be a bad sign of things to come.-2
Growth Potential
The Deepbrain whitepaper states; there have been over 5k startups since 2012, collecting over $22 billion. This is without counting the money large existing companies put into ai, which makes the total amount of money over $100 billion. It is certain that this is just the beginning.+4
NEO partnership. NEO alone has an endless amount of growth potential. They have a large community that gets exdcited and involved with the projects NEO backs. This partnership is worth a lot. +3
The ICO has a strict KYC rule. This is going to create a tremendous amount of demand for this once it hits exchanges.+2
This is a $20 billion industry, that is only growing from here on out.+2
Disposition
The 10 billion supply with only 1.5 billion being sold is scary. However, the rest of the ICO seems to make up for this.  5.8 out of 10
Investment Details
Sale starts Dec 15th, however, you need to fill out the whitelist/KYC app in order to get in. This application is having technical issues which may allow anyone to buy in without previously being KYC whitelisted. It's worth a shot, but need to hurry!
Sign up here  https://www.deepbrainchain.org/pc/kycEnglish.html
Cover image courtesy of Shutterstock.com.