MeetMindful Hack Exposes Just One of the Hazards of Online Dating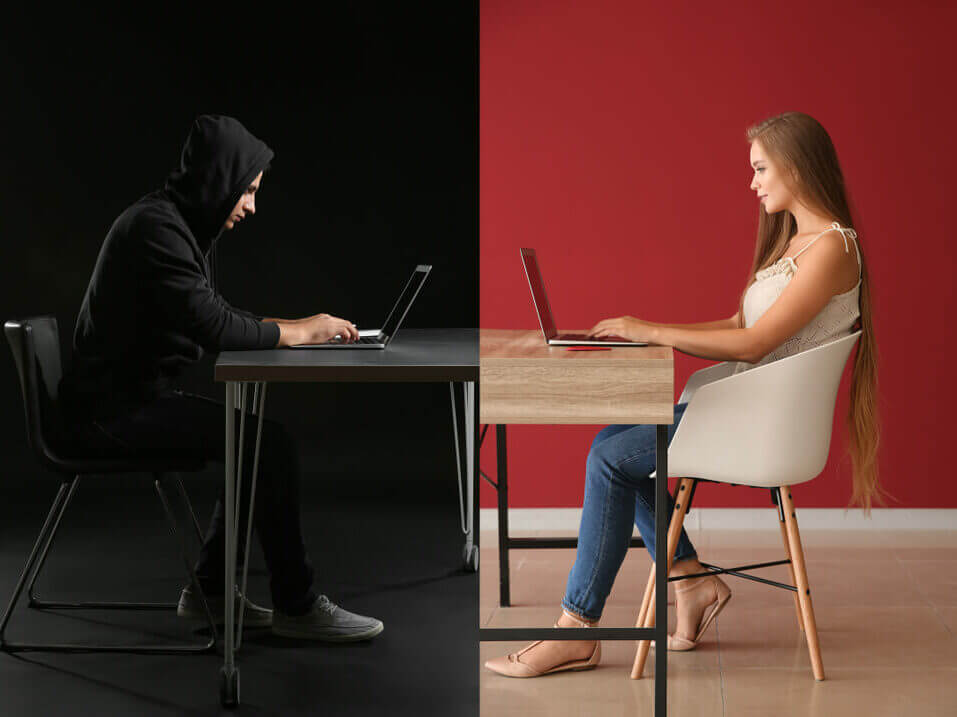 MeetMindful is a popular online dating platform. And the site was infiltrated last week as one hacker disseminated sensitive information of millions of users.
As our dependence on online platforms continues to surge, we have to be extra careful when engaging with them. Let's take a look at how to avoid some of the pitfalls of online dating and how the MeetMindful hack might affect its users.
MeetMindful Hack Affects Millions
On MeetMindful's website, it claims it's "more than an app, it's where meaningful connections blossom." As of January 20th, it's also a place where dangerous connections blossom.
That's when well-known hacker ShinyHunters decided to release sensitive information of over 2.28 million users of the app. The hacker posted a 1.2 GB file on a hacking forum containing information from MeetMindful's database.
The information in the file included the users':
Email addresses
First and last names
Location (city/state)
Birthdays
IP addresses
Marital status
Body details
Dating preferences
Facebook user IDs
According to MeetMindful, other sites such as Bonobos and TeeSpring.com were breached in the same attack. It also said that the vulnerability was identified and resolved immediately.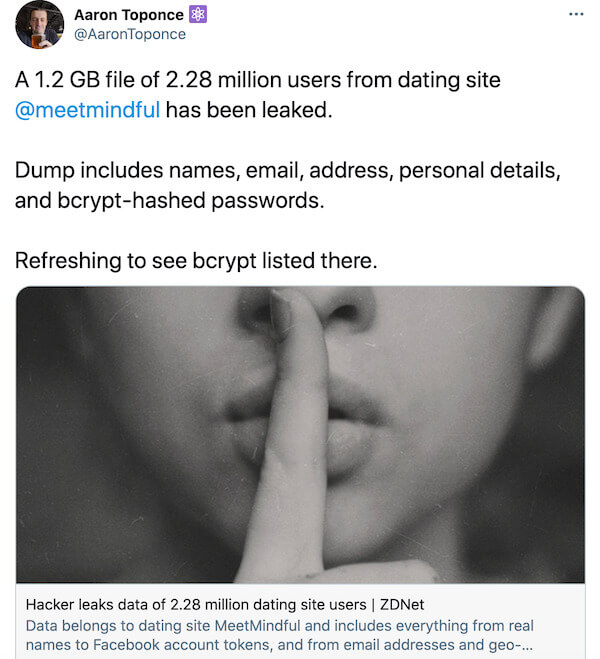 It's not necessarily MeetMindful's fault. After all, we've just witnessed a well-respected cybersecurity company (FireEye) fall victim to a massive attack.
Nonetheless, the information is out there, and according to ZDNet, the file has been viewed (and possibly downloaded) over 1,500 times.
Hackers can now use this wealth of personal information to breach other, more sensitive accounts of the same users. They could also try to steal their identities.
Luckily, MeetMindful claims that no messages between users were leaked. This helps minimize hackers' chance of using one of the more popular scams involved in online dating sites.
The Evolving Scams Involved in Online Dating
As the coronavirus pandemic has kept so many of us confined to our homes for so long, many first time users are trying online dating.
MatchGroup, which owns some of the most popular dating brands such as Tinder, Hinge, and OkCupid, has recorded increases throughout the pandemic.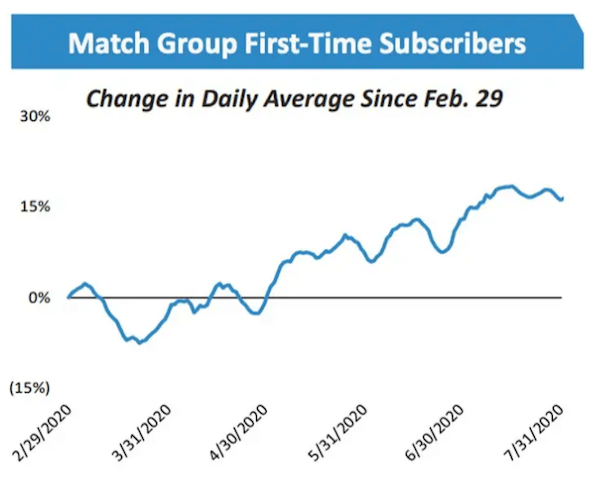 And with the rising subscription rates, the dark underbelly of cybercrime has risen as well.
One of the most popular online dating scams is called sextortion. This is when a user meets another user online and develops some sort of relationship. The cybercriminal might aim to get the innocent single person to engage in a 'compromising act' that might involve, say, a live-stream video or a photo.
While the online dating user might think they're engaging in some harmless, intimate behaviors, the cybercriminal might be recording the entire interaction. They then use the footage to extort the user, oftentimes threatening to send the video to the user's family or coworkers unless the user pays a hefty ransom.
Check out this video on sextortion:
Sextortion scams on the rise, FBI says
Other romance scams have even more complexity and betrayal. There are a growing number of cybercriminals who create dating profiles pretending to be someone they're not. They meet someone online, create a relationship with them, and eventually gain their trust.
From there, they may ask the victim for money. It might be for an international flight so the new lovebirds can finally meet. Unfortunately, the scammers take off with the money, leaving the victim hanging financially and emotionally.
How You Can Protect Yourself
In the case of MeetMindful, there's little you can do to prevent the site from getting hacked. But once a breach like that happens, you should immediately change your password. Make sure it's long and varied.
When messaging with others online, never give out sensitive information, no matter how trustworthy the other person may seem.
Of course, you should always think twice before engaging in any compromising, intimate activities with anyone online–especially if you've never met in person.
If you ever get an email from a dating app asking for your password, it's almost always a phisher trying to gain access to your account.
And if you find yourself in the unfortunate situation of being blackmailed with compromising footage, you shouldn't pay the extortionist. Once they discover you're willing to pay, they often keep raising the price. Reach out to the police or contact us for immediate help.
Featured image by Pixel-Shot via Shutterstock.