Facebook is having a brutal week. First, a whistleblower issued damning testimony about the company's already questionable integrity. Now Facebook, Instagram, WhatsApp, and Occulus services were inaccessible on October 4th 2021. The cherry on top? Reports have begun surfacing that hackers have made off with the data of 1.5 billion users, and they're selling it online.
Why Is Facebook Down?
This Monday, users were trying to access their Facebook, Instagram, WhatsApp, and Occulus accounts, to no avail. Popular cybersecurity site Ars Technica first noted the outages at 11:30 am ET. Service didn't return until roughly 6 pm ET, creating the company's longest worldwide outage ever.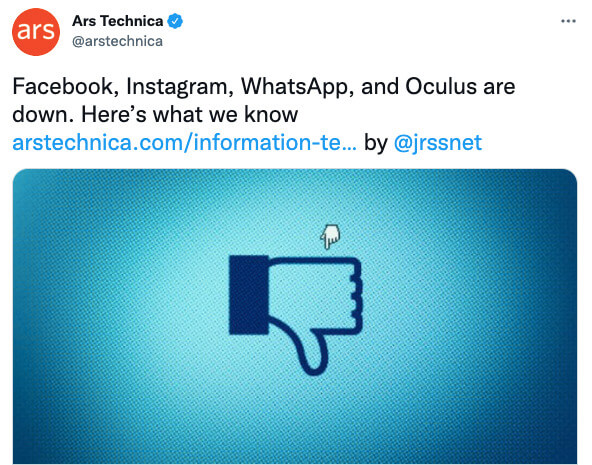 Reports of Chinese hackers and DDOS attacks spread throughout the internet, but neither of those were confirmed.
What we do know is that Facebook's DNS was down. Also known as Domain Name System, the DNS translates readable domain names (like Hacked.com) into numeric IP addresses (like 27.345.861.092). Since the DNS is down, computers don't know how to access the host servers of the website.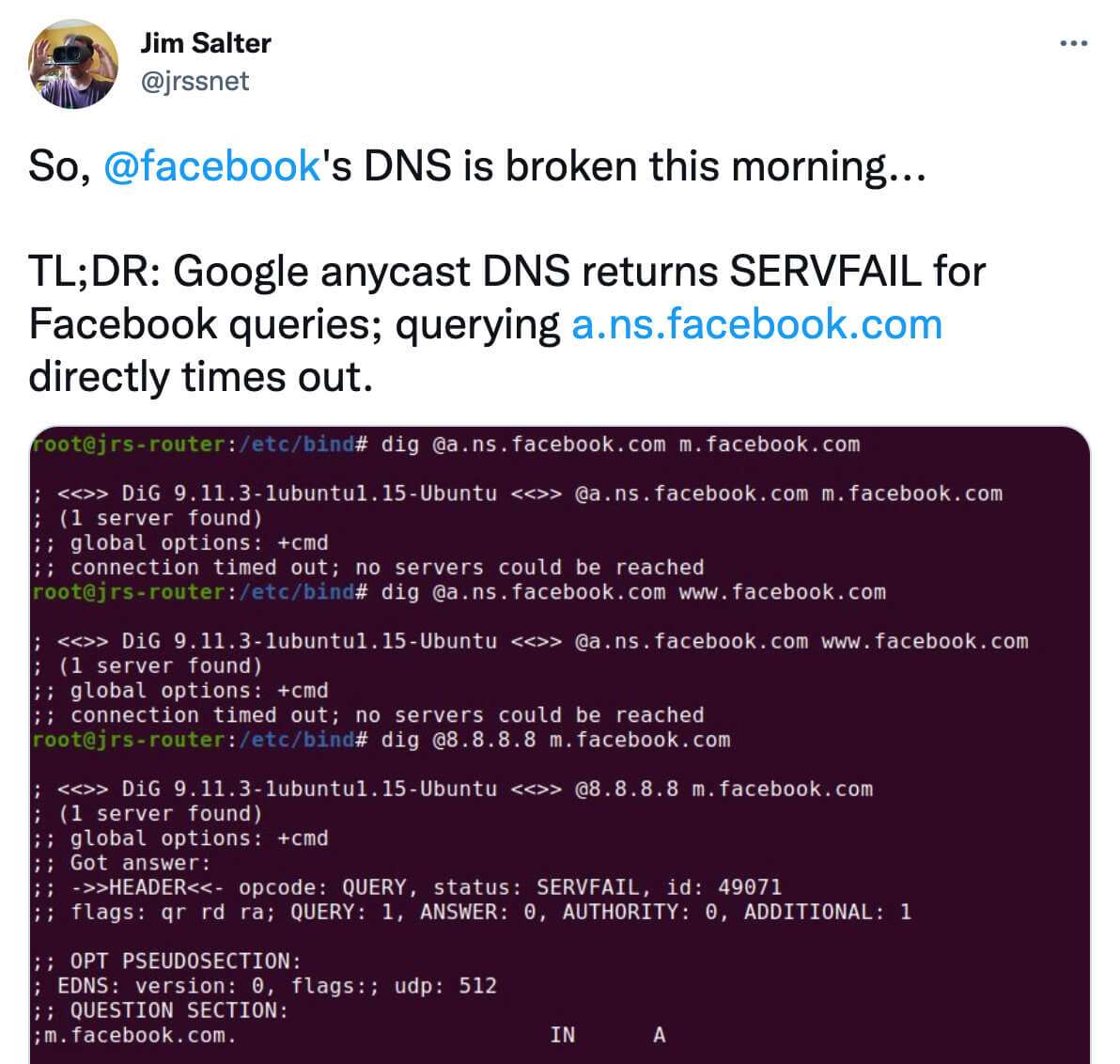 Facebook-owned Instagram was down for different reasons. According to Ars Technica, its DNS services were still active, but its application servers were down.
If that weren't bad enough, according to a reporter from The New York Times, Facebook employees weren't able to enter their buildings because their badges no longer worked.
Was Facebook Hacked?
In separate reports, people were selling the private information of over 1.5 billion Facebook users on hacker forums. According to Privacy Affairs, the data includes users':
Name
Email
Location
Gender
Phone number
User ID
That information can often be enough to hack into a user's personal account, or at least create a convincing phishing attempt.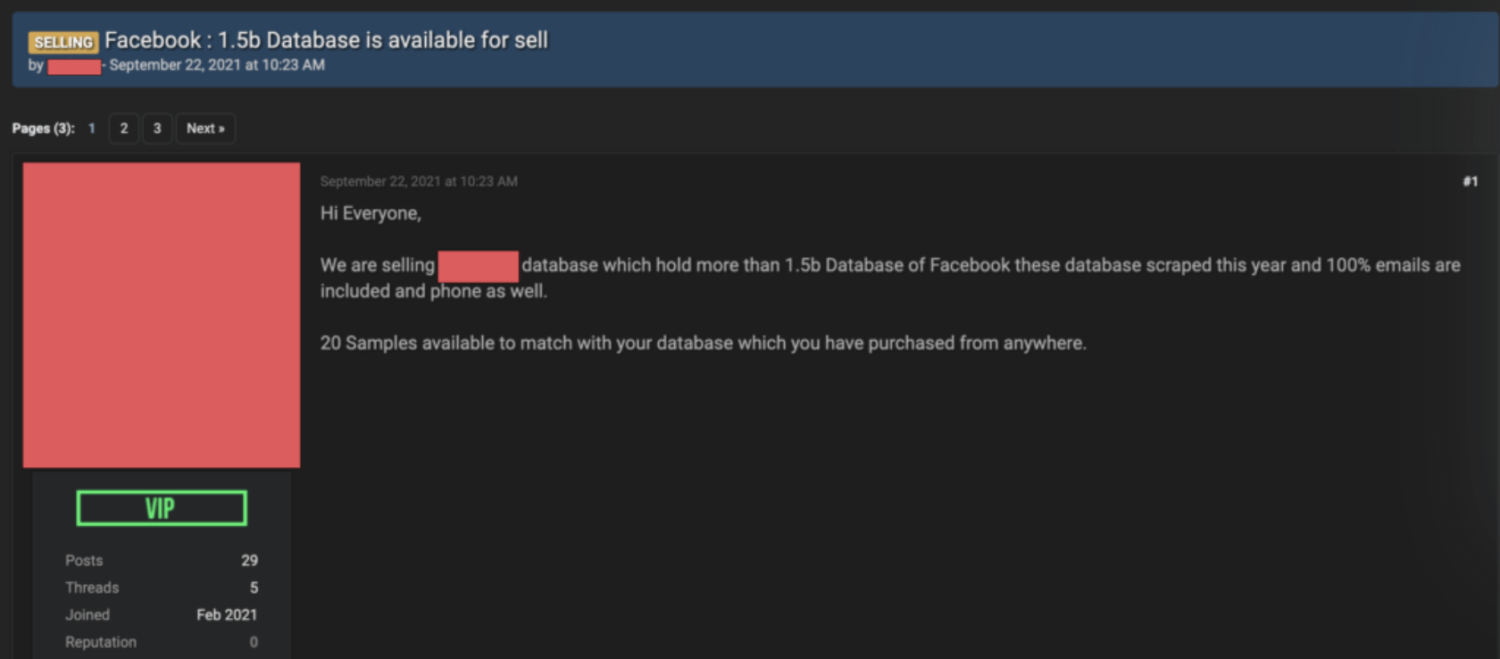 The hackers claim to have procured the data through a tactic called scraping. This is a process of scanning the internet for publicly accessible data that is then organized into lists. While it's technically not hacking, these scrapers are selling the data that will likely land directly in the hands of cybercriminals.
One prospective buyer was allegedly quoted at $5,000 for the data of one million Facebook users.
The Worst News of All
As bad as the previous two reports look, nothing made the trillion-dollar company look worse than the whistleblower who just blasted the company. On October 3rd, on 60 Minutes, data scientist and former Facebook employee Frances Haugen revealed the extent of Facebook's attempt to clean up hate speech and misinformation on its platform.
Let's just say they haven't done much.
Haugen told 60 Minutes:
We have evidence from a variety of sources that hate speech, divisive political speech, and misinformation on Facebook and the family of apps are affecting societies around the world.
"The version of Facebook that exists today is tearing our societies apart and causing ethnic violence around the world," says former Facebook employee France Haugen. She points to Myanmar, where the military used Facebook to launch a genocide. https://t.co/WU4IumjHkO pic.twitter.com/cy9Ed9MgbH

— 60 Minutes (@60Minutes) October 3, 2021
Haugen continued: "Facebook over and over again has shown it chooses profit over safety."
Why is that? Haugen says that if Facebook were to make their algorithm safer, it would reduce traffic to the site, and Facebook would make less money.
Considering the tech giant's previous scandals with Cambridge Analytica and the 2016 U.S. presidential election, as well as the grim reports of employee treatment, Facebook needs more than lip service to regain the public's trust.
The company issued a response to Haugen's testimony, disputing several claims made by the data scientist.
While we can't control what these massive companies do, we can have more control over our accounts. If you think your Facebook account has been hacked, reach out to us immediately.
If you're a high-value target or small business owner, you should consider hiring one of our personal cybersecurity managers. They work around the clock to ensure you're safe from future hacks and breaches.
We also offer digital protection plans for everyone from individuals to entire families and teams. So check out our protection plans and order one that suits you today.
Finally, we also offer comprehensive security audits to ensure that your accounts are as secure as they can be.
Featured image by Daniel Chetroni from Shutterstock.com