Pornhub is finally listening.
After years of mounting pressure, the massive pornography website just took a big step towards protecting the general public and victims of the pornography industry.
Pornhub Is Exposed
The New York Times writer Nicholas Kristof tipped the first domino in this saga when it published a damning article against Pornhub earlier this month. Kristof detailed how Pornhub has profited off of the assault and exploitation of minors.
The site has reportedly hosted pornographic videos featuring 14 and 15-year-olds and possibly some content exploiting youths as young as nine.
One 14-year-old girl from California, Serena K. Fleites, sent nude videos at the request of a crush of hers. Those videos were quickly uploaded to Pornhub, and her life was forever changed. After dropping out of school and attempting suicide several times, Fleites is now 19 and homeless.
She told The New York Times,
It was one small thing that a teenager does, and it's crazy how it turns into something so much bigger…A whole life can be changed because of one little mistake.
The reason videos like these were allowed to be posted was because the website, much like YouTube, allowed any of its members to upload content to the site. High schoolers could post videos of their nude classmates without any consequences–and Pornhub would rake in the profits.
One ranking placed it as the 10th most popular website in the world.
And it denied any association with content involving minors up until that article's publication and failed to fully address the issue—that is, until recently.
Visa and Mastercard Take a Stand
Late last week, Visa and Mastercard took a stand. Both companies announced that they would refuse to complete any transactions attempted on Pornhub.
After its own internal investigation, Mastercard determined that the website featured unlawful content. It released this statement to The Washington Post last Thursday:
Today, the use of our cards at Pornhub is being terminated. Our investigation over the past several days has confirmed violations of our standards prohibiting unlawful content on their site. As a result, and in accordance with our policies, we instructed the financial institutions that connect the site to our network to terminate acceptance.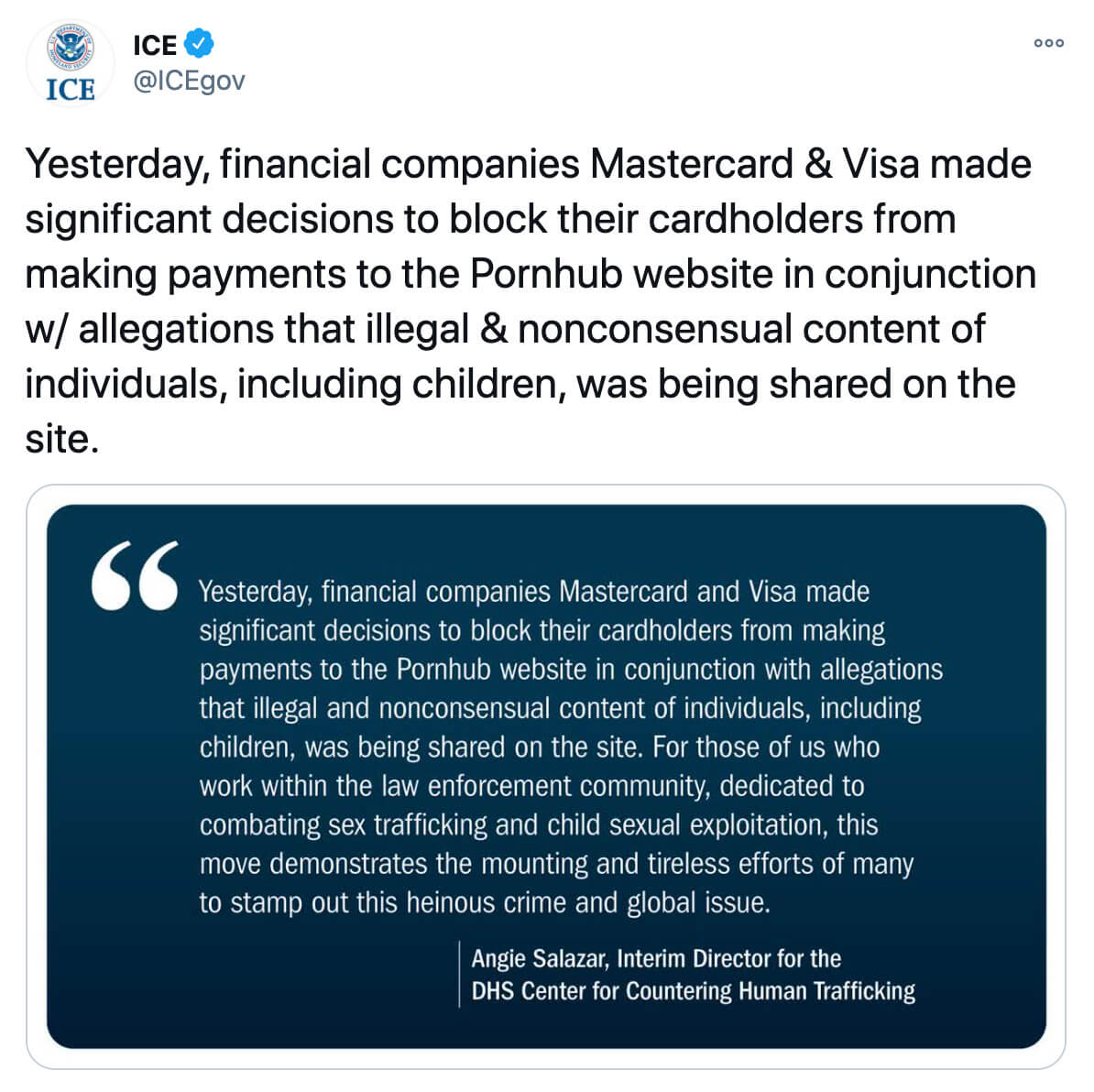 Pornhub called the moves "exceptionally disappointing" and added:
This news is crushing for the hundreds of thousands of models who rely on our platform for their livelihoods.
But credit card companies had been facing pressure to ban their services from pornography sites for years. The NYT article, apparently, was the tipping point.
Pornhub Removes 10 Million Videos
Visa and Mastercard's decisions, surprisingly, came after Pornhub took major steps toward addressing the complaints. Last Tuesday, the site announced that it would limit posting capabilities only to verified users. That means trusted, vetted users will only be allowed to upload content to the site.
Random high-school kids should no longer have the ability to spread abusive videos.
In a blog post published on Sunday, Pornhub noted their unique decision amongst their less promiscuous peers:
This means every piece of Pornhub content is from verified uploaders, a requirement that platforms like Facebook, Instagram, TikTok, YouTube, Snapchat and Twitter have yet to institute.
According to the blog post, Facebook self-reported 84 million of 'child sexual abuse material' over the past three years. Internet Watch Foundation reported 118 of those claims against Pornhub in that same time period.
According to Motherboard, Pornhub also removed all unverified content from its site–a purge of over 10 million videos.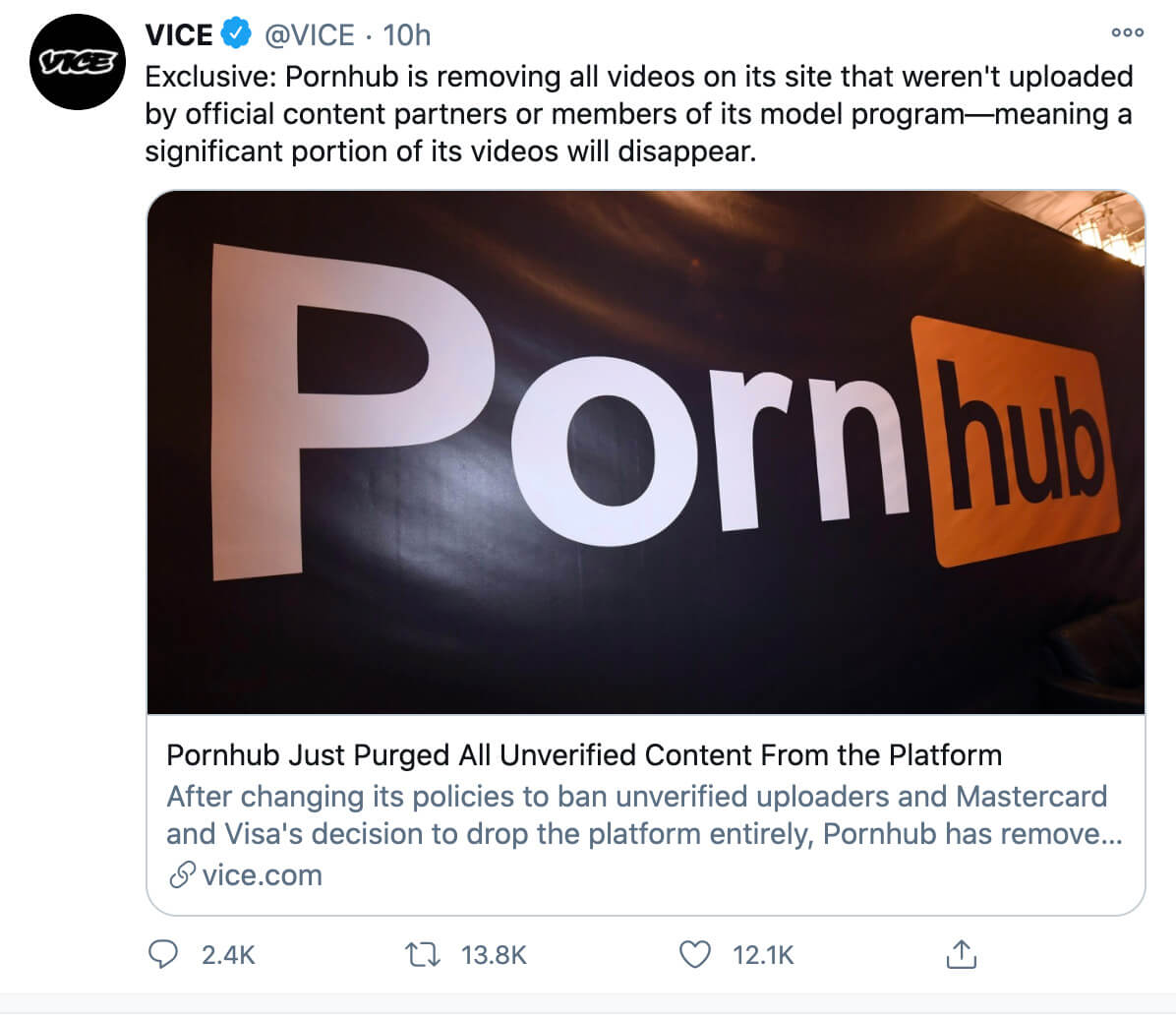 The site is also banning the ability to download most of its videos. This way, if there is somehow a troublesome video leaked on the site, it can't be downloaded and redistributed elsewhere.
This will help mitigate the revenge porn issue that has run rampant in our culture.
A Call to Action
While Pornhub might be the biggest household name in the industry, it's not the biggest pornography website. According to the previously mentioned ranking, Pornhub comes in third behind XVVideos.com and Xnxx.com.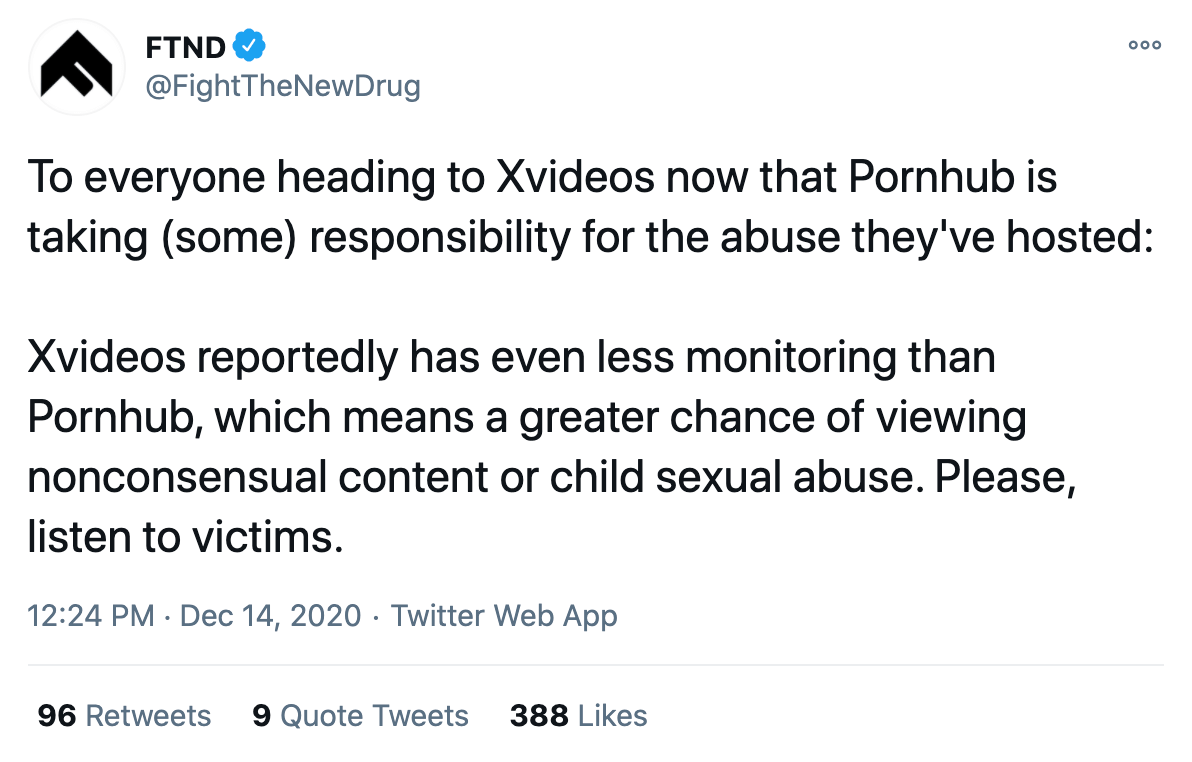 According to Kristof, XV Videos "has even fewer scruples" than Pornhub.
It's time for these other sites to protect the victims involved in the pornography industry. Pornography will likely always exist in one form or another, but considering the hefty profits these sites can rake in, they should all do their due diligence in making the space safer for everyone involved.
Good on Pornhub for taking the first step.
Featured image by Kate Krav-Rude from Shutterstock.