If 2020 was the year of the digital pandemic, then 2021 has still not discovered its digital vaccine. Cyberattacks have grown rapidly over the past year, showing zero signs of slowing down. One former Black Hat hacker expressed his growing concern at the lack of preparedness the United States has shown.
Former Hacker Says the U.S. Needs Help
Several world superpowers have attacked the United States government during the pandemic. The only difference is that the attacks are taking place in the digital realm.
The SolarWinds hack proved that government agencies could be vulnerable in places they never considered. The Microsoft Exchange hack proved that hackers are pushing new limits regarding the scope of attacks. And the hack of the Metropolitan Police Department of Washington D.C. showed that cybercriminals have grown bolder than ever.
Hector Xavier Monsegur, the co-founder of the hacking group LulzSec, warns that the digital threats are just getting started.
Monsegur told Fox News' Watters World,
We're going to continue to see these attacks; this happens every day. And it's going to get worse and worse, it will be exponential.
He said we don't "have enough people to deal with the threats," and we lack law enforcement trained to handle cyber threats.
Monsegur speaks about the current state of cybersecurity:
Former hacker warns against 'worse' cyber attacks aimed at US
Monsegur acknowledged that federal contractors and agencies like the Cyber and Infrastructure Security Agency (CISA) have improved over time. But he also noted that "we need more help, that's for sure."
It's Not Just the Government
Small to mid-size businesses have also been dismally slow to react to the changing landscape. And that landscape has been changing rapidly.
Small businesses saw a 424% increase in cyberattacks last year, and yet 60% of them still think they're unlikely to be attacked. That's likely why one-third of small businesses report using free, consumer-grade cybersecurity software.
As cybercriminals continue gaining power and confidence, these businesses fail to meet the moment. That's a decision that many business owners will regret, as 60% of companies go out of business within six months of a security breach.
What's Being Done?
The U.S. is taking some steps to improve its cybersecurity. In mid-June, the White House finally chose someone to be the figurehead of the nation's cybersecurity.  The Senate confirmed Chris Inglis as the national cyber director.
The former NSA deputy director will manage the U.S. cyber defense strategy. He joins Anne Neuberger, the deputy national security advisor for cyber and emerging technologies, to form the frontline of the nation's cybersecurity.
These two will have their hands full.
Last Friday, hacker group REvil executed what some call the "single biggest ransomware attack" in history. The global attack affected the UK, South Africa, Kenya, Canada, Argentina, New Zealand, and Mexico.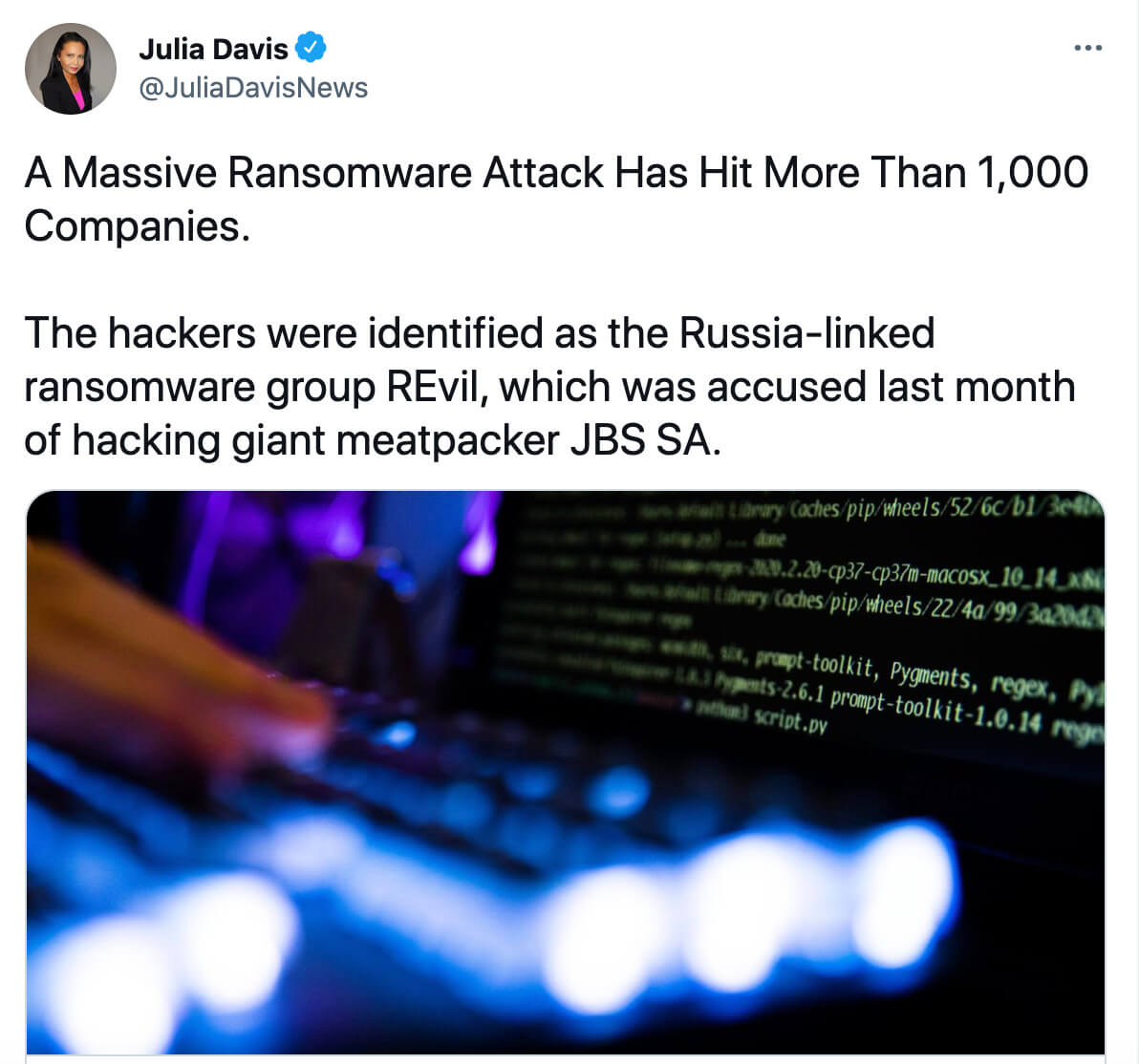 One of Sweden's largest grocery store chains, Coop, was forced to close many of its 800 stores for over three days.
Neuberger urged all U.S. victims to report to the FBI.
What Can You Do to Protect Against Hackers?
The government can't protect everyone against cybercrime. They're still trying to figure out how to protect themselves best.
Luckily, there are some basic steps that each one of us can take to protect ourselves and our businesses.
Here are some steps each business owner or individual should consider for optimal protection:
Require long, varied passwords for any sensitive accounts
Enable two-factor authentication for any sensitive accounts
Invest in basic cybersecurity training so employees can avoid common pitfalls such as social engineering
Install and regularly update anti-virus software
Limit employees' access to sensitive data
Conduct regular vulnerability tests and risk assessments
Featured image by anabaraulia from Shutterstock.com