ICO Update: Moirai
Moirai is a "decentralized" prediction market platform that allows operators to build their own markets, using smart contracts on the Ethereum platform.
A prediction market allows traders to take positions on future events.  A few good examples being an election, the price of ETH next month , or who will win the Arthur Ashe award in 2018 (hint. Caitlyn Jenner type) .
(from wikipedia): In 2012, Intrade, one of the 2 leaders in the prediction markets, had more than 50 million monthly page views during the election months." Apparently they predicted the correct outcome of every state senate contest accept 2. They were starting to get tremendous amounts of attention from the media, when on November 26th, 2012 the Commodity Futures Trade Commission had seen enough, and filed a civil suit in federal court. That was the end of the USA being allowed on Intrade. This stinks, but now its 2017 and smart contracts are revitalizing the Prediction markets. According to Moirai, their platform will be "decentralized". Meaning, once it is up and running on the eth network, there is no central server to be switched off.
According to their whitepaper, "The global prediction market is expected to reach $37.7 billion by 2023″As you can see, there is plenty of competition already. Moirai claims to be ready . I have a hard time arguing that, they do have a beta (that I enjoyed demoing). I have to add, I'm not sure if the beta is truly live. It's more like a demo of a beta…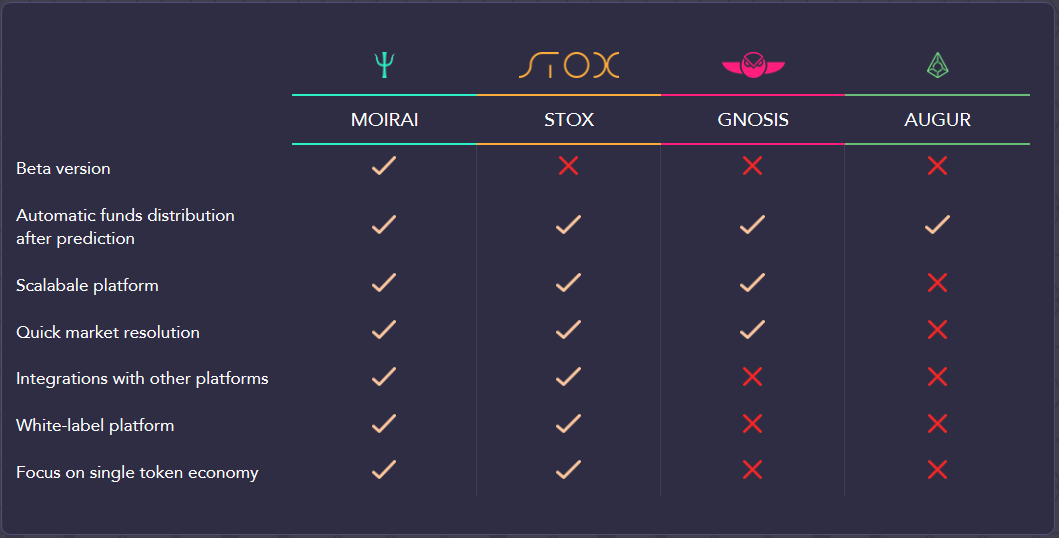 This chart fails to talk about the many disadvantages moirai has.
There are tons of serious hoax/scam/scallywag allegations against Moirai on bitcoin talk, mostly the last few pages.   https://bitcointalk.org/index.php?topic=2290769.280    It doesn't look good.
No transparency. They have a team of like 20 people, but nobody will answer any of my important questions through email or telegram.  They edit prior negative interactions on their telegram
All these new prediction markets face a ton of technological and legal hurdles that moirai seems to gloss/bullshit over.
See #1 again. These guys are getting outed for being fake as we speak. I will post more info about that below in the risks section.
The Token
All wagers on the platform are placed, and cashed out in MOI token. However, according to their whitepaper, "The MOI will be purchased initially by users while using traditional money transfer methods with the Moirai or through existing cryptographic currency like Bitcoins, Ethereum and
Credit Cards."
Players who want to participate in a prediction will be rewarded their stake for being right, and lose it for being wrong. Apparently providers can run their apps on the MOI platform for a syndication fee. Holders of MOI tokens will be rewarded 15% of the yearly profits, on a quarterly basis.
What initially caught my eye about this ICO is this gorgeous $5 million hard cap. Insanely low compared to its competitors; Stox ($24 mill), Gnosis ($68 mil), and Augur($189 million!)Seems like they could have a lot of room to grow.
Total Supply:  666,000,000    presale price is currently $0.005  which will get you around 58,000 MOI per eth.
This all sounds really great, too great even.
Token allocation:  Here's where it gets weird , yet fits in well with the recent news, cause it looks like a very large amount of the total tokens will be going to the Moirai team.
Moirai plans to sell 600 million of the 666 million tokens (not kidding, 666) during the ICO .  The money they get from the sale will be used accordingly :  40% goes to the team, 20%marketing, 10% R&D, 10% legal, 8% compliance/administration, 7% Incentives/ JV, 5% other expenses .
The final 66 million tokens will be for the "development team" , and will be locked up for 12 months. " This will motivate the Moirai team to achieve success and increase MOI coin value."
Verdict
There are so many things to like about Moirai, it's hard for me to just give up on them. Starting with the token metrics. The tiny 5 million market cap, with 666 million tokens, $0.005 per token, means plenty of room for multiple gains. I am not recommending it though, its way way too risky with these allegations looming.
Risks
This could very possibly be one elaborate hoax. (just telling it how I see it).
There's an article they like to promote from themerkle (sponsored content) talking about how Moirai is "to become" one of the first regulated ICOs. note: they have only "submitted applications" so far. I tried to ask them in 3 separate spots if they are regulated yet, no reply.
When you go to their Reddit page, they have a strange looking Huffpost article talking about how they are being backed by Jeffrey Fidelman.
With the majority of companies still not exploiting the full potential of the prediction markets, Jeffrey Fidelman, Principal at AI Capital Advisors, New York, with an extensive banking experience at Morgan Stanley and HSBC decided to support a new technology which is bound to change the way we look at the future and lead the way towards a sustainable economy .
However, here's Mr. Fidelman just a few hours ago on twitter.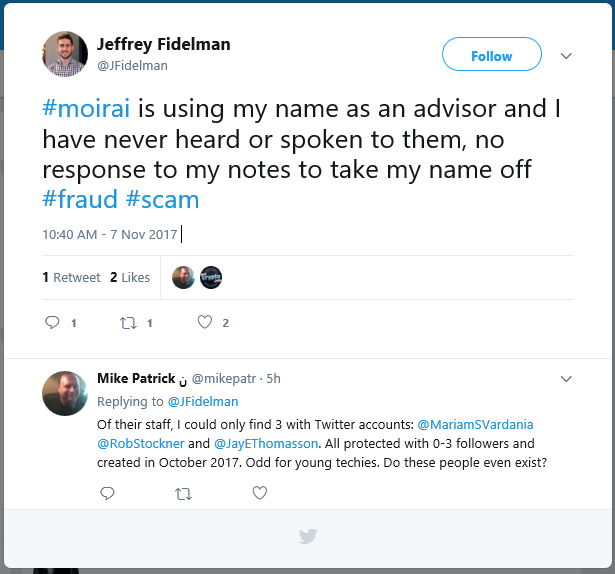 A poster by the name of garbonzo607 is absolutely demolishing Moirai on https://bitcointalk.org/index.php?topic=2290769.300
It's definitely worth a look, he is using the "s" word, and has a lot of information, similar to what I've presented, to back it up.  In fact, that bitcointalk thread is filled with substantial allegations of moirai's dishonesty. Also, one thing I've noticed is the devs/moirai spokesmen NEVER defend themselves against the allegations, and they don't respond to my enquiring emails.
Growth Potential
If they shake off this fud, and clear their name, this has the potential to be a giant. Moirai is tiny compared to every one of its competitors.
Anyone that wants can build their own app on Moirais platform for a syndication fee, and token holders get 15% of the profits on a quarterly basis.
Like all these cool new projects, marketing is crucial. This project will only succeed if they can scale quickly.
Disposition
With a heavy heart, I cannot recommend buying into this ICO. It screams sketchy. I won't go as far as many social media people have gone by calling this an elaborate hoax, but it does stink really bad . They don't even try to cover the odor  either. If you all want to sacrifice your morals, and risk your hard earned money on this , I cant be mad at you.  I can think of several projects just as scammy as this one, that have performed really well in terms of price. I never invested in those, and I wont invest in this. My gut wont let me. 0 out of 10. 
Investment Details
The presale is going on right now.  Their website says it ends on 11/25 , but the fellas in their telegram group say it ends in 11/10… here's the link https://ico.moirai.io/