Moirai is a "decentralized" prediction market platform that allows operators to build their own markets, using smart contracts on the Ethereum platform.
A prediction market allows traders to take positions on future events.  A few good examples being an election, the price of ETH next month , or who will win the Arthur Ashe award in 2018 (hint. Caitlyn Jenner type) .
(from wikipedia): In 2012, Intrade, one of the 2 leaders in the prediction markets, had more than 50 million monthly page views during the election months." Apparently they predicted the correct outcome of every state senate contest accept 2. They were starting to get tremendous amounts of attention from the media, when on November 26th, 2012 the Commodity Futures Trade Commission had seen enough, and filed a civil suit in federal court. That was the end of the USA being allowed on Intrade. This stinks, but now its 2017 and smart contracts are revitalizing the Prediction markets. According to Moirai, their platform will be "decentralized". Meaning, once it is up and running on the eth network, there is no central server to be switched off.
According to their whitepaper, "The global prediction market is expected to reach $37.7 billion by 2023″As you can see, there is plenty of competition already. Moirai claims to be ready . I have a hard time arguing that, they do have a beta (that I enjoyed demoing). I have to add, I'm not sure if the beta is truly live. It's more like a demo of a beta…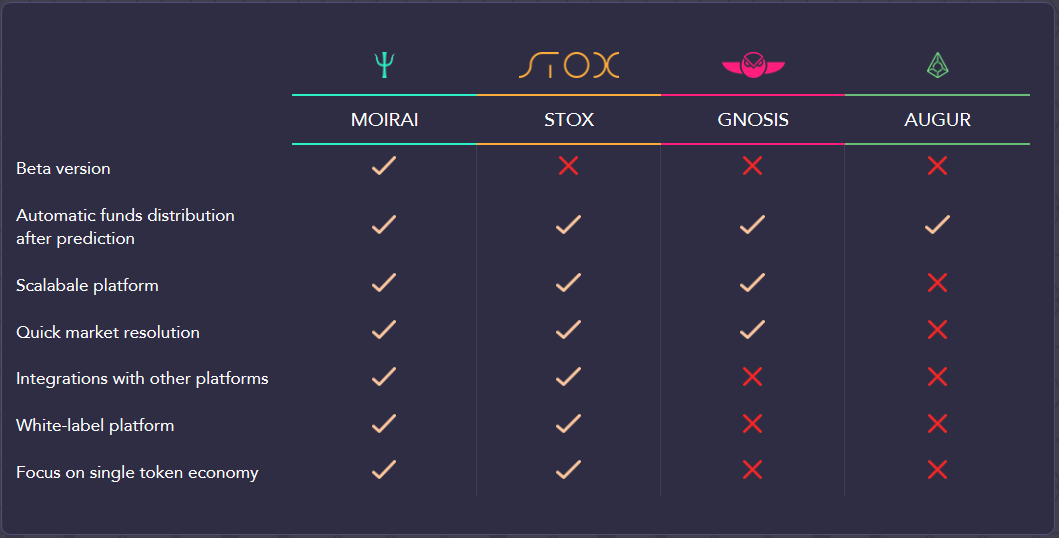 This chart fails to talk about the many disadvantages moirai has.
There are tons of serious hoax/scam/scallywag allegations against Moirai on bitcoin talk, mostly the last few pages.   https://bitcointalk.org/index.php?topic=2290769.280    It doesn't look good.
No transparency. They have a team of like 20 people, but nobody will answer any of my important questions through email or telegram.  They edit prior negative interactions on their telegram
All these new prediction markets face a ton of technological and legal hurdles that moirai seems to gloss/bullshit over.
See #1 again. These guys are getting outed for being fake as we speak. I will post more info about that below in the risks section.
The Token
All wagers on the platform are placed, and cashed out in MOI token. However, according to their whitepaper, "The MOI will be purchased initially by users while using traditional money transfer methods with the Moirai or through existing cryptographic currency like Bitcoins, Ethereum and
Credit Cards."
Players who want to participate in a prediction will be rewarded their stake for being right, and lose it for being wrong. Apparently providers can run their apps on the MOI platform for a syndication fee. Holders of MOI tokens will be rewarded 15% of the yearly profits, on a quarterly basis.
What initially caught my eye about this ICO is this gorgeous $5 million hard cap. Insanely low compared to its competitors; Stox ($24 mill), Gnosis ($68 mil), and Augur($189 million!)Seems like they could have a lot of room to grow.
Total Supply:  666,000,000    presale price is currently $0.005  which will get you around 58,000 MOI per eth.
This all sounds really great, too great even.
Token allocation:  Here's where it gets weird , yet fits in well with the recent news, cause it looks like a very large amount of the total tokens will be going to the Moirai team.
Moirai plans to sell 600 million of the 666 million tokens (not kidding, 666) during the ICO .  The money they get from the sale will be used accordingly :  40% goes to the team, 20%marketing, 10% R&D, 10% legal, 8% compliance/administration, 7% Incentives/ JV, 5% other expenses .
The final 66 million tokens will be for the "development team" , and will be locked up for 12 months. " This will motivate the Moirai team to achieve success and increase MOI coin value."
Verdict
There are so many things to like about Moirai, it's hard for me to just give up on them. Starting with the token metrics. The tiny 5 million market cap, with 666 million tokens, $0.005 per token, means plenty of room for multiple gains. I am not recommending it though, its way way too risky with these allegations looming.
Risks
This could very possibly be one elaborate hoax. (just telling it how I see it).
There's an article they like to promote from themerkle (sponsored content) talking about how Moirai is "to become" one of the first regulated ICOs. note: they have only "submitted applications" so far. I tried to ask them in 3 separate spots if they are regulated yet, no reply.
When you go to their Reddit page, they have a strange looking Huffpost article talking about how they are being backed by Jeffrey Fidelman.
With the majority of companies still not exploiting the full potential of the prediction markets, Jeffrey Fidelman, Principal at AI Capital Advisors, New York, with an extensive banking experience at Morgan Stanley and HSBC decided to support a new technology which is bound to change the way we look at the future and lead the way towards a sustainable economy .
However, here's Mr. Fidelman just a few hours ago on twitter.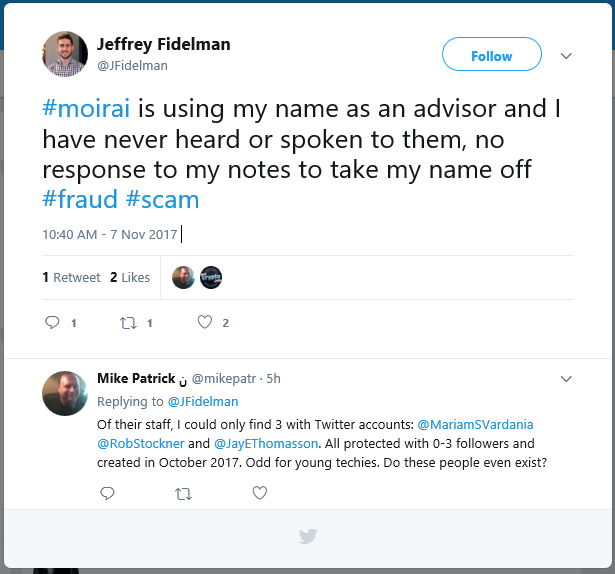 A poster by the name of garbonzo607 is absolutely demolishing Moirai on https://bitcointalk.org/index.php?topic=2290769.300
It's definitely worth a look, he is using the "s" word, and has a lot of information, similar to what I've presented, to back it up.  In fact, that bitcointalk thread is filled with substantial allegations of moirai's dishonesty. Also, one thing I've noticed is the devs/moirai spokesmen NEVER defend themselves against the allegations, and they don't respond to my enquiring emails.
Growth Potential
If they shake off this fud, and clear their name, this has the potential to be a giant. Moirai is tiny compared to every one of its competitors.
Anyone that wants can build their own app on Moirais platform for a syndication fee, and token holders get 15% of the profits on a quarterly basis.
Like all these cool new projects, marketing is crucial. This project will only succeed if they can scale quickly.
Disposition
With a heavy heart, I cannot recommend buying into this ICO. It screams sketchy. I won't go as far as many social media people have gone by calling this an elaborate hoax, but it does stink really bad . They don't even try to cover the odor  either. If you all want to sacrifice your morals, and risk your hard earned money on this , I cant be mad at you.  I can think of several projects just as scammy as this one, that have performed really well in terms of price. I never invested in those, and I wont invest in this. My gut wont let me. 0 out of 10. 
Investment Details
The presale is going on right now.  Their website says it ends on 11/25 , but the fellas in their telegram group say it ends in 11/10… here's the link https://ico.moirai.io/
Important: Never invest (trade with) money you can't afford to comfortably lose. Always do your own research and due diligence before placing a trade. Read our Terms & Conditions here. Trade recommendations and analysis are written by our analysts which might have different opinions. Read my 6 Golden Steps to Financial Freedom here. Best regards, Jonas Borchgrevink.
Rate this post:
Important for improving the service. Please add a comment in the comment field below explaining what you rated and why you gave it that rate. Failed Trade Recommendations should not be rated as that is considered a failure either way.
Follow @HackedCom
Feedback or Requests?
Once considered a niche market, video on demand services have now become mainstream. As these services continue toward mass adoption, Cryptoflix intends to become a player in the industry by tokenizing video streaming while adding it to the blockchain.
Cryptoflix is a blockchain streaming platform designed for anyone, anywhere to view paid and free content. The paid content will include televisions shows and movies. Educational content will be free to individuals and available to schools, companies, governments and institutions via a subscription service. Users will be able to purchase the paid content with common cryptocurrencies and the Cryptoflix FLIX token – which will provide a discount to incentivize use. Cryptoflix will first target undeveloped, highly populated countries to gain traction and set out to expand from there.
Following the completion of the platform, Cryptoflix intends to create a film marketplace. Holders of the FLIX token will have the opportunity to invest in film projects listed on this market using FLIX tokens. This will provide funding for the production of film projects while giving FLIX token holders the opportunity to earn returns. The launch of the film market is scheduled for Q1 2019.
Token
FLIX is an ERC223 token that will be used to purchase paid content on the Cryptoflix platform at a discount and to invest in film projects through the Cryptoflix Film Marketplace. The token sale is scheduled to begin April 15, 2018, and conclude May 15, 2018. The price is listed as 1 FLIX = 0.0004 ETH. The hard cap is set at 22,800 ETH, which translates to $11.4 million USD at the time of writing. More than half (57%) of the tokens are available during the ICO crowdsale and 18% is reserved for the team and advisers with a one-year vesting period.
Team
While it's not uncommon for many of the current ICOs to have team members working full-time jobs in other companies and/or running other businesses, it's certainly not the best case scenario for success. The Cryptoflix team is no exception, with their LinkedIn profiles showing outside obligations. It's worth mentioning that only a couple of team members have Cryptoflix listed. However, they do have excellent experience in the fields necessary to achieve success, including film production and distribution, blockchain and marketing. Christian Falkenberg Husum is the founder and CEO of Cryptoflix, as well as current Managing Director for OptiNordic, Portobello Film Sales ApS and Phoenix Film Investments ApS. Stefan Steen Larsen is the COO of Cryptoflix and Head of Distribution and Marketing for Chili Entertainment ApS.
Verdict
Two billion people are estimated to not have access to bank accounts or credit cards, which is what current streaming and video on demand services require. Cryptoflix will give those people the option to use FLIX tokens or other cryptocurrencies in digital wallets to access video on demand content. Cryptoflix will start by launching its Cryptoflix streaming platform, which will include both free and paid content with ambitions to add additional services such as a film marketplace, a production company, an ebook distribution platform, as well as set up a charitable trust. Everything mentioned will be connected to the streaming platform. At the current price of Ethereum, the market cap for this project is rather low and could possibly give a nice return on investment if successfully implemented.
Risks
Team members have outside interests, which don't allow for total commitment to the Cryptoflix project or its success. -0.5
The launch of Cryptoflix Alpha is scheduled for the third quarter of 2018, which is after the ICO. Savvy investors would prefer this to occur before the crowdsale. Although they have a proof of concept website, there isn't any Github information. -1.75
If industry giants such as Netflix and Amazon Prime decide to join the cryptocurrency blockchain industry, they will be extremely tough to compete against. -1.5
Growth Potential
Developing nations with high populations create an opportunity for exponential growth, provided that a platform like Cryptoflix is able to successfully integrate and gain popularity. +3
While the team may not have what some analysts consider "all-stars," the members have all the prerequisites to achieve their ambitions. +3.5
The free content offered should broaden the project's consumer base and enable conversion of some free content viewers to paid content viewers. +2.5
Disposition
There is little doubt that streaming and video on demand services will continue to be implemented around the globe and Cryptoflix is positioned to profit substantially if successful at adding this tokenized service to the blockchain. The author would argue that focusing on underdeveloped nations in South America, Africa and Asia is one of Cryptoflix's best decisions to-date, as this will broaden their chances of success. Getting to these markets first could give Cryptoflix a fighting chance if major players in this industry decide to begin using blockchain technologies. However, it's unclear how those without bank accounts or credit cards will acquire tokens to use on the platform. Accounting for all factors, Cryptoflix receives a rating of 5.25 out of 10.
Investment Details
Type: Utility token
Symbol: FLIX
Platform: Ethereum
Price: 1 FLIX = 0.0004 ETH
Hard cap: currently $12,540,000
Crowdsale: April 15, 2018 – May 15, 2018
Available for sale: 57,000,000 FLIX
Payments Accepted: ETH
For more information regarding Cryptoflix:
Website: cryptoflix.io
Telegram: t.me/joinchat/HAI8CFMG4X23G1whB-rnYQ
Twitter: twitter.com/Crypto_Flix
Facebook: facebook.com/cryptoflix.io/
Important: Never invest (trade with) money you can't afford to comfortably lose. Always do your own research and due diligence before placing a trade. Read our Terms & Conditions here. Trade recommendations and analysis are written by our analysts which might have different opinions. Read my 6 Golden Steps to Financial Freedom here. Best regards, Jonas Borchgrevink.
Rate this post:
Important for improving the service. Please add a comment in the comment field below explaining what you rated and why you gave it that rate. Failed Trade Recommendations should not be rated as that is considered a failure either way.
Follow @HackedCom
Feedback or Requests?
ICO Analysis: NeuroChain (NCC)
NeuroChain is an augmented blockchain that combines artificial intelligence (AI) and machine learning to radically improve the capabilities and performance of distributed systems. It is comprised of a chain of bots where AI and machine learning enrich the network. The bots installed on the decentralized network validate the transactions and communicate with each other in order to guarantee both security and transparency. The bots represent the nodes in the distributed system.
Due to the variety of algorithms, NeuroChain technology makes possible complex distributed applications (smart applications, traceability issues, social networks, CryptoValue, smart properties or trusted distributed platforms). The NeuroChain technology is based upon:
A decision maker – A Chain of Bots
A set of rules – the Decision Protocol (Proof of Involvement and Integrity & Proof of Workflow)
A network and media – the Pragmatic Communication Channels (adaptive communication protocol) and Learning Ecosystem.
NeuroChain will be compatible with bitcoin, Ethereum and other blockchains with secured message passing. The NeuroChain software is designed to be supported by any platform (mobile, lab or IoT developed). The adaptive communication layer will ensure high resilience and performance of the protocol. NeuroChain's focus is communication protocol, intelligent business applications, machine learning algorithms, architecture, and connectivity with other blockchains and other bots.
Token
The ERC20 token created for NeuroChain is called Clausius (NCC). The price is 0.08 EUR with a market cap of 30,000,000 EUR. The circulating supply will be 395,000,000 NCC with a total supply of 4,374,000,000 NCC. The public sale will begin towards the end of March and end on April 15, 2018. The public sale will be divided into three segments – Discount Sale ending March 26, 2018, Attractive Sale ending April 9, 2018, and Haste Sale ending April 15, 2018. ETH is pegged at 502 euro for the NeuroChain ICO.
The token distribution is as follows:
15% Investors
3%  Founding Team and Advisers
70% Elected Bots
3%  Foundation
2%  Seed Fund
7%  NeuroChain Management (vested over 5 years)
Team
NeuroChain has a large team comprised of 15 employees that come from leading universities in the U.S. and Europe. The team provides expertise in the fields necessary for the success of the project with experience in sales and marketing, distributed algorithms and consensus, distributed systems, cryptography, machine learning and neuronal networks. A couple of members of the executive team include Bruno Delahaye who is the CMO and a founding partner. He is currently Vice President for Dassault Systèmes. Guillaume Bailly is CFO at NeuroChain and former CFO at Havas Sports & Entertainment. They also list three advisers including Dr. John Rice, a senior research scientist at MIT.
Verdict
NeuroChain is an extremely ambitious project, however, the team has quite the resume of expertise, leadership, and professionalism required for such a task. Even though the roadmap is longer than most ico's, in which many over promise and under deliver, it appears necessary for an undertaking of this magnitude. If successful, this could be one of the next major advancements of the blockchain.
Risks
The launch of the main net isn't scheduled until March 2019. In other words, investors can expect a very long business cycle before NCC starts making waves. -2
Only 15% of tokens are available for purchase. This means a lot of tokens will flood the market in some way, lesseningthe value by increasing the supply. Token n holders can therefore play a huge role in moving token value one way or the other.  –1.5
The team, similar to most ICOs today, has outside obligations that will detract from full attention to NeuroChain. In fact, it's a bit concerning that so many people treat ICOs – which are full-fledged businesses – as side projects.-1
Growth Potential
NeuroChain has a large team with sufficient knowledge and experience capable in all aspects of developing and bringing the project successfully to market. That being said, we need to keep in mind of the team's outside obligations and whether this will detract from the overall project. +4
The project is developing new technology that could smart contracts with intelligent applications that can learn dynamically from operations. This is a potential game changer in blockchain and broader IT. +3.5
NeuroChain management will be vested for five years, which translates to dedication to the long term. +3.5
Disposition
Artificial intelligence and machine learning are a couple of the latest buzzwords many are using in cryptocurrency to garner interest in their projects. However, NeuroChain is actually using the two to create a more advanced blockchain. Investing in an ICO that isn't promising quick implementation and instead is focusing on quality and the long run can be risky, but also possibly very rewarding. Will NeuroChain succeed and become one of the next big things in the cryptocurrency space? Only time will tell. NeuroChain receives a rating of 6.5 out of 10.
Investment Details
Symbol: NCC
Type: ERC20
Price: 0.08 EUR
Payments Accepted: BTC, ETH
Hard cap: 30,000,000 EUR
Circulating Supply: 395,000,000 NCC
Total Supply: 4,374,000,000 NCC
End of ICO: April 15th, 2018
For more information regarding NeuroChain:
Website: neurochaintech.io
Telegram: t.me/joinchat/HxPwABGGdXS3CiICGI0-kQ
Twitter: twitter.com/neurochaintech
Facebook: facebook.com/neuro.chain.9
GitHub: github.com/neurochain
Medium: medium.com/@neurochaintech
YouTube: youtube.com/channel/UCAX-LTc6UXjG_1yanUJdczw
Important: Never invest (trade with) money you can't afford to comfortably lose. Always do your own research and due diligence before placing a trade. Read our Terms & Conditions here. Trade recommendations and analysis are written by our analysts which might have different opinions. Read my 6 Golden Steps to Financial Freedom here. Best regards, Jonas Borchgrevink.
Rate this post:
Important for improving the service. Please add a comment in the comment field below explaining what you rated and why you gave it that rate. Failed Trade Recommendations should not be rated as that is considered a failure either way.
Follow @HackedCom
Feedback or Requests?
ShareRing is offering a token-based platform for the exchange of assets without the need to exchange money.
A key selling point of the platform is its global approach to the sharing economy. A user would be able to pay for a ride to the airport in New York, pay for an apartment rental in London, while also paying for a babysitter back home all with one token – the ShareRing token.
The first thought that comes to mind is "why not just pay them in fiat?" But then as someone that's traveled fairly extensively, I remembered my grudge for every exchange booth everywhere in the world. I can't even count the hundreds of thousands of dollars that have been eaten away by expensive exchange fees or international transaction fees.
ShareRing offers a single app that gives the user access to any available asset they want to rent, borrow, or share, and pay and receive compensation for all within one central location.
ShareRing aims to merge all the existing sharing platforms like Uber and AirBnB into a single platform
A few value propositions and use cases include:
B2C: simple and easy way to share everything from tools and office space to cars and meals. There's also no need to keep sharing your personal information with a bunch of different companies. This also allows providers to earn SharePay by renting out their property (car, home, clothes, etc).

B2B: There could be potential synergies between existing sharing platforms. For example, Uber and AirBnB could combine their client bases and offer bundled services.
The ShareRing platform will use two tokens:
SharePay (SHRP) – base currency to allow users to pay for the use of assets.

ShareToken (SHR) – utility token to drive sharing transactions to be written to the ShareRing ledger managed by the platform.
Roadmap:
The timeline on the site indicates that March – May will be generally reserved for selling and issuing tokens.
The team plans to release the MVP in August 2018.
Token
ShareRing plans to issue 4 billion tokens with a USD hard cap of $48,000,000.
The tokens will be issued in a variety of tiers:
Pre-TSE – 1 SHR = $0.01 ($25,000,000 @ 50% discount)  2,500,000,000 SHR tokens

Main TSE – 1 SHR = $0.02 ($20,000,000 @ no discount) – 1,000,000,000 SHR tokens
ShareRing plans to release 60% of its tokens to token sale contributors. About a fourth of the tokens (24%) will go to the ShareRing platform and team, 10% will go to advisors, 5% to the bounty program, and 1% will be airdropped.
Of the 24% of the total tokens that go to the ShareRing treasury , 30% will go to main-net development, 10% will go to external reviews and technology validation and audits, 30% towards incubators and bonuses for 3rd party integrators into the platform, 20% for global marketing and promotions, 10% for contingency fund.
All of the funds that are held in cryptocurrencies by the ShareRing treasury will be auditable by the public, as the public address of the cryptocurrency wallets will be published on the ShareRing website. An explanation of any major expenditure will also be listed publicly on the ShareRing website.
Team
The CEO is Tim Bos, the founder of Keaz, a platform for sharing cars. He has experience as a blockchain engineer.
The COO is Rohan LePage, who is considered an expert in the blockchain space.
The whitepaper boasts the talented tech team of blockchain engineers. Most recently, the team won 1st place at the December 2018 Blockchain Hackathon in Vietnam. ShareRing plans to expand its team to 15 full-time developers over the next few months.
Verdict
A solid business model and promising team make ShareRing a compelling project for ICO hunters. Below is a rundown of the risks and rewards facing the project.
Risks
While I do appreciate the B2C benefits, I can't really see the Ubers and AirBnB's of the world looking to

take a risk by integrating

into a platform like ShareRing. They would essentially be relinquishing control of their own userbase into a platform that could technically turn into an intermediary killer. -2

Lack of immediate partnerships:

Partnerships are very necessary for the success of this app. By the looks of it, they only have Keaz (the CEO's company) as  something to potentially line up. -3

Uphill marketing battle, small marketing team:

This is going to be a huge marketing ordeal, as is with any app trying to connect a gigantic pool of service providers and clients. -2

The pre-sale comes with a heft 50% discount, and the main sale comes with none. This is done with the goal of strategically bringing on the right investors (partnering platforms) in the pre-sale in order to add more value for everybody. The min contribution for pre-sale is set at $150,000 to protect against token dumping with a lock-up period of 3 months.

But still, if I were an investor in the main sale I'm not a fan of seeing the bulk of the tokens going to another party for 50% off.
Growth Opportunity
The massive size of the sharing economy:

It's estimated that

66.3 million people

will use the sharing economy this year (2018). There are maybe a dozen optimistic sectors for blockchain startups to tackle, and the sharing economy is one of them. +2

The potential growth of the sharing economy:

ShareRing presents an interesting value proposition. The Millennial generation has become the biggest driver of both the sharing economy and cryptocurrency industry. It's very rare for a project to nail down a specific niche user as accurately as ShareRing potentially can. +3

Problems with the sharing economy:

While the sharing economy has expanded significantly, it is not without its growing pains. Providers are left segmented within small local markets, the multitude of different sharing platforms can get confusing, some of the sharing platforms might not even be active or legally permitted to operate in the city you are traveling to, and the intermediary sharing platform fees are pretty high. +3

Partnership potential:

This is kind of a long-shot, but let's put our binoculars on. The primary partners that ShareRing would love to have on the platform are big names like AirBnB and Uber. While as it stands (from the whitepaper at least), there isn't a significant value prop for these unicorns to hop on board. However, if, and this is a big IF, ShareRing is able to get the partnership and endorsement of something like Uber and AirBnB, it will instantly be throttled into not only the upper-tier of cryptocurrency projects, but will have been one of the first to broach the mainstream startup world. +2

30% of the total 24% of tokens going towards setting up

"incubators" for entrepreneurs to build into the ShareRing platform

. I love this approach to get more people building with blockchain, and it's a smart way to get more entrepreneurs familiar with ShareRing. +4
Disposition
We arrive at a +7 for ShareRing. It's only a matter of time the blockchain startup world comes up with something that can compete in the massive sharing economy sector. Hopefully for ShareRing investors, this will be one of the frontrunners.
Investment Details
The ShareRing main sale will happen in April. To find out more, check out the ShareRing site and whitepaper.
Type: Utility
Symbol: SHR
Platform: Ethereum
Public Crowdraise: April
Hard Cap: $48 million
Price: 1 EEE = 0.0002 ETH
Total Token Supply: 4 billion
Tokens Available for Sale During ICO: 1 billion
Jurisdictions Barred from Participating: None specified.
Featured image courtesy of Shutterstock.
Important: Never invest (trade with) money you can't afford to comfortably lose. Always do your own research and due diligence before placing a trade. Read our Terms & Conditions here. Trade recommendations and analysis are written by our analysts which might have different opinions. Read my 6 Golden Steps to Financial Freedom here. Best regards, Jonas Borchgrevink.
Rate this post:
Important for improving the service. Please add a comment in the comment field below explaining what you rated and why you gave it that rate. Failed Trade Recommendations should not be rated as that is considered a failure either way.
Follow @HackedCom
Feedback or Requests?
Hacked.com is Neutral and Unbiased
Hacked.com and its team members have pledged to reject any form of advertisement or sponsorships from 3rd parties. We will always be neutral and we strive towards a fully unbiased view on all topics. Whenever an author has a conflicting interest, that should be clearly stated in the post itself with a disclaimer. If you suspect that one of our team members are biased, please notify me immediately at jonas.borchgrevink(at)hacked.com.