Whoa, off the bat, we find in a simple search about Nimiq a post with the following title – "The Nimiq Heist – Founders cashing out BIG TIME." According to this post:
Look, I do not mind that 4 guys want to cash out big time, and everyone who is willing to support this has every right to part from his money, but $20 million for an untested product with no user base based on open source software. that's not my cup of tea.
So, What's Nimiq?
"A frictionless payment protocol native to the web" that runs in the browser, is built in and around the browser, and is built with the user in mind. These are the main points they impress in most of their materials.
Nimiq is a frictionless peer-to-peer payment protocol for the World Wide Web. It is a third-generation Blockchain protocol combining elements of Bitcoin and Ethereum, streamlined for the web platform. And without a doubt, it is open source and fully decentralized. […] Browsers are first-class citizens in the Nimiq distributed network. They are able to establish consensus with the network, and enable true peer-to-peer payments from within, all without a trusted third party.
While this sounds like an interesting platform, and the betanet seems to be running just fine, nevertheless the overall concept is untested in the long-term, as the author @wekkel points out above. If it is going to establish itself as a truly independent cryptocurrency with a fundamentally different design and focus, it will have to live long-term and it will also end up being forked several times. No great cryptocurrency is without several closely related alternatives. This is neither a good or bad thing, since lower valued coins offer easier entry into the market for some parts of the economy, and give profit incentives to traders as well.
So far, the platform only seems to want to work on Google Chrome.
There, however, it does work.
Balances will apparently be shown in dollars.
Overall, it appears to be an interesting approach, but the concerns of @wekkel to raise suspicions. They must be looked into a bit deeper.
Helping Themselves A Bit Too Much?
There's no reason to believe, actually, that the developers have any true incentive to exit scam on the project. After all, developing a novel technology can potentially be much more valuable than any amount of scams. The assessment lodged by @wekkel could be lodged against virtually any other recent, successful or not, ICO. This means that the criticism is more a critique of the current mode of ICO funding than it is a rebuke of an individual ICO, whether the author is aware of it or not.
Without regard, it seems fair that the developers will need a solid amount of Ether to get the project off the ground. The additional funding can be used to spread the word and adoption of Nimiq. There's no guarantee they'll raise the full amount, after all. Whatever they do raise, the tokens will likely retain some value based on the progress of the actual project, which they intend to have fully live by the end of the year.
It's valid to be skeptical in times like these. There are a lot of scammers about, and many of them will do their best to appear legitimate, at least at first. Once they have money, behaviors change. Nevertheless, there is no ceiling on the cryptocurrency market. More and more money will pour into the multitude of coins that are available to invest in, and more and more coins will begin to appear. There are probably under 100 million people worldwide currently, total, involved in cryptocurrencies. This being the case, things can only go up from here. As more and more currencies evolve, older ones will rise in value, and trading volumes across the board will increase. Heavyweights like Bitcoin, Litecoin, Ethereum, and Dash will continue to rule the market, but newcomers that offer interesting alternative situations such as Nimiq, which offers an in-browser solution, meaning it will forever be cross-platform.
The idea that users are automatically mining when they login is a great way to create a truly user-powered network, and such a project has the potential to explode over time.
The Nimiq Team
Founder Robin Linus appears to be an experienced web developer and security researcher. He claims to have helped find vulnerabilities in both Google and Twitter, and has founded at least one previous start-up. All of this experience contributes positively to his ability to lead such a project as Nimiq, being that web developers will have to maintain and improve, as well as extend, the project into the future.
Also on the team is Philipp von Styp-Rekowsky, who has a background in AI and security. He leads the technology team, which also includes Pascal Barrang, Marvin Wissfeld, and Jeffrey Esquivel. Barrang has a background in cybersecurity and has mostly an educational background otherwise, but his skills are applicable to the project nonetheless. Wissfeld is known as an expert on security and mobile web design. Esquivel is a javascript expert.
Like all such projects, they are likely to hire more developers as they go along, especially after getting funded. As such, at present, they appear to have the chops to complete the task at hand.
The Verdict
Projects which make the blockchain easier for the user are going to be a major win in the near and long-term future. It's important to invest in them now, while possible. This is one of the earliest that will be entirely based in the browser, but others will follow. You can either jump on this one now, jump on this one later, or jump on a similar play with more promise later. It's hard to determine from here what will happen. In the same way that Bitcoin now faces actual stiff competition, all first plays in any space will eventually face such competition.
All this being said, we're going to give Nimiq a 7.95 out of 10.
Investment Details
On June 28th at 1PM UTC, you will be able to invest in the Nimiq token by Ether. Be sure to use the official website. Also be sure to look into the criticism of the model, but also notice that other ICOs have had similar models and have gone just fine for both investors and the product's users. Thus, such criticism really has to fall under a more generalized category, even if the authors of such critiques believe they are throwing shade on specific coins, they are actually just taking issue with a currently popular method of funding.
And, to be fair and to their credit, this method of funding is not for everyone. It also, like any sort of investment, does not always work out. We try to select ICOs that our investors might actually make some money on, and look into any details that might influence that opinion. That's our primary role in the matter, but part of that is in ignoring bad ICOs, or reporting on outright scam ICOs. It's not evident, through our research, that Nimiq is a scam. To the contrary, it's the first of a promising new breed of cryptocurrency: the user-powered, user-friendly sort.
Mining cryptocurrencies in today's booming environment is the ultimate accelerated lesson in capitalism, adapt or die. The small-scale GPU farmers can no longer compete with large-scale ASIC mining farms. Mostly coming from the east, these large-scale facilities are mining the majority of bitcoins. It's not easy though, as they still face local and national governmental regulations, restrictions, and electricity cost spikes. These farms are all set up, and can't just leave when the going gets rough. The new startup, Envion, can just close its doors and quickly relocate to the cheapest green energy supplier, anywhere in the world.
The group over at Envion has already ponied up more than $1 million of their own money to design and produce their first Mobile Mining Unit (MMU).
#envion #mobile #mining #ico 10 days until pre-sale! pic.twitter.com/EetanBENMT

— Envion AG (@envion_org) November 21, 2017
As you can see, it's pretty fancy. Mobile enough to move anywhere in the world, the MMU has plugins that can tap into any form of green energy; solar, wind, fossil, and hydro, reducing the carbon footprint while supplying their miners with the cheapest energies on the planet. It's built on a budget of between $100,000 – $150,000 (that's per unit, including the miners). Each unit will have a variety of miners, which are connected to their Unified Mining Cloud (UMC), a market monitoring program that determines the most profitable currencies to mine and reprograms the miners to that coin. The MMU has a giant antenna on top, which allows for non-stop internet access so each unit is always connected and accounted for.
Overheating is probably the biggest problem these units face. They claim to have spent several hours doing scientific research to find the perfect patent-pending solution. With this revolutionary design and two small fans, these units may never overheat or freeze. They have most definitely not tested this cooling device in all the different environments yet, as they only have the one unit built (and its inside of a factory staying warm).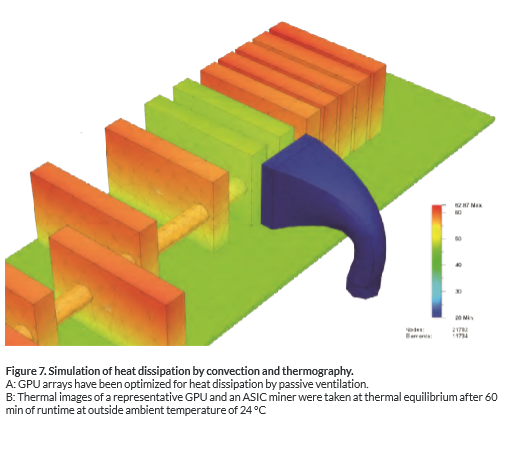 The Token
EVN is an ERC-20 token. Possessing the token entitles the holder to 75% of Envion profits paid out in ethereum dividends each week. It also allows users to have voting/vetoing rights for major decisions.
The presale starts Dec 1, ajd investors can sign up now for the whitelist:  https://www.envion.org/en/#invest (supposedly there are already 40,000 people signed up)
You can purchase with ETH, BTC, or credit card.
The base price is $1 (Dec 1 = $0.70,  Dec 3 = $0.80, Dec 7 =$0.90 and Dec 14-31 = $1).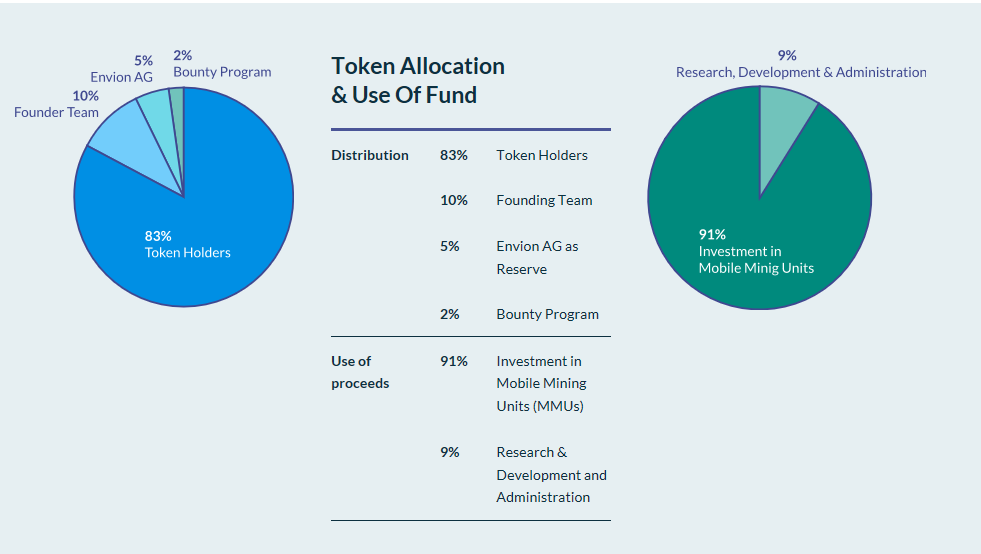 When you go to their token sale page they have a dividend estimate calculator, where you can type in the amount you want to invest and they will show you your future predicted dividends. Basically, Envion is promising 161% ROI.
They are trying to raise $150 million. As I said earlier, each unit costs $100-150,000. It really doesn't matter to the token holders how large the supply is because they get 75% of the profits in dividends each week either way.
The Team
Registered in Zug, Switzerland, but located in Germany, the Envion team seems to lack real talent in the mining industry.
Matthias Woestmann, CEO, has been an investor in renewable energies since the early 2000s. He financed one of the most successful solar module producers in all of Germany. One investigator in the ICO's bitcointalk pointed out he may not be as successful at financing things as he suggests because he couldn't get anybody to come in with him on Envion. The story goes that in 2015 Matthias had an epiphany and convinced the other founders of Envion to start this project. They then spent two years developing the first MMU.  However, if you dig into the six core members of their team, all of them joined within the last two months.
Jasper Hellmann (marketing): High-performance marketer, founded and marketed largest international music festival chain and $30 million eCommerce startup within 11 months.
Felix Krusenbaum (finance): An IT professional with over six years of experience as a strategy consultant at A.T. Kearney with a focus on digital, retail, and eCommerce; ten years of startup and programming experience.
Jonathan Koch (technology): In the whitepaper he's described as a "Software engineer with 10 years of experience as a team leader at Rocket Internet & wooga". However, when you investigate further, it turns out he only worked at rocket internet & Wooga for four years total. One of their bitcointalk spokesmen admitted to this embellishment.
Nikita Fuchs (blockchain): Software engineer and expert for ethereum smart contracts; design and development of decentralized blockchain applications; smart contracts for finance, industry, and NGOs; senior consultant to Astratum.com
I got called "disgusting" for commenting on the number of kids on their team. I honestly look at this team and see interns at their very first job.  A gigantic mining operation needs technology wizards and experienced miners.  This team photo, as well as the founders/management resumes, do not lead me to believe they can pull off this massive venture. Out of the six core member from the whitepaper, only two have programming experience, and I don't think any have mining experience.
Verdict
The streets are whispering. No, the bitcointalk and telegram streets are actually shouting at the top of their lungs about this being a $150 million heist in progress. After going through all their social media with a fine-toothed comb, I counted seven seemingly intelligent people fudding Envion with passion. I cannot validate their claim of hoax. I can however validate their skepticism.
After seeing too many red flags to handle, I took to telegram and asked their representatives a variety of questions. I learned the most from the questions they could not answer, such as:
CWhat's the name of the production company that is building the MMU's?"
"Who is going to supply Envion with thousands of ASIC miners, aren't they always sold out?"
I asked many other questions but persisted with these two for about 36 hours straight. Their reps just delayed answering, and still haven't except for saying, "you may not get an answer at all, because like I said, we do not comment on our supply line."
And they do not comment on why they do not comment. They've clearly been instructed not to reveal any actual information relating to the project. Another area of questioning they can't get into is mining stats. They have their one MMU supposedly running in a warehouse somewhere (they won't reveal where) and it's confirmed that it's not actually mining.
I never heard of a company asking for $150 million, and then not revealing any of their business model.
This is odd, and a good example of what I'm talking about. This video debuted on some random YouTuber's channel.  It's supposedly a random stranger discovering and touring Envions one and only MMU. This MMU is supposed to be operating in a factory somewhere in Germany. The writing on the MMU is English, and the Youtuber who put this video out is from Florida! When asked in telegram about this, the Envion representative quickly produced a detailed story about how the Floridian Youtuber simply stole the video from Envion's Facebook. When asked "why isn't this video on their Facebook page?" the rep said, "it just disappeared at the same time it popped up on the Florida guys channel."
Risks
According to the whitepaper, it doesn't look like a human will be monitoring/guarding each unit. This is insane to me because the other two mining businesses I observed are filled with computer geeks doing maintenance on the units 24/7. The Envion team doesn't seem to have any idea how hard this is going to be. -4
The Unified Mining Cloud (UMC) is responsible for handling and supervising all maintenance operations throughout the Envion network. There are no demo yet of the UMC in action; I believe this fancy networking system is only an idea so far. -2
They are basically promising 161% ROI. Dividends start in January. They don't show how the profits are calculated, they just say token holders will receive 75% of the profits each week. They have one MMU, and nobody knows how fast they can make more. If the first few months of dividends are underwhelming, it could cause a dump.  -2
I'm trying to wrap my head around their business plan.  The only way a large farm can keep scaling is by reinvesting most of their profits right back into their miners. Envion is using a completely different approach by paying 75% of the profits too token holders each week and investing the other 25% back into the MMUs. With all the hidden expenses, this won't be enough to sustain what they got, let alone grow. -5
Growth Potential
As they build these units they get to chose from the entire planet as to where to put them. They are never locked into one location, and can continuously find the cheapest spots and best partnerships. And apparently, some of these facilities are giving away free energy that they have an overabundance of. +4
They are really good at marketing. They have adds all over Facebook, and claim to have more than 40,000 people registered for their whitelist. It's a very attractive idea – genesis mining is huge. If Envion is successful, I can see them getting very big. +1
All over their website and social media is the promise of 161% ROI. I don't know where they got this number, and they won't tell me, but this promise alone will be huge in today's get rich quick market. Look no further than bitconnect. 0
ASIC miners are changing the game. It is very hard to get a constant supply of any type you want. Usually, unless you are connected, there are long waiting periods. Envion claims to have access to "efficient, available, low-cost hardware", but they refuse to reveal their source. If they do have a never-ending supply of miners, that will be a huge advantage. +1
Disposition
I keep being told that the ICO doesn't start until Dec. 1st, and to wait patiently for the answers to my questions. Malarkey! I'm going to release this report so Hacked readers know to beware of this ICO, and if the Envion folks magically start producing evidence of legitimacy, I will update this report. However, even without them withholding information, and the numerous believable allegations of dishonesty and black magic, this project is far too sketchy. 3 out of 10
Investment Details
The presale starts Dec 1. Whitelist and more details https://www.envion.org/en/ico/
Featured image courtesy of Shutterstock. 
ICO Analysis: Restart Energy
Not long ago, we were all wondering when existing businesses will start adopting blockchain. After all, scalability of blockchain technology is a function of adoption by existing companies.
Kik was one of the most high profile traditional businesses to raise funds via the ICO route when they successfully raised close to a $100 million in September.
The reason we are discussing this topic is that Restart Energy is also an existent revenue generating company. Most of us have not heard about Restart Energy, so let's have a look at it first.
Restart Energy is a Romanian electricity and gas supply company with expected sales of $20 million in 2017. They have a customer base of 30,000 users and offer up to 100% renewable energy supply. Some of its innovate business practices, like the franchise based model, have resulted in Restart becoming the fastest growing energy supplier in the EU.
As we have discussed in some of our previous articles (Power Ledger, Grid+, SunContract), blockchain technology has the potential to completely disrupt the existing energy markets.
In the traditional model of energy distribution, there are multiple intermediaries between the electricity generators and the end users. Intermediaries like the utilities charge a large markup over their cost of goods sold. Typically only about 50% of the cost of retail electricity is used to pay for the electrical energy itself. The other half is tied up in administrative burden, marketing, and risk management associated with bad debts.
When a prosumer (consumer + producer) produces more energy with solar than needed, he has to sell some back to the grid at a meager price as legacy energy providers have no incentives to offer such services because their supply and revenue from consumers would be reduced.
From the company:
"Restart Energy is building a global energy supply platform using blockchain protocol to democratize a sector burdened by bureaucracy and transaction costs, freeing up capital, saving consumers money, helping local small producers earn more and allowing real peer to peer direct energy trading using existing infrastructure."
Red Platform
At the center of Restart Energy's offering is the RED platform, which connects energy producers and traders with retail customers in a decentralized manner. By building the platform on blockchain, several layers of costs associated with bureaucracy and transaction are removed.
The removal of intermediaries and automation of manual tasks will enable producers to sell electricity at a 30% higher rate than their wholesale counterparts, while consumers will pay 30% lower rates.
All parties on the platform will be able to trade energy with each other on a P2P marketplace, which provides equal pricing for all generators removing monopolies.
Red Franchise
The business model is scalable as it allows anyone to become a seller/utility by becoming a franchise of Restart Energy. By holding greater than 10,000 tokens, any user can open a franchise that will perform the activities of the traditional utilities at a fraction of costs. Even existing utilities can benefit from being a Red Franchise as they would be able to significantly reduce operating costs using the blockchain solutions offered by Restart Energy.
Restart Energy will also introduce smart meters and watt prediction software, which will better forecast the future supply-demand and pricing metrics offering better value to the sellers. A mobile application will be created for payments and statistics.
Token
Restart Energy will issue the ERC20 RED MegaWatt token during the ICO. The RED MegaWatt tokens act as virtual batteries for energy access; they store access of up to 2 MWh/token of energy. In the token distribution, each RED will come equipped with 0.11 kWh of active energy. Renewable energy producers and suppliers will donate between 1% and 5% from each energy transaction on the platform to the Restart Energy community via transparent energy fund from where it will be evenly distributed to the RED MegaWatt token holders based on the number of tokens owned. Tokens can be used to pay energy invoices issued by the company or sell the energy to other participants on the RED platform.
In addition to being virtual energy batteries, the RED MegaWatt tokens serve other functions like giving access to the platform, providing access to the RED franchises and distributing incomes from the sale of energy contracts.
Restart Energy has an internal token called the KW token. Each 1 kW token will be equivalent to 1 KWh of energy and it will be purchased by the users of the RED platform with crypto and fiat currencies to be consumed or sold on the RED platform.
The pre-ICO begins on 10th December and the ICO on January 20th. The total supply of tokens would be roughly 1.199 billion RED MegaWatt tokens with each valued at $0.1 with a hard cap of $50 million.
Fifty percent of the coins will be sold in the crowd sale; 30% will be held in reserves and 20% allocated to the team.
Twenty percent of the funds raised will be used to consolidate the existing business operations in Romania, while the remaining funds will be used for the development of the platform and expansion in other geographies. For more details on the bonus structure, please refer section 11.2 of the Whitepaper.
Team
Restart Energy is 82% owned by Armand Group, a successful renewable project developer in Romania with more than 500 MW of solar and other renewable sources developed through its subsidiary Armand Consulting. So, the vision has always been inclined towards working with renewables. CEO Armand Doru Domuta is quoted in the Whitepaper as:
"Restart Energy is my legacy to the world, it's my dream of creating a transparent energy ecosystem that allows and encourages free and direct energy transfers between people that have the possibility to choose renewable energy without limitations from sources they can trust."
The CEO and founder is an excellent entrepreneur. Restart Energy has grown rapidly in Romania due to some brilliant maneuvers like the creation of the first franchise based energy supply model in the EU, or the only renewables option for users. There are 15 core members of the team, with solid industry experience as most of them have been working for Restart Energy. There are six advisors with a couple of them having extensive experience in energy-related domains.
One red flag is the inclusion of George Popescu to the advisory team. George has been banned from acting as a company director in the UK for 12 years due to some financial irregularities.
Verdict
Having solid industry experience thanks to Restart Energy's operations in Romania is a big plus, especially in this particular industry. Restart Energy has already achieved 75% development of the software components and process automation that will comprise the RED Platform.
How does Restart Energy compare with existing solutions?
WePower, Power Ledger and SunContract are some of the existing solutions bringing innovation in the energy market via blockchain. While all the platforms offer P2P energy trading and blockchain and smart contract-based solutions, Restart Energy has some crucial distinctions.
Most important difference is that Restart Energy is a Licenced EU energy provider with a strong customer base and revenues. Restart Energy is not just creating a P2P energy marketplace but is also focused on improving the existing utility infrastructure by allowing anyone to open cost-effective utilities. Restart Energy has agreements in place with energy producers for donating energy to RED MegaWatt Token holders
However, Power Ledger allows third-party applications on its platform, which Restart Energy does not. This third party integration feature has been the selling point of Power Ledger, which has resulted in the token appreciation.
That being said, Restart Energy's industry experience gives it a clear competitive advantage against all of the existing solutions.
Risks
Expansion in other geographies depends on regulatory approvals. It is also a function of whether geographies like China and India create deregulated energy markets as the business is viable only in deregulated energy markets. Even in the US, only 2 states have deregulated energy markets. -1
The whitepaper lists George Popescu as the chairman of the board of advisors. The management team cannot ignore the irregularities issues against him as it results in loss of credibility. -2
Growth Potential
The team has set aggressive growth targets with expansion in 22 countries as early as 2019. +3
The tokens not only have transactional value but also holding values regarding regular energy payouts and franchise benefits. +3
Although they do not have a working product yet, the existing entity in Romania with $20 million in sales gives the project a solid credibility. +4
Disposition
We deduct another 1 point due to the lack of external application integration functionality which gives Power Ledger unlimited potential. We arrive at a score of +6 for Restart Energy.
The scoring in the decentralized energy industry could go as follows,
Power Ledger > Restart Energy > Grid+ > WePower > SunContract.
Going ahead, Restart Energy might get the top rank owing to its core competence in the energy markets.
Investment Details
The presale begins on 10th December. You can purchase the tokens here.
Featured image courtesy of Shutterstock. 
In the nascent but bustling world of ICOs, developing a unique value proposition isn't always easy. When a project like Realisto comes along with the promise of asset-backed tokens, investors quickly take notice.
Realisto is a globally decentralized and borderless platform dedicated to crowdfunding real estate opportunities. Through blockchain technology, the platform allows the real estate industry to raise capital for its projects through the asset-backed REA token.
Since the financial crisis, real estate has been one of the hottest investment opportunities in the advanced industrialized world. Property values in major cities from Sydney to Toronto have reached insanely high levels, leaving many investors out of the fold. By tokenizing real estate investments, Realisto aims to democratize an increasingly prohibitive market.
From the outset, we see great potential.
Token
The REA token is built on the Ethereum blockchain and backed by smart contracts. REA holders generate value from the token in two important ways: through exposure to real estate and through the utility provided by the Realisto platform. With respect to the latter, REA tokens generate ether-based profits from Realisto's core pool of assets as well as fees generated through the platform's services.
According to the company's whitepaper, 90% of the funds raised via token sale will go toward acquiring high-yield real estate. The remainder of the pot (10%) will be used for sustaining operations.
Pre-sale tokens were value at $0.70, for up to 2 million REA. During the first week of the ICO, the price is $0.85 per token, eventually rising to $1.00 during week four. The token price is based on an ether exchange rate of $330 USD. The ICO will not contain a hard cap.
Token holders will receive ROI directly via ETH on a monthly basis, starting in early 2018. They are entitled to 70% of the fees generated by the Realisto platform.
According to the website Q&A, Realisto is currently negotiating to get its token listed on the major trading platforms. Clearly, REA is meant to be transferable.
Team
Realisto's core team consists of ten professionals backed by co-founders Rouven Rosenbaum and Leonard Zobel. Given their track record, you'd think these are men with 20+ years of experience in the industry. As it turns out, Rouven is only two years older than your author, whereas Leonard is two years his junior. Both co-founders have an established, albeit not senior, track record in the German real estate industry.
The team also employs four real estate experts, including Manfred Loell, who has assembled a real estate database of more than 45,000 professionals. And what's an ICO without a CTO, developers and a marketing and communications specialist. These roles also comprise the Realisto team.
The team's advisory board consists of six senior professionals, including lawyers, consultants, developers a process management professional.
Verdict
Realisto offers plenty of upside for yield-seeking investors. The team has zeroed in on Berlin's distressed real estate sector, which it says offers the most bang for your buck. At the surface, the risks seem relatively benign, although execution and building a real estate portfolio to scale aren't to be taken lightly. However, the fact that there is no minimum investment requirement is a huge plus that the author believes strongly outweighs the inherent risks associated with property investment.
Risks
Real estate is a booming industry, but several metrics suggest major markets have become overvalued. This doesn't say anything negatively about Realisto's business model, but it's something to bear in mind when investing in these sorts of projects. Perhaps the company has used that knowledge to focus almost exclusively on distressed properties in one of Germany's largest cities. It remains to be seen whether the company will adopt a similar model to scale its projects moving forward. -1.5
As one might expect, Realisto isn't the only ICO operating in the real estate sector. Real estate token raises have already generated over $35 million in funding this year alone, according to data provided by CoinSchedule. The likes of Propy, REAL and Atlant have released variations of real estate token raises. It remains to be seen whether demand for this sort of project will resonate with the investment community. However, Realisto does a really good job of comparing its platform to other ICOs (see below). -1
Growth Opportunities
Pooled real estate investments are nothing new. In fact, Mortgage Investment Corporations (MICs) already offer a similar program whereby investors purchase shares in a pool of high-quality mortgages. The major difference with Realisto (aside from the fact that it isn't a MIC) is it provides a much lower barrier to entry. Whereas most MICs or similar programs require significant capital to invest, Realisto has no minimum or maximum investment requirement. Services that offer a lower barrier essentially take what works from existing models and make it more readily available for broader consumption. That's one of the reasons why the author likes Realisto. +4
Realisto may be a relatively new venture, but its parent company has been involved in Berlin real estate since 2011. Over that period, it has established a strong industry reputation and has assembled a solid team of experts. For investors, this means you are dealing with a core group of people who are more than capable of finding profitable assets. +3
Although Realisto says it it offers access to a global market, the whitepaper emphasizes Germany, and in particular, Berlin. This is perfectly natural, given that the team is based in Europe's largest economy. This seems to remove much of the regulatory complexity from the investment process, as all funds are secured under one set of laws.  +2.5
Disposition
It's difficult to find fault with Realisto's business model. The team is solid and well versed in real estate. In fact, industry expertise should give investors confidence to invest in this project. The team doesn't appear to have the technical prowess as other tech-based ventures, but its vision is clear from the get-go in that it wants to bring real estate investment to the blockchain.
From an investor's perspective, the value proposition is very high, as the token provides ROI through real estate profits and fees generated from the Realisto platform.
Against this backdrop, we believe that a score of 7 out 10 is warranted.
Investment Details
Type: Crowdsale
Symbol: REA
Pre-Sale: 

Nov. 17 – Nov. 25

Public Sale: Nov. 25 – Dec. 25
Payments Accepted: ETH
To visit the token sale page, click here.
Disclaimer: No position in Realisto at the time of writing.
Featured Image courtesy of Shutterstock.