Both the hype and criticism surrounding Monetha have been strong, so we must be upfront and cognizant of this as we go. That said, what Monetha believes, first and foremost, is that reputation is a problem for merchants equally as important as accessing the Ethereum blockchain. This is essentially how they open the whitepaper:
Three significant problems that merchants face: trust and reputation, payments, and an inability to reach the growing Ethereum economy.
A bold move, the establishment of this at the outset, since, one could argue that it's not a statement of fact in any sense. Are merchants actually facing the problem of being unable to access "reach the growing Ethereum economy"? In some circles, this claim is laughable. We hope that in any circle, it's dubious. Truly, everyone from top to bottom in the cryptosphere is aware that we're all very early here. Things are progressing nicely, to be sure, but we're in at the ground level. Merchants accepting Ethereum aren't necessarily going to prosper by virtue of that, so the idea that they are facing it as a problem is intriguing but probably inaccurate.
However, the author understands that businesses can benefit from the blockchain. We like projects such as Aragon for this reason. Aragon doesn't presuppose that businesses need the blockchain, it only stands to help those who decide to integrate it. All of this adds up to say: from the inside, this statement may seem normal, but in real terms, it's inane. No merchants are facing the significant problem of the inability to reach the growing Ethereum economy. This can safely be rejected as a concept. Nevertheless, Monetha does elucidate on the "problem" a bit further, making another bold claim in the process:
An inability to participate in token-enabled digital asset economy potentially worth $10T by 2025.
Trust, reputation, and payments, however, we can see these as valid problems that a blockchain company can help firms with. We just have to make a departure from the standard glossing over of obvious hype.
Their solution essentially involves taking a blockchain-powered payment gateway and building atop it a decentralized reputation system that allows people to have some modicum of real information about the people they are dealing with across the world.
Monetha claims to offer merchants the ability to do transactions five times cheaper and 10,000 times faster.

These people are fond of big numbers.
From a high-level, Monetha make accurate references to the "merchants" of trust we have in eBay, Amazon, and other large scale retailers who act as gateways for smaller ones. It's true that reputations must be built within each system in order to thrive within them. A system which subverted this might have some value, but we have to keep in mind that the trust we're speaking of, and the merchants thereof, is at the behest of the masses, rather than the merchants.
At the basic level, what their software intends to do is add additional information to a blockchain database regarding a merchant. Accordingly:
Every time a transaction is made the blockchain will record the time of the transaction, both receiving and sending wallet addresses, warranty conditions, delivery time, and all other information that is typically needed to ensure trust. All the sensitive information will be hashed and only available to authorized users in a beautifully designed user interface. Based on that information, clients and merchants will be able to file/solve a claim, rate ach other, etc. Every time a transaction is made, claim registered, solved or unsolved (according to the purchase details saved during the purchase), review written, etc., the smart contract will automatically change the trust level for each of the parties involved.
The above is the kernel of the idea. Expanding the eBay reputation model to the rest of the web, while at the same time bringing unprecedented numbers of firms into the Ethereum fold, accepting digital currency in an almost-native fashion. Or, such is the goal. Lofty goals abound in the ICO world.
Back to Earth
We must bring them down to earth, so let's keep it real: many, many people have found it profitable to simply do business through the trusted third-party platforms. Amazon, eBay, Alibaba, and others have access to partnerships with shipping firms that are lucrative for sellers. For these and other reasons, supposing the Monetha concept works and is five-times cheaper, it will still take some time before it actually sees wide adoption among the merchants in question. This is under the best circumstances, regardless of everything. While it will be fun to speculate on the Monetha token, and interesting to watch them progress, we cannot expect that they will actually revolutionize the commerce market, digital or in-person, without several shifts happening far outside their control.
Let's not be unclear, though: there is plenty of room for payment rail providers. Payments is what blockchain does best, and building more robust versions of them is not a pointless pursuit by any means.
Let's not be lost in the sauce, either: the "mobile payments" solution is far less important in actual commerce than the hype train would have us believe. Think about this from the perspective of someone who wants the whole pie, now. The real money is still happening either at the personal computer terminal or at the payment processing terminal in the retail outlet. Mobile payments are not that important, unless, of course, we're talking about something that has extreme volume, such as a bill payment service. Monetha cites research that probably entails as much:
Monetha's framework could, though, accommodate something of this nature, and they do appear to be nimble enough to pivot when necessary.
We like Monetha's business model – a 1.5% flat fee for merchants only. This fee is competitive as compared to the rates offered by most payment processors. Finding a way to communicate directly with bank accounts would ultimately be the last mile here, but we don't see much talk or focus on it. However, we have to comment on the usage of the proceeds from said business model.
Monetha intends that 1/3rd of this 1.5% (or 0.5% of all activity on the Monetha network) should be earmarked for a Voucher Smart Contract, from which they will dole out rewards to token holders in the form of discounts at Monetha merchants. Apparently from the other 2/3rds of their revenue they intend to incentivize clients of Monetha merchants with 0.2% in tokens.
The system comes off as gimmicky, but it could work with some strong early players. When we say strong, we mean people who will have the ability to either force the issue or simply have such scale that by virtue of adding Monetha, Monetha grows.
At the beginning of the article, we noted that some criticism has been lodged against Monetha. While we have a more analytical complaint, we wanted to relay this succinct message from Reddit user bestteamever171:
Monetha will charge a 1.5% transaction fee from merchants. Of that, 0.5% will go to a "Voucher Smart Contract" in a for of MTH for Monetha token holders for an ability to use that in the Monetha's ecosystem and other 1% will go to the company as revenues. (Coinbase also enables merchant to receive payments with a working API, they charge 0 fees to use their services)

On top of that only 50% of the tokens issued in the ico go to investors, this also means if Monetha were to sell all of their tokens, they would still pocket 66% of all future revenues. At this current model, investors are really only getting 16.5% (33% x 50%) of the revenues generated from Monetha. This is not even considering the massive competition they have in this space from Omise, Tenx and Metal. There is really no point in having an ICO if the project is this centralised and unfair, this project sounds more like a cash grab. Also removing any criticism of their ICO on their reddit? What kind of 'decentralised' project would silence critics?
Now having enough of an understanding of how the thing will work, we can proceed to decide if this is how we want to invest money or not.
Monetha Team
We see a lot of confidence building in the team behind Monetha. We see a strong presentation on their website and in their communications. Let's see if there's anything to worry about.
In co-founder Andrej Ruckij, we get "a gigantic experience as Vice President of Development at "Adform": global digital advertising company. He is an engineering star who led a 300+ team of engineers to create the scalable Adform technology that is now used globally."
According to some tertiary research, Adform are a big and legitimate outfit who've raised in the neighborhood of $30 million in the past few years. In January, they had some layoffs. Interestingly, according to Ruckij's LinkedIn profile, this is also when he left the company. "Redundancies" were cited for the mass of the layoffs, but it does bear noting that Ruckij and two others left Adform to found Monetha. They had previously sold their venture Wowtto, an outdoor advertising start-up, to Adform.
The author came by this information from another member of the Monetha team, Laurynas Jokubaitis, who also left Adform as soon as he was able to help found Monetha. Prior to Wowwtto, Jokubaitis had an internship with Swedbank.
The last member of the trifecta is Justas Pikelis, who has spent much of the blockchain revolution as an entrepreneur. Prior to his efforts at Wowwtto and other independent efforts, he worked as a marketing executive for a company called Peek & Cloppenburg, and before that, in some form of entertainment. His specialties seem to lie in marketing, and he was probably a useful addition to the Wowwtto team.
An array of advisors exist on the page as well, as well as competent staff members. In analyzing Monetha, there are concerns besides whether or not the idea of providing mobile payment applications and easing trust, reputation, and blockchain integration for merchants is a big one or not. And in these three primary founding members we have a question, as well: with an established history of developing and then cashing out, how much future does the platform actually have?
Legally speaking, we have nothing preventing the exit via acquisition strategy, and being a token holder doesn't earn you any control over such. The token is not a consensus mechanism, after all. Legally speaking, you're powerless at your very best, as seen here:
Monetha GmbH is not a financial intermediary according to Swiss law and is not required to obtain any authorization for Anti Money Laundering purposes. Acquiring Monetha tokens shall not grant any right or influence over Monetha GmbH's organization and governance to the Purchasers.
Monetha Token
Token Function
The entire purpose of the Monetha system is to ensure integrity in transactions, for the benefit of both merchants and clients. In the below illustration, they show how a claim of a problem might be resolved through the Monetha system:
They elucidate a bit further:
The client and merchant resolve the claim resolution "offline" or on Monetha's off-chain messaging system. After both parties agree on resolution terms, the merchant enters those terms (e.g. money back, shipping out new product, etc.) into the merchant's user interface. Resolution terms are saved on the blockchain. The merchant then waits for client's confirmation.
All of this sounds great and maybe even attractive for merchants who are having trouble establishing trust in the world. But the thing of it is, it also sounds like a lot of extra work for the merchant, for what gain? A transportable reputation? Okay, we can see some value in that. Some.
Token Alleged Inherent Value
Apropos of everything aforementioned, let's establish that this token will only carry value if the network itself is quickly picked up and adopted. We can see that the team would be dedicated to get to at least that stage, so let's suppose this happens. Then the value of the token is reliant on a few things, chief among them being its supply. What is happening with the supply of MTH tokens, anyway?
(2000 ⋅ 67000) + (28000 ⋅ 2400) = 200,120,000,000 tokens. 201,200,000 tokens will be retained by Monetha, as mentioned by the Redditor near the beginning, and demonstrated in the above image. This is extreme. This makes high valuations hard to picture, makes the risk of exit even more painful to imagine. But let's keep it in perspective, as short term we can probably see real profit taking here.
Verdict
Look directly above at that distribution again. Be sure you're comfortable with that. If you are, and you believe this is a valid product worth pursuing, then it's probably worth the effort.
Risk
We note the founders have exited one company already. We gather there's a risk they could do it again here. So we dispose of 2 of their team points.
We believe there is massive overconfidence at every level of this ICO, from founder to investor. The product may not meet expectations, roundly speaking. -2
Such high inflation means that high token values are out the window. You will have to tread carefully trying to play this field, if you want to speculate. Merchants will probably enjoy it, if they benefit from it, which we guest. -1.5
Growth Potential
Very professional delivery, and good advisory selections. +1
Team knows what they're doing. +2
Product could see some adoption, and therefore growth. Growth of its usage means growth of the value of the token, which will be depressed by a massive distribution. +2.5
Token will be immediately made available to you for trading, which is a plus for understanding early on how the market will take to the token. We really credit them for this boldness – +2.75 – which we will use to later judge their performance on said markets.
Disposition
Numerically, we lean in favor of this, at 5.25, especially in the short term, as there will be quick trading following the ICO. At a price of 2000 MTH per Eth, we expect to see a tertiary market emerge quickly, with pressure on the source (which has no maximum contribution per investor) exhausting initial supply quickly.
Investment Details
On August 31st, details of the Eth address to invest in are scheduled to appear at https://www.monetha.io/en/crowdsale. However, the author advises extreme caution before sending any funds. Please Google "Monetha + scam" before sending money anywhere. A clever hacker can manage to silence most of their channels which might warn people that they were sending Eth to the wrong address. Scams are getting old in ICOs, so please do not fall victim to anything, and ensure you have the right address when you send funds. As per usual, they ban US investors. Please make sure you follow all instructions, get the correct address, and invest wisely.
ICO Analysis: Deepbrain Chain
Deepbrain Chain will provide a low-cost, private, flexible, secure, and decentralized artificial intelligence computing platform for artificial intelligence products.
Coming out of China, based on NEO,  Deepbrain Chain is an incredibly difficult whitepaper to read. Many concepts are both lost in translation on paper, and in my simple brain.
I came across a Reddit post from a man named crypto_oxford, who does a great job summarizing.
"It is a data computation platform and a Data trading platform that uses distributed spare computing ressources, makes AI computational demands cheaper, protects against data leakage via hacking, secures the seperation of data ownership and usage rights, and secures intellectual property for the data and for the products."
They figure to reduce the cost of AI by 70% by making it minable on the blockchain. I cannot verify these claims, I am no expert in this field. Here's a good example possible investors face when trying to learn about this project.  It sounds great, but what does it really mean?
"The founding team believes that DeepBrain Chain is a project that has been verified by the market, has huge market scale and significant application value, lets the process and economic value associated, and is gradually issued with the core business sharing storage and the mechanism of computation capacity of mining. Each token corresponds to the computational value of the service provided during its issue, and is a truly valuable asset and digital currency that has already landed. Due to the difficulty of issuing, the value of the flow needed by every new token will increase. The earlier one holds, the more the expected value of the market will be."
The Token
NEO platform (nep 5 token)
A max hard cap of $15 million,
There's a total supply of 10 billion Deepbrain Chain (DBT) tokens. 50% of these will be mined over time.
1.5 billion tokens will be for sale
600 million sold during the Presale, which ended 10 days ago, and was almost impossible to get in.
Token sale stars Dec 15th. You must fill out a KYC form to be eligible. No USA or China allowed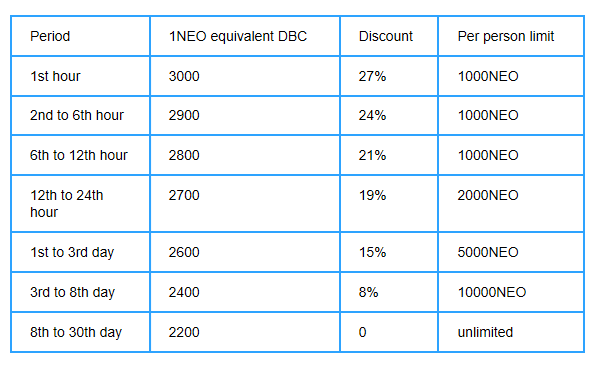 Only 1.5 billion of the total 10 billion tokens will be for sale.
600 million in the presale, and 900 million in the public sale
Use of funds. 55% R&D, 25% marketing, 10% daily operations, 8 % incentives, 2% patent fees
The Team
Based in China? The team is doing things. They recently won 1st and 2nd place prizes in Academic Sector  & Enterprise of SMP, at the Chinese Man-Machine Dialogue Field Authority Evaluation Contest. This contest had over 30 of Chinas best competing.
Their resume's check out pretty well. And just look at these faces… JACKPOT!
The Verdict
When it comes to the technical side of this project, I am out of my element. They have a hard cap of $15 million, $6 million of that already came from private investors, one of which being NEO, who funded them $1 million.This gives them serious street cred.
AI  data computation, neuro networks, machine learning, all these concepts are no doubt where our world is going. On Deepbrain Chains platform, one can compute and trade data. They have a working platform with more than 1,000 semantic skills.
Risk
This being a Chinese project, on NEO, makes it more susceptible to regulations than other projects. It doesn't seem likely, but is a risk nonetheless -1
The token metrics are funny. Only 15% for sale. They have a whitelist for the presale (which may be filled up by the time readers see this.) They didn't limit the amount people bought during the presale, and won't for the public sale either. This could lead to whales owning most of the supply. -2
They are having KYC implementation difficulties with their sale. It has been a huge issue in their telegram the last 24 hours. What looks like is happening, is there is no way to verify what customer is connected to what KYC. This could be an in for investors who currently aren't signed up for the KYC to buy these tokens. These issues could be a bad sign of things to come.-2
Growth Potential
The Deepbrain whitepaper states; there have been over 5k startups since 2012, collecting over $22 billion. This is without counting the money large existing companies put into ai, which makes the total amount of money over $100 billion. It is certain that this is just the beginning.+4
NEO partnership. NEO alone has an endless amount of growth potential. They have a large community that gets exdcited and involved with the projects NEO backs. This partnership is worth a lot. +3
The ICO has a strict KYC rule. This is going to create a tremendous amount of demand for this once it hits exchanges.+2
This is a $20 billion industry, that is only growing from here on out.+2
Disposition
The 10 billion supply with only 1.5 billion being sold is scary. However, the rest of the ICO seems to make up for this.  5.8 out of 10
Investment Details
Sale starts Dec 15th, however, you need to fill out the whitelist/KYC app in order to get in. This application is having technical issues which may allow anyone to buy in without previously being KYC whitelisted. It's worth a shot, but need to hurry!
Sign up here  https://www.deepbrainchain.org/pc/kycEnglish.html
Cover image courtesy of Shutterstock.com.
ICO Analysis: The Game Machine
In recent years passionate gamers have been exploited by huge game development companies that hold a monopoly over the industry. The recent EA Star Wars Battlefront catastrophe brought a lot of attention to an issue that gamers are all too familiar with.
Gamers have to dig deeper and deeper into their pockets to pay for the expansion packs, DLC, and additional features that are excluded from the main game. And these games aren't cheap.
It's increasingly becoming apparent that there are fundamental issues with how the gaming industry works today. Fortunately for gamers, the blockchain is already beginning to form a new paradigm in the way games are funded, developed and purchased.
The Game Machine is an open source platform that seeks to decentralize the gaming industry. It aims to provide sleek software that will empower gamers and game developers alike.
How are they planning on doing this?
The platform has four foundational layers that are stepping stones for this innovative new project. The first layer is the game machine client. It will work as a wallet to store and send Gamefuel tokens and will come with a built in mining interface so that all users can participate in securing the Game Machine's blockchain.
The second step is to develop their "Rise Machine" that will allow members of the Game Machine community to invest funds into games they see promise in – funds that go directly to the developers so they can create their game independent of the EAs and other oligarchies.
This is perhaps the most powerful innovation suggested by the platform. It gives everyone from the small game studios, with a only a few developers, to the prominent developer, who wants to deviate from the script, the chance to create and sell great games to the community at a fair price when they otherwise could not.
The third layer of the platform is the "Ads Machine" a decentralized advertising market that will live inside the Game Machine client so that game publishers or advertisers can market their products to a gamer specific demographic. Advertisers have been experimenting for years with in-game, native advertising, and it's a powerful use case for the game machine, just as a stand alone feature. Expect this element of their platform to bring in huge revenue if they can build up their user base.
The last layer of development in their platform is the "Exchange Machine". This will simplify the process of buying and selling tokens for gamers who use or hold multiple ingame currencies. This way, gamers can sell their Gamefuel and easily move a variety of coins in and out of the game machine.
Token
The Game Machine team is using an Erc20 token called GMIT, which stands for Game Machine Initial Token. Each token is currently valued at 2,500 GMIT per ETH, or $0.32 USD. The token will be tradeable for actual Gamefuel at a ratio where 1 Gamefuel= 0.5 GMIT. Thiswill occur once the platform officially launches in May or June of next year.
The GMIT token is issued by Game Machine OÜ, incorporated in Estonia. A total of 140 million tokens will be created during the various stages of the token sale. The pre-sale has already been conducted and an equivalent of 751 Ethereum were invested, which means roughly 1,870,000 GMIT have already been bought. There are bonuses for early investors during the crowdsale where day 1=+15%, day 2=+10% and day3 =+5%.
There is also another coin that can be mined called GMC or Game Machine Client token, which will be exchangeable for GMIT tokens before the official platform launch at a ratio where 1 GMC = 0.0002 GMIT. The GMC token is given to miners who are being rewarded for securing the network during the Game Machine's beta testing stage so they can earn Gamefuel. The official Gamefuel token will have its own blockchain that runs on two key components, Limited Proof of Work, and Proof of Authority. Limited proof of work is an energy friendly implementation of the traditional proof of work protocol that bitcoin uses.
Proof of Authority is used to enable faster confirmations of crowdfunding transactions where the authority level of a user confirming transactions is determined through analyzing metrics such as time of use, the amount of purchases and sales of games on the platform made and how positive or negative the feedback of other users were about their contributions to the platform. This can also include how long they have been mining for and how fast. One can imagine this is useful for fending off bad actors that might just try to crowdsource Gamefuel and then commit an exit scam without contributing anything. This blockchain is inspired by the Scorex 2 framework devised by the Scorex foundation, which was also implemented by the Waves decentralized exchange platform.
Team
The three co-founders of Game Machine have over 17 years of combined experience in project development, IT consulting,  video game marketing and development.
The entire team consists of 19 full time employees who are busy working on many different parts of the Game Machine platform. If that's not impressive enough then look at the history of two of the co-founders Taras Dogval and Alexandr Isaev who were both previous board members of Hakk, which is an interactive agency that has done marketing for huge European companies such as Volvo, Tallink Silja Line and Neste. The other co-founder Maria Suvorina has six years of experience in marketing and promoting games on computers and phones. She's worked for companies such as Suricate Games, TMA and AminiLab.
Although these companies aren't that well known, most of their work is out of the public's eye, and they have actually made contributions to famous games. Aminilab for example has participated in development for games such as Alone in the Dark, FIFA, Dragon Age, Mass Effect, Doodle God and Doodle Devil.
Verdict
The Game Machine is an extremely ambitious project that, if successful, will truly revolutionize the industry. The team behind the platform is experienced, has a great track record and is big enough to polish and refine the Game Machine into a fantastic platform for gamers and developers. However, the existing industry players already have huge advantages when it comes to funding, marketing, development and most importantly building a big reputation and brand awareness. It's difficult to predict if a community driven effort from gamers and developers combined on an open source platform, will be enough to break into the existing market and convince everyday gamers to switch to an entirely new platform.
Risks
One risk for this project is the quality of its design in terms of how friendly the user interface will be. If the platform is too difficult for technically illiterate people to use then it will not have wheels to get going anywhere. -1
Another threat to the game machine is the plethora of other competitors that are already working on blockchain innovations in the gaming industry. For example, Enjincoin is an existing game development company founded in 2009 that recently completed its ICO, raising $20 million to kick start a platform that boasts features very similar to the ones offered on Game Machine. -2
Besides the long list of other game-based ICOs that have been launched this year, there is also stiff competition from massive conventional gaming markets. In addition, newer platforms such as Steam have already attractive hundreds of millions of users. -2.5
Growth potential
The Game Machine has a lot of potential for quickly stacking up a big user base, and one reason is due to the strong alignment of incentives between gamers and game creators. The traditional game development giants on the other hand are ignoring what their consumers and even some of their own developers have had to say about how games should be created, distributed or sold. Instead of focusing on quality and a fair deal for customers, these development companies have opted to lined their pockets instead. This is why gamers and developers would flock to the Game Machine overnight if the platform works well. +3
The project's potential for increasing the value of the underlying gamefuel token is actually quite immense in scope. Just the crowdsourcing and kickstarting mechanism built into the platform would induce a scenario where a large sum of people would continually purchase gamefuel tokens to lock into smart contracts. Once enough gamers are participating in this process the money locked in gamefuel tokens at any given time will only rise, thus reducing the supply of tokens in circulation and consequently increasing gamefuel's value.+3
With the plans to integrate a digital advertising market directly into the platform, gamefuel has a secondary source of revenue because advertising slots on the game machine platform can only be purchased with gamefuel.+3
The "Exchange machine" that's built into the Game Machine client is a nice approach to sourcing liquidity that will allow many other game based cryptocurrency holders to sell their tokens to purchase gamefuel. Attracting a wide range of gamers who are interested in different blockchain based gaming platforms is a unique approach to marketing that many readers may not have considered as a form of advertising. +2
Disposition
The Game Machine is a solid project overall; the team is large, has experience and will have raised additional funds to expand their efforts once their crowdsale is completed. That being said, stiff competition from new and existing gaming avenues, not to mention luring a dedicated gaming community to an entirely new platform. These risks must be weighed carefully before entering into Game Machine. As such, this ICO has been granted a score of 5.5 out of 10.
Investment Details
Unfortunately, the presale period of the Game Machine ended a few days ago; however, the final crowdsale period will open for everyone to participate from Dec. 14 through Jan. 31, 2018..
There will only ever be 140 million gamefuel tokens created in the ICO, and 70% of them will be available for token sale participants. The rest of the tokens will be divided into portions and used to fund various parts of the project:
14.2% token storage for starting in-game items withdrawals.
1.4% for bounty program.
1.4% for advisors.
4.5% for referral program.
7.1% for team.
The team's portion of tokens is utilized to pay for development and split in the following arrangement below.
10% Legal maintenance.
5% Operating expenses.
35% Marketing and PR.
50% Development of a product.
You can learn more about their token and ICO here.
Featured image courtesy of Shutterstock. 
ICO Analysis: Gimmer Token
The impeccable rise of algorithmic trading has ushered in a new wave of do-it-yourself (DIY) algorithmic trading bots. With the success of these DIY bots in traditional financial markets, it was only a matter of time until they entered the cryptocurrency market.
For algorithmic trading, volatility creates opportunity sets. And with cryptocurrencies still trading in an inefficient market, volatility runs rampant. This level of volatility creates an ideal environment for even the most rudimentary algorithmic trading strategies. However, there is a lack of DIY automated trading bots that are available for use by amatuer cryptocurrency traders. With this in mind, Gimmer is looking to take advantage of this need.
According to the company's website, "Gimmer offers easy-to-use advanced algorithmic trading bots that require no programming skills, no previous trading experience and no in-depth knowledge of cryptocurrencies."  
Essentially, Gimmer is hoping to position itself as the leading DIY algorithmic trading bots for individual cryptocurrency traders. While the company may never be the "Quantopian" of the cryptocurrency space, Gimmer does provide a novel solution for amateur traders.  
Token
The Gimmer token (GMR) will be implemented using the Ethereum ERC20. While GMR tokens will be visible in participants' ERC20 wallet, the tokens will not be tradable until the close of the public sale on January 31, 2018. GMR tokens will issued starting from January 3, 2018. GMR holders generate value from the token as a form of payment for the rental cost of Gimmer's trading bots. For users, the rental cost scales proportionately to the level of sophistication desired – more sophistication equals higher return (at least in theory).
According to the whitepaper, 45% of the funds raised will go towards development and operations, 35% towards marketing and acquisition, 15% towards the founders and team, with the remainder of the pot (5%) going to legal and compliance.
Gimmer Tokens are valued at 1 Ether (ETH) per 1,000 GMR (plus applicable bonuses). The total amount of tokens to be sold is capped at 100,000,000 GMR. However, an additional 6,000,000 GMR will be created for advisors, reserves, and the team, with another 4,000,000 GMR created for bounties.
The company has not yet stated its intention to list the GMR tokens on any major crypto exchanges.
Team
Gimmer's core team consists of two senior developers, a global macro hedge fund manager, and a creative design veteran. As compared with the majority of ICOs, Gimmer's team is in-line with the relative standard – the quality of team meets basic expectations.  
The company's CEO, Philipe Comini, is a senior-level UX/UI designer who is also balancing two other jobs (according to LinkedIn) – typically, not a good sign. The company's CTO, Persio Flexa, is also a senior developer who recently launched 2 other start-ups – again, not a good sign. The company's COO, Paul Lindsell, is a creative design veteran with over 12 years experience that is seemingly committed to his role – not balancing multiple jobs. The company's CIO, Masaichi Hasegawa, is currently a global macro hedge fund manager and an executive of a shoe manufacturing company – the third C-suite executive of Gimmer to balance two other jobs.
The rest of Gimmer's team consists of a marketing director, a user experience director, two developers, a customer researcher, a commercial director, and a journalist.
Verdict
Gimmer presents a highly speculative buying opportunity for investors interested in short-term capital appreciation.
Creating profitable algorithmic trading strategies is incredibly difficult. Hedge funds typically employ a large staff of mathematicians, experienced machine learning engineers, data scientists, and the like – Wall Street refers to them as "quants." Quants typically hold a PhD in finance or quantitative mathematics and have years of hands-on experience with both statistical analysis and engineering (Python and C++). Does Gimmer employ any quants? No, not even by the slightest measure.
Overall, Gimmer's DIY algorithmic trading bots are likely just a novel tool-kit for amatuer cryptocurrency traders, nothing more, nothing less.
Risks
Gimmer provides no data on slippage modeling, meaning users have no idea of all the transaction costs that are associated with a higher frequency of trading (including: fees, commission, and slippage). These costs can be significant and add up quickly. -1
Gimmer's core team does not seem to be dedicated (balancing multiple jobs) or qualified in any sense. With Gimmer's team lacking any real trading platform experience, unforeseen issues with their algorithms may lead to sizable losses for users. -1.5
Gimmer provides no data on latency, meaning users do not know if the company's algorithms are deployed to proximity-based execution servers in attempt to achieve low-latency performance no matter where the user is located. For all trading strategies, latency must be measured and managed in order to maximize the probability of success. -1
Growth Opportunity
Provided that Gimmer's trading bots run successfully without any technical glitches, users could benefit from enhanced risk management protocols, thereby insuring their principal investment through more downside protection. +2
Copy trading techniques could benefit novice traders, as they can publicly see high level information such as start date, running period, currency pairs and percent gained. Based on the public information, users can copy seemingly successful trading strategies and rent the same bots. +3
Automated trading strategies will allow a larger pool of traders to invest in cryptocurrencies. Since the market is still subject to large, volatile price swings, more passive traders could use Gimmer's platform to execute automated trades (based on pre-set parameters) without having to monitor the market on a day-to-day basis. +2.5
Disposition
While algorithmic trading in the cryptocurrency space is a smart strategy, Gimmer lacks the sophistication of even the most basic trading platforms. The biggest concern beyond Gimmer's lack of sophistication, is the pedigree of the core team. With no quants on staff and a couple UI/UX designers creating the algorithms, technical issues are likely to occur. And with that in mind, faulty algorithms or platform glitches could easily lead to the loss of principal investment for users.
For amateur traders interested in novel tool to play around with, Gimmer is a great choice. For veteran traders with solid programming and statistical skills, move on to a better platform.
Against this backdrop, we believe that a score of 4.0 out of 10 is warranted.
Investment Details
Type: Crowdsale

Symbol: GMR

Pre-ICO Sale: November 24, 2017

Public Sale: January 3, 2018

Payments Accepted: ETH
Disclaimer: no position in Gimmer at the time of writing.
Featured image courtesy of Shutterstock.