LiveTree ADEPT is an established entertainment start-up company based in the UK. They have been around for two years, and have captured 5% of the UK crowdfunding market. That 5% is not enough, they now want to build an entertainment platform on the blockchain that competes with Hollywood/Netflix. This ADEPT platform will provide funding for projects, help hire the talent needed to create the film/TV show, and distribute the final product. Token holders can contribute to whatever project they like, and will receive a share of the profits.
LiveTree wants to eliminate lawyers, agents, and other middlemen by using smart contracts. They will eliminate the need for distribution by distributing their own content on the Blossom platform, which will be similar to YouTube, only with special blockchain features.
According to the firm:
"Blossom TV offers a way for fans to support the content they are interested in by "pre-paying" for the content. The user system will be subscription based, similar to a Netflix model. Users will pledge support in SEED for the programming they are most interested in which will then fund the development of those projects. Other distribution methods that could be supported for Film and TV production are online streaming through YouTube and Vimeo as well as traditional broadcasters."
Starting out, two Project incubators will be built. One will be located in California, and one in London. I suppose these incubators will be like a management agency. They will hire the best talent and find the most quality projects. They claim to get this talent through their partnerships.
LiveTree brags a lot about its partnerships and how they have so many connections throughout the industry.  I decided to focus my research there. The two major partners it talks about are Red Rock Entertainment and The British Film Institute Future Film.
Red Rock Entertainment is a UK based film finance company. They pretty much do exactly what the LiveTree project incubators are going to do, except without a  blockchain token. They haven't produced any blockbusters yet, and they seem to be trying to look better than they are. Case and point, one of their best projects produced so far was a documentary called "Madness in the Method" about an actor from Kevin Smith's old movies. If you look into it, RedRock was one of four companies to produce this thing. How much profit could that possibly create?
Famous director Kevin Smith was in that documentary because he's acting partners with Jason Mewes. He only played a small part, but if you look on Red Rock's site it makes it seem like Kevin is in bed with the company. With Hollywood being broke, and Kevin not being able to get funding for his movies anymore, one would think that if this project was the real deal, Kevin Smith would be promoting it. He is not promoting it at all though, and his Twitter and podcast, as far as I know, never mention LiveTree.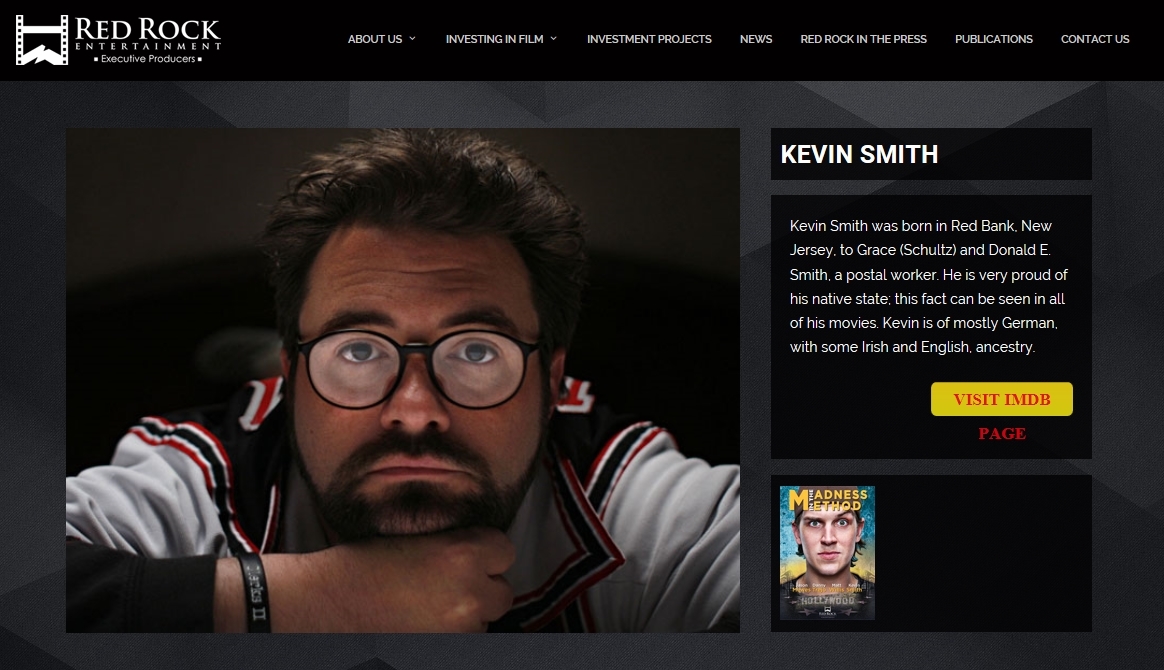 The second partner they constantly mention is The British Film Institute (BFI).
LiveTree signed Noel Goodwin, who is director of BFI Future Film. Goodwin programs and manages regular monthly film industry-focused events for emerging filmmakers, identifying their, skills, needs and aspiration. Supposedly, Noel is their connection to "14,000 industry players."
The BFI is very popular, and has a twitter following of 750,000. Scrolling through their tweets, I see zero LiveTree ICO announcements. Why aren't they promoting LiveTree at all, aren't they partners?
The Token
Symbol: SEED
Platform: Ethereum
Total Supply: 256 million (80% for sale)
Presale: Dec 1- Dec 15, 2017
Crowdsale: Jan 7 – Jan 21, 2018
Price: 2000/eth + bonuses based on amount contributed and date. 50% max bonus.
Max Cap: $80 million; any unsold tokens will be destroyed.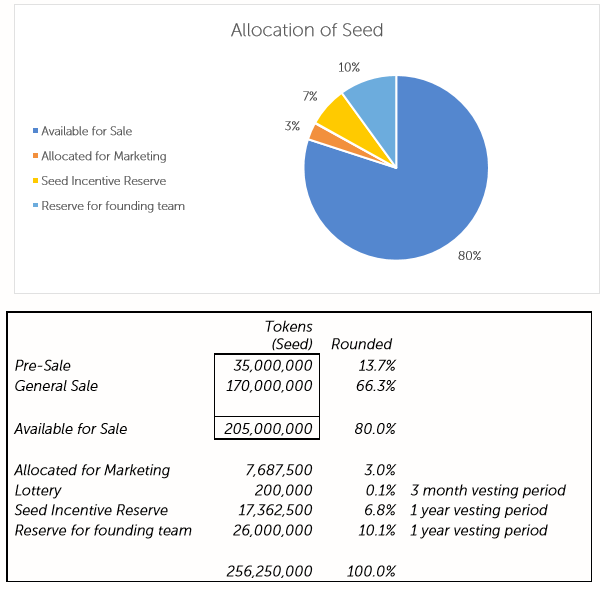 This simple token allocation plan leaves very little funds for marketing and completely leaves out many different expenses.
The Team
The team is average. Two members stood out for other reasons. They are Ashley Turning (founder) and Alexander Mitrovich (Technical Lead).
Mitrovich is the key to building avery complicated platform that they have yet to actually materialize. If you read his bio in the whitepaper, it would seem like he has what it takes. However, when looking at his LinkedIn, I found something interesting.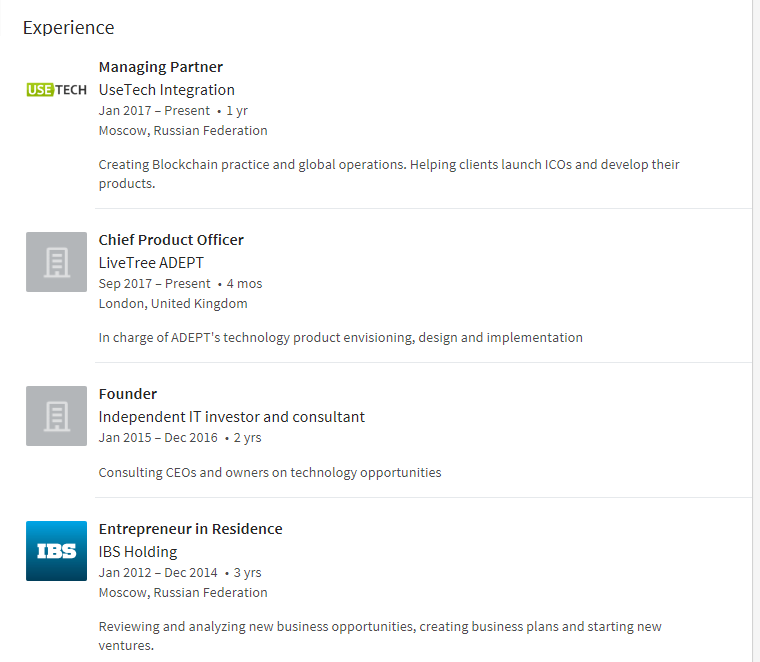 Notice how he doesn't have any technical skills. He's an ICO startup developer/marketer. He's from Russia, and looks like he basically sold his name to LiveTree. I could be completely wrong, but the evidence is right there though.
Founder/CEO Ashley Turning is an intelligent man. He is the brainchild of the entire project. The thing is, he founded LiveTree two years ago, and I don't see any profitable product being put out.
Here's his Twitter: 181 followers, and no love for his startups (they only pop up once ever couple months, and always look less than interesting).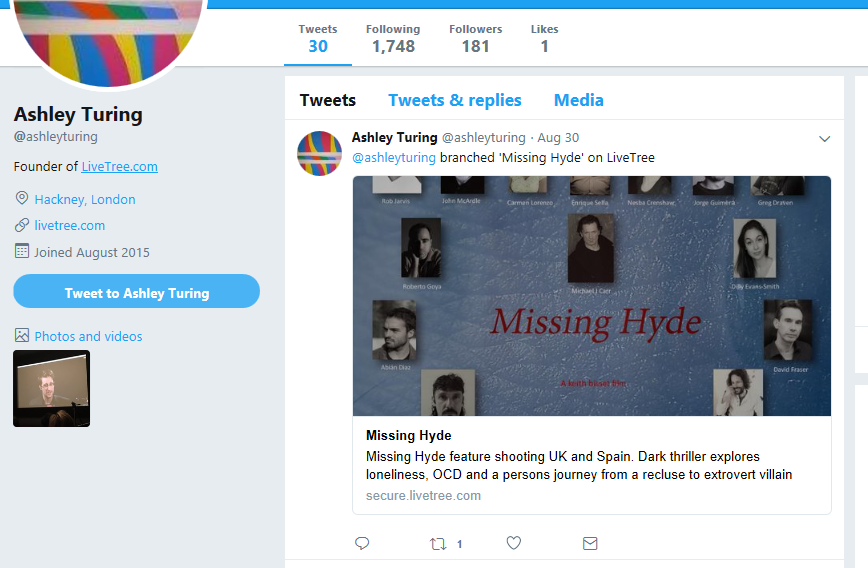 This project is going to require the drafting and flawless execution of smart contracts for every aspect of the movie creating and distributing industry. LiveTree is going to have to compete with companies like Netflix to acquire movie rights and new talent. Despite these needs, they have zero lawyers and zero agents on their team.
When I asked their representative about this in Telegram, I was told "questions like this will be passed onto the team, it's late here in England, and I am going to bed now." I then replied with some smartass comment about how "its 7 pm, primetime over here!" I was then immediately banned from their Telegram. No joke. I believe this to be a premature ban, based on my stellar investigative journalism.
The Verdict
By trying to get rid of the middleman, LiveTree becomes the middleman. This means they better have a top-notch team and business plan in order to compete with the big boys. They don't have that. They have a pretty good idea, attached to an (in my opinion) failing two-year-old startup business.
Risks
Technical hurdles: In an interview, CEO Ashley mentions how incredibly hard it was for him and his team to launch the ERC20 token ICO. This backs up the weak team theory. If they struggle with that, how will they be capable of building something as complicated as the "Bloom" Platform? -4
Legal hurdles: The movie industry is on lockdown. In order to bring anybody to the platform, they are going to need to acquire quality content. Quality content is extremely hard to come by. It's not like Netflix wants to have 90% unwatchable content. There is no good quality out there. LiveTree doesn't even make room for acquiring their budget. How on earth are they going to compete? -4
They give several possible solutions to  scaling problems, but they "haven't committed to anything yet." -2
50% bonus for large presale purchases could mean quick profit taking, leading to early dumps when this hits exchanges. -3
Growth Potential
The YouTube marketing campaign for the presale is huge. Most of the most popular streamers are being sponsored to promote this project. If they can somehow apply this marketing strategy post-ICO, that would be big. However, they don't leave much room in the budget for marketing. +1
The key to success will be the Bloom platform, which is scheduled to be launched to the mainstream around 18 months from now. +1
A strong part of the project will be the LiveTree Incubators. Supposedly they are working closely with their partners to design a program where they will use their expertise to launch new movie/TV show projects. All the projects funded through the incubator will be transacted in SEED. +3
Disposition
Stay away from this. If you like the idea then just keep tabs on them, As there will be plenty of opportunities to buy these up cheap down the road. There are a lot more negatives than positives in our analysis above. That being said, we are prepared to give this project 3 of 10 for potential.
ICO Details
presale whitelist and other info is listed here: https://secure.livetree.com/#!/seed/
Cover Image courtesy of Shutterstock.com
Important: Never invest (trade with) money you can't afford to comfortably lose. Always do your own research and due diligence before placing a trade. Read our Terms & Conditions here. Trade recommendations and analysis are written by our analysts which might have different opinions. Read my 6 Golden Steps to Financial Freedom here. Best regards, Jonas Borchgrevink.
Rate this post:
Important for improving the service. Please add a comment in the comment field below explaining what you rated and why you gave it that rate. Failed Trade Recommendations should not be rated as that is considered a failure either way.
Follow @HackedCom
Feedback or Requests?
Due to their inability to securely and efficiently share data with their business partners, enterprises are losing billions of dollars. Data leakage, contract disputes, and limited visibility across business networks is forcing future enterprises to look to blockchain for solutions.
Loyakk, a blockchain-enabled platform for decentralized business networks, transforms how companies collaborate and share data with partners, distributors, channels and suppliers across the world by extending the blockchain with patent-pending extensions to support enterprise requirements. They also have a patent-pending business platform that enables secure, permissioned sharing of data and value movement through smart contracts with business rules and security policies leading to improved security, efficiency and distributed governance.
When asked On Telegram to explain the project to a 12 year old, CEO and Co-Founder Salim Ali provided this nugget:
"If I were to explain to a 12-year old, I would use a simple metaphor: why send mail by postal service, when you can send via FedEx or UPS which offers tracking, incremental security and more. So think of Loyakk as FedEx++ for business communication built on blockchain which will make email and other systems seem like postal services from a past era."
Loyakk's Vega Enterprise Relationship Platform is being built on Ethereum with an element of Quorum and proprietary patent-pending extensions. They will use a variant of BFT Consensus.
The basis for the platform is their in-house token LYK, which protects AND tracks critical business data across business networks.
Token
"The Loyakk token is a data container required for all interactions across all Loyakk-powered private business networks. The LYK token carries data, enables critical functions that manage multiple levels of permissions, and controls the propagation of data amongst the participants in the business network while providing full auditibility across company boundaries."
There's a lot going on with this token. To learn all the technical specifics, check out CMO Rakesh Sreekumar's breakdown here.
The Loyakk network interactions are essentially a set of micro-services and each invocation of the micro-service requires a token.
The network draws its value from the number of data interchanges occurring on the platform. These data interchanges are what will increase the value of the business network and help businesses that use the network grow by bringing to bear the collective power of their relationships into their transaction. The objective is to power all inter-company interactions via the Loyakk token.
Loyakk will mint an ERC20-compliant token that will be made available to users and businesses.
The use of funds is outlined below:
45% Product and development
20% Operations
15% Marketing
10% Sales/customer adoption
10% Legal and admin
Team
Based in Silicon Valley and ICO'ing in London, the core team of eight check out clean, and actually seem organized and capable of accomplishing their goals.
Salim Ali: CEO and Founder. He was the Global Vice President, Marketing at SAP where he conceived and scaled multiple new businesses with revenue KPIs of $1.2 billion, and jump-started SAP's Digital Business with the SAP App Store. Salim has given a couple interviews on YouTube – he's confirmed professional.
Jitu Telang: BTO and Co-Founder. He served as Senior Software Engineer at Pavilion from 1995-99, Trilogy from 2000-04 and then got into high-frequency trading in securities and futures markets all over the world until founding Loyakk.
Tsvetan Georgiev: Technical Architect/Lead Developer. He looks like the mastermind that spent 15+ years at SAP working his way up to leadership positions.
Loyakk has a team advisers that includes the CIO of Nissan, former CIO of McAfee and two SAP higher-ups. There are three blockchain advisers with plenty of experience in the space.
Verdict
Current communication channels between enterprise partnerships lack security, transparency and efficiency. The problem is they are forced to email each other all the time. Loyakk wants to give them a better system by adding blockchain to the business application stack. The enterprise will leverage the potency and power of the blockchain to do fundamentally different things that they couldn't do up to this point. Their platform is patent pending (which is something you don't hear often in this space) and will be able to evolve to changes in the technology.  It is meant to cover both intra-Ethereum and cross-chain.
Risks
Token reconciliation and settlement will be done in 8-12 weeks after the conclusion of the token open sale event. With the event ending in July, that means tokens won't be trading until October. -2
A $45 million hard cap is on the higher side. -2
The token doesn't have many ways to bleed value to holders. No master nodes or token burning going on. The token must gain its value purely from demand to use the platform.-2
Growth Potential
They already have several partnerships. After briefly exploring into each of them, it looks like there are some very legit partnerships mostly to help Loyakk build its infrastructure. +4
Many of the core team members played big roles in the past for SAP, which is very popular worldwide; it is used to coordinate all the resources, information and activities needed to complete enterprise-wide information systems billing, including accounting and finance. It was also learned in an interview with the CEO that Loyakk will officially partner with SAP. +4
Enterprise Security Magazine names Loyakk a 'Top 10 Blockchain Solution Vendor -2018'. +2
The team looks really strong, as evidenced by this reply from the CEO when asked about his MVP: "We have V1 built (with approx 400K+ lines of code) and deployed by customers. V2 with Vega Blockchain aspects is being designed and built. Blockchain patents have been filed, token def published on github, relationship modeller showcased via demo video, and broader demo is almost done. As per Roadmap, Vega will be ready in Q3/Q4 timeframe". +3
Disposition
This is one of those projects with unlimited upside, and a seemingly high floor since being partnered with SAP pretty much guarantees they are around for years to come. 7/10
Investment Details
Symbol: LYK
Platform: Ethereum
Current Release: 177,000.000 (177m)
Token Sale: 60,000,000 (60m)
Price: around $0.60 before bonus
Private Sale: Now open
Pre-Sale: June 7
Public Sale: June 15- July22
Hard cap: $45 million
Whitelist: https://loyakk.io/loyakk-ico-whitelist/
Website: https://loyakk.io/
Telegram: https://t.me/loyakk
Featured image courtesy of Shutterstock.
Important: Never invest (trade with) money you can't afford to comfortably lose. Always do your own research and due diligence before placing a trade. Read our Terms & Conditions here. Trade recommendations and analysis are written by our analysts which might have different opinions. Read my 6 Golden Steps to Financial Freedom here. Best regards, Jonas Borchgrevink.
Rate this post:
Important for improving the service. Please add a comment in the comment field below explaining what you rated and why you gave it that rate. Failed Trade Recommendations should not be rated as that is considered a failure either way.
Follow @HackedCom
Feedback or Requests?
With the increasing popularity of cryptocurrencies comes a growing demand for exchanges where the various cryptocurrencies can be traded. And although cryptocurrency exchanges have seen huge growth during the past couple of years, it's still not showing any signs of slowing down.
We now have a large selection of both traditional centralized and newer decentralized crypto exchanges to choose from. Some of these exchanges accept trading between national ("fiat") currencies and cryptocurrencies, while most only allow for trading between cryptocurrencies.
Mandala is a planned cryptocurrency and blockchain asset exchange that distinguishes itself from other established exchanges by being focused primarily on simplicity and user-friendliness for people who are new to trading and investing.
According to the company, people who are new to investing makes up the majority of current and future cryptocurrency investors. Mandala is therefore aiming to be the gateway for these people into the cryptocurrency universe, in a similar way to the purpose Coinbase has served over the past few years.
The Mandala team argues that as more and more big companies announce that they are exploring blockchain initiatives, the public will become more comfortable with the technology and more and more people will want to invest in cryptocurrencies. This will in turn lead to an exponentially growing flow of money into the crypto space, which translates into more business for crypto exchanges of all types.
The most obvious problem when it comes to the Mandala ICO is the lack of any minimum viable product (MVP) or prototype. According to the roadmap on the website, the beta release of the exchange is scheduled for the third quarter of 2018, which is well after the start of the public token sale, which is set to begin on June 1.
It is also still unclear if Mandala will be a crypto-only exchange or if fiat currencies will also be accepted. The company writes on its website that they "hope" to be able to accept fiat currencies for trading "as the laws and compliance regulations allow." In other words, we don't know if fiat will eventually be accepted for trading on the Mandala exchange. However, given the strict regulatory requirements of most jurisdictions, and the fact that Mandala as of yet is not regulated by anybody, we have to assume that fiat trading will not be available in the foreseeable future.
In addition to the exchange itself, the team also plans to add a backtesting tool to let users easily test the reliability of technical trading indicators like the MACD or Moving Averages. It should be mentioned that this is something that is very difficult to create as an accurate and reliable tool. It is something for example TradingView has worked on for years, and even their solution is far from easy to use for beginners. With that said, IF the company manages to pull this off successfully, it would be a huge plus for the platform as a whole.
Token
The Cayman Islands-based company Mandala Holdings, LLC is issuing a utility token called MDX on the Ethereum blockchain.
The MDX token is intended to be used to pay for trading fees and commissions, and also as a currency to pay for purchases on the built-in marketplace that the team is planning to set up within the Mandala platform.
Similar to many other exchanges, users who pay their trading fees with the MDX token will receive significant discounts.
Approximately two thirds of the tokens will be available for sale, while the remaining tokens will be distributed as follows:
Team – 20%
Company reserve – 10%
Advisors, influencers and bounty – 5%
The current pre-ICO price of the MDX token is $0.07 + 25% bonus. During the first stage of the public token sale, the price will be $0.06 before it rises to $0.07.
Team
The first thing I always do when research an ICO team is to check the LinkedIn profiles of the key team members. This is a really simple way to check their level of commitment to the company launching the ICO, and very often I find the same result: Most of the team members haven't even listed the company on their LinkedIn.
In the case of Mandala, the two co-founders have both listed the company as their employer. The Chief Marketing Officer, on the other hand, has no mention of Mandala on his personal profile.
The Chief Technical Officer, Zach Daniels, lists Mandala as one of six current employers on LinkedIn, which makes us seriously question his level of commitment to the company.
The CEO and co-founder of Mandala is Nate Flanders. Nate has a diverse background as founder of a blockchain-based online casino and a phone repair company in Florida. According to his LinkedIn profile, Nate is still working as Vice President of Operations at the online casino while he is setting up Mandala.
The other co-founder and CSO of Mandala is Chicago man Anant Handa. Just like the CEO, Anant also has a background in the phone repair business, and he remains CEO of ReVamp Electronics. In addition, Anant also remains an advisor to BitWatch.io, an app that helps crypto traders manage their trading activities and portfolios.
All in all, the two co-founders both have entrepreneurial experience and first-hand experience with blockchain technology, which is undoubtedly a positive for Mandala.
Verdict
The main problem when it comes to the Mandala ICO is clearly the lack of any prototype or MVP to demonstrate that the team is capable of building the platform they describe in the white paper. It should be clear for everyone that investing in an ICO that has nothing more than a website and a white paper is a very risky venture.
Regulations also pose a question mark when it comes to this ICO. It is unclear if the platform will be able to accept fiat currencies at this point, and we frankly don't know if they will be able to obtain any regulatory approvals at all.
What we do know is that the company says they are "thoroughly researching and studying all applicable laws and will be be properly registered with the appropriate governing bodies, including the SEC and the CFTC[…]"
Unfortunately, the white paper that the team has prepared also appears somewhat generic and lacks details on how the platform will work.
Growth Potential
With the increasing popularity of cryptocurrencies comes an increase in demand for exchanges. Simplistic exchanges that are targeting new traders and investors certainly have a place in this space. +3
If the team can build user-friendly and reliable tools for backtesting of technical indicators and trading signals, that would be a big plus and could provide a boost for the platform as a whole. +4
The two co-founders have previous experience with blockchain projects, and the overall team appears competent, although we do have questions regarding the level of commitment from certain team members. +3
Risks
Generic-looking white paper with very few technical details on how the platform will work. A lot of general commentary about cryptocurrencies and blockchain, as well as visions and ideas for the coming Mandala exchange. -2
No minimum viable product (MVP). According to the roadmap, the beta release of the platform is scheduled for Q3 2018, with the full platform expected by the end of the year. Investing in ICOs with no MVP should always be considered high-risk. -4
The press releases published by the company, as well as the white paper, talks a lot about all the regulatory approvals that the team is planning to get, but lacks any details on what they have already acquired. -2 
Disposition
In summary, we believe that the idea of a simplistic exchange for new crypto traders is good, and we do think there will be a growing demand for this type of exchanges. The success of Coinbase clearly shows that this is something that can work very well if carried out in the right way.
Unfortunately, we cannot recommend investing in an ICO without an MVP, without knowing if the platform will accept fiat, without any regulatory approvals, and with a very general white paper without technical details.
Overall, we arrive at a score of 2 out of 10 for the Mandala ICO.
Investment details
Token Type: Utility
Platform: Ethereum ERC20
Symbol: MDX
Pre-ICO: Ongoing until May 31, 2018
Public ICO: Starting June 1, 2018
Token Supply: 400 million
Tokens Available for Sale: 260 million (65%)
Soft cap: $3 million
Hard cap: $18 million
Price: Pre-sale: $0.07 + 25% bonus, crowd sale: $0.06-$0.07
Minimum investment: 0.10 ETH/0.01 BTC/0.5 LTC
Payments Accepted: ETH, BTC, LTC
Jurisdictions Barred from Participating: USA
More information:
Website: https://mandalaex.com/
White paper: https://mandalaex.com/wp-content/uploads/mandala-whitepaper.pdf
Telegram: https://t.me/mandalaex
Featured image from Pixabay.
Disclaimer: The author owns bitcoin, Ethereum and other cryptocurrencies. He holds investment positions in the coins, but does not engage in short-term trading. The author has no investment in Mandala at the time of writing.
Important: Never invest (trade with) money you can't afford to comfortably lose. Always do your own research and due diligence before placing a trade. Read our Terms & Conditions here. Trade recommendations and analysis are written by our analysts which might have different opinions. Read my 6 Golden Steps to Financial Freedom here. Best regards, Jonas Borchgrevink.
Rate this post:
Important for improving the service. Please add a comment in the comment field below explaining what you rated and why you gave it that rate. Failed Trade Recommendations should not be rated as that is considered a failure either way.
Follow @HackedCom
Feedback or Requests?
ICO Analysis: Verasity (VRA)
Verasity is a video-sharing platform that caters to content creators and rewards viewers with VERA tokens just for watching content, sharing videos, watching ads and for referrals. Over the past few years, brands have shifted their advertising model to allow influencers to share products with their audience. This gives products a much more personal touch and translates to better conversions.
Verasity will provide a way for viewers to help support their favorite channels by the use of VeraSparks. VeraSparks is a smart contract that allows viewers to buy and own a portion of a channel, and be rewarded with profits especially in future growth.
How is Verasity different than the competition in this field? Verasity is the only platform combining the following: Decentralized Proprietary Blockchain, Proof of View (PoV) – patent pending, Watch and Earn, Centralized Video Distribution, VeraSparks and the Spark Marketplace, and multiple ways for creators and users to earn VERA tokens. Just one of Veracity's features, Proof of View (PoV), will help solve the problem of fake reviews that affect creators and advertisers.
Token
The VERA token is an ERC-20 token used as a payment method between brands and creators directly ensuring that brand placements are verified through Verasity's Proof of View technology. Not only do brands now have direct access to content creators, but advertisers have the opportunity to reward viewers. Views are recorded on the blockchain so that validating viewer interaction is easily auditable. Proof of View is Verasity's Patent Pending (*US and international patent pending, application number 62627285) system that provides more accurate audience metrics than traditional methods.
Team
The list of team members and advisers on their website is quite extensive compared to the majority of ICOs. The team and advisers are showing commitment to the project with team tokens locked for 18 months and advisor tokens locked for 9 months. A few team members include: 
David Orman – CEO & Co-Founder
Founding Partner – Hatch-House

Founder – Namro Ventures Ltd

Advisor – Carabiner Partners

Formerly VP of Joost
David Rowe – Co-Founder
CEO – Black Green Capital

Founder – Hydro66

Founder – Easynet Group

Former Managing Board Member – Sky
Chris Gale – Co-Founder
Founder & CEO – Odyssey Mobile

Founder – TouchTab

Former CEO – Level Up Media Ltd

Crypto Investor & Blockchain Advisor
Adam Simmons – Co-Founder
Former VP Marketing – Level Up Media Ltd

Owner – Madals TV
Advisers include: 
Dr. Christian Jaag – Advisor
Founder – Cryptoeconomics

Managing Partner – Swiss Economics

Lecturer – Universities of St. Galen and Zurich
Matt Heiman – Advisor
Founder – Diagonal View

Founder – Mobix Trading

Founding Investor – Just Giving

Adviser – Channel 4, Visimo, The Cloud, Palringo
Jin Young Choi – Verasity Ambassador for Asia
CEO – Bitbank

CEO – Woorim Holdings

CEO – East Nine Company Ltd

CEO – Vision Group Company Ltd

Permanent CEO – D!conomy LAB

Executive Commissioner of World Franchise Council

Former Mayor of Namon City
Joel Kovshoff – Advisor
Founder and CEO – MyICOPool

Founder and CEO – Athena Trading Bot

Blockchain Advisor and Educator

A complete list of team members and advisors can be found at verasity.io.
Verdict
Verasity will use blockchain technology to finally have a transparent and reliable solution to the many problems facing the video sharing industry. Some of the key features of Verasity's blockchain technologies are: Verasity High-Performance Blockchain, VERA Transactions, Proof of View (patent pending) and DPoS. All of the videos run off of VeraPlayer, which is a blockchain enabled video player that allows users to view content securely from many mobile and desktop devices without the need to install additional software. Verasity has partnered with Akamai, a leading global content distribution network. This enables Verasity to deliver over 8 PetaBytes of video data per month, allowing them to scale quickly. If Verasity continues to deliver on the benchmarks outlined on their roadmap, they could quickly become a major player in this highly competitive field.
Risks
Although Verasity is unique with their own blockchain and PoV, it still has competition such as Steem, Basic Attention Token, Props, and Flixxo.

-1.25
The hard cap is on the high side at 6,245,750,000 VRA which equates to over $46M USD. -1.5
Growth Potential
Verasity has a large and experienced team along with top-notch advisers that are capable of building and scaling the company successfully.

+4
Having multiple ways to earn for creators and viewers has the potential to grow at a fast pace while their partnership with Akamai will allow for scalability. Basic Attention Token may use Verasity as its default video player. +3.5
Hype and community are important to create exposure for ICOs. Verasity has over 41k telegram members, 10k Twitter followers, and 237k Facebook followers. +2.5
Disposition
Blockchain platforms are in high demand right now. Verasity is no exception. With internet traffic being worth $312 billion by 2021, online video is set to account for 82% of all traffic. Company giants such as Facebook and Google generated $191 billion in advertising revenue in 2017. Personal data has become the new commodity and Verasity aims to reward creators and content publishers. Verasity is 100% SICOP compliant (Sustainable ICOs Protocol) which defines rules and methodology to determine whether ICOs are secure, follow good practices and ethical rules. Verasity is one of the few ICOs that is completely compliant. In an ICO atmosphere riddled with scams, this gives Verasity a head start. Due to the enormous potential as a successful first mover and the fact that they have followed very strict rules to be ethically compliant, Verasity receives a rating of 7.25 out of 10.
Investment Details
Symbol: VRA
Price: 1 VRA = 0.0075 USD increases by 1% per 24 hours during sale
MVP/Prototype: Available
Platform: Ethereum
Payments Accepted: ETH, BTC
Total Token Supply: 12,491,500,000
Hard Cap: 6,245,750,000 VRA
Min Purchase: 10,000 VRA
Restricted Areas: USA (Accredited only), Cayman Islands, North Korea, Somalia, Yemen
Learn more about Verasity:
Website
Whitepaper
Token Sale Info
Important: Never invest (trade with) money you can't afford to comfortably lose. Always do your own research and due diligence before placing a trade. Read our Terms & Conditions here. Trade recommendations and analysis are written by our analysts which might have different opinions. Read my 6 Golden Steps to Financial Freedom here. Best regards, Jonas Borchgrevink.
Rate this post:
Important for improving the service. Please add a comment in the comment field below explaining what you rated and why you gave it that rate. Failed Trade Recommendations should not be rated as that is considered a failure either way.
Follow @HackedCom
Feedback or Requests?
Hacked.com is Neutral and Unbiased
Hacked.com and its team members have pledged to reject any form of advertisement or sponsorships from 3rd parties. We will always be neutral and we strive towards a fully unbiased view on all topics. Whenever an author has a conflicting interest, that should be clearly stated in the post itself with a disclaimer. If you suspect that one of our team members are biased, please notify me immediately at jonas.borchgrevink(at)hacked.com.