ICO Analysis: LiveTree
LiveTree ADEPT is an established entertainment start-up company based in the UK. They have been around for two years, and have captured 5% of the UK crowdfunding market. That 5% is not enough, they now want to build an entertainment platform on the blockchain that competes with Hollywood/Netflix. This ADEPT platform will provide funding for projects, help hire the talent needed to create the film/TV show, and distribute the final product. Token holders can contribute to whatever project they like, and will receive a share of the profits.
LiveTree wants to eliminate lawyers, agents, and other middlemen by using smart contracts. They will eliminate the need for distribution by distributing their own content on the Blossom platform, which will be similar to YouTube, only with special blockchain features.
According to the firm:
"Blossom TV offers a way for fans to support the content they are interested in by "pre-paying" for the content. The user system will be subscription based, similar to a Netflix model. Users will pledge support in SEED for the programming they are most interested in which will then fund the development of those projects. Other distribution methods that could be supported for Film and TV production are online streaming through YouTube and Vimeo as well as traditional broadcasters."
Starting out, two Project incubators will be built. One will be located in California, and one in London. I suppose these incubators will be like a management agency. They will hire the best talent and find the most quality projects. They claim to get this talent through their partnerships.
LiveTree brags a lot about its partnerships and how they have so many connections throughout the industry.  I decided to focus my research there. The two major partners it talks about are Red Rock Entertainment and The British Film Institute Future Film.
Red Rock Entertainment is a UK based film finance company. They pretty much do exactly what the LiveTree project incubators are going to do, except without a  blockchain token. They haven't produced any blockbusters yet, and they seem to be trying to look better than they are. Case and point, one of their best projects produced so far was a documentary called "Madness in the Method" about an actor from Kevin Smith's old movies. If you look into it, RedRock was one of four companies to produce this thing. How much profit could that possibly create?
Famous director Kevin Smith was in that documentary because he's acting partners with Jason Mewes. He only played a small part, but if you look on Red Rock's site it makes it seem like Kevin is in bed with the company. With Hollywood being broke, and Kevin not being able to get funding for his movies anymore, one would think that if this project was the real deal, Kevin Smith would be promoting it. He is not promoting it at all though, and his Twitter and podcast, as far as I know, never mention LiveTree.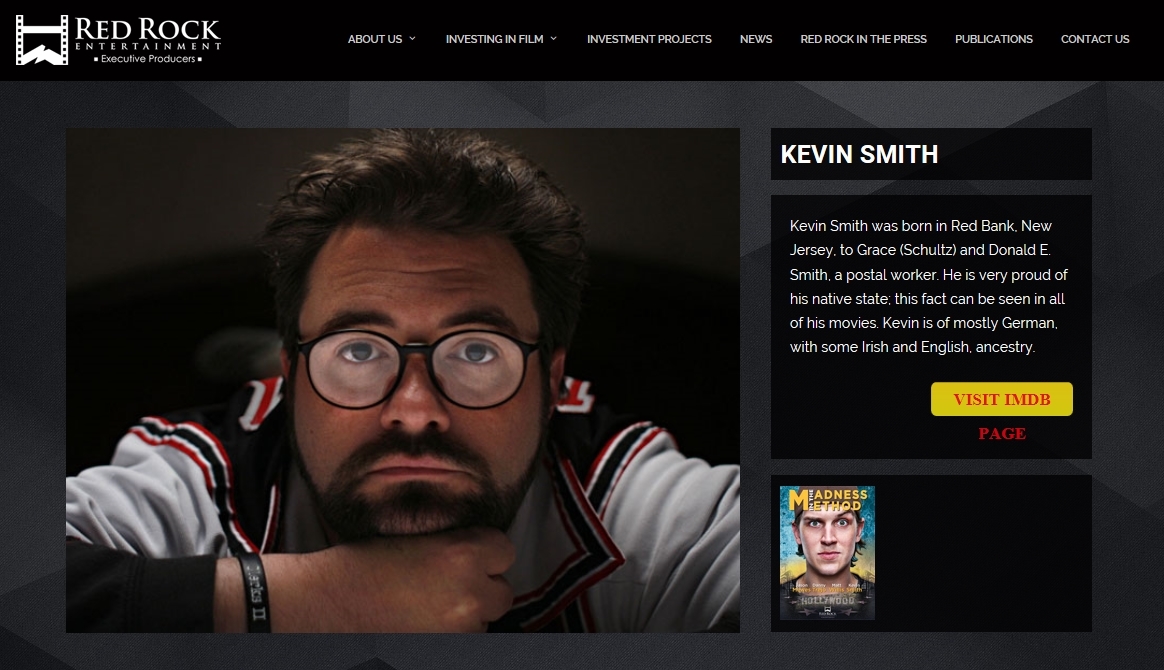 The second partner they constantly mention is The British Film Institute (BFI).
LiveTree signed Noel Goodwin, who is director of BFI Future Film. Goodwin programs and manages regular monthly film industry-focused events for emerging filmmakers, identifying their, skills, needs and aspiration. Supposedly, Noel is their connection to "14,000 industry players."
The BFI is very popular, and has a twitter following of 750,000. Scrolling through their tweets, I see zero LiveTree ICO announcements. Why aren't they promoting LiveTree at all, aren't they partners?
The Token
Symbol: SEED
Platform: Ethereum
Total Supply: 256 million (80% for sale)
Presale: Dec 1- Dec 15, 2017
Crowdsale: Jan 7 – Jan 21, 2018
Price: 2000/eth + bonuses based on amount contributed and date. 50% max bonus.
Max Cap: $80 million; any unsold tokens will be destroyed.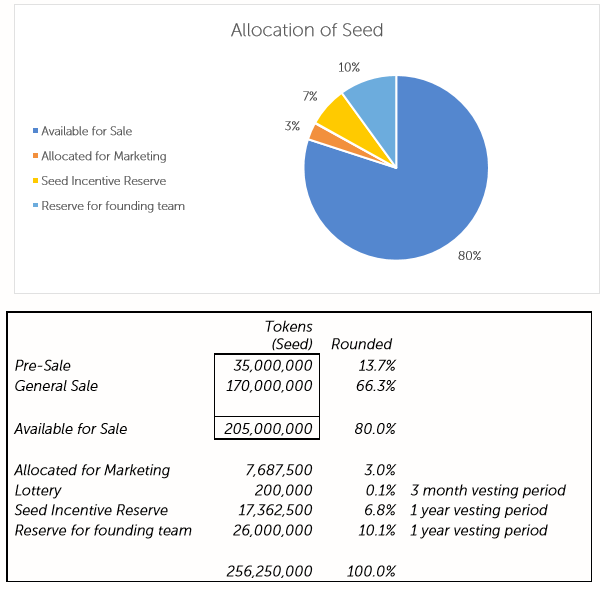 This simple token allocation plan leaves very little funds for marketing and completely leaves out many different expenses.
The Team
The team is average. Two members stood out for other reasons. They are Ashley Turning (founder) and Alexander Mitrovich (Technical Lead).
Mitrovich is the key to building avery complicated platform that they have yet to actually materialize. If you read his bio in the whitepaper, it would seem like he has what it takes. However, when looking at his LinkedIn, I found something interesting.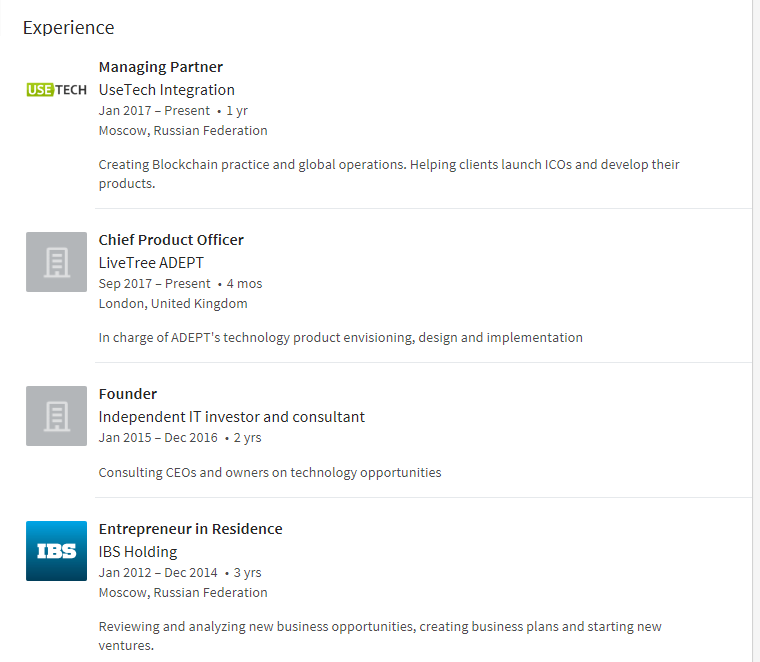 Notice how he doesn't have any technical skills. He's an ICO startup developer/marketer. He's from Russia, and looks like he basically sold his name to LiveTree. I could be completely wrong, but the evidence is right there though.
Founder/CEO Ashley Turning is an intelligent man. He is the brainchild of the entire project. The thing is, he founded LiveTree two years ago, and I don't see any profitable product being put out.
Here's his Twitter: 181 followers, and no love for his startups (they only pop up once ever couple months, and always look less than interesting).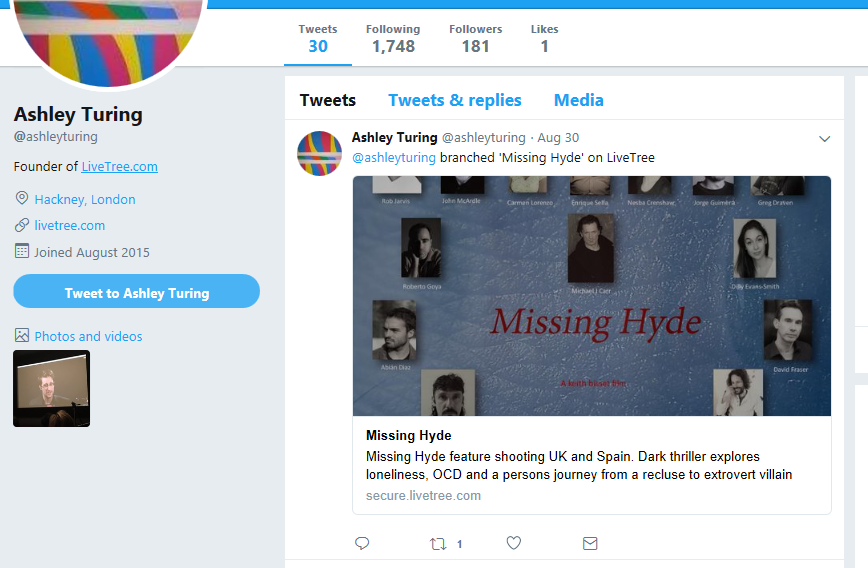 This project is going to require the drafting and flawless execution of smart contracts for every aspect of the movie creating and distributing industry. LiveTree is going to have to compete with companies like Netflix to acquire movie rights and new talent. Despite these needs, they have zero lawyers and zero agents on their team.
When I asked their representative about this in Telegram, I was told "questions like this will be passed onto the team, it's late here in England, and I am going to bed now." I then replied with some smartass comment about how "its 7 pm, primetime over here!" I was then immediately banned from their Telegram. No joke. I believe this to be a premature ban, based on my stellar investigative journalism.
The Verdict
By trying to get rid of the middleman, LiveTree becomes the middleman. This means they better have a top-notch team and business plan in order to compete with the big boys. They don't have that. They have a pretty good idea, attached to an (in my opinion) failing two-year-old startup business.
Risks
Technical hurdles: In an interview, CEO Ashley mentions how incredibly hard it was for him and his team to launch the ERC20 token ICO. This backs up the weak team theory. If they struggle with that, how will they be capable of building something as complicated as the "Bloom" Platform? -4
Legal hurdles: The movie industry is on lockdown. In order to bring anybody to the platform, they are going to need to acquire quality content. Quality content is extremely hard to come by. It's not like Netflix wants to have 90% unwatchable content. There is no good quality out there. LiveTree doesn't even make room for acquiring their budget. How on earth are they going to compete? -4
They give several possible solutions to  scaling problems, but they "haven't committed to anything yet." -2
50% bonus for large presale purchases could mean quick profit taking, leading to early dumps when this hits exchanges. -3
Growth Potential
The YouTube marketing campaign for the presale is huge. Most of the most popular streamers are being sponsored to promote this project. If they can somehow apply this marketing strategy post-ICO, that would be big. However, they don't leave much room in the budget for marketing. +1
The key to success will be the Bloom platform, which is scheduled to be launched to the mainstream around 18 months from now. +1
A strong part of the project will be the LiveTree Incubators. Supposedly they are working closely with their partners to design a program where they will use their expertise to launch new movie/TV show projects. All the projects funded through the incubator will be transacted in SEED. +3
Disposition
Stay away from this. If you like the idea then just keep tabs on them, As there will be plenty of opportunities to buy these up cheap down the road. There are a lot more negatives than positives in our analysis above. That being said, we are prepared to give this project 3 of 10 for potential.
ICO Details
presale whitelist and other info is listed here: https://secure.livetree.com/#!/seed/
Cover Image courtesy of Shutterstock.com