LiveTree ADEPT is an established entertainment start-up company based in the UK. They have been around for two years, and have captured 5% of the UK crowdfunding market. That 5% is not enough, they now want to build an entertainment platform on the blockchain that competes with Hollywood/Netflix. This ADEPT platform will provide funding for projects, help hire the talent needed to create the film/TV show, and distribute the final product. Token holders can contribute to whatever project they like, and will receive a share of the profits.
LiveTree wants to eliminate lawyers, agents, and other middlemen by using smart contracts. They will eliminate the need for distribution by distributing their own content on the Blossom platform, which will be similar to YouTube, only with special blockchain features.
According to the firm:
"Blossom TV offers a way for fans to support the content they are interested in by "pre-paying" for the content. The user system will be subscription based, similar to a Netflix model. Users will pledge support in SEED for the programming they are most interested in which will then fund the development of those projects. Other distribution methods that could be supported for Film and TV production are online streaming through YouTube and Vimeo as well as traditional broadcasters."
Starting out, two Project incubators will be built. One will be located in California, and one in London. I suppose these incubators will be like a management agency. They will hire the best talent and find the most quality projects. They claim to get this talent through their partnerships.
LiveTree brags a lot about its partnerships and how they have so many connections throughout the industry.  I decided to focus my research there. The two major partners it talks about are Red Rock Entertainment and The British Film Institute Future Film.
Red Rock Entertainment is a UK based film finance company. They pretty much do exactly what the LiveTree project incubators are going to do, except without a  blockchain token. They haven't produced any blockbusters yet, and they seem to be trying to look better than they are. Case and point, one of their best projects produced so far was a documentary called "Madness in the Method" about an actor from Kevin Smith's old movies. If you look into it, RedRock was one of four companies to produce this thing. How much profit could that possibly create?
Famous director Kevin Smith was in that documentary because he's acting partners with Jason Mewes. He only played a small part, but if you look on Red Rock's site it makes it seem like Kevin is in bed with the company. With Hollywood being broke, and Kevin not being able to get funding for his movies anymore, one would think that if this project was the real deal, Kevin Smith would be promoting it. He is not promoting it at all though, and his Twitter and podcast, as far as I know, never mention LiveTree.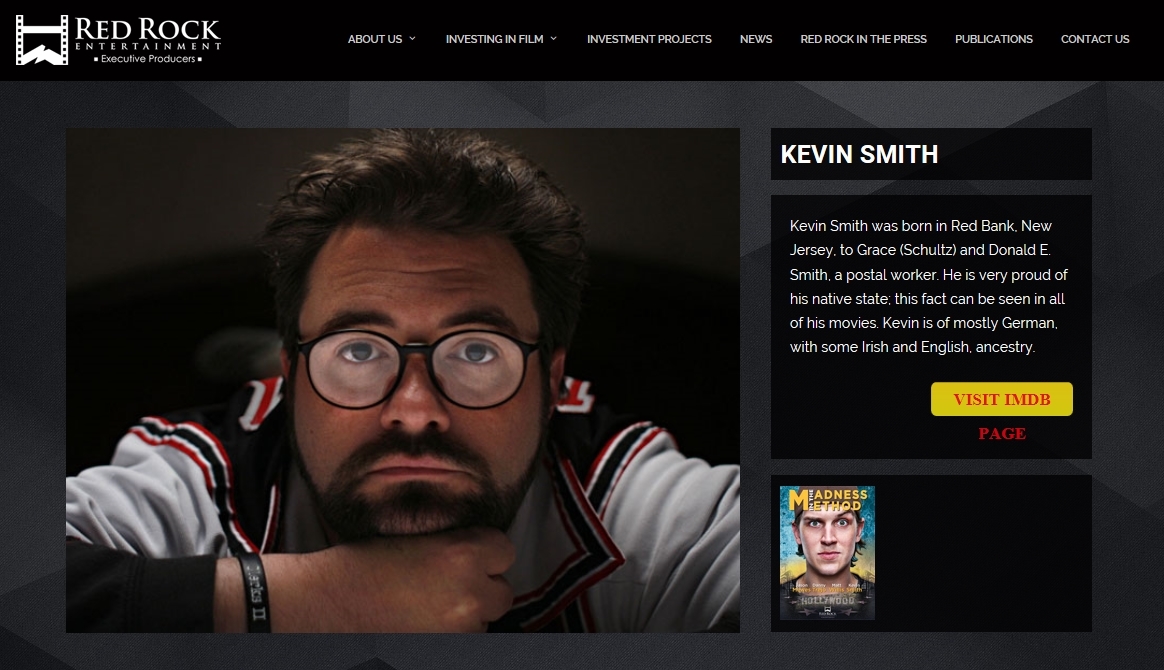 The second partner they constantly mention is The British Film Institute (BFI).
LiveTree signed Noel Goodwin, who is director of BFI Future Film. Goodwin programs and manages regular monthly film industry-focused events for emerging filmmakers, identifying their, skills, needs and aspiration. Supposedly, Noel is their connection to "14,000 industry players."
The BFI is very popular, and has a twitter following of 750,000. Scrolling through their tweets, I see zero LiveTree ICO announcements. Why aren't they promoting LiveTree at all, aren't they partners?
The Token
Symbol: SEED
Platform: Ethereum
Total Supply: 256 million (80% for sale)
Presale: Dec 1- Dec 15, 2017
Crowdsale: Jan 7 – Jan 21, 2018
Price: 2000/eth + bonuses based on amount contributed and date. 50% max bonus.
Max Cap: $80 million; any unsold tokens will be destroyed.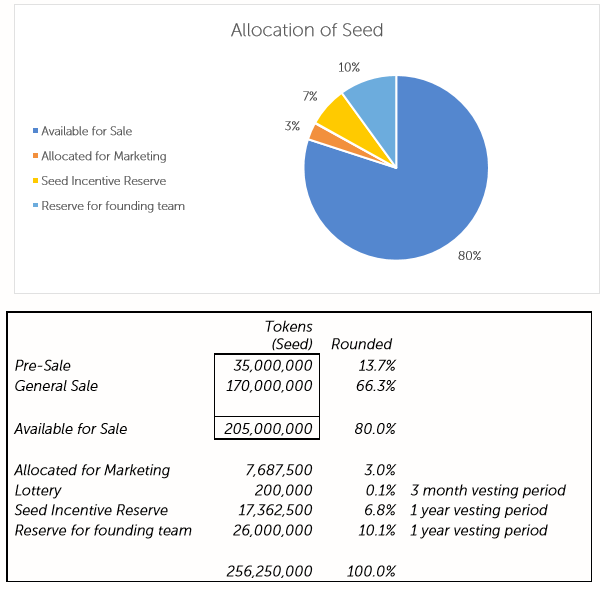 This simple token allocation plan leaves very little funds for marketing and completely leaves out many different expenses.
The Team
The team is average. Two members stood out for other reasons. They are Ashley Turning (founder) and Alexander Mitrovich (Technical Lead).
Mitrovich is the key to building avery complicated platform that they have yet to actually materialize. If you read his bio in the whitepaper, it would seem like he has what it takes. However, when looking at his LinkedIn, I found something interesting.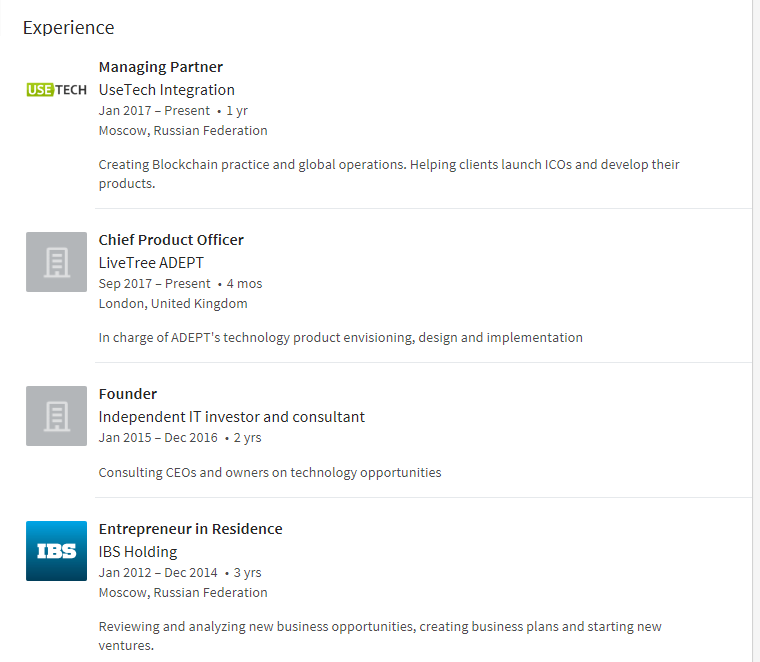 Notice how he doesn't have any technical skills. He's an ICO startup developer/marketer. He's from Russia, and looks like he basically sold his name to LiveTree. I could be completely wrong, but the evidence is right there though.
Founder/CEO Ashley Turning is an intelligent man. He is the brainchild of the entire project. The thing is, he founded LiveTree two years ago, and I don't see any profitable product being put out.
Here's his Twitter: 181 followers, and no love for his startups (they only pop up once ever couple months, and always look less than interesting).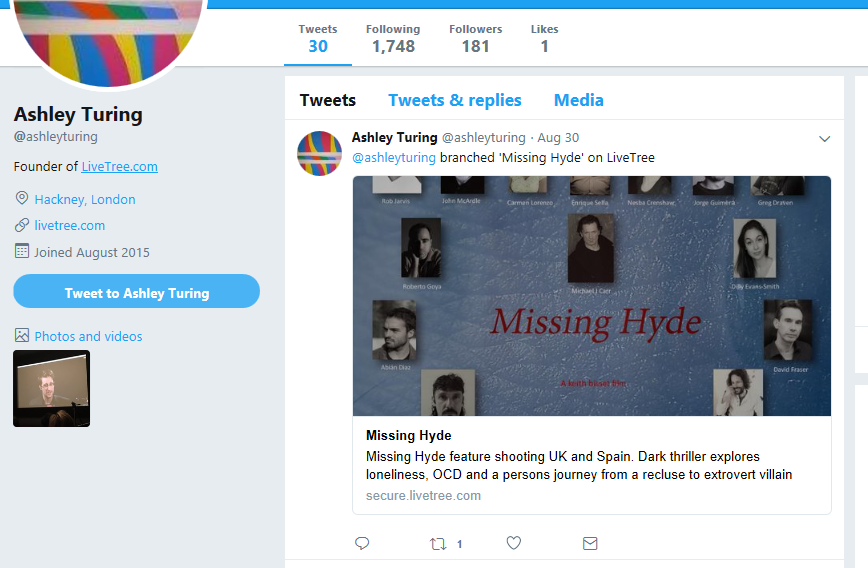 This project is going to require the drafting and flawless execution of smart contracts for every aspect of the movie creating and distributing industry. LiveTree is going to have to compete with companies like Netflix to acquire movie rights and new talent. Despite these needs, they have zero lawyers and zero agents on their team.
When I asked their representative about this in Telegram, I was told "questions like this will be passed onto the team, it's late here in England, and I am going to bed now." I then replied with some smartass comment about how "its 7 pm, primetime over here!" I was then immediately banned from their Telegram. No joke. I believe this to be a premature ban, based on my stellar investigative journalism.
The Verdict
By trying to get rid of the middleman, LiveTree becomes the middleman. This means they better have a top-notch team and business plan in order to compete with the big boys. They don't have that. They have a pretty good idea, attached to an (in my opinion) failing two-year-old startup business.
Risks
Technical hurdles: In an interview, CEO Ashley mentions how incredibly hard it was for him and his team to launch the ERC20 token ICO. This backs up the weak team theory. If they struggle with that, how will they be capable of building something as complicated as the "Bloom" Platform? -4
Legal hurdles: The movie industry is on lockdown. In order to bring anybody to the platform, they are going to need to acquire quality content. Quality content is extremely hard to come by. It's not like Netflix wants to have 90% unwatchable content. There is no good quality out there. LiveTree doesn't even make room for acquiring their budget. How on earth are they going to compete? -4
They give several possible solutions to  scaling problems, but they "haven't committed to anything yet." -2
50% bonus for large presale purchases could mean quick profit taking, leading to early dumps when this hits exchanges. -3
Growth Potential
The YouTube marketing campaign for the presale is huge. Most of the most popular streamers are being sponsored to promote this project. If they can somehow apply this marketing strategy post-ICO, that would be big. However, they don't leave much room in the budget for marketing. +1
The key to success will be the Bloom platform, which is scheduled to be launched to the mainstream around 18 months from now. +1
A strong part of the project will be the LiveTree Incubators. Supposedly they are working closely with their partners to design a program where they will use their expertise to launch new movie/TV show projects. All the projects funded through the incubator will be transacted in SEED. +3
Disposition
Stay away from this. If you like the idea then just keep tabs on them, As there will be plenty of opportunities to buy these up cheap down the road. There are a lot more negatives than positives in our analysis above. That being said, we are prepared to give this project 3 of 10 for potential.
ICO Details
presale whitelist and other info is listed here: https://secure.livetree.com/#!/seed/
Cover Image courtesy of Shutterstock.com
Important: Never invest (trade with) money you can't afford to comfortably lose. Always do your own research and due diligence before placing a trade. Read our Terms & Conditions here. Trade recommendations and analysis are written by our analysts which might have different opinions. Read my 6 Golden Steps to Financial Freedom here. Best regards, Jonas Borchgrevink.
Rate this post:
Important for improving the service. Please add a comment in the comment field below explaining what you rated and why you gave it that rate. Failed Trade Recommendations should not be rated as that is considered a failure either way.
Follow @HackedCom
Feedback or Requests?
ICO Analysis: CloudMoolah
CloudMoolah was successfully launched in the USA in October 2017 with currently over 300 developers and more than 10 million gamers using the platform. CloudMoolah is designed to facilitate and manage payments seamlessly between game developers, gamers and payment merchants in a convenient and secure manner on a global scale.
The project offers unity developers the opportunity to collect in-app revenues from 100+ million gamers and 500,000 retail points of sales in Southeast Asia. The use of blockchain technology will ensure security and efficiency of gaming transactions while increasing cost savings for developers. CloudMoolah will allow game developers to collect in-app revenues from credit card users and noncredit-card users, which is extremely valuable considering the credit card penetration is less than 3% in Southeast Asia. CloudMoolah combines popular localized payment methods such as Telco Top-Up Cards, Prepaid Cards, Ebanking And The New Moo Token to capture this market.
Token
The MOO token is an ERC20 token used on the Ethereum platform which will have a circulating supply of 300 million and a total supply of 500 million. When released, the MOO token will be available for purchase/trade on public exchanges. Also, MOO can be traded for CloudMoolah Points (CMP), the in-app virtual currency used for payments and transactions within the MOO store. The MOO store is a third party app store populated with Unity content enabling efficient and secure transactions between gamers and developers. Developers will have access to over 100 million gamers through the MOO store.
The public ICO begins March 1, 2018, and ends March 31, 2018. The MOO token price will be $0.30 and have a hard cap of $30 million. The link to join whitelist is here.
The token distribution is as follows:
41% private/public sale
22% founders/senior management
17% suppliers
10% company
5% staff
5% advisors
Team
The CloudMoolah team has over 30 years experience in the video game industry in Asia with a stellar track record of publishing blockbuster game titles such as World of Warcraft, EA SportsTM FIFA Online 2, Starcraft 2 and Counter-Strike Online. Co-founder and COO Jonathon Sze successfully built EA SportsTM FIFA Online 2 fan base from zero to 25 Million in Southeast Asia. Co-founder and Chairman Roland Ong brought World of Warcraft to Asia and was the founder of IAHGames which won rights for top-rated games such as Starcraft 2, EA Sports FIFA Online 2, and Counter-Strike online. Co-founder and CFO/CIO Benjamin Cher has closed over $500 million worth of VC/PE deals in his career. The complete list of team members and advisors is listed in their whitepaper.
Partnerships include Unity Technologies (Asia's largest and the world's most popular game development engine), True Digital Plus, VTC Online, MOL, Softworld, Bluepay, IAH Games, UniPin and Sam & o Group.
Verdict
While CloudMoolah intends to cater to millions of gamers and developers around the world, its primary focus will be on the Asian market, which has been generally under served by mainstream digital payment services. With an experienced and successful team, strategic partnerships  and proven business model, CloudMoolah appears to be on track to make significant headway in the Asia gaming market.
That being said, there are some implementation risks associated with the project. In particular, CloudMoolah is targeting a highly diverse Asian market that differs along multiple strata. This could be seen as one of the major challenges to successful implementation.
Risks
As with many ICO's, the executive team has outside obligations and cannot focus 100% of their attention to the project. -2
The project's main focus region is Southeast Asia, which consists of 11 countries with differing demographics, economics, and languages that can all become major obstacles to mass integration. -1.5
Growth Potential
A+ team with decades of experience and huge success within the gaming industry. +5
CloudMoolah is an established business that has already made crucial partnerships with both global and local markets. +3.5
$30 million market cap with a low 300 million circulating supply. +1.5
Disposition
Working with gaming developers, CloudMoolah appears to be committed to achieving an excellent gaming experience for gamers worldwide. The team comes with great success in the gaming industry that, if applied to blockchain, can create huge cost savings for gamers and larger profits for developers. This leads us to the view that CloudMoolah may be poised for great things. Based upon merits observed, CloudMoolah receives a 6.5 out of 10 rating.
Investment Details
Symbol: MOO
Market Cap: $30M
Circulation Supply: 300 Million MOO, Total Supply: 500 Million MOO
Payments Accepted During Crowdsale: ETH
Crowdsale Date: 

March 1, 2018 – March 31, 2018

Token Price: 1 MOO = 0.30 USD
Jurisdictions barred from participation: China, USA
For more information regarding CloudMoolah:
Website: cloudmoolah.io (team, advisors, whitepaper)
Whitelist: kyc.cloudmoolah.io
Facebook: facebook.com/cloudmoolah/
Telegram: t.me/cloudmoolah (20,549 members)
Reddit: reddit.com/r/CloudMoolah/
Twitter: twitter.com/cloud_moolah
Medium: medium.com/@cloudmoolah
Featured image courtesy of Shutterstock. 
Important: Never invest (trade with) money you can't afford to comfortably lose. Always do your own research and due diligence before placing a trade. Read our Terms & Conditions here. Trade recommendations and analysis are written by our analysts which might have different opinions. Read my 6 Golden Steps to Financial Freedom here. Best regards, Jonas Borchgrevink.
Rate this post:
Important for improving the service. Please add a comment in the comment field below explaining what you rated and why you gave it that rate. Failed Trade Recommendations should not be rated as that is considered a failure either way.
Follow @HackedCom
Feedback or Requests?
TE-FOOD is now the biggest farm-to-table food traceable system in the world. TE-FOOD serves over 6,000 businesses while averaging more than 400,000 transactions on a daily basis, which results in serving well over 30 million people. TE-FOOD has integrated 2,600 retailers and markets, 3,100 farms, 3,400 livestock agents and 190 wholesale distributors into their system.
TE-FOOD coordinates with governments, supply chain companies and consumers to enhance food safety, eliminate food frauds and minimize costs for supply chain companies. The entire supply chain will become more efficient through the use of one interoperable transparent ledger; this will help avert large-scale food recalls and enable smaller, targeted recalls.
Currently, the main focus of TE-FOOD is  the emerging countries that account for 60% of the world's population along with 45% of GDP, and which needs massive technological disruption because of the level of distrust in their food supply chains. Started in Vietnam and having found success, TE-FOOD is aiming to be in 17 countries within the next five years.
TE-FOOD's revenue sources are the following:
1. Selling physical and logical identification materials
2. Charging transactional costs
3. Selling food transport environment sensors
4. Charging monthly or sales volume dependent fees on the marketplace
Token
The company is issuing TFOOD tokens, which are ERC-20 tokens created to be used within the TE-FOOD system for the following:
1. Pay for transactions
2. Pay for value-added information
3. Rewarding conscious consumer behavior for using our Consumer mobile app
A total of 1 billion TFOOD tokens are to be created with 51% being available for purchase during the public sale which is scheduled to commence on Feb 22, 2018, and conclude March 22, 2018. TFOOD tokens should be immediately transferred and can be used in the TE-FOOD system after completion of the token sale.
Team
A Vietnamese and Hungarian company combined to create TE-FOOD with a team that includes more than 20 members (each listed with details on their website along with LinkedIn links). The team is led by CEO Dr. Trung Dao Ha (Co-Founder of Thien Minh Group, President of Hochiminh City High Technology Association, Austria Honorary Consul in Hochiminh City for the Austrian Government and Co-founder/CEO of DAO advanced Technology), CeO Erik Arokszallasi (CEO of Erba 96 Ltd) and CMO Marton Ven (CEO at Flumen and CMO at Erba 96 Ltd).
TE-FOOD works with some of the biggest retail food companies in Asia such as AEON, Lotte Mart, JAPFA and C.P. Group. The government of Vietnam's largest city, Ho Chi Minh City, also employs TE-FOOD. Current partners include: GS1 (barcodes), Unisto (security seals) and Zalo (message/call app).
Verdict
TE-FOOD is developing a scalable, cost-effective system for tracking, securing and ensuring quality for global food transportation which will reduce corruption, theft, fraud and food-borne illnesses. Identification applications are used to track livestock, transports and fresh food packages from the farm to the table. This will enable fresh food sold in retail to be tracked back to their origins. TE-FOOD is able to track food items throughout the entire supply from beginning to end while accessing quality information.
TE-FOOD has been operating in Vietnam since 2016 with a proven track record and buy-in from thousands of businesse. If the company is able to successfully integrate its functioning business to its tokenized model with participation from current clients, along with expanding to new markets, it may find success for itself and investors.
Risks
When seeking to expand to new countries, TE-FOOD may face a variety of difficult regulatory and compliance issues working with different governments and agencies. -2
The executive team, though accomplished, is still involved with other businesses which may detract from putting their full efforts into the success of TE-FOOD. -1.5
Although TE-FOOD does already have a working business, which is definitely a positive, they will still face strong competition from other blockchain companies. -1
Growth Potential
The company already has an established working product and with key partnerships with multiple businesses and the government of Vietnam. +5
TE-FOOD is scheduled to be in 17 countries within five years according to their roadmap. +2.5
TFOOD tokens will be immediately released and available to all investors. +3.5
Disposition
With nearly 80% of food fraud involving fresh food products and livestock, over 400,000 annual deaths due to food contamination and the health threat of antibiotics overuse in animals used for food, TE-FOOD's main mission is to greatly reduce these issues by making the fresh food supply chain transparent and more effective through a modern, but affordable ecosystem. Having an already working business model combined with the ability to scale, TE-FOOD appears to have the means to accomplish this mission if everything goes to plan. TE-FOOD receives a rating of 6.5 out of 10.
Investment Details
Symbol: TFOOD
Type: Utility
Price: $0.05
Accepted Payments: ETH
Public Sale Date: Feb 22, 2018 – March 22, 2018 (Bonus levels – 15% Week 1, 12% Week 2, 10% Week 3, 5% Week 4)
Public Sale Amount: 512,000,000 TFOOD (51% of total) to be sold. 1,000,000,000 TFOOD total supply
Jurisdictions Barred from Participating: None mentioned
Featured image courtesy of Shutterstock.
Important: Never invest (trade with) money you can't afford to comfortably lose. Always do your own research and due diligence before placing a trade. Read our Terms & Conditions here. Trade recommendations and analysis are written by our analysts which might have different opinions. Read my 6 Golden Steps to Financial Freedom here. Best regards, Jonas Borchgrevink.
Rate this post:
Important for improving the service. Please add a comment in the comment field below explaining what you rated and why you gave it that rate. Failed Trade Recommendations should not be rated as that is considered a failure either way.
Follow @HackedCom
Feedback or Requests?
Endor.coin, more commonly known as Endor, is a behavioral analytics protocol for businesses as well as individual users. The team has dubbed the project as the "Google for predictive analytics."
Until now, high costs have kept out anyone but large organizations from accessing artificial intelligence and predictive analytics. Most predictive questions require data scientists, weeks of iteration, and consistently updating data models to produce accurate results. Using blockchain technology and automation, Endor democratizes this data making it available for anyone to use – no fancy Ph.D. required.
Social Physics
Endor expands on a new, MIT-based science, Social Physics. This science states that each set of event data, like credit card purchases, contains certain human activity patterns within the data. If you're able to detect these patterns, you can create more accurate predictive analytics than normal machine learning.
Automatic Prediction Engines for Enterprises
Endor's first focus is on an automated "Data as a Service" platform for enterprise clients. With this engine, a business can upload a set of behavioral data, and after a short integration (a few hours at most), they'll be able to ask questions about the future behavior of the subjects in the data set.
The team has already used this platform in studies to measure brand loyalty, new product adoption, and market campaign effectiveness at Coca-Cola as well as detect ISIS activists on Twitter. All of this done at a fraction of the cost of current systems.
Data Science for the Masses
After the successful implementation of Endor for enterprises, the team plans to use the protocol to fully democratize behavioral predictions. Through the decentralized nature of blockchain technology, Endor connects users to data providers in a cost-effective, trustless way ensuring that the predictions they receive are as accurate and affordable as possible.
At first glance, this may not seem as beneficial for individuals as it is for organizations. Imagine this, though. As a cryptocurrency investor, you want to know, "What tokens are going to increase in price by 20% in the next month?" With Endor, you now have access to the robust predictive trading engines that were previously only available to institutional investors and the uber-wealthy. Although the answer you receive may not be perfect, it still gives you a critical edge over those not receiving it.
Token
The Endor team is designing the protocol in a way that connects to an existing blockchain as well as off-chain datasets. As a user, you must pay EDR tokens to make a prediction request. The larger and more complex your request, the more EDR you need to pay. Two potentially separate entities receive this payment. The first is analytical data providers who supply the robust data sets used in the analytics. The other are those who perform the intensive computations on those data sets.
The team will eventually open up the Data Layer so that providers can additionally sell their data to outside parties.
Team
PhDs, data scientists, and product experts comprise the majority of the Endor team with a large number of members tied to directly to MIT.
Dr. Yaniv Altshuler, co-founder and CEO, is an MIT researcher and recently published "Swarms and Network Intelligence in Search" – a fitting book for the Endor protocol. Another MIT co-founder, Professor Alex Pentland, created Social Physics and is a founding member of advisory boards for many notable organizations like Google and the UN Secretary General.
Beyond a rockstar team, Endor is already working with some big players in the product and service industries. The list of partners includes Mastercard, Coca-Cola, Walmart, and Travelers Insurance, to name a few. On the blockchain side, the team has formed strategic partnerships with Bancor and Enigma.
Tokens and Distribution
The team hasn't yet released any information on the number of tokens or how they'll distribute them.
However, they outline in their whitepaper that they'll use the majority of the ICO contributions for research and development. The team will also use up to 10% of the proceeds to form a joint partnership with a world-leading research institute. Additionally, up to 30% of funds will be used to purchase proprietary technology such as prediction engines.
Verdict
Endor is using Social Physics to provide better predictive analytics to businesses as well as individuals. The enterprise protocol has already been successfully tested and used by numerous Fortune 500 companies while the individual-facing product will be available at the end of 2018.
Even though the token distribution details haven't been released, the team and partnerships alone are strong indicators that this could be a valuable opportunity.
Risks
No token details. The team has yet to release any details about the token distribution. Even with a great project, poor distribution could be detrimental to investor returns. (-3)
Dependence on a consumer product. The enterprise protocol is only one half of the project. The half for individuals hasn't been built yet and has a lot to prove. (-3)
Growth Potential
Numerous use-cases. There's no shortage of scenarios that benefit from predictive analytics. AI, machine learning, and behavioral science are becoming more valuable each year. (+4)
All-star team. This is exactly the type of team you want working on a project like this. From MIT data scientists to blockchain experts, they've got it all. (+4)
Successfully tested product. Having a working product puts Endor ahead of the majority of other ICOs. The fact that it's been tested with big-name companies is just the icing on the cake. (+5)
Disposition
Endor scores an impressive 7 out of 10. The project checks off the boxes you want to see in an ICO. Strong team? Check. Large market? Check. Working product with customers? Check and check.
The only unknown, for now, is how they're going to distribute the tokens after the ICO. If the Endor team stands by their mission of decentralization and democratization with fair distribution, this has the potential to be one of the most exciting ICOs of the year.
Investment Details
Endor has not announced a date for their crowdsale yet. However, you can check out their website to stay up-to-date with any news or updates.
Type: Utility
Symbol: EDR
Platform: Ethereum
Crowdsale: Pending
Soft/Hard Cap: Pending
Price: Pending
Jurisdictions Barred from Participation: Not specified
Important: Never invest (trade with) money you can't afford to comfortably lose. Always do your own research and due diligence before placing a trade. Read our Terms & Conditions here. Trade recommendations and analysis are written by our analysts which might have different opinions. Read my 6 Golden Steps to Financial Freedom here. Best regards, Jonas Borchgrevink.
Rate this post:
Important for improving the service. Please add a comment in the comment field below explaining what you rated and why you gave it that rate. Failed Trade Recommendations should not be rated as that is considered a failure either way.
Follow @HackedCom
Feedback or Requests?
Hacked.com is Neutral and Unbiased
Hacked.com and its team members have pledged to reject any form of advertisement or sponsorships from 3rd parties. We will always be neutral and we strive towards a fully unbiased view on all topics. Whenever an author has a conflicting interest, that should be clearly stated in the post itself with a disclaimer. If you suspect that one of our team members are biased, please notify me immediately at jonas.borchgrevink(at)hacked.com.