Help With Recovering a Hacked Instagram Account
Recovery Session, Full Security Audit of your Online Accounts, & Free Support for One Year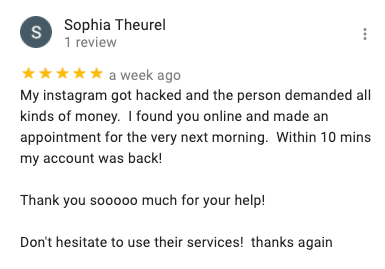 Get Help Immediately
Once ordered, you'll receive a link to schedule a call with us on Skype. We will conduct a full security audit of your online accounts to ensure that you can't be hacked again, and then we will do everything we can to recover your hacked account.
You'll be able to re-schedule new calls with us, free of charge until your issue has been resolved. You'll continue to receive free support and help from our team for one year. After that, your Digital Protection Plan will be renewed at $99 per year.
The Digital Protection Plan can be canceled at any time. If you are unhappy with our services and you do not want continuing support, we will refund 100% and end your Digital Protection Plan.